You are here
Indiana Governor's Newsletter October 2016
Indiana Governor's Newsletter October 2016

---
---
Bradley L. Allen, MD, PhD, FACP, FIDSA, ACP Governor
---
From The Governor
Updates from the 2016 ACP Board of Governors Meeting
I recently returned from Austin, Texas and the Fall 2016 ACP Board of Governors meeting. Several important topics were discussed and several resolutions were reviewed, debated and approved to move forward to the ACP Board of Reagents for action.
One approved resolution called for ACP to work with AAMC and ACGME to monitor the quality and number of new for-profit medical schools and coordinate the growth of medical student slots with the growth of residency spots for their next level of training.
A second approved resolution, discussed in more detail in our August newsletter, called on ACP to advocate for eliminating the gender pay gap in the field of medicine.
In addition, the group heard an excellent review of arbovirus infections, including Zika, Chikungunya, Dengue and West Nile Virus from the Panamanian ACP Governor, Dr. Nestor Sosa, MD. As you all know, these mosquito transmitted diseases are a concern for endemic infections in the Southern U.S. and worldwide due to modern travel patterns.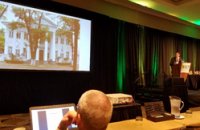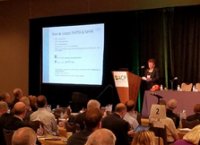 Photographs; Lectures on Arbovirus infection and Diversity Promotion at the 2016 ACP BOG Meeting in Austin Texas.
The ACP Board of Governors remain active in their promotion of ideas and actions that improve the health of our patients, training of our future colleagues, and well-being internists around the world. Please share any ideas or areas of our concern that I can take forward for consideration.
Brad
---
From the Resident Council of Indiana
What is the Resident Council?
It is a group made up of internal medicine residents and fellows at all levels from IU Indianapolis, IU Ball and St. Vincent.
What do we do?
We run various events for our resident members
Assist with our local medical school's Internal Medicine Student Interest Groups
Participate in volunteer service events within the community.
Events for this year:
ACP Indiana Chapter Meeting- November 2017
Resident Wellness Event- Feb 2017
Marian Univ COM Internal Medicine Interest Panel- March 2017
Triton Tap Recruitment Event – June 2017
Stay tuned for more!
Interested in joining?
All residents and fellows are welcome! Please contact Donna Seawards !
Chair: Kathleen Morris, DO
Secretary: Alison Wildin, DO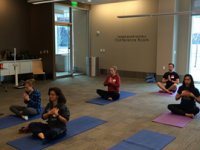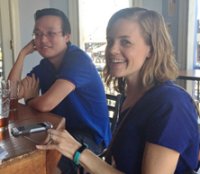 Photographs: The 2016 Resident Council Wellness and Triton Tap Recruitment Events
---
Council of Early Career Physicians Call for Nominations
The Council of Early Career Physicians (CECP) is currently recruiting new representatives for terms beginning in April 2017. The CECP is responsible for responding to requests from the Board of Regents, committees and staff for review of programs, products and services, and advising the Board of Regents on:
Enhancing professional development for early career physicians
Fostering their involvement in College activities
Increasing the value of ACP membership for early career physicians
Strengthening chapter level councils and activities
Aligning council activities with the College's Strategic Priorities
Applicants with a strong background in leadership, advocacy, and/or education are highly encouraged to apply. Think you might qualify? See the CECP Call for Nominations for more information.
We look forward to receiving your application materials! Nomination materials must be submitted via e-mail to Governance no later than November 3, 2016.
---
Hold the Date – Indiana Chapter Meeting 2016!
The Indiana Chapter Meeting will be held again at the Renaissance Marriott Hotel in Carmel on November 10-12, 2016. Thursday (11/10) will consist of the Chapter reception and poster judging competition while the main scientific meeting will take place on Friday (11/11).
The full agenda will be released soon and will offer something for everyone, including Population Health, High Value Care, Wellness, Diabetes Management, Palliative Care, Cardiac MRI, and Pre-Op Evaluation.
Saturday (11/12) will consist of ABIM Self-Assessment (SEP) modules and a demonstration of the use of ultrasound in a modern medical practice.
We hope to see you there!
Contact information:
Indiana Chapter Governor:
Bradley L. Allen, MD, PhD, FACP, FIDSA bradalle@iupui.edu
Ph: 317-278-7788
Fax: 317-278-8165
Donna Seawards
Executive Director
Ph: 623-225-5527
Chapter Address:
49 Boone Village, Box 290
Zionsville, IN 46077