You are here
Indiana Governor's Newsletter May 2017
Indiana Governor's Newsletter May 2017

---
---
Bradley L. Allen, MD, FACP, ACP Governor
---
Save the Date – 2017 Indiana Chapter Meeting
Mark your calendars for our annual Chapter Meeting, to be held on November 2 - 4, 2017. This year's Indiana Chapter Meeting will again be held at the Renaissance North Hotel in Carmel. This will be our third year at the facility, which has been an excellent backdrop for our statewide event based on staff and attendee feedback.
Thursday, November 2: The Annual Meeting will kick off with the Member's Reception, followed by the resident-student poster competition. A new addition this year will be a poster competition for our Early Career Physician members. (see email invitations for specifics).
Friday, November 3: The main scientific sessions and keynote address by immediate-past President of ACP, Dr. Nitin Damle.
Saturday, November 4: A new change will feature ABIM Self-Assessment Modules along with some resident-specific sessions, luncheon with the winning poster competition oral presentations, and our much-heralded Doctor's Dilemma competition. This will be followed by a social reception for all members, including special invitations to our resident, student, and Early Career Physician members.
Full details of the program will be coming soon. We hope to see record numbers of attendees this year.
---
Internal Medicine 2017, San Diego
ACP put on a fantastic annual meeting in San Diego, with numerous highlights featuring our Indiana members.
Indiana Doctor's Dilemma Team makes the Final Five for 2nd Straight Year!
The team from Indiana University dominated their competition through the elimination rounds and made it to the Final Five competition! Although they did not win the final match, they were the sole team to repeat a trip to the finals in back-to-back years and made our Chapter proud.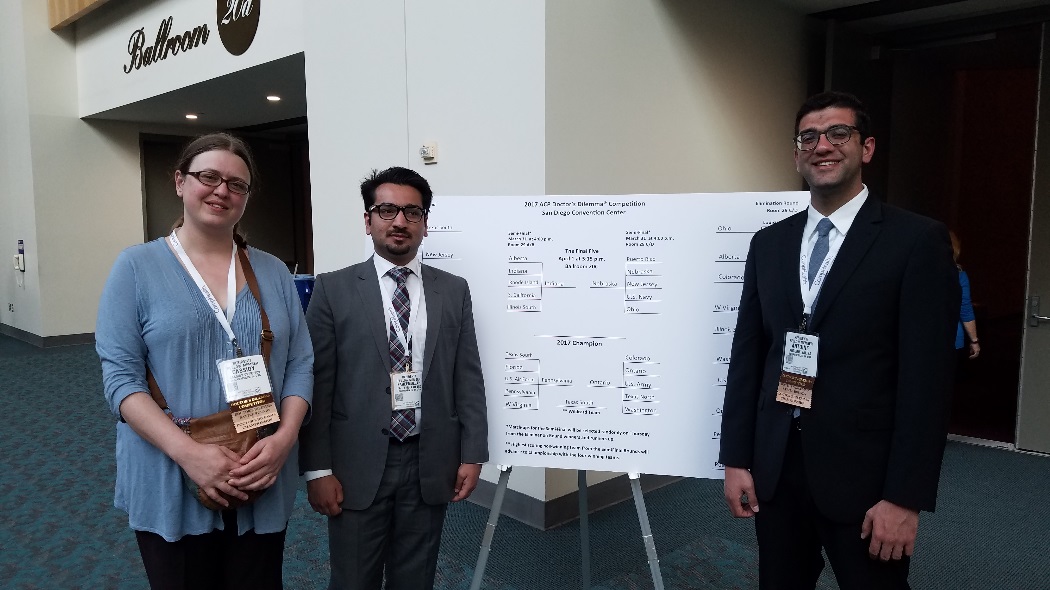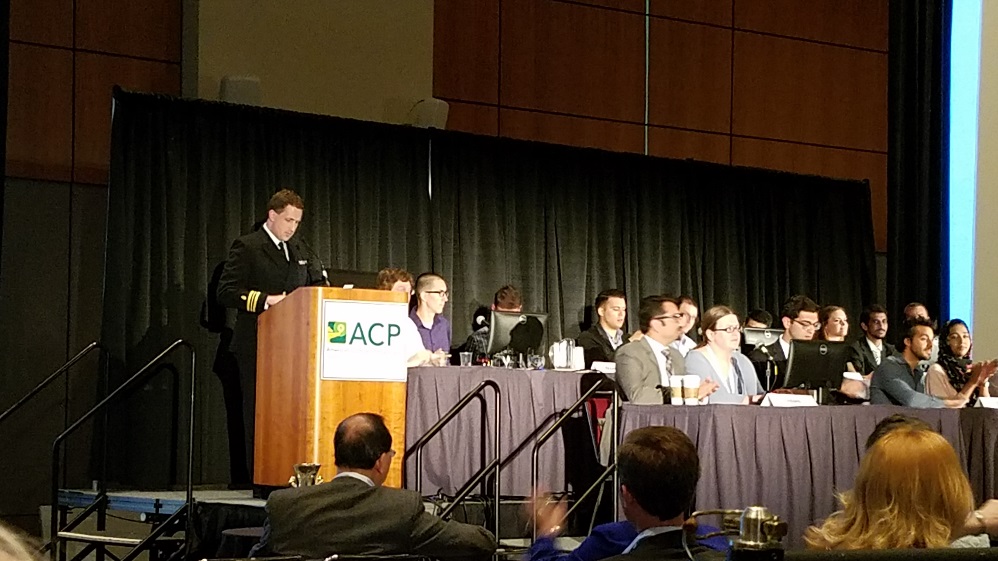 Top: Cassidy Overpeck, Faheem Beg, Tony Saliba pictured as a 2017 Final Five team in the Doctor's Dilemma competition. Bottom: an action shot from the competition, Indiana team is seen in the foreground.
Fellows
Three newly-elected fellows attended the ACP Convocation and received recognition in the presence of a large crowd of friends, family, and international dignitaries. Congratulations to all our new fellow members, Drs. Chowdry Bashir (Indianapolis/Dayton, Ohio), Justin Chow (Granger), and Mark Tatara (Ft. Wayne). I hope that all current ACP fellows get the chance to experience this spectacular event at future annual meetings.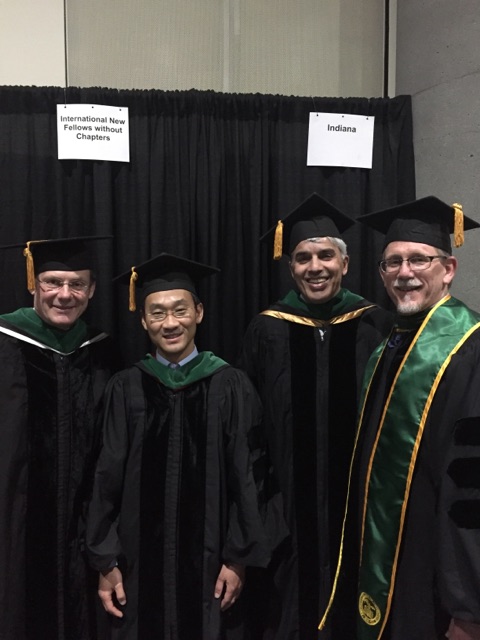 Doctors Tatara, Chow, Bashir, and Allen at the 2017 Convocation ceremony.
Masters
Two Indiana Chapter members were selected as Masters this year, Debra K. Litzelman, MD, MACP and Glenn J. Bingle, MD, MACP. Dr. Litzelman attended and her mastership bestowed at the Internal Medicine 2017 Convocation. Congratulations to both our recipients!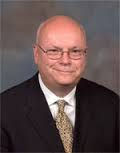 Drs. Debra K. Litzelman and Glenn J. Bingle, newly elected for Mastership in the ACP.
Presentations
Numerous poster and oral presentations were made by residents and students from our Indiana Chapter institutions. Congratulations on this accomplishment.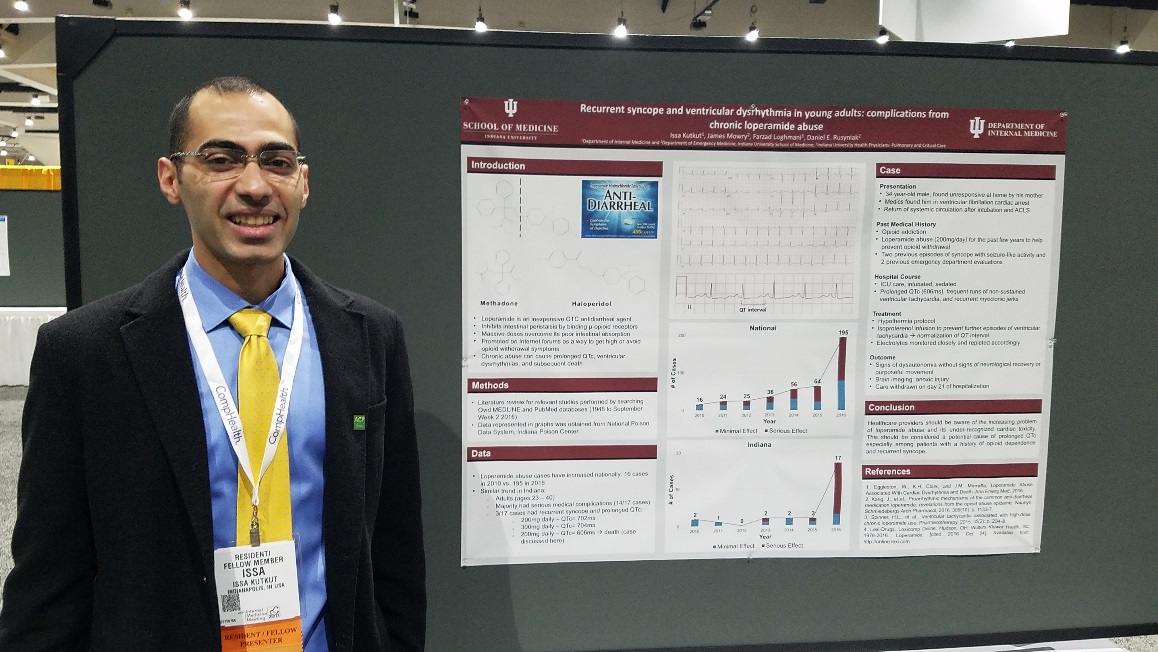 Dr. Issa Kutkut, IU School of Medicine resident.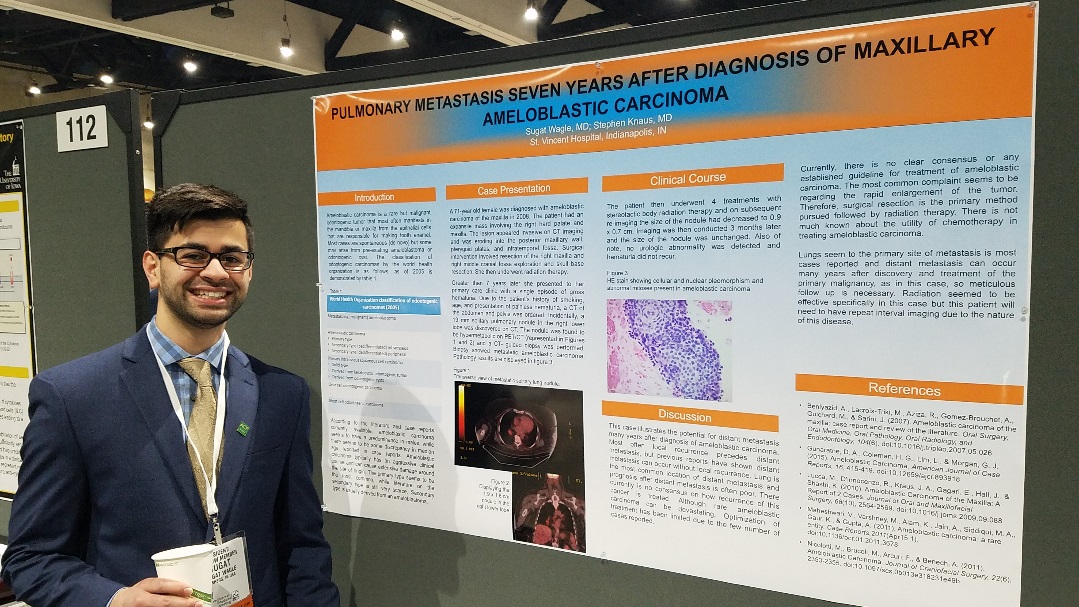 Dr. Sugat Wagle, resident at St. Vincent.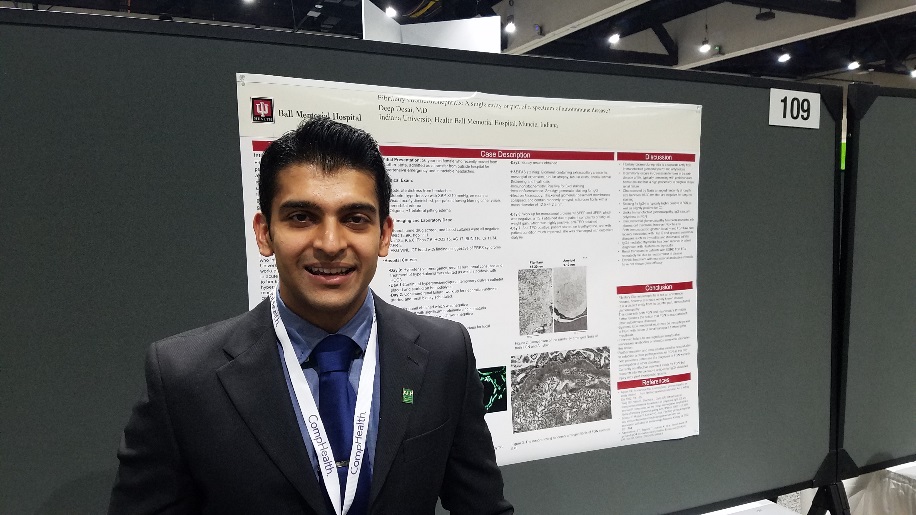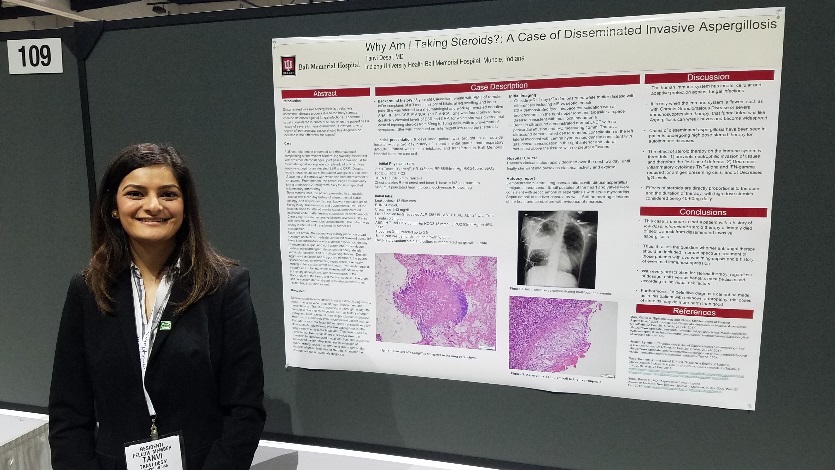 Drs. Deep and Tanvi Desai, Ball Memorial, at their poster presentations.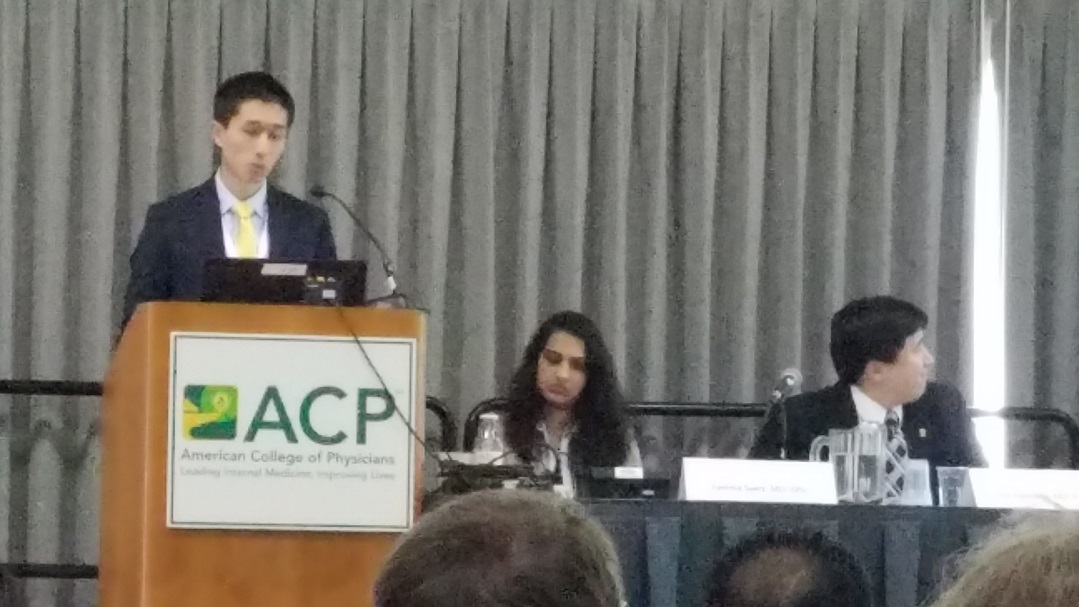 IU resident Yao-Wen Cheng presents with Dr. Michael Sha, former Indiana Governor, as judge of the national clinical vignette competition.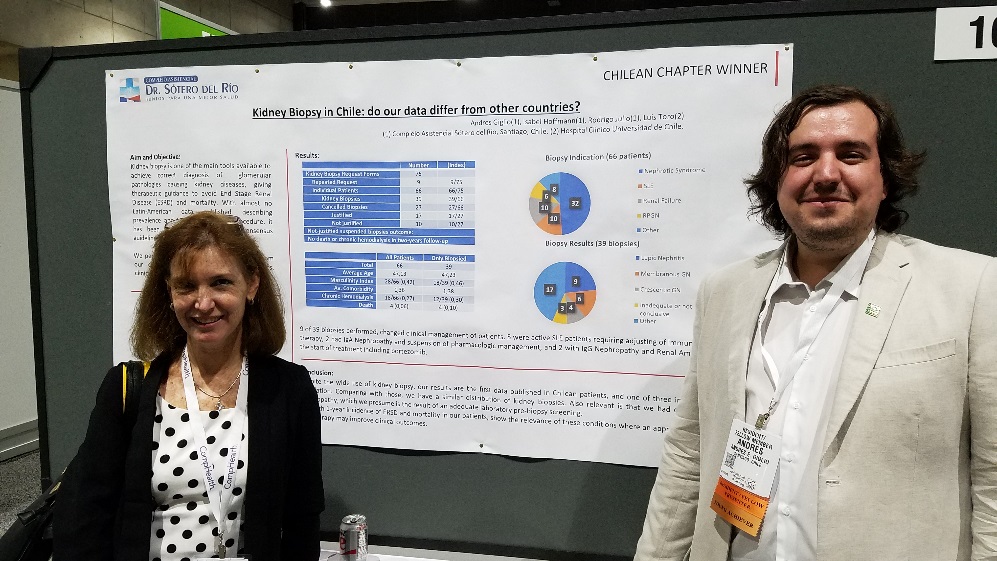 Dr. Andres Giglio, resident, and his mentor Dr. Isabel Hoffmann from our sister Chapter Chile. Indiana Chapter helped sponsor Andres' travel to present his chapter award-winning work at the San Diego meeting.
Indiana Chapter Reception
A HUGE number of current and former Indiana Chapter members joined us for a lively reception in the Gas Lamp district of San Diego. This was a great time for members to interact from members and trainees from all around the state, as seen in the photos below.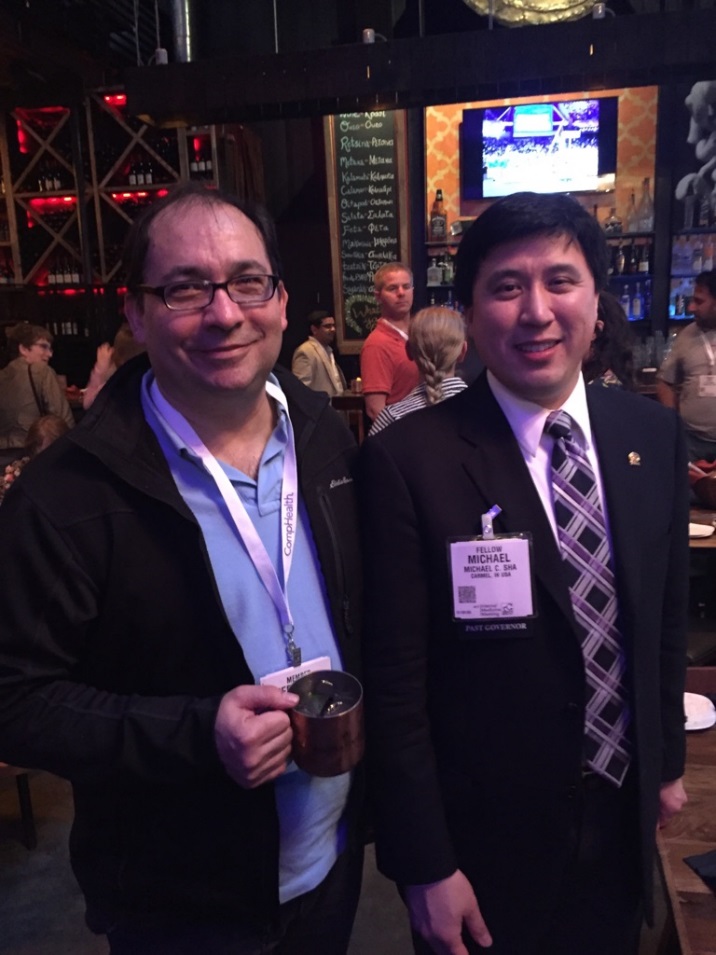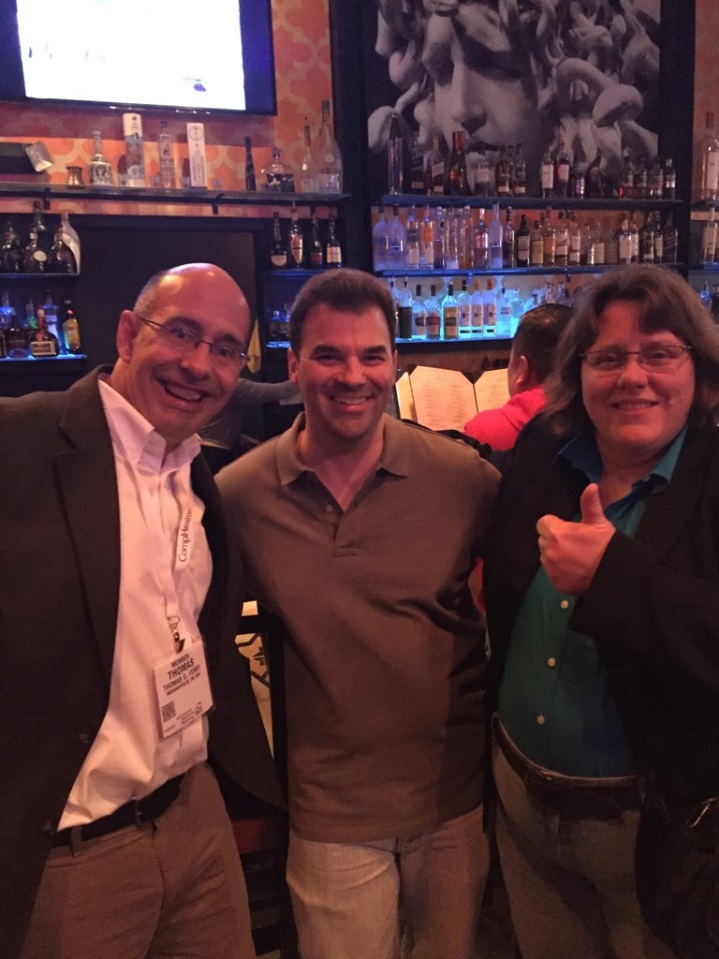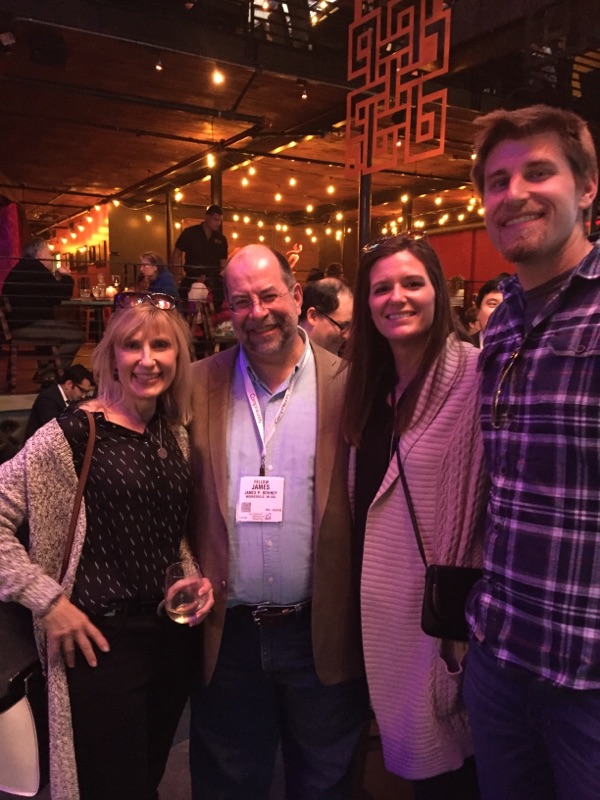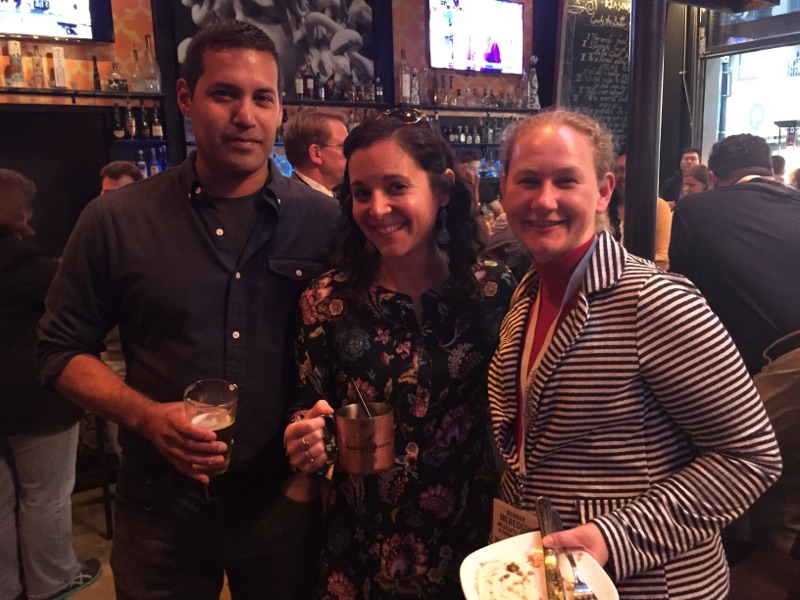 ---
From the ACP Resident Council of Indiana
New Leadership
Recent elections were held for new officer and liaison positions. For 2017-2018 we will have co-presidents Duane Allen and Tony Saliba, both from the Indiana University program. Deep Desai from Ball Memorial will serve as the council secretary position. Umer Bhatti will serve as program liaison for IU Indy, and several names are under consideration for liaisons for St. Vincent and Ball Memorial. We are excited for a successful year under their leadership.
We are extremely thankful to the outgoing council leadership, Kathleen Morris and Allison Wildin. Kathleen and Allison were very effective in their positions over the last year, and will continue subspecialty training in cardiology and rheumatology, respectively. Congratulations and thanks to both.
Marian College of Osteopathic Medicine – Second Annual Resident Panel Discussion
Marian College of Osteopathic Medicine hosted a Resident Panel discussion for the second year on January 10, 2017. Indiana ACP hosted the dinner meeting which provided a forum for students interested in learning more about the residency application process, successful interviewing tips, and what to look for in a medicine residency training program as well as subspecialty training. An enthusiastic crowd of over 100 students attended the informative panel discussion featuring residents from Ball Memorial, St. Vincent's, and IU School of Medicine programs. Marian graduated their first senior class this year, with many choosing a career in primary care and internal medicine.
2nd Annual Resident Council Wellness Event
The Resident Council conducted the Second Annual Wellness Fair on February 4, 2017. The sessions were offered in Indianapolis at Eskenazi Health and were expanded to Muncie to expand access to all our resident and student populations from St. Vincent's, IU-Ball Memorial, IUSM, and Marian College of Osteopathic Medicine. The session featured lunch with program sessions on wellness, nutrition, and work-life balance for married professionals. The Indy event hosted 35 people while the Muncie event hosted 15 members. These events prepare our trainee members for the rigors of today's training programs and a life-time of practice, avoiding physician burn-out.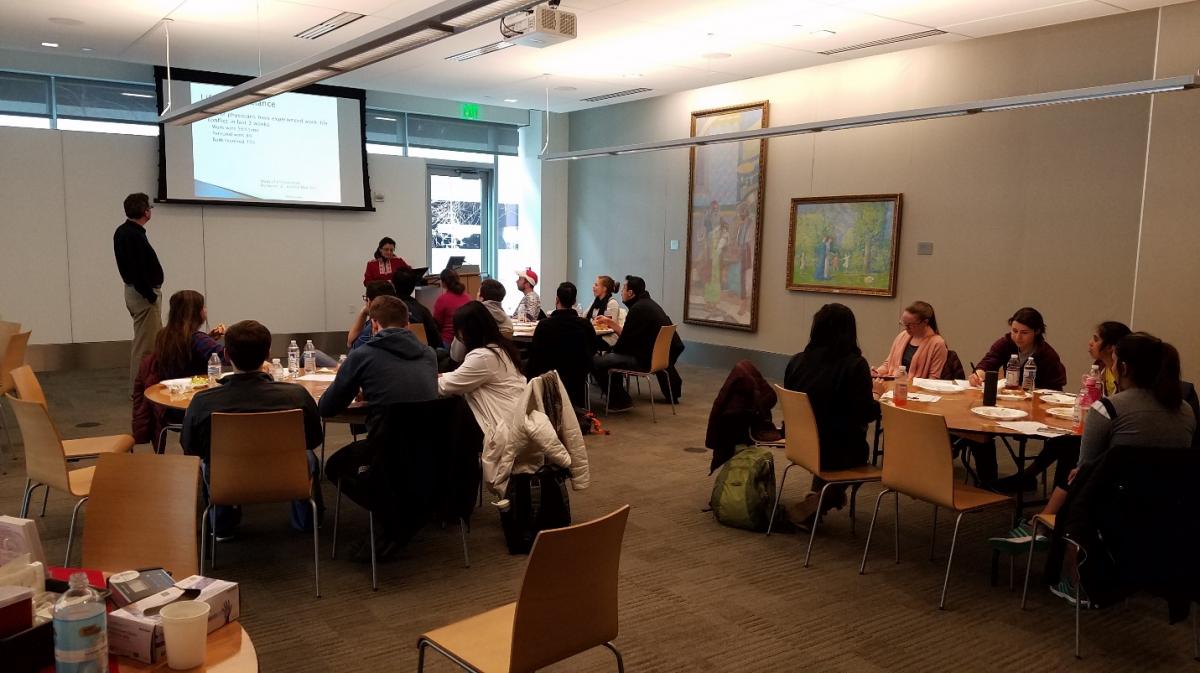 The Wellness Event audience is addressed by Dr. Teresa Rohr-Kirchgraber. The group was also addressed by Dr. Adam Hill from IU Health, who recently published an article in New England Journal of Medicine on his personal journey to wellness.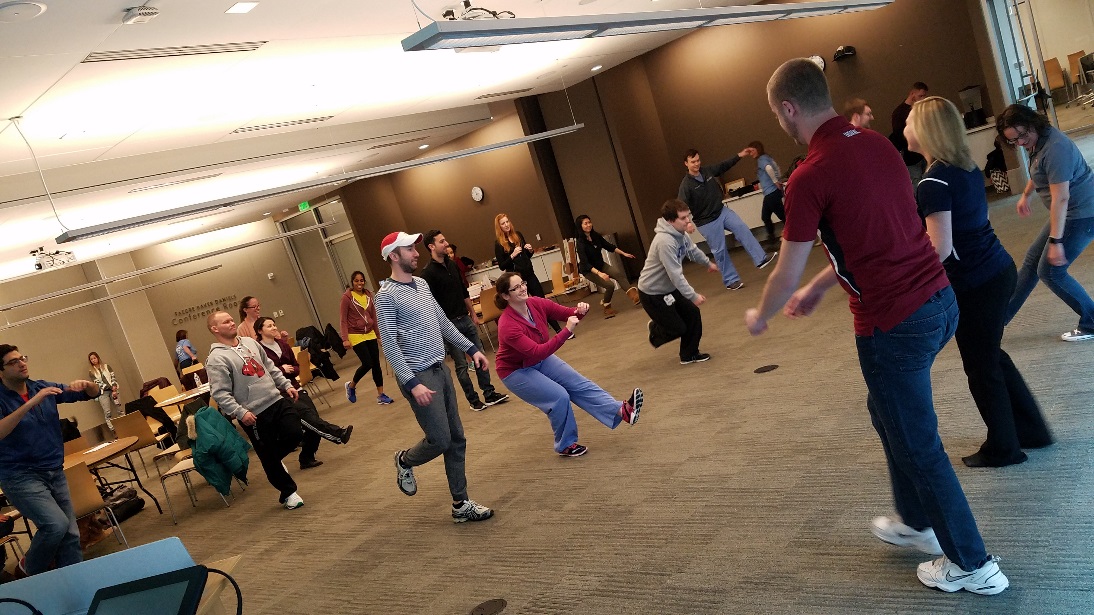 Attendees learn core-strengthening techniques that can be worked into their busy routines.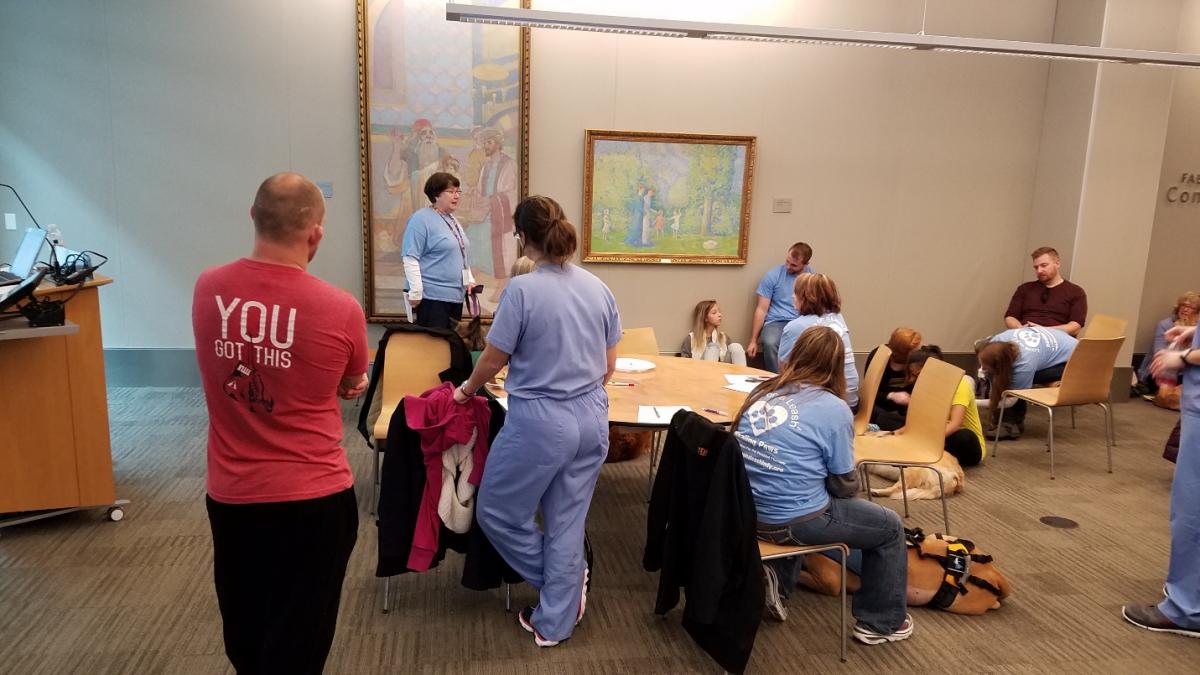 Local Love-On-A-Leash volunteers and their therapy dogs shared some quality time with their animals and the Wellness attendees, along with the many ways this group serves our communities with much-needed animal therapy. Other sessions included Kick-boxing demonstrations and hand-massage therapy at Eskenazi.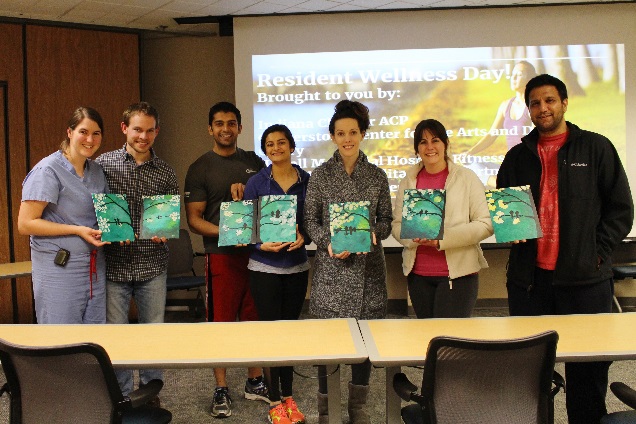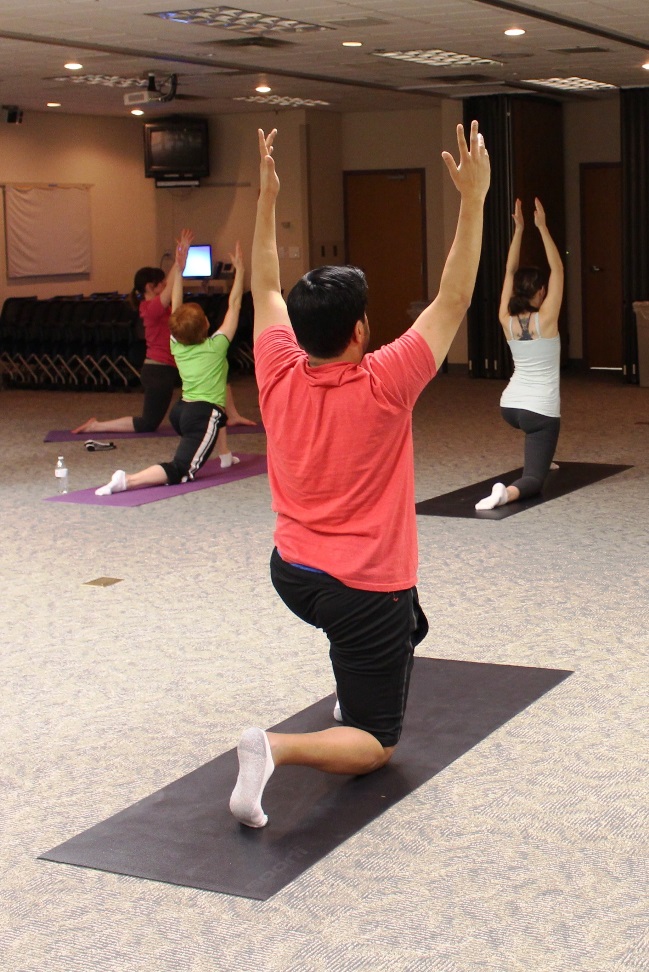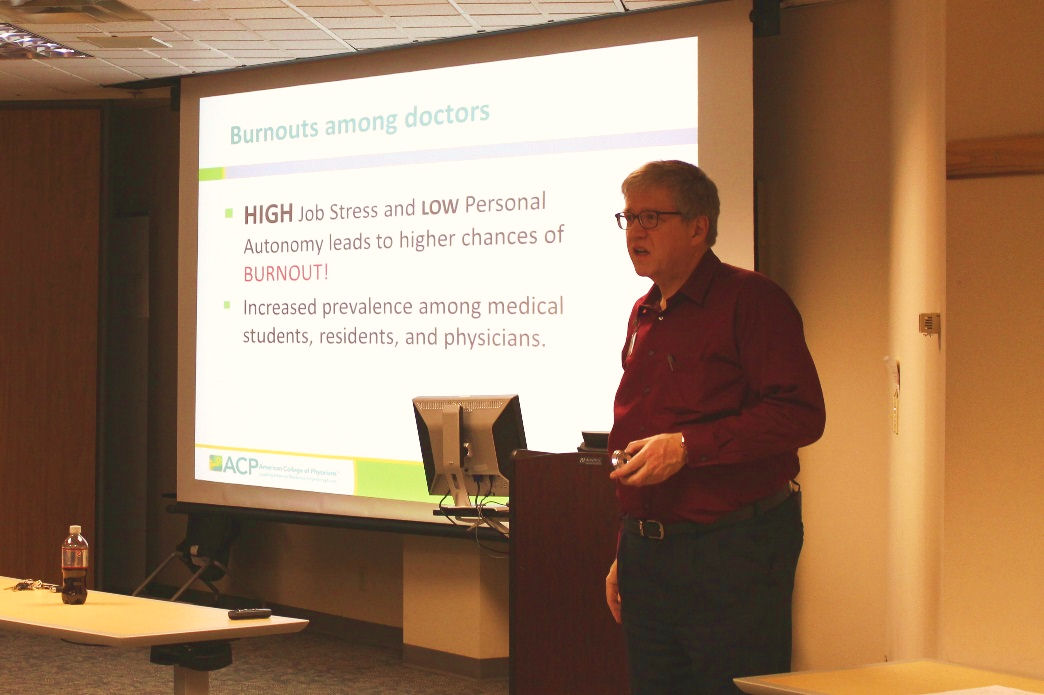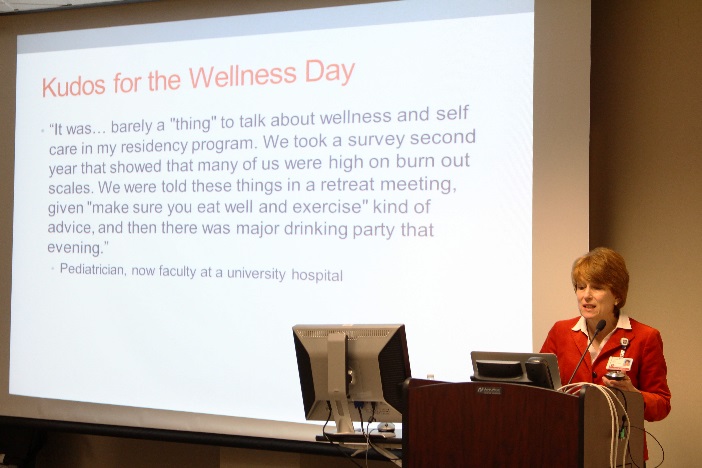 The Muncie event featured relaxation painting and yoga activities along with discussions on physician wellness by Drs. Matt Neal and Heidi Lakinen.
---
ACP Advocacy: Patients Before Paperwork
ACP has begun an initiative to reinvigorate the patient-physician relationship by challenging unnecessary practice burdens.
ACP has long identified reducing administrative complexities or burdens as a priority. Ongoing actions to achieve this goal have included developing and maintaining related policy, participating in various efforts to work to alleviate specific regulatory and insurance requirements, and eliminating other unessential tasks that detract from patient care and contribute to physician "burn-out."
UPDATE: ACP published a set of policy recommendations on reducing excessive administrative tasks. "Putting Patients First by Reducing Excessive Administrative Tasks in Health Care: A Position Paper of the American College of Physicians" provides a cohesive framework for identifying and evaluating administrative tasks and outlines detailed recommendations to reduce excessive administrative tasks across the health care system.
ACP Strategies for the Patients Before Paperwork Initiative
Identify and prioritize which complexities are of the top concern for ACP members and their patients.
Educate ACP members, other physicians, consumer advocates, and policy makers on what makes up administrative complexities, including the intent of the requirement and how the complexity impacts patients and physicians.
Implement the most effective advocacy, stakeholder engagement, and practice support approaches to help mitigate or eliminate the top priority complexities and to help ACP members (and other physicians) address those complexities that cannot be eliminated.
Achieve results that reduce physician burn-out, help restore the joy of practice, and reinvigorate the patient-physician relationship.
---
ACP Response to the House Passage of the AHCA Legislation
(from ACP Advocate)
Health Care Bill Passed by House Seen as Harmful and Flawed by ACP.
College objects to changes it says would hurt patients with pre-existing conditions and eliminate essential benefits.
May 5, 2017 (ACP) – The American Health Care Act – passed May 4 by the U.S. House of Representatives as a replacement for the Affordable Care Act – is "inherently flawed and harmful" to patients, physicians and health care in general, the American College of Physicians stated in response to the congressional action.
Dr. Jack Ende, ACP's president, said the College is "extremely disappointed" that the House passed legislation that "makes coverage unaffordable for people with pre-existing conditions, allows insurers to opt-out of covering essential benefits like cancer screening, mental health, and maternity care and cuts and caps the federal contribution to Medicaid while sun-setting Medicaid expansion."
"As a result, an estimated 24 million Americans will lose their coverage, and many more will be at risk of paying higher premiums and deductibles," Ende said.
In a letter to Senate leaders sent after the House passed the bill by a 217 to 213 vote, ACP said that the legislation in its current form would "erode coverage and essential consumer protections for the most vulnerable patients: those who are older, sicker and poorer." The College asked that senators reject the House version of the bill and "instead work with us to achieve real bipartisan solutions to improve access, coverage and consumer protections for all Americans."
House Republicans were able to generate enough support to get the legislation passed primarily by tweaking provisions related to pre-existing conditions. For weeks, GOP holdouts had maintained that the bill did not adequately protect such patients, but a last-minute amendment that added funding – $8 billion over five years – to help people with pre-existing conditions afford their insurance premiums apparently swayed enough House members to vote yes.
However, ACP believes that people with pre-existing conditions remain at risk.
"While the AHCA attempts to cover individuals with pre-existing conditions through high-risk pools or reinsurance programs, the pre-ACA experience with high-risk pools is that they do not provide adequate coverage and protection," the College noted in its letter to the Senate. The funding allocated in the amendment that led to passage of the bill is a "paltry increase [that] will not make coverage affordable for sick people," ACP wrote.
The College noted that "a recent analysis found that the AHCA, prior to this amendment being adopted, would leave a $20 billion annual shortfall in the amount of funding that would be needed for such pools to be sustainable. The amendment's addition of an average of $1.6 billion per year doesn't come close to providing the resources needed."
"Simply put, high-risk pools are no substitute for maintaining the ACA's prohibition on insurers charging more to people with pre-existing conditions," ACP wrote.
In addition to the issue of pre-existing conditions, ACP wants the Senate to fix other provisions that the College also finds egregious.
The legislation "would make radical changes to the Medicaid program's structure and financing, resulting in the rollback of coverage for many millions of the most vulnerable Americans," ACP told Senate leaders. "Specifically, we oppose capping, block granting and cutting the federal contribution to Medicaid, ending federal funding for Medicaid expansion and eliminating the requirement that Medicaid cover essential health benefits."
"The AHCA would dramatically transform the Medicaid program in a way that would severely undermine, underfund and jeopardize continued coverage for tens of millions of enrollees," ACP wrote in its letter to the Senate.
The College also objects to the replacement of income-based premium and cost-sharing subsidies with age-based tax credits. These "result in higher premiums and deductibles for millions of patients, with persons aged 50 and over being most at risk of having to pay thousands of dollars more out-of-pocket," ACP wrote. "For many of them, insurance would simply become unaffordable."
Another revision that helped resurrect the bill, after it failed to garner enough support to get it to a vote in late March, was the creation of a waiver process by which states could opt out of several mandates of the Affordable Care Act. As passed, the legislation would allow states to waive the ACA requirement that all insurance plans cover certain so-called essential health benefits. Under the ACA, these include preventive care visits, screenings and vaccinations, maternity care, prescription drug coverage and mental health treatment as well as outpatient care, emergency services and hospitalization.
The change could make such coverage dependent on where a patient lives.
ACP would like the Senate to change this provision of the bill as well.
Overall, "these harmful changes would return the country to the pre-Affordable Care Act days when persons with pre-existing 'declinable' medical conditions in most states were priced out of the market and the insurance products available in the individual market did not cover medically-necessary services," Ende said.
ACP had advocated strenuously against passage of the AHCA by the House and plans to continue doing so as the bill now moves to the Senate.
"The House action is by no means the end of the story," Ende said. "ACP will continue to do all that it can to ensure continued coverage and access for the millions of patients who have benefited from the Affordable Care Act."
As ACP told Senate leaders, "the College strongly believes in the 'first, do no harm' principle," urging the senators to "move away from the fundamentally flawed and harmful policies that would result from the American Health Care Act as passed by the House and ... reject this legislation."
Instead, ACP urged in its letter, work with the College to "help make health care better, more accessible, and more affordable for patients rather than imposing great harm on them as the AHCA would do."
More Information – options for you to share your thoughts with your representatives.
ACP's letter to Senate leaders on the AHCA is available on the College's website.
The College's statement on the House vote on the AHCA also is on the website.
---
New Fellows in the Last Six Months
Khalid A. Alkimawi, MD, FACP
Robert J. Fick, MD, FACP
Venkata K. Kancherla, MD, FACP
John A. Lucich, MD, FACP
Nishith M. Mewada, MD, FACP
Amikar Sehdev, MBBS, FACP
Mark J. Tatara, MD, FACP
---
New Members in the Last Six Months
Osama Abdel-Hafez, MBBS
Abdillahi A. Abdinoor, MD
Bhaktavatsala Apuri, MBBS
Godson Nnamdi Aronu, MD
Jacob Babu, MD
Degesew A. Bezza, MD
Josephine Bongiovanni , MD
Gabriel Bosslet, MD
Lynette Caillouet, MD
James Deppe, MD
Mary M. Glass, MD
Daniel C. Gutteridge, MD
Rachael Holliday, MD
Mustafa Hyder, MD
Mohamed Omar Jahangir, MD
Arzu Karaman Gonulalan, MD
Jeremy Kirk, MD
Ranjani Moorthi, MD
Daniel Pino, MD
Maria Parker Spector Robles, MD
Khurram Shahzad, MD
Sufyan Sial, MD
Yuzhu Tang, MD
Richa Varshney, MBBS
John Yacoub, MD
Adnan Yousuf, MD
I hope you are having a fabulous spring in 2017! Please contact us with ideas you have on how we can improve our ACP Chapter services.
Contact information:
Indiana Chapter Governor:
Bradley L. Allen, MD, PhD, FACP, FIDSA
Email: bradalle@iupui.edu
Ph: 317-278-7788
Fax: 317-278-8165
Donna Seawards
Executive Director
Email: donnaseawards@gmail.com
Ph: 623-225-5527
Chapter Address:
49 Boone Village, Box 290
Zionsville, IN 46077