You are here
Indiana Governor's Newsletter May 2016
Indiana Governor's Newsletter May 2016

---
---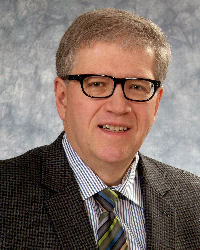 J. Matthew Neal, MD, MBA, CPE, FACP, FACE, FACPE, Past ACP Governor
---
Finis
Well, this is it for me, my final Governor's Newsletter—although I will be happy to contribute "guest" pieces from time to time. I have officially passed on the torch of the Indiana Chapter to Dr. Brad Allen, and rest assured that the Chapter is in excellent hands. We are happy that Donna Seawards will continue to serve as our Executive Director, and Kevin Tolliver has agreed to take on the Treasurer role from Dr. Brandon Dickey, who will continue to be ACP Services President.
I will, of course, continue to be involved in Chapter and National events in any capacity that I am asked to serve. As always, it has been an honor to represent you at our Chapter events and at the National level. It certainly has been a privilege to have been elected Governor by you and a highlight of my professional career.
This final newsletter from me is a recap of the Washington, DC meeting. This meeting was unusual at it combined the Board of Governors Meeting, Leadership Day, and the Annual Meeting in one gigantic event. Normally, Leadership Day is a separate event held in mid- to late May, but it was combined with the Annual Meeting given that it occurred in Washington, DC.
This was, of course, my final meeting on the Board of Governors, as I am officially "retired." I will miss the many friends I have found at these national meetings and hope to continue relationships with them in the future.
---
Leadership Day 2016
I, Dr. Allen, Dr. Dickey (Indiana ACP Services President), and two IU Health Ball Memorial residents (Dr. Allison Wildin and Dr. Sarah Jeong), attended advocacy meetings and went to Capitol Hill for various meetings with staff of our Senators and Representatives. (Congress was out of session so the Members themselves were not there.) Below are some of ACP's advocacy initiatives this year.
Thanks to the enactment of the Medicare Access and CHIP Reauthorization Act (MACRA) in 2015, the burden of Medicare's Sustainable Growth Rate (SGR) is no longer an issue. MACRA repealed the formula and set us on a new pathway toward value-based payment and delivery systems. With the SGR no longer an advocacy priority for ACP, we are now anxious to turn our focus onto other important priorities and we have an exciting line-up of legislative issues for Leadership Day, the majority of which are new. Some of these new priorities include:
Chronic Care Management: Improving payment, eliminating cost-sharing, and reducing regulatory barriers to chronic care management.
Health Information Technology: Reducing the burdens associated with EHR meaningful use regulations and clinical documentation requirements and enhancing usability and operability.
Telemedicine: Eliminating payment and regulatory barriers to telemedicine in a way that supports the patient-physician relationship.
Behavioral Health and Opioid Abuse: Reducing barriers to integrating behavioral health into primary care and addressing the related rising death toll from opioid abuse.
Also of importance to ACP is the need to advocate for critical reforms to Graduate Medical Education, including support for vital primary care workforce programs, like the National Health Service Corps and Title VII Health Professions programs.
Dr. Dickey and Dr. Jeong met with staff of Rep. Messer and Sen. Donnelly: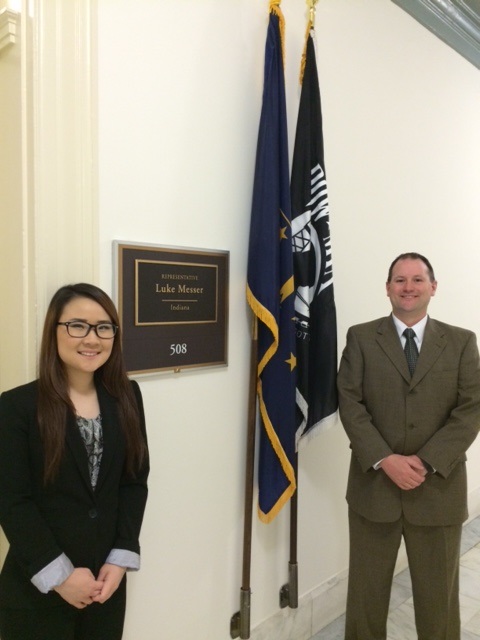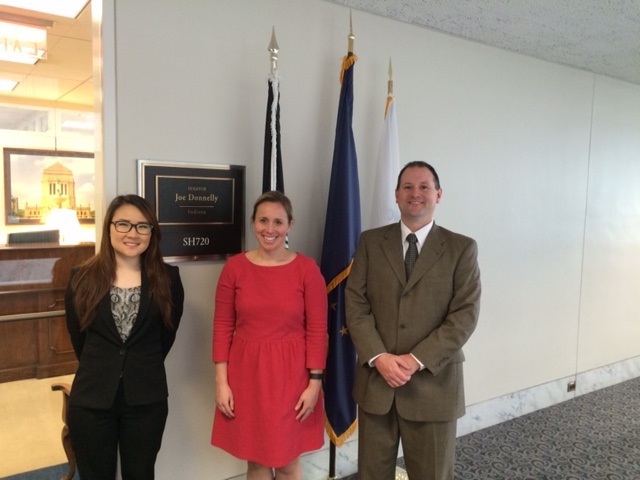 Dr. Neal, Dr. Allen, and Dr. Wildin met with staff of Rep. Buschon and Sen. Coats: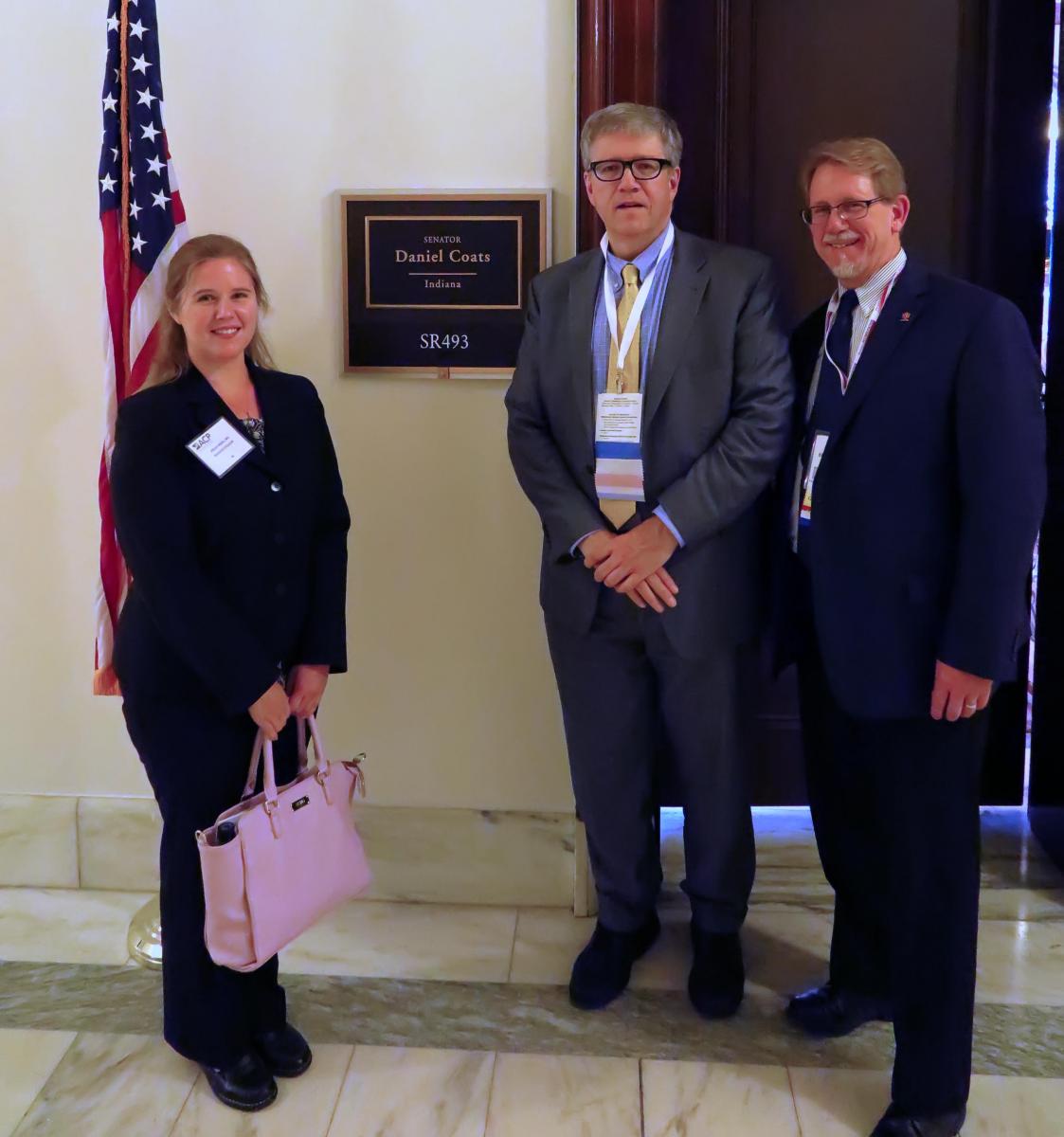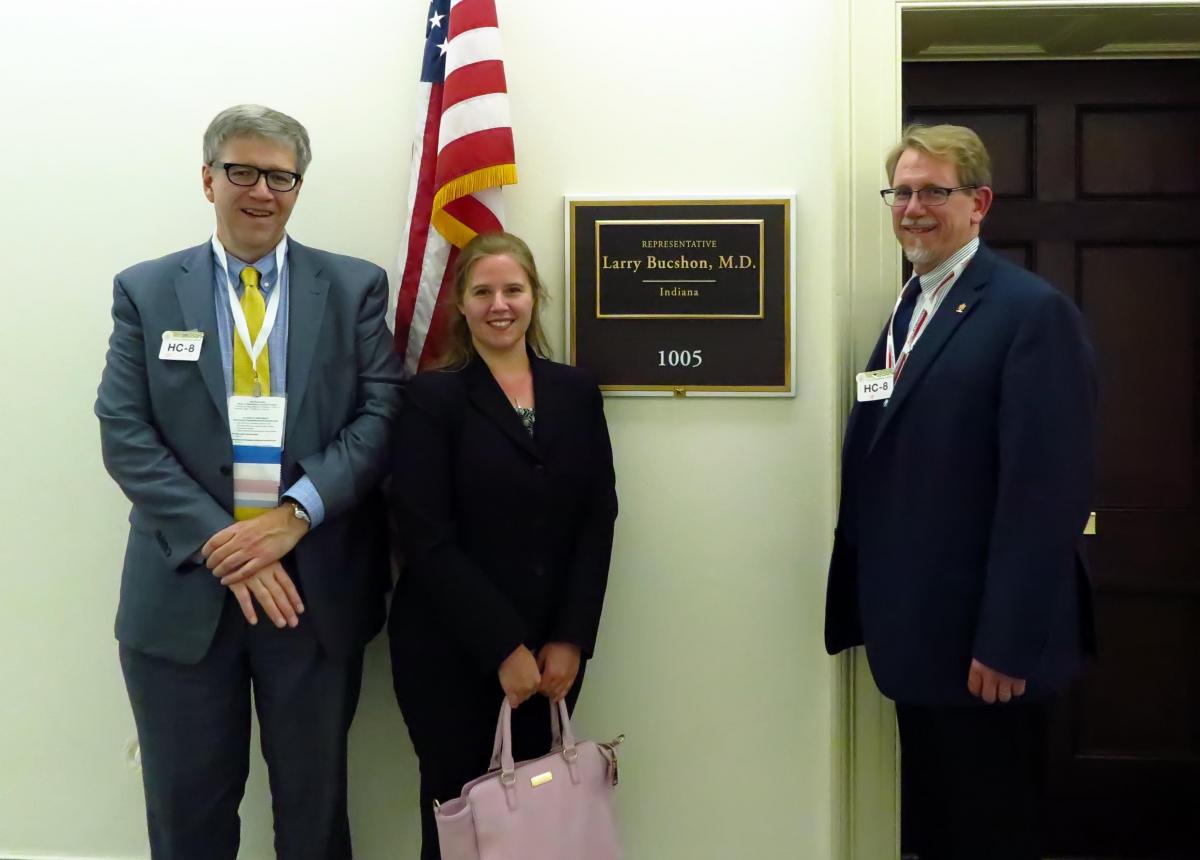 More information on Leadership Day can be found here.
---
Convocation
The Convocation of the American College of Physicians is an annual ceremony whereby the College recognizes and applauds its new Fellows and the recipients of various honors. It is a ceremony of tradition, transition, renewal, and celebration.
Dr. Wayne Riley, President of ACP, presided over the convocation: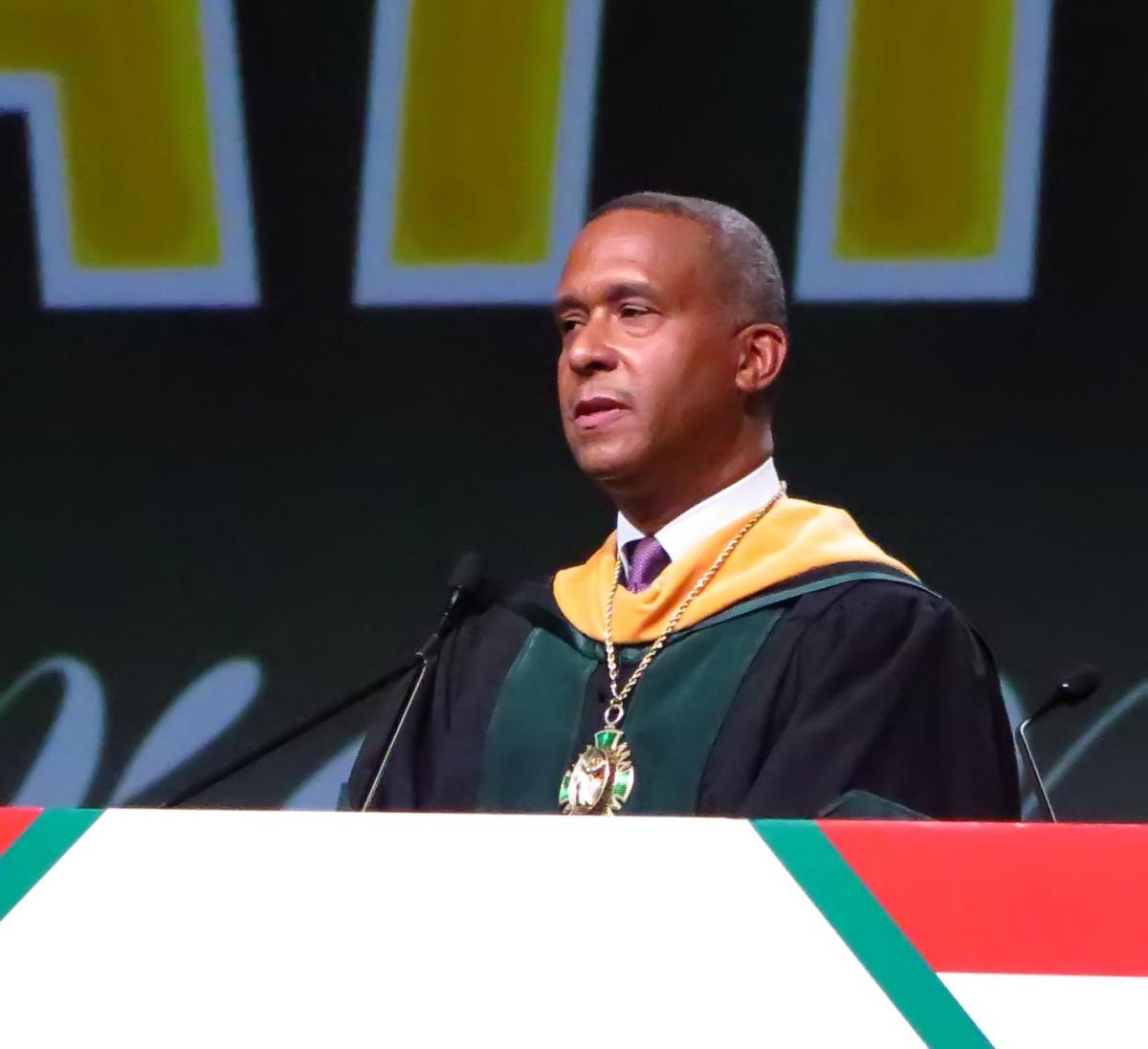 Several new Fellows marched at convocation this year: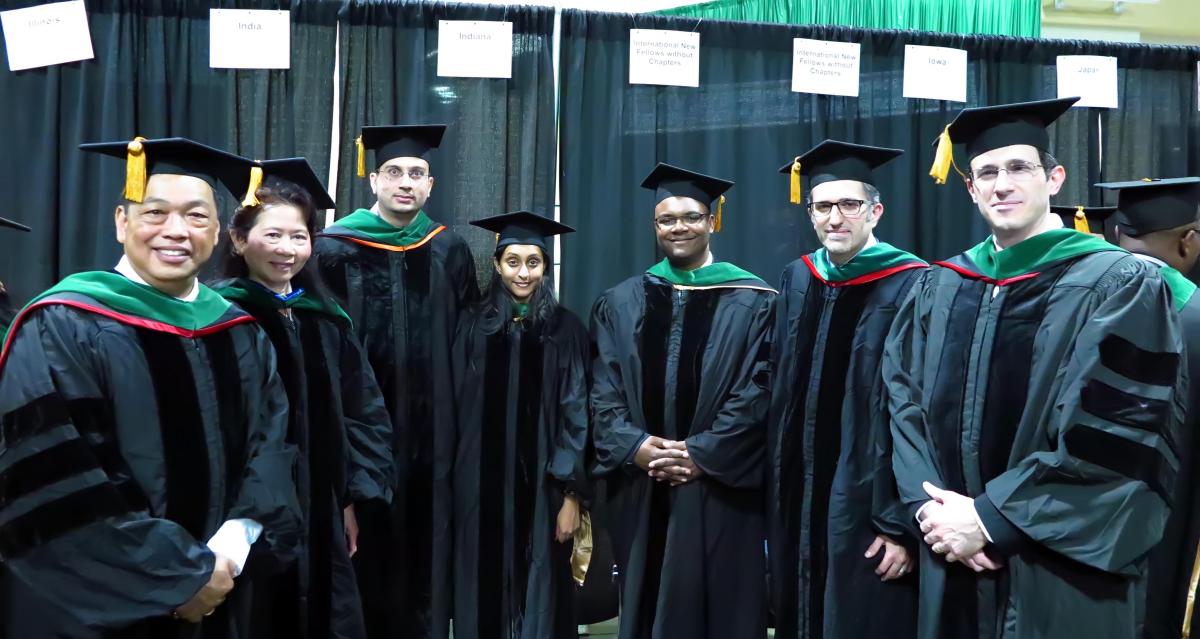 Left to right: Dr. Reynaldo Carandang, Dr. Elizabeth Le, Dr. Rajnish Khillan, Dr. Neshahthari Wijeyakuhan, Dr. Munyaradzi S. Chakabva, Dr. Edmond Bendaly, and Dr. Jacques Daoud.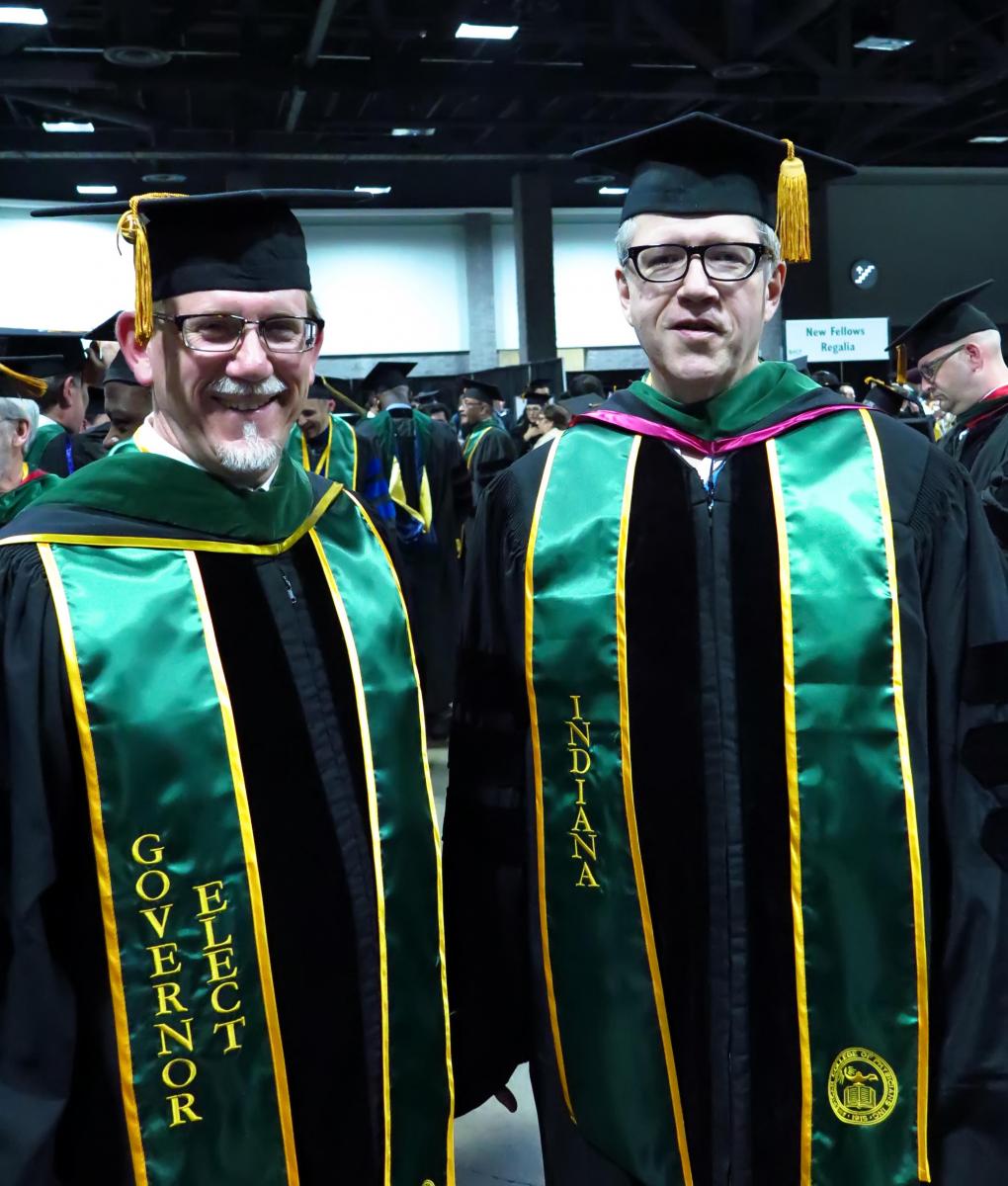 Left: Dr. Allen (Governor-Elect) and Dr. Neal (Governor)
---
Resident Poster Presenters
A total of five residents presented posters at the Annual Meeting this year: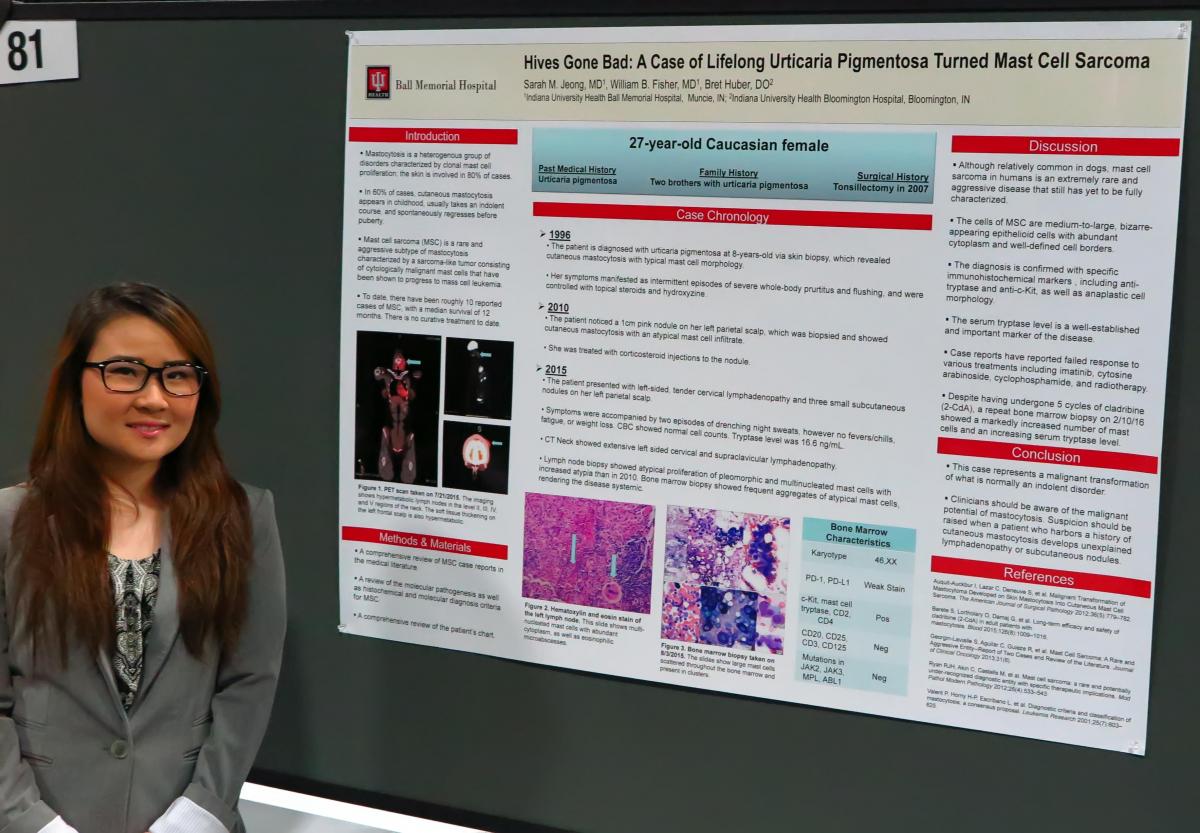 Dr. Sarah Jeong, IU Health Ball Memorial Hospital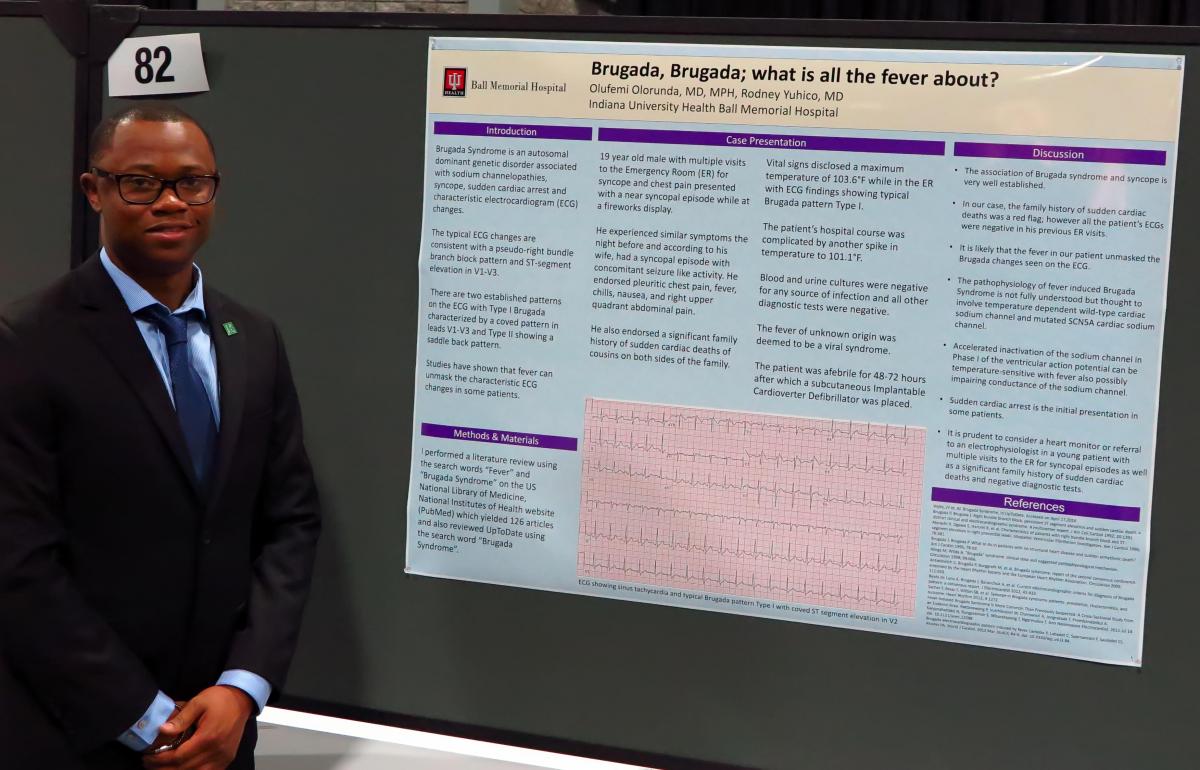 Dr. Olufemi Olorunda, IU Health Ball Memorial Hospital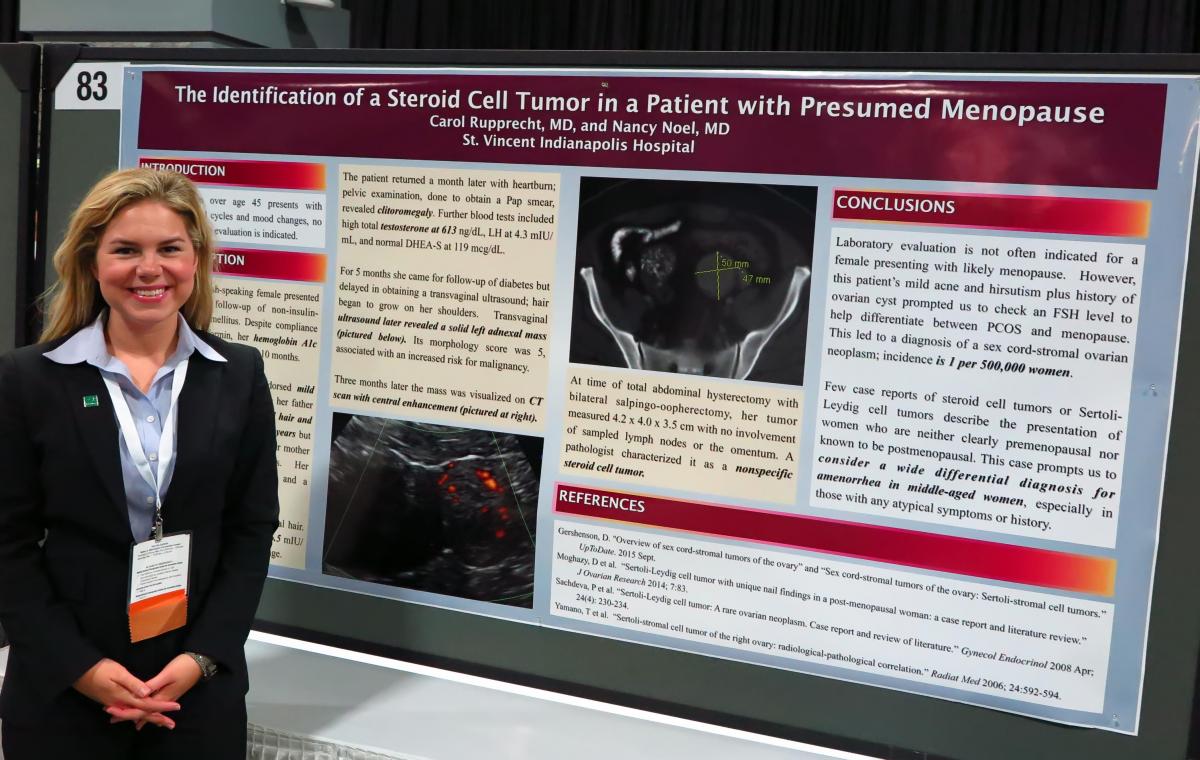 Dr. Carol Rupprecht, St. Vincent Hospital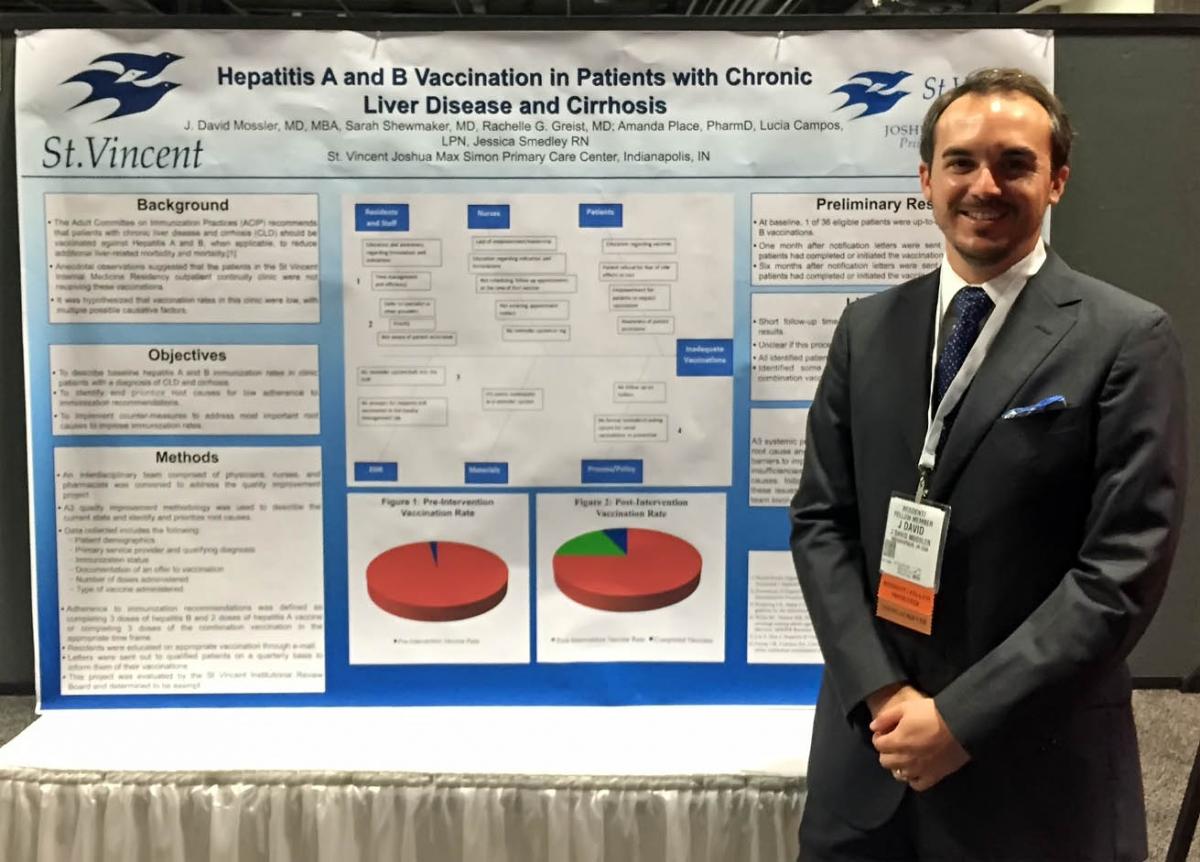 Dr. J. David Mossler, St. Vincent Hospital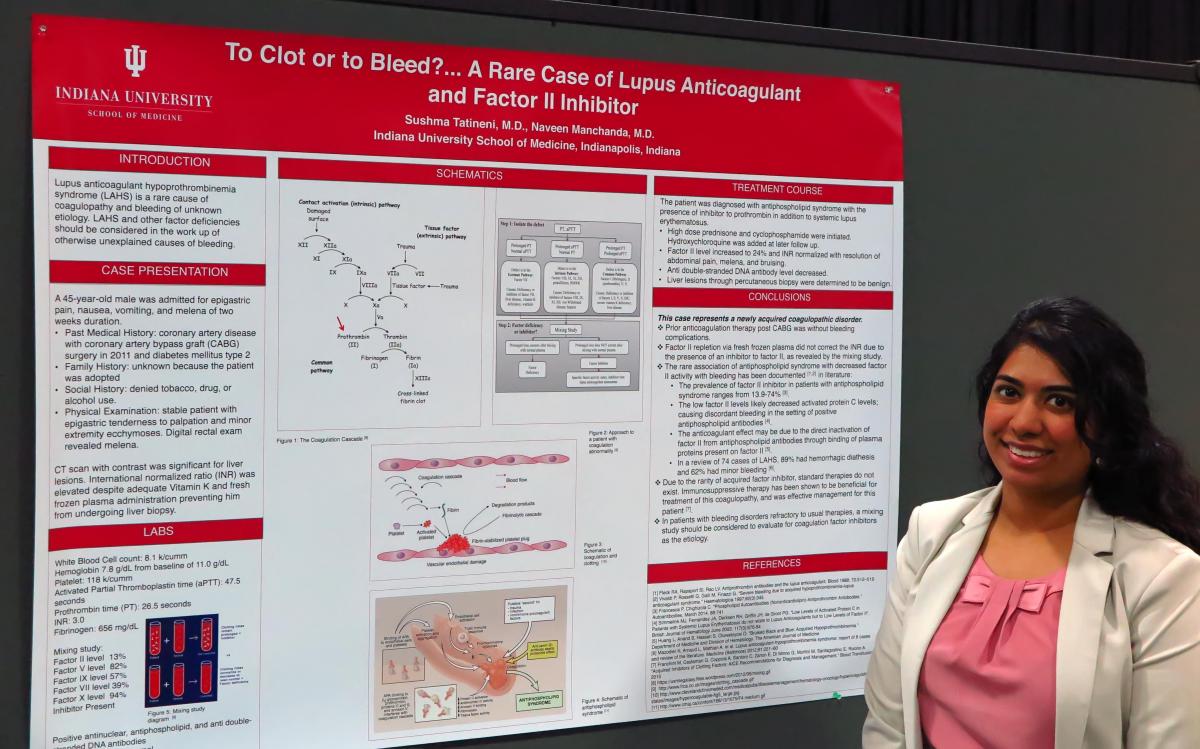 Dr. Sushma Tatineni, IU School of Medicine
---
Chapter Reception – Friday, May 6
The Chapter reception was Friday night (May 6) at Acadiana Restaurant near the Convention Center. It was a great event and over 20 Chapter members attended!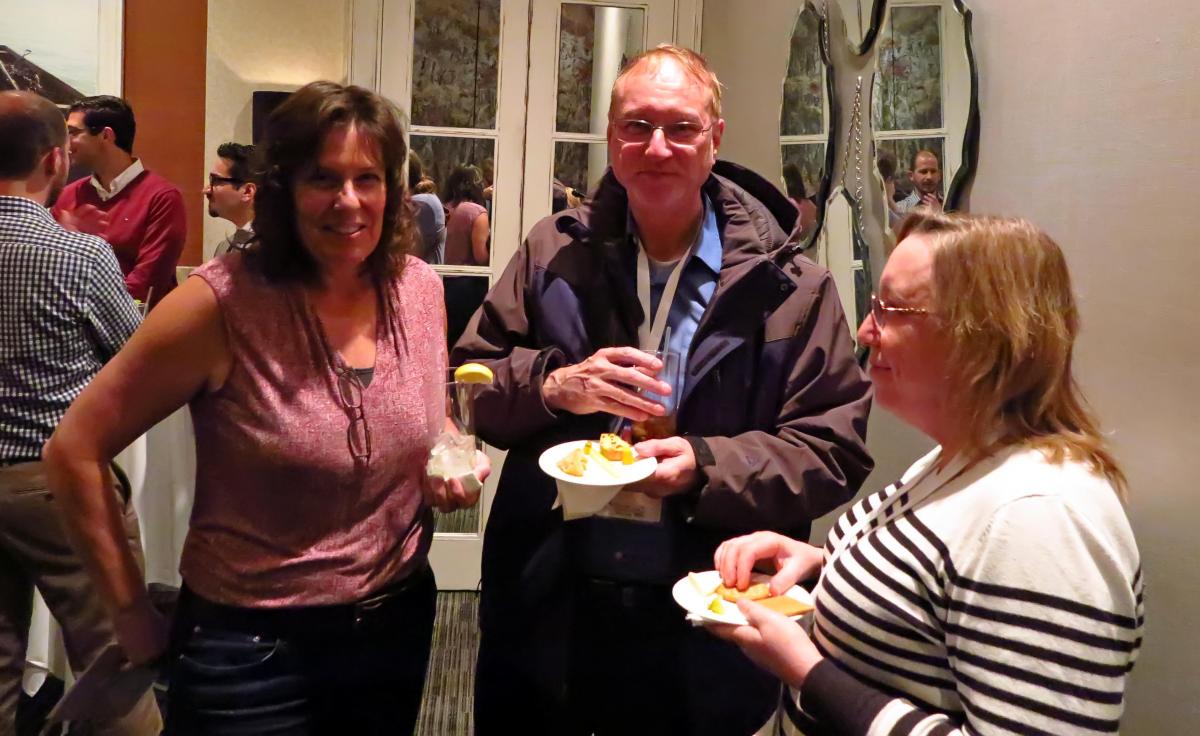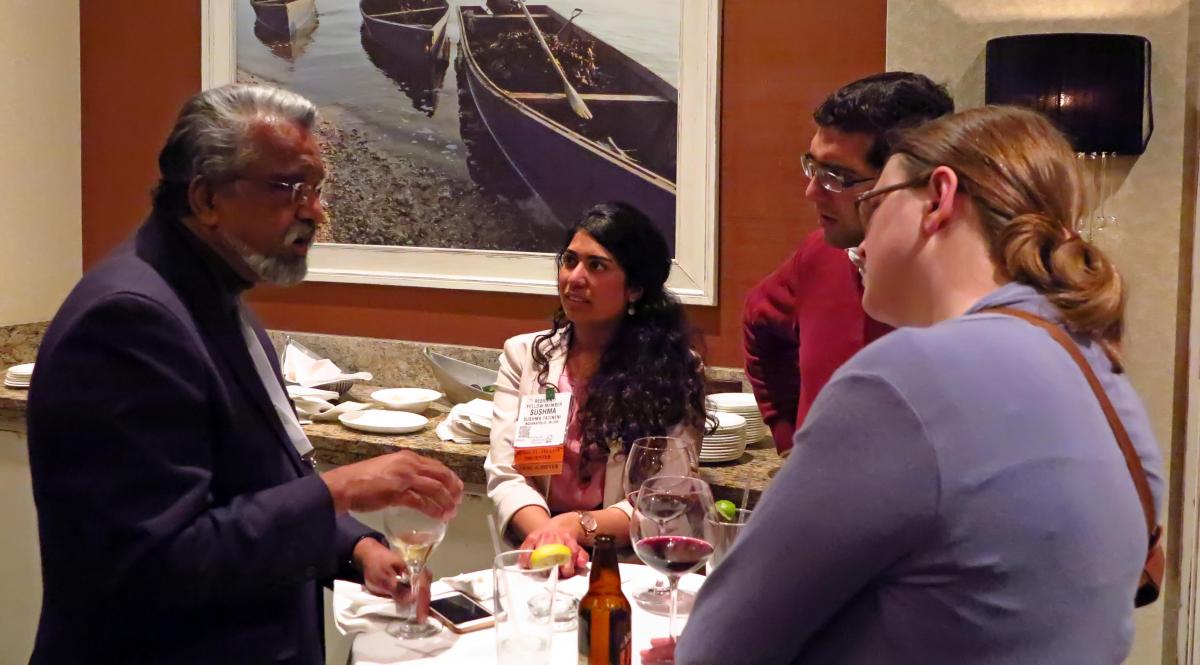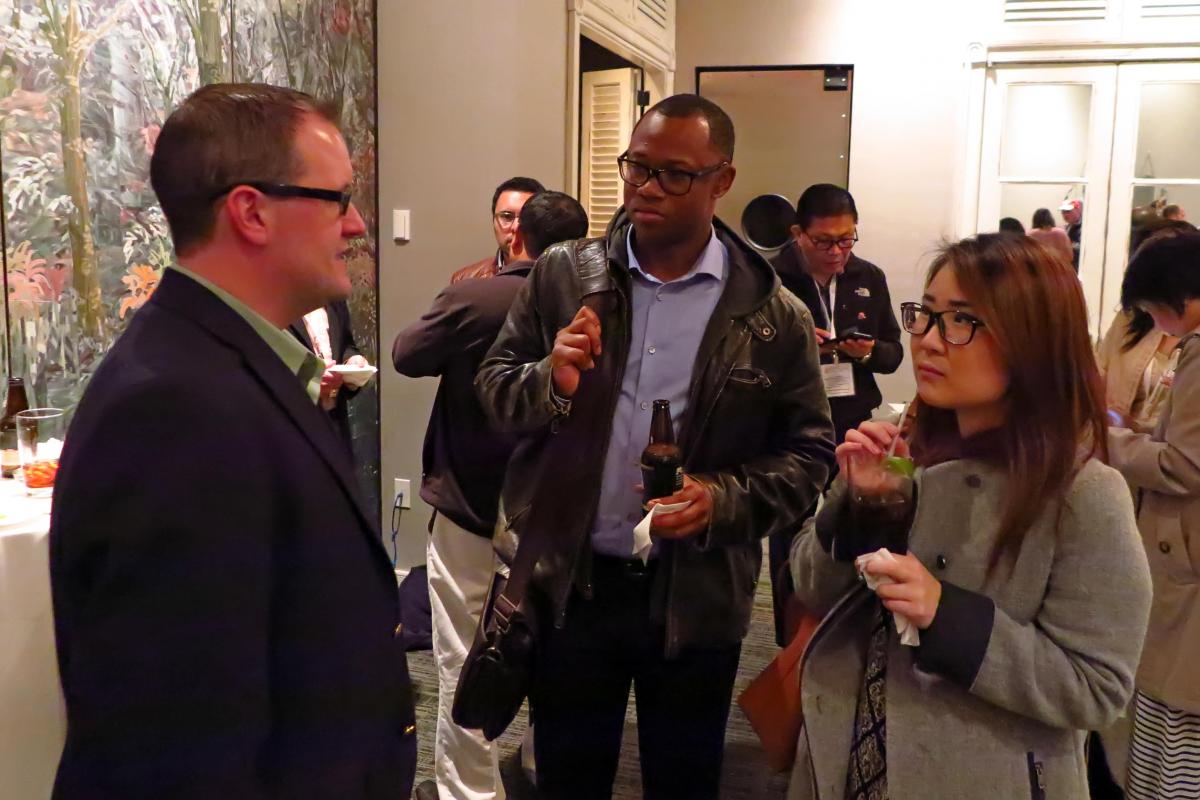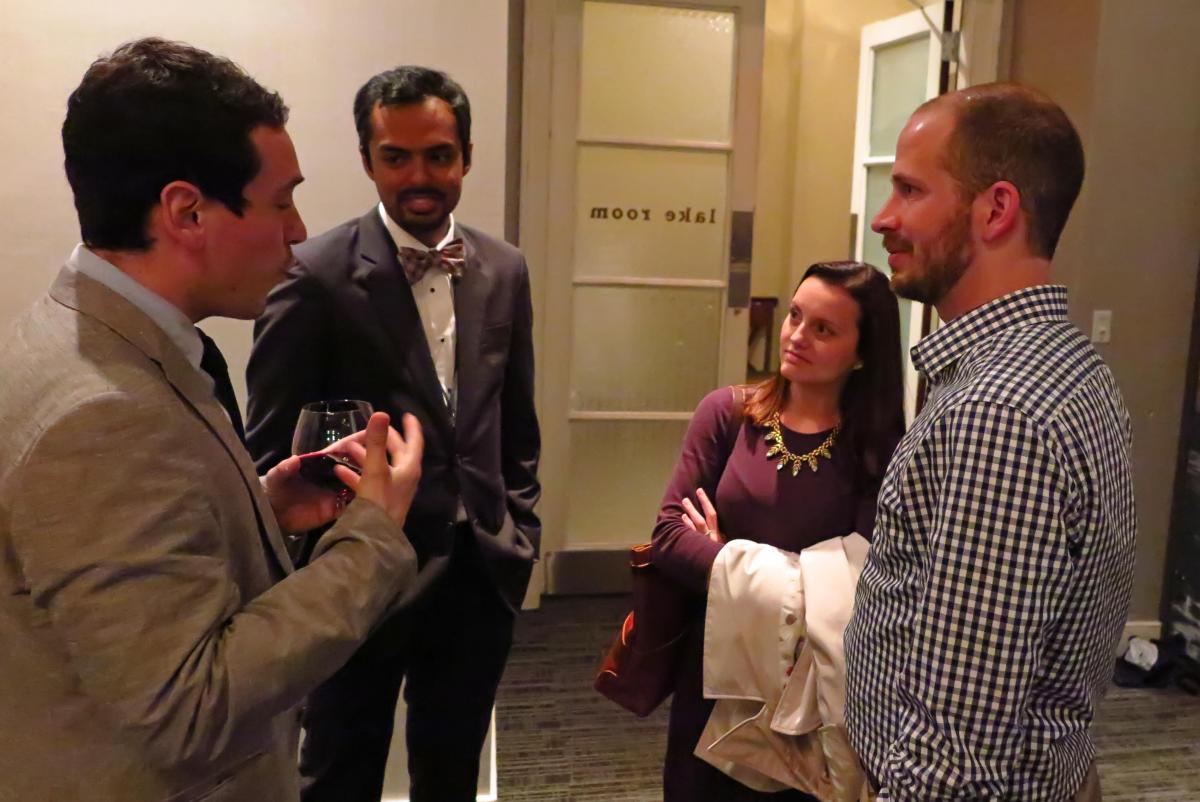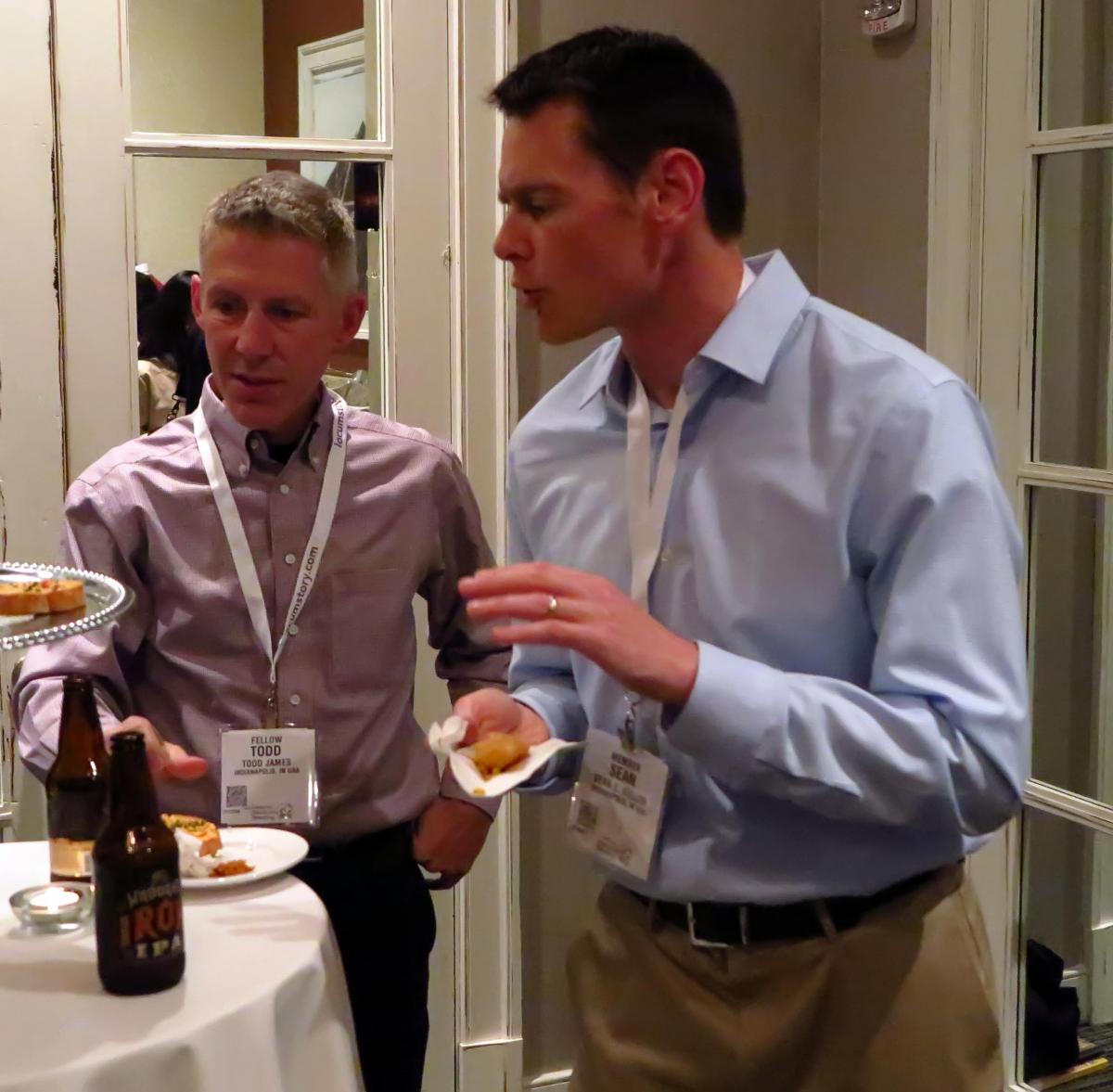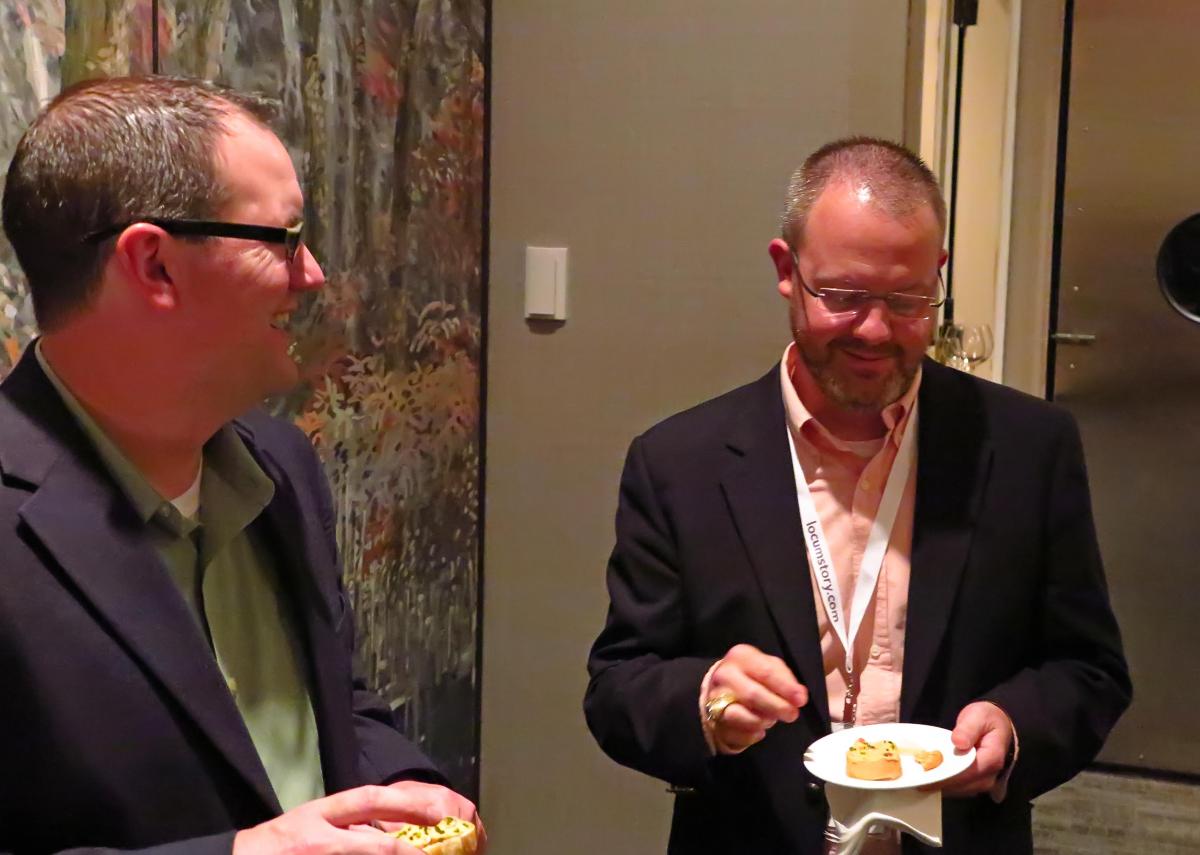 We would like to honor Dr. Jaime Gonzalez Montero from the Chile Chapter, who presented a poster at the meeting. For the last several years, the Indiana Chapter has sponsored a resident or student from Chile to attend the national meeting and present a poster.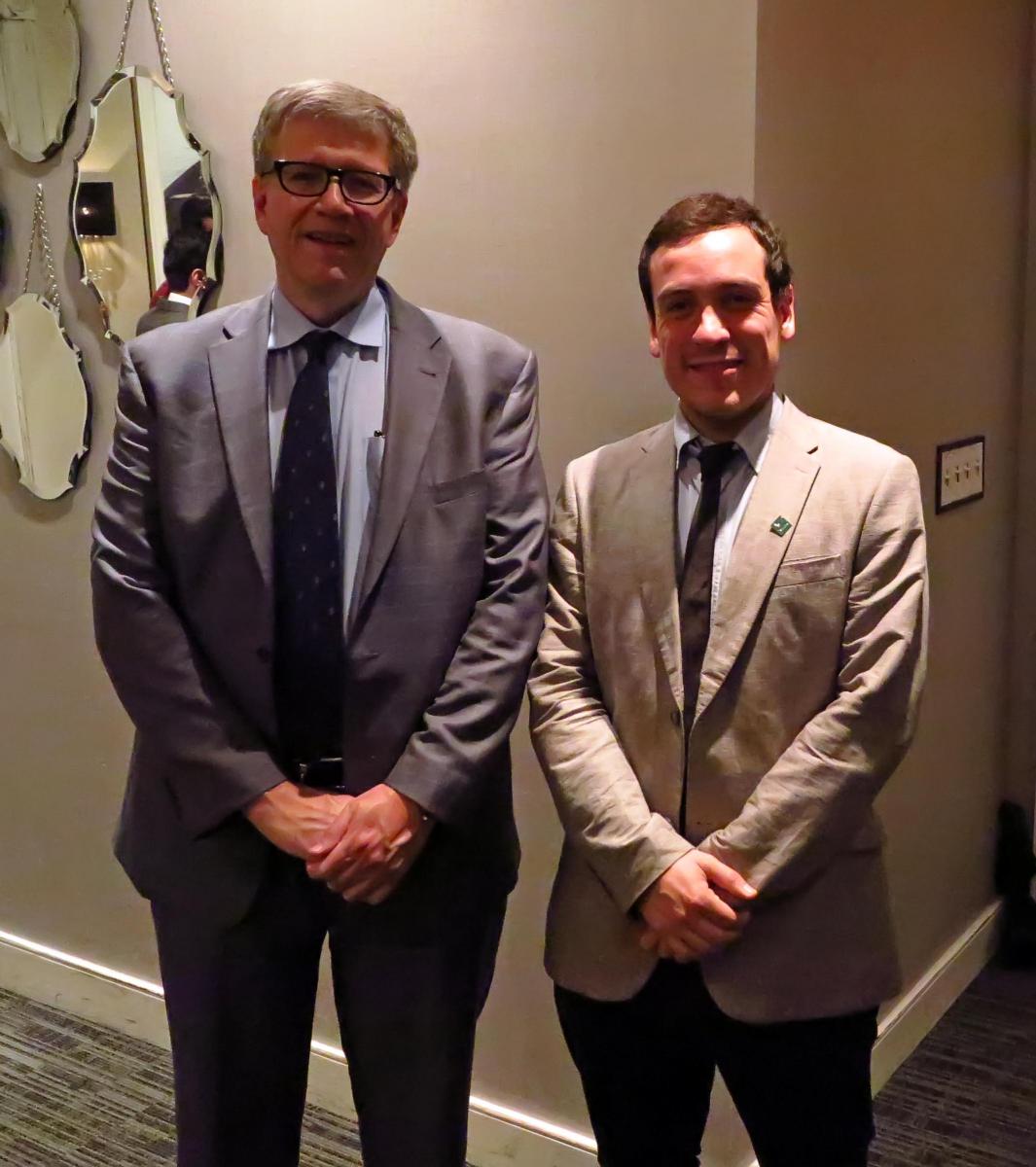 ---
Indiana Chapter Earns Runner-Up in National Doctors' Dilemma
The annual ACP Doctor's Dilemma Competition is a hallmark program for the College. Held each year at the annual Internal Medicine Meeting, it brings together some of the brightest residents from around the world in a friendly, but highly competitive, environment. The competition tests the medical knowledge of up to 50 teams, each representing an ACP chapter. After three days of competition, the winning team is awarded the coveted "Osler Cup" and is granted a place in ACP history.
To participate in the competition, a team must be nominated by their local ACP chapter. Teams are accepted on a first-come, first-served basis until all of the slots are filled. All team members must be active ACP Resident/Fellow Members.
This year, Indiana University School of Medicine again represented the Indiana Chapter. It was a historic competition as Indiana blew through the first two rounds on Thursday and Friday to reach the Final Four on Saturday, May 7 to compete against Pennsylvania, New Jersey, and Maryland. No Indiana team had ever advanced this far in the competition.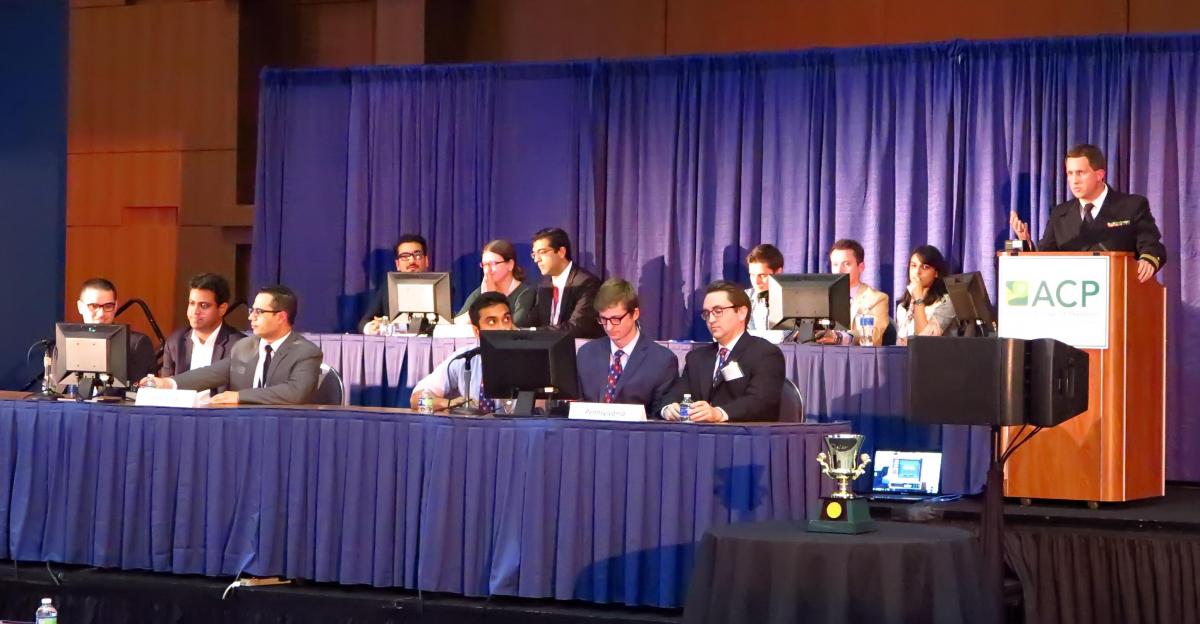 The competition was tough and the winner not decided until the Final Dilemma question. New Jersey ended up winning, with Indiana and Pennsylvania tied for second. Congratulations on the IUSM team of Cassidy Overpeck, Faheem Beg, and Tony Saliba on doing such an outstanding job!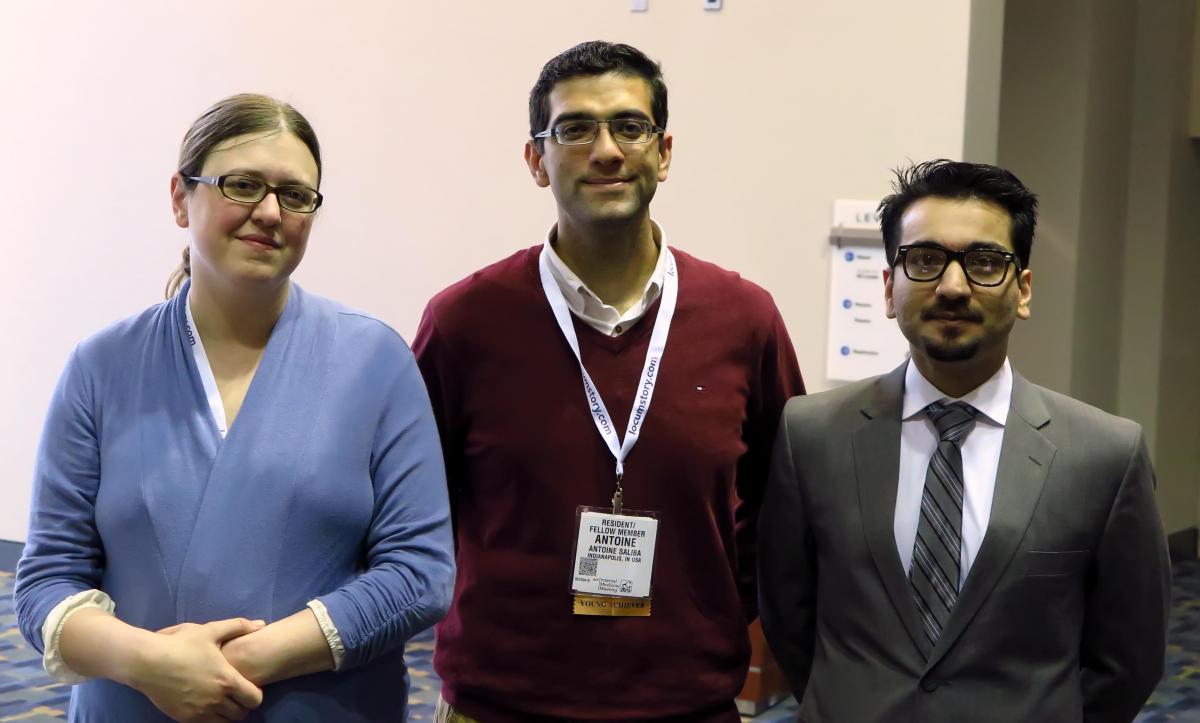 Indiana Doctors' Dilemma Team (left to right): Cassidy Overpeck, Tony Saliba, Faheem Beg.
---
Hold the Date – Indiana Chapter Meeting 2016!
The Indiana Chapter Meeting will be held again at the Renaissance Marriott Hotel in Carmel on November 10-12, 2016. Thursday (11/10) will consist of a Chapter reception and poster judging, and the main scientific meeting will take place on Friday (11/11). Saturday (11/12) will consist of ABIM Self-Assessment (SEP) modules. We hope to see you there!
---
New Members
| | |
| --- | --- |
| Ramesh Adhikari, MBBS | Joseph Lee |
| Neeta B. Agarwal, MD | Azarias S. Lonberger , MD |
| Hamzeh Almasri, MD | Rita Mankus MD |
| Allison Burke, MD | Ritvika Panghal, MD |
| Amy Kathryn Gessford | Shashi Puttaswamy, MD |
| Murat Gonulalan, MD | Alberto Sanchez, MD |
| Nancy R. Harvey, MD | Yang Shen, MD |
| Samer Hassna, MD | David Ryan Stone, DO |
| Marion Huff, MD | Delise A. Webber, MD |
| Kenneth E. Klotz Jr, MD | Martin C. Were, MD |
| Lavanya Kolluri, MBBS | Emily R. Young, MD |
---
New Fellows
| | |
| --- | --- |
| Francois R. Abi Fadel, MD, FACP | Mark W. Geraci, MD, FACP |
| Melanie S. Barrido, MD, FACP | Deshini A. Moonesinghe, MBBS, FACP |
| Edmond A. Bendaly, MD, FACP | Leny Philip, MD, FACP |
| Reynaldo A. Carandang, MD, FACP | Niranjan Babu C. Thothala, MBBS, FACP |
| Munyaradzi S. Chakabva, MBchB, FACP | Ryan T. Trauring, DO, FACP |
---
Contact Information
Indiana Chapter Governor:
J. Matthew Neal, MD, MBA, CPE, FACP, FACE
Email: jneal6@iuhealth.org
Phone: 765-747-4350
Fax: 765-751-1451
Executive Director:
Donna Seawards
Email: donnaseawards@gmail.com
Phone: 623-225-5527
Chapter Address:
4319 West Clara Lane, PMB #288
Muncie, Indiana 47304