You are here
Indiana Governor's Newsletter March 2018
Indiana Governor's Newsletter March 2018

---
---
Bradley L. Allen, MD, FACP, ACP Governor
---
Save the Date – 2018 Indiana Chapter Meeting
Mark your calendars for our annual Chapter Meeting, to be held on November 15 - 17, 2018. This year's Indiana Chapter Meeting will again be held at the Renaissance North Hotel in Carmel. This will be our fourth year at the facility, which has been an excellent backdrop for our statewide event based on staff and attendee feedback.
Thursday, Nov. 15th: The Annual Meeting will kick off with the Member's Reception, followed by the resident-student poster competition. A continued addition from last year will be a poster competition for our Early Career Physician members. (see email invitations for specifics).
Friday, Nov. 16th: The main scientific sessions and keynote address.
Saturday, Nov. 17th: Will feature ABIM Self-Assessment Modules along with some resident-specific sessions, luncheon with the winning poster competition oral presentations, and our much-heralded Doctor's Dilemma competition. This will be followed by a social reception for all members, including special invitations to our resident, student, and Early Career Physician members.
Full details of the program will be coming soon. We hope to see record numbers of attendees this year.
---
Internal Medicine 2018, New Orleans
Indiana Chapter Reception – We hope to see a large number of current and former Indiana Chapter members at Mulate's New Orleans Cajun Restaurant, Friday, April 20, from 5:30 – 7:00 pm. The Chapter Receptions is always a great time for members to interact with members and trainees from all around the state.
---
Dr. Theresa Rohr-Kirchgraber Honored by American Medical Women's Association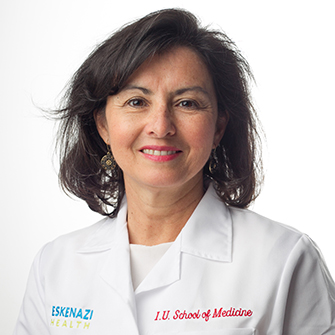 The American Medical Women's Association (AMWA) will honor Dr. Theresa Rohr-Kirchgraber with the 2018 Bertha Van Hoosen Award at its 103nd annual meeting award ceremony on March 24, 2018. This award, named in honor of the Founder and first President of AMWA, honors one or more women physicians who have demonstrated exceptional leadership and service to women physicians and students through AMWA. This award celebrates those who have made an impact on our lives, our careers, and our patients.
Dr. Rohr-Kirchgraber served on the Board of Directors for AMWA, various committees and task forces, served as president of AMWA 2015 - 2016, and is currently Governance Chair. As the AMWA liaison to the American Medical Association - Women Physicians Section , she was vice chair of the governing council. Currently, she is an Associate Clinical Professor of Medicine and Pediatrics at Indiana University School of Medicine, Executive Director of the IU National Center of Excellence in Women's Health, and the Chief Physician Executive, Eskenazi Health Center of Excellence for Women's Health.
We are proud to call Dr. Rohr-Kirchgraber, MD, FACP, a distinguished member of our Indiana ACP Chapter, having received the Laureate award in 2016. Congratulations Theresa!
---
IUSM Student Member, Steven Chen, Selected to the ACP Council of Student Members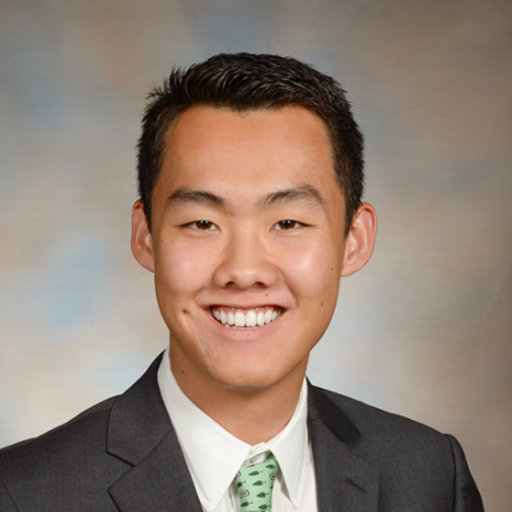 We were recently excited to learn that Steven Chen, an IUSM student in the Medical Scientist Training Program, was elected to serve a three-year term beginning April 19, 2018 as a representative of ACP's Council of Student Members (CSM). The College's governing body, the Board of Regents, will approve his appointment at its meeting in April during the ACP Internal Medicine Meeting 2018 in New Orleans. Steven will begin his orientation to CSM at that time. His position will also take him to the annual ACP Leadership Day in Washington, D.C. with our ACP Chapter delegation as well as regular meetings at ACP headquarters in Philadelphia.
Steven started his program at IUSM in 2015 and is conducting his graduate training in the Department of Medical and Molecular Genetics studying Bioinformatics and alternative splicing regulation. Congratulations to Steven on this fantastic leadership opportunity and chance to advocate on issues that impact the current and future practice of internal medicine.
---
From the ACP Resident Council of Indiana
New Leadership Opportunities – Officer elections will be held soon for new officer and liaison positions. In 2017-2018 we have been led by co-presidents Duane Allen and Tony Saliba, both from the Indiana University program. Deep Desai, Ball Memorial, has served as the council secretary position. Umer Bhatti has served as program liaison for IU Indy. We thank this group for their excellent leadership and look forward to having those residents interested in officer or liaison positions contact us or respond to the upcoming call for nominations.
Marian College of Osteopathic Medicine – Third Annual Resident Panel Discussion. Marian College of Osteopathic Medicine hosted a Resident Panel discussion for the third year on February 21st. Indiana ACP hosted the dinner meeting which provided a forum for students interested in learning more about the residency application process, successful interviewing tips, and what to look for in a medicine residency training program as well as subspecialty training. An enthusiastic crowd of over 40 students attended the informative panel discussion featuring three residents from St. Vincent's (Drs. Cameron Whitler, Emma Hegwood, and James Adlam) and one from IU School of Medicine (Dr. Andrew Wiele). Marian graduated their first senior class last year, and all three representatives from St. Vincent's were 2017 Marian graduates now completing their internship year. What a great way to give back to their school! Greg Rothchild and Taylor Hatch helped coordinate the event at Marian.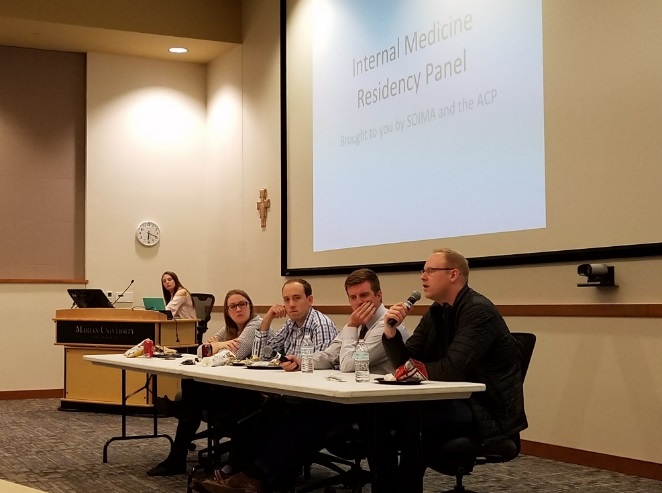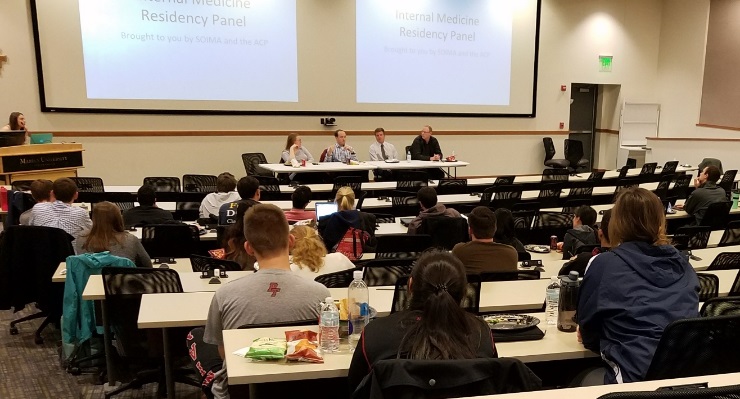 ---
ACP Student Member Group Activities
Marian College of Osteopathic Medicine recently elected new leadership members for the upcoming year. Congratulations to the new 2018-2019 Executive board:
President: Brianna Schwarcz
Vice President: Joshua Varghese
Treasurer: Timothy Cho
Secretary: Grace Hendrickson
At Indiana School of Medicine, current Internal Medicine Student Interest Group President Matthew Glick wants IUSM students to watch for elections for new officers to be coming soon.
---
ACP Advocacy: What You Can Do to Stop Firearm Violence
What can we do to help protect our patients, their families and our communities from firearm-related harms? We can recognize risk factors, and when present ask our patients about firearm safety. It's what we do all the time: we recognize risks to our patients, ask questions, and aim to help.
Please consider joining your ACP colleagues by pledging that, "When risk factors for harm to my patients or others are present, I will ask my patients about firearm ownership and safety." You may do so here.
See the names of colleagues who have made the pledge at the "comments" tab to the left of a concise paper explaining why it's so important (or at "Jump to" on a smart phone).
And, you can learn to recognize risks and how to talk to patients in a recent, concise paper published in Annals.
We can do something. As physicians we must. Talking to our patients at risk for harming themselves or others about firearms is the right thing to do, it's legal, and supported by ACP's positions.
If we each take action when we encounter a patient at risk for harming her/himself or others, we might save a life or lives. What could be more important?
I hope you are have fared well through our Indiana winter as we look forward to a fabulous spring in 2018! Please contact us with ideas you have on how we can improve our ACP Chapter services.
---
New Fellows in the Last Six Months
Ahmed H. Abdel-Rahman, MD, FACP
Cherie A. Bennett, MD, FACP
Arvinder Cheema, MBBS, FACP
Nicholas A. Delecaris, MD, FACP
Renato Delos Santos Jr, MD
Joseph Z. El-Houjairy, MD, FACP
Thomas G. Ferry, MD, FACP
Erica E. Kaufman West, MD, FACP
Theodore F. Logan, MD, FACP
Madhukanth T. N. Reddy, MBBS. FACP
Kavitha Subramoney, MD, FACP
Christine N. Tran, DO FACP
---
New Members in the Last Six Months
Afsa Ali, MD
Tracy Brenner, MD
Rachel Cooper, MD
Rebecca R. Dunn, MD
James R. Emerson, MD
Bradley Guill, MD
Norrisa Howard, MD
Jessica Jeffries, MD
Noah Kersey, MD
Ellen Klink, MD
Dan Leimann
Hammad Liaquat, MD
Chee Hong Loh, MD
MAJ Mackenzie E Lupov, MD
Shivani Martin, MD
Jean Mensz, MD
Gema M. Naum, DO
James Ong, MD
Unnikrishnan P Kunjan Pillai, MD
Shahzad Rahim, MD
Khaled Reheem-Farag, MD
Rashida Shah, MBBS
Audreen Singson, MD
Habiba Tariq, MD
---
Contact information:
Indiana Chapter Governor:
Bradley L. Allen, MD, PhD, FACP, FIDSA
Ph: 317-278-7788
Fax: 317-278-8165
Donna Seawards
Executive Director
Ph: 623-225-5527
Chapter Address:
49 Boone Village, Box 290
Zionsville, IN 46077