You are here
Indiana Governor's Newsletter August 2016
Indiana Governor's Newsletter August 2016

---
---
Bradley L. Allen, MD, FACP, ACP Governor
---
August – a time for excitement and dedication for new medical students in Indiana
As the summer of 2016 draws to a close, I hope all of our members have been able to enjoy some time with their loved ones, the great outdoors, and maybe even a corn dog at the Indiana State Fair! As we turn to the fall, we return to busy schedules, a return of students to school, and opportunities to share our professional talents with our patients, our communities, and with learners of all types. Join me in celebration of our new classes of medical students, an update on the number of internists in the U.S., and an interesting resolution moving forward from the ACP Resident/Fellow Council.
Brad
Class of 2020 Medical Students Receive Their First White Coat and Take Physician's Oath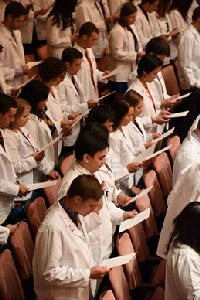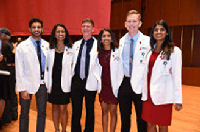 Photos show members of the IUSM Class of 2020 taking the Physician's Oath as part of the White Coat Ceremony.
Classes have now started for new students at both Indiana University School of Medicine and at Marian University College of Osteopathic Medicine in Indianapolis. Both schools kicked off the start of their year with a White Coat Celebration for the Class of 2020. Marian with a class of 162 students and IUSM with a class of 364 students.
Congratulations to these students, their family and friends as they begin their exciting journey as a medical professional.
---
Status of Internist Numbers and ACP Membership in the U.S.
In this update from ACP, we see some increase in the number of internists in the U.S. At the same time we are seeing increased applicant numbers to Internal Medicine Residency Programs. This provides us with opportunities to recruit more young physicians into the ranks of ACP!
The number of internal medicine physicians in the U.S. and their distribution across general internal medicine and subspecialties were determined from the American Medical Association (AMA) Masterfile. Membership data from the American College of Physicians (ACP) were compared to the population of U.S. internists to determine: (a) the proportion of all U.S. internists who are ACP members overall and within subgroups; and (b) how the distribution of ACP members across specialties compares to the population of U.S. internists.
The number of U.S. internists and ACP members (excluding students and affiliates) included in analysis for each year presented in this report:
2016: 301,324 U.S. internists and 100,413 ACP members, as of June 2016
2015: 294,956 U.S. internists and 98,923 ACP members, as of June 2015
A few findings to be aware of:
ACP's market share of all US Internists has remained at 33% for 2016.
The number of US internists nationally increased by 2% in the last year, similar to the 1.5% increase in the number belonging to ACP.
Among US residents/fellows, ACP's market share increased from 57% in 2015 to 62% in 2016.
Among active internists, active post-training internists, and active post-training internists who do patient care, ACP's US market share is unchanged since 2015.
Among post-training active internists, ACP's US market share in 2016 is 39% among GIMs, an increase of about 1% from 2015, and 21% among subspecialists, a decrease of about 1 percentage point.
As you read through the findings, do not hesitate to contact the Research Center with any questions you may have.
Arlene Weissman, ACP Director, Research Center
---
Resolution Addresses the Gender Pay Gap within the Field of Medicine.
A resolution to the ACP Board of Governors, put forward by the ACP Council of Residents/Fellows, intends to address the well-documented history and persistence of salary disparities between men and women. Women in academic medicine report earning less than 70% of their male colleagues when adjusted for work performed. Research points out that this pay inequity between male and female physicians, along with other sociocultural circumstances, contributes to higher rates of burnout in women vs. their male colleagues. In addition, the group points out that inherent institutional barriers to professional and financial advancement of women in medicine have been cited as a number one reason for attrition of women in academic leadership. Institutions that actively address these issues have shown improved advancement and equity of qualified female medical leaders.
The resolution calls for a Board of Regents policy to address the issue of the gender pay gap within the specific contexts of 1) the lack of transparency of physician salaries, 2) burnout and physician wellness, and 3) resultant negative effects on the strength of our medical workforce.
The Indiana Chapter Council agreed to support this resolution and we will keep the Chapter updated on its outcome. Please contact us with questions or comments.
---
Hold the Date – Indiana Chapter Meeting 2016!
The Indiana Chapter Meeting will be held again at the Renaissance Marriott Hotel in Carmel on November 10-12, 2016. Thursday (11/10) will consist of a Chapter reception and poster judging while the main scientific meeting will take place on Friday (11/11). The agenda is coming along nicely and will offer something for everyone, including Population Health, High Value Care, Wellness, Diabetes Management, Palliative Care, Cardiac MRI, and Pre-Op Evaluation.
Saturday (11/12) will consist of ABIM Self-Assessment (SEP) modules.
Instructions for students, resident and fellow members to submit abstracts for presentation were sent out the second week of August. Please inquire if questions.
We hope to see you there!
---
Contact information:
Indiana Chapter Governor:
Bradley L. Allen, MD, PhD, FACP, FIDSA
Ph: 317-278-7788
Fax: 317-278-8165

Donna Seawards
Executive Director
Ph: 623-225-5527

Chapter Address:
49 Boone Village, Box 290
Zionsville, IN 46077