You are here
GOVERNOR'S NEWSLETTERSeptember 2015
GOVERNOR'S NEWSLETTERSeptember 2015

---
---
From the Governor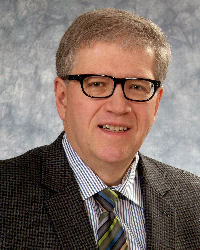 J. Matthew Neal, MD, MBA, CPE, FACP, FACE, FACPE, ACP Governor
Hope everyone is doing well as summer ends and we look forward to great fall weather. This month's newsletter focuses on several informational items. This installment of the Centennial Spotlight focuses on the Indiana Masters of ACP. Resident/Fellow/Medical Student Members: the Call for Abstracts is out for the November meeting at the Renaissance North Hotel in Carmel - the deadline is September 11. See more below. Also see the info on a great upcoming member webinar by Christine Laine (editor of Annals of Internal Medicine) on "How to Get Published."
---
Now Available: 2014-2015 Annual Report of the EVP
The American College of Physicians' 2014-2015 Report of the Executive Vice President (EVP), Dr. Steven Weinberger, is now available. We encourage you to read the report which is a review of ACP's activities and accomplishments over the past year in the areas of knowledge, clinical standards, advocacy and public policy, practice support, and collaboration. A special section of the report highlights ACP's 100th anniversary celebration around the Centennial.
Presented in a digital format for easy viewing and mobile accessibility, the report features a tabbed menu and scrolling feature and photos, graphic images, and embedded links to access more detailed sources of information.
---
Survey of Physicians Shows Declining Satisfaction with Electronic Health Records
A new report from AmericanEHR Partners and the American Medical Association (AMA) based on a survey of physicians, shows that compared to five years ago, more physicians are reporting being dissatisfied or very dissatisfied with their EHR system. The survey on Physician Use of EHR Systems 2014 found that close to, or more than half of all respondents, reported a negative impact in response to questions about how their EHR system improved costs, efficiency or productivity.
Here is more information.
---
New ACP Book on Teaching Diagnostic and Clinical Reasoning in Medical Education
Teaching Clinical Reasoning, the newest book in the Teaching Medicine series, is designed to help medical educators of various levels enhance their clinical reasoning abilities. The book is available individually or as a part of the complete seven-book Teaching Medicine set.
Here is more information.
---
Upcoming Free Member Webinar: How to Get Published
As a supplement to the formal education program that ACP offers in partnership the American Association for Physician Leadership (AAPL), the ACP Leadership Academy offers a series of free online webinars on leadership topics relevant to internal medicine. These webinars provide both an educational experience and a discussion forum so that ACP members can learn, pose questions, and share ideas with leaders in the internal medicine field.
Go here to register.
---
Women in Medicine Social Event!
Join us at the PARK! Let the kids run off some energy while you relax and chat with other women physicians. For those of you not in the "playground" season of life, come to share life, questions, or wisdom. Students & residents welcome as well. Saturday September 12 at 10:00 AM. Location: Fishers Community Park, 1 Park Dr., Fishers 46038 (right off I-69 Exit 2015 (116th Street), near Super Target). Lunch afterwards at a nearby restaurant if there is interest.
---
Ethics Case Studies
Free CME credit is available where indicated for completion of online educational activities featuring case studies developed by the College's Ethics, Professionalism and Human Rights Committee and Ethics and Professionalism staff and published on Medscape (login required).
---
ACP Council Retreat
The ACP Indiana Governors' Council held an all-day strategic retreat on August 21 at IU Health Saxony Hospital. The Council discussed strategic mission including recruitment (especially of new members outside the Indy Metro area), education, advocacy initiatives, and finances.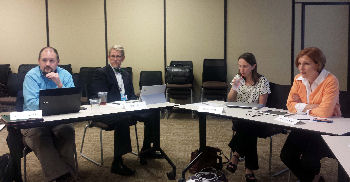 Council members Brandon Dickey (Treasurer, ACP Services President), Brad Allen (Governor-Elect), Marla Current (Women in Medicine Co-Chair), and Heidi Lakanen (Women in Medicine Co-Chair) discuss issues at the Council Retreat.
---
ACP Releases High Value Care Screening Advice for Five Common Cancers
In a paper published in Annals of Internal Medicine, Screening for Cancer: Advice for High-Value Care From the American College of Physicians, ACP issued advice for screening average risk adults without symptoms for five common cancers: breast, colorectal, ovarian, prostate, and cervical.
---
Call for Abstracts: Fall Scientific Meeting
Residents, Fellows, and Medical Students: here is the Call for Abstracts for the November 6-7 Fall Scientific Meeting at the Renaissance Indianapolis North Hotel in Carmel. The deadline is Friday, September 11, 2015 at midnight.
---
Centennial Spotlight: Indiana Masters of ACP
The first Mastership in the College was presented in 1923 to Dr. James M. Anders, who served the College as President for two terms. He was recognized for his extraordinary service to the College and for being one of the most outstanding internists and medical teachers of his day.
ACP Bylaws state that Masters shall be Fellows who have been selected because of "integrity, positions of honor, eminence in practice or in medical research, or other attainments in science or in the art of medicine." Masters must be highly accomplished persons demonstrating eminence in practice, leadership, or in medical research. Evidence of their achievements can come from many types of endeavors such as notoriety within their field and/or ACP chapter, research, education, health care initiatives, volunteerism, and administrative positions. The Master must be distinguished by the excellence and significance of his or her contributions to the field of medicine.
For Mastership, ACP involvement is expected, with rare exceptions. This may include, for example, service to the College in an official capacity, participation in chapter activities, and involvement in the development of College products and educational programs.
The bar for Mastership is high and selection criteria rigorous. I would like to honor the Indiana members elected to Mastership listed below:
1959 LeRoy Hendrick Sloan, Michigan City, Indiana
1971 James O. Ritchey, Indianapolis, Indiana
1973 Kenneth G. Kohlstaedt, Indianapolis, Indiana
1989 George T. Lukemeyer, Indianapolis, Indiana
1993 Walter J. Daly, Indianapolis, Indiana
2000 Raymond H. Murray, Indianapolis, Indiana
2002 Kurt Kroenke, Greenwood, Indiana
2002 George A. Sarosi, Indianapolis, Indiana
2003 D. Craig Brater, Indianapolis, Indiana
2006 Richard B. Kohler, Indianapolis, Indiana
2008 Robert D. Robinson Jr., Zionsville, Indiana
2008 William M. Tierney, Indianapolis, Indiana
2009 Richard N. Dexter, Westfield, Indiana
2010 Charles M. Clark Jr., Indianapolis, Indiana
2010 Harvey Feigenbaum, Indianapolis, Indiana
2011 Thomas S. Inui, Indianapolis, Indiana
2011 Douglas P. Zipes, Indianapolis, Indiana
2012 Steven C. Beering, West Lafayette, Indiana
2012 Merrill D. Benson, Indianapolis, Indiana
2013 Asok C. Antony, Indianapolis, Indiana
2013 David W. Crabb, Indianapolis, Indiana
2014 Robert M. Lubitz, Marietta, Georgia (Former Indiana Governor elected to Mastership shortly after moving to Georgia)
2014 Douglas K. Rex, Indianapolis, Indiana
2015 Christopher M. Callahan, Indianapolis, Indiana
---
Save the Date: ACP Indiana Chapter Annual Scientific Meeting: November 6-7, 2015
The 2015 Indiana Annual Meeting will take place on November 6-7, 2015 at the Renaissance North Hotel in Carmel. We are currently planning our scientific sessions to provide another great experience for all. More details will follow when they are available.
---
Celebrate 100 Years of ACP!
2015 marks the 100th anniversary of the American College of Physicians. The College is planning a variety of special Centennial-related events to celebrate the occasion-we invite you to be a part of the jubilation. Here are more details.
Over the next few months we will be highlighting specific historical information about the Indiana Chapter, including past leaders of the Chapter-past Governors and past Presidents of the American Society of Internal Medicine (ASIM). ACP merged with ASIM in 1998. On the National ACP Website you can find a timeline of the first 100 years of ACP as well as other factoids about the world's largest medical specialty organization!
---
Coming in August: A New Member Benefit
We are excited to announce that ACP and EBSCO Health are collaborating to focus on delivering the most current, evidence-based clinical decision support tool - DynaMed Plus™. Updated daily and analyzed systematically through the lens of an expert editorial team, DynaMed Plus provides relevant information in an easy to digest format for fast implementation at the point-of-care. ACP's input into the internal medicine content will begin in August 2015. All reviewed and approved topics will carry ACP's logo and will benefit all DynaMed Plus users. As a result of this partnership, ACP members will receive free access to DynaMed Plus for two years beginning on August 3, 2015. Afterwards, ACP members will be eligible for a deeply discounted annual subscription.
DynaMed Plus will replace ACP Smart Medicine as a member benefit on August 3, 2015.
Here is more information.
---
New ACP Physician & Practice Timeline Text Alerts
We are excited to announce a new texting tool to help practices' stay up-to-date on important regulatory requirements and opportunities. Physicians and practice managers can subscribe to time-sensitive updates via your text messaging-enabled cell phone and receive brief reminders about important deadlines and details related to a variety of regulatory, payment, and delivery system changes and requirements. Text alerts may also contain links to both ACP-created and trusted external information and resources that will help you to stay prepared.
Here is more information.