You are here
GOVERNOR'S NEWSLETTERNovember 2014
GOVERNOR'S NEWSLETTERNovember 2014

---
---
From the Governor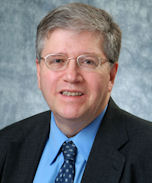 J. Matthew Neal, MD, MBA, CPE, FACE, FACP, ACP Governor
The November newsletter highlights the Governor-Elect election and the 2014 ACP Indiana Annual Scientific Meeting which was held October 30-November 1 at the Embassy Suites North in Indianapolis.
---
Governor-Elect Designee Results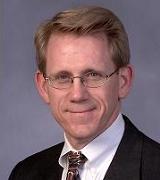 I am happy to announce that Dr. Brad Allen has been elected Governor-Elect Designee of the Indiana Chapter. An infectious diseases specialist, Dr. Allen is Associate Professor of Clinical Medicine and Vice Chair for Education in the Department of Medicine at Indiana University School of Medicine.
Dr. Allen will become Governor-Elect after the 2015 Annual Meeting in Boston and will take over for me as Governor in April 2016.
While we had two superb candidates, unfortunately there could only be one winner. I would like to thank Dr. Randy Lee for running in this election. Dr. Lee's leadership on the Council has been greatly apparent for the last few years, and his nomination shows the high regard that his peers have for him. I would especially like to thank him for serving as Program Chair for the last two years. I am sure that he will continue to make great contributions to the Indiana Chapter.
---
Annual Chapter Meeting Recap
The meeting was a great success, and I would like to thank everyone who made this event possible. Our Chapter Executive Director, Donna Seawards, and Wilma Cooley were instrumental in organizing the many details. I would like to thank Randy Lee, our Program Chair (for the second consecutive year), Dr. Michael Sha (Immediate Past Governor), and our Indiana Governors' Council Members for their assistance in planning. Dr. Chrissie Tran (our Resident/Fellow Member Council Chair) was also instrumental in organizing the poster presentations. Finally, I would like to thank our faculty, who unselfishly gave up their time to give us another outstanding program.
A reception for members was held October 30, with poster judging following that. The six resident poster winners were: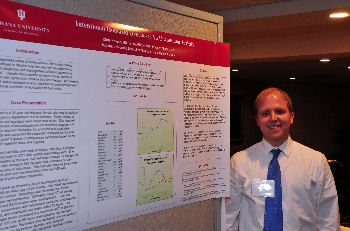 Clinical Vignette: 1st Place, Christopher Kniese, IUSM.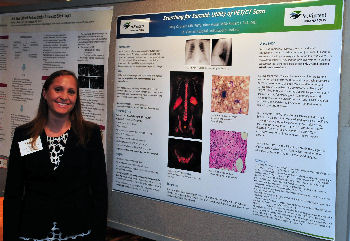 Clinical Vignette: 2nd Place, Emily Cochard, St. Vincent.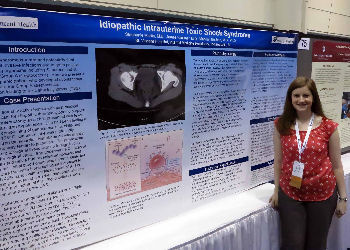 Research: 1st Place, Stephanie Martin, St. Vincent.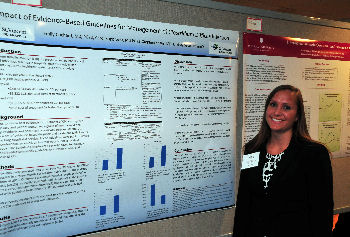 Patient Safety/Quality Improvement: 1st Place, Emily Cochard, St. Vincent.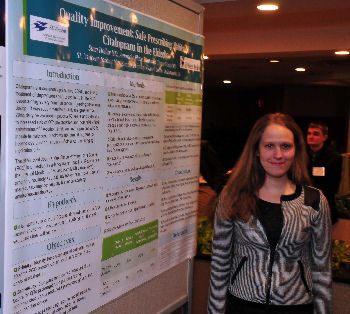 Patient Safety/Quality Improvement: 2st Place, Staci Hollar, St. Vincent.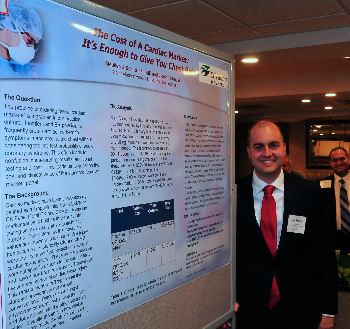 High-Value/Cost-Conscious Care: 1st Place, Stephen Schutzman, St. Vincent.
Poster presenters, from left to right: Stephanie Martin, Kimberly Ku, Daniel Hugenberg, Min Qi, Christopher Kniese, Harsh Shah, Stephen Schutzman, Nick Creasap, Emily Cochard, Andrew Walker, Ahmed Behery, Rohan Mehta, Kyle Glienke.
Here are the sixteen posters.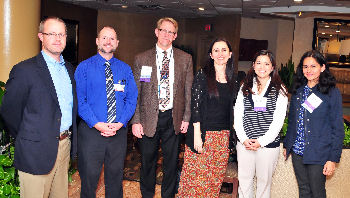 Thanks to our poster judges! From left to right: Chris Gamble, Brandon Dickey, Brad Allen, Maryam Massoumi, Grace Greist, Areeba Kara.
Also thanks to our abstract pre-judges, who selected the 16 final poster presenters: Mitch Goldman, Alex Djuricich, Lannie Cation, and Ryan Johnston.
The main portion of the meeting took place on Friday, October 31. Dr. Leslie Walker, Clinical Assistant Professor of Psychiatry at Case Western Reserve University, was our keynote speaker, with a presentation entitled "Physicians & Stress: Is Resilience Possible in Healthcare Today?"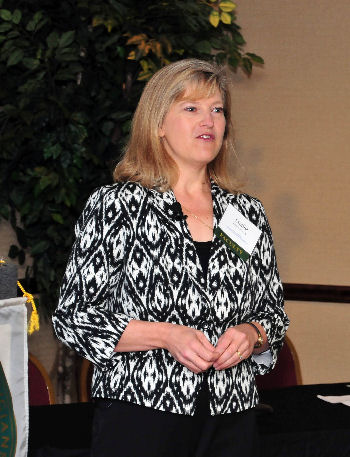 Dr. Leslie Walker
Thanks to Heidi Lakanen, Council Member and Women in Medicine Co-Chair, for again procuring a fabulous speaker for us. Dr. Walker also gave an afternoon breakout session entitled "Finding Peace in the Challenges of Your (Patient-Centered Medical) Home."
Laureate Awards were given to Dr. Debra Litzelman and Dr. Robert Vu, both clinical educators at IU School of Medicine. The Laureate Award is the highest award given by the Indiana Chapter and is given to internists of special distinction in recognition of service to Internal Medicine and the ACP Indiana Chapter.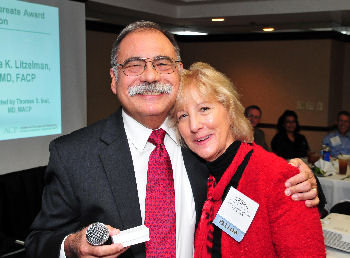 Dr. Litzelman's award was presented by Thomas Inui, MD, MACP.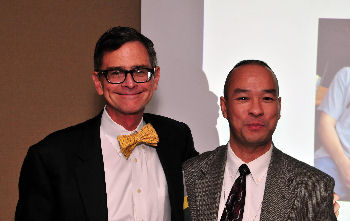 Dr. Vu's award was presented by David Crabb, MD, MACP.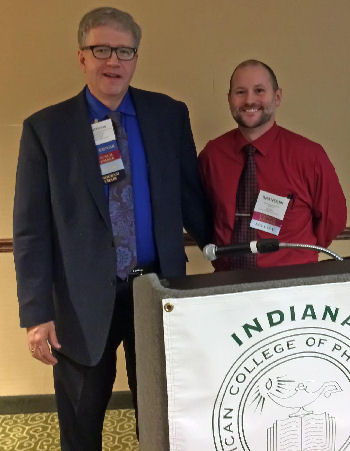 Dr. Brandon Dickey, Council Member, Treasurer, and Indiana Services President, received the Governor's Award from Dr. Neal in recognition for his many areas of service to the Chapter.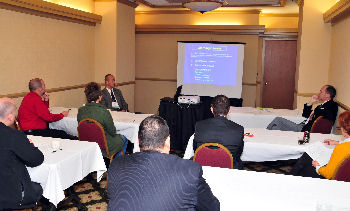 Drs. Bob Vu and Jack Buckley from IUSM presented an excellent two-part faculty teaching workshop, modeled after the Stanford model.
A highlight of the Chapter Meeting is the annual "Doctors' Dilemma" competition. Indiana University School of Medicine won the "Doctors' Dilemma" trophy back from St. Vincent this year with a commanding performance. Also competing were IUSM Medicine-Pediatrics, St. Vincent Hospital, and Indiana University Health Ball Memorial Hospital. IUSM will be representing the Indiana Chapter at the 2015 Annual Meeting in Boston.
IUSM Doctors' Dilemma team, left to right: Zachary Fulkerson, Cassidy Overpeck, Sandeep Mehta.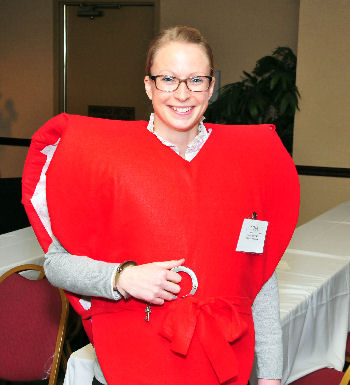 Since the meeting was held on Halloween, a few attendees came in costume, although the vast majority did not take advantage of this unique opportunity. The clear winner for Best Costume was Lina Gordy, PGY-2 IUSM resident, with her original portrayal of a "Cardiac Arrest."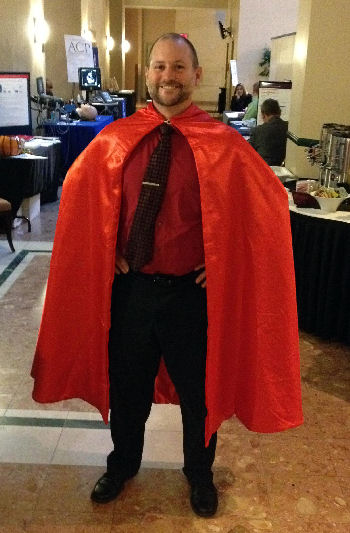 Dr. Brandon Dickey donned his Superman cape before moderating "Doctors' Dilemma," in order to keep the competition on time.
Saturday morning (Nov. 1) included presentations of ABIM Self-Evaluation Modules in Hospital Medicine and General Internal Medicine. The Hospital Medicine module was presented by Victor Collier, MD, FACP; Buvi Burugapalli, MD, FACP; and Kapil Mehta, MD. The general medicine modules were presented by John Albrecht, MD, Rodney Yuhico, MD, and Marla Current, MD, FACP. Thanks to these excellent clinicians for volunteering their time and expertise.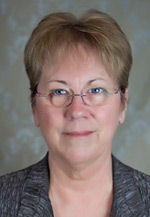 Pat Schmitter
Saturday afternoon included a presentation by Pat Schmitter, CPC, CPC-I, Senior Healthcare Consultant and Approved AHIMA/AAPC ICD-10 Instructor, on the new ICD-10 coding guidelines.
Planning will begin soon for the 2015 fall meeting, and our Education Committee will be working hard to again bring you another outstanding roundup of speakers. We hope to see you there and at the 2015 Annual Meeting in Boston!