You are here
GOVERNOR'S NEWSLETTER November 2015
GOVERNOR'S NEWSLETTER November 2015

---
From the Governor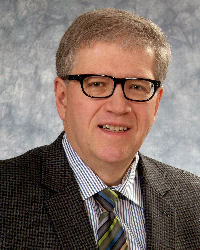 J. Matthew Neal, MD, MBA, CPE, FACP, FACE, FACPE, ACP Governor
This month's Newsletter highlights the Indiana Chapter Meeting which was held on November 5-7 at the Renaissance Indianapolis North Hotel in Carmel.
The Annual Meeting was a great success at a new venue this year. Thursday was the member reception and poster competition, while the main sessions took place on Friday. Saturday consisted of ABIM Self-Assessment Modules in General Internal Medicine, Hospital Medicine, and High-Value Care presented by several expert faculty members.
Thanks to our Program Chair-our esteemed Governor-Elect, Dr. Brad Allen and Donna Seawards, our Executive Director. Thanks also to our Program Committee of Marla Current, Brandon Dickey, Lina Gordy, Todd James, Heidi Lakanen, Randy Lee, and Michael Sha.
The Chapter Reception featured stirring hurdy-gurdy music performed by IU Bloomington student Chris Burris. The hurdy-gurdy is a stringed instrument that produces sound by a crank-turned, rosined wheel rubbing against the strings.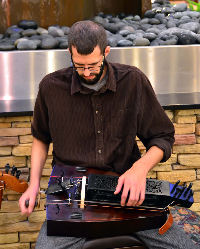 Chris Burris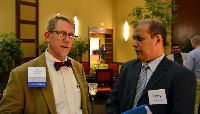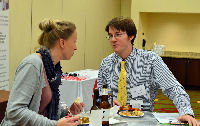 Chapter Reception
Congratulations to our poster presenters, who all put much time and effort into their presentations. The top abstract submissions are chosen each year from an expert panel of faculty pre-judges and selected to meet at the Annual Scientific Meeting.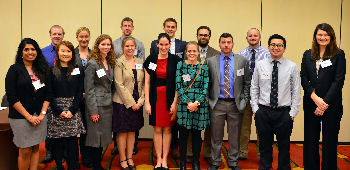 From left to right: Sushma Tatineni, Jason Stegink, Sarah Jeong, Julianne Schupbach, Sarah Shewmaker, Jacob Reisner, Allison Wildin, Karen Rea, Richard Nicolay, Kathleen Morris, F. Clay Smither, Michael Arvin, Nathan McAnnich, David Ingram, Erin McCammack.
First place winner in the Clinical Vignette category was Sushma Tatineni with her poster "To Clot or to Bleed? A Rare Case of Lupus Anticoagulant and Factor II Inhibitor."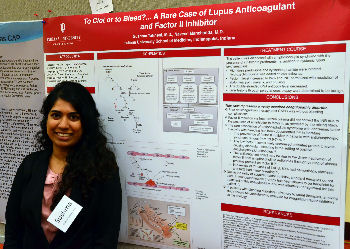 Second place in the Clinical Vignette category went to F. Clay Smither for his poster "Olmesartan-Induced Enteropathy: an Unusual Cause of Chronic Diarrhea."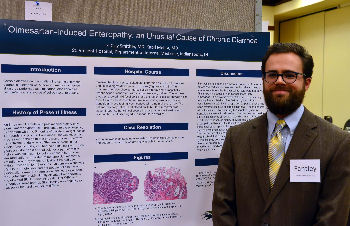 The third place winner in the Clinical Vignette category was Erin McCammack, who presenter her poster "It's a Bloody Surprise!"
First place in the Clinical Quality Improvement poster category went to J. David Mossler (co-author Sarah Shewmaker presenting), for the poster "Hepatitis A and B Vaccination in Patients with Chronic Liver Disease and Cirrhosis."
Thanks to our six poster judges who gave us their time on Thursday evening!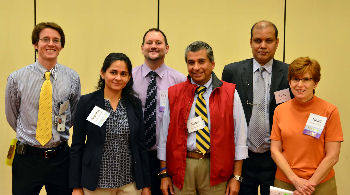 From left to right: James Hotz, Areeba Kara, Brandon Dickey, Ahdy Helmy, Leny Philip, Heidi Lakanen.
Poster thumbnails can be downloaded here.
Friday started off with our keynote presentation by Dr. Jonathan Gottlieb, MD, FACP, chief medical officer of Indiana University Health, whose presentation "Saving Patient Lives" was an update of current concepts in quality, safety, and reducing medical errors.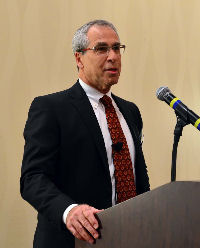 Dr. Alex Djuricich, Associate Dean for CME and Medicine-Pediatrics Program Director, gave an update on Maintenance of Certification.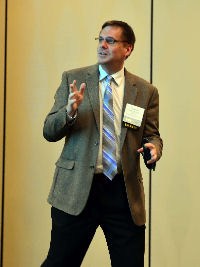 Dr. Jeffrey Barrows from Hope for Justice gave an excellent presentation on the disturbing yet ever-increasing dilemma of human trafficking in the USA.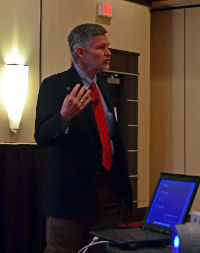 Dr. Robert Vu and Dr. Julie Vannerson presented a two-part teaching seminar entitled "Enhancing Your Clinical Teaching Skills with Two Useful Frameworks."
Ken Bennett gave an excellent presentation on the roll-out of Indiana's registry of adult guardianship, and Dr. Lindsey Reese gave an update on MRSA and soft tissue infection. Dr. David Harsha gave an informative presentation on sports ultrasound in the primary care office. Dr. Shalu Manchanda gave an update on sleep apnea for the general internist, while Dr. Raman Rao gave an update on fluid management in hospitalized patients.
Thanks to Dr. Graham Carlos for putting together his presentation "Submassive Pulmonary Embolism" at the last minute to replace a speaker who was unable to present.
The Awards Presentation was at noon. This year's Laureate Award winner was Dr. D. Craig Brater, MD, MACP, former Dean of the IU School of Medicine and former ACP Regent. The award was presented by Dr. David Crabb, MD, MACP.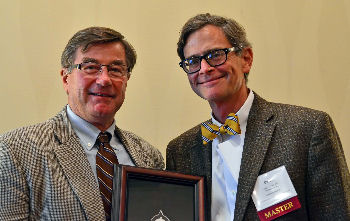 This year's Governor's Award was presented to Dr. Randy Lee, vice president of medical affairs at Community Hospital South. Dr. Lee is a long-standing Council member and was program chair for the Indiana meeting in 2013 and 2014, and an essential member of the Program Planning Committee.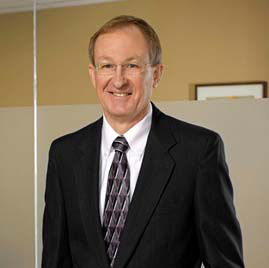 Dr. Michael Sha, Immediate Past Governor, was recognized as the Chapter's Centennial Award Winner. The Chapter Centennial Legacy Award celebrates ACP's centennial by recognizing one seminal chapter member whose service to the chapter had a significant impact on the chapter's viability.
Dr. Lina Gordy was recognized as the 2015-16 Resident-Fellow Member Council Chair. Revathi Kollipara was recognized as the 2015-16 IU School of Medicine Student Interest Group Chair.
Dr. Marc Overhage is the newest Master of the College from the Indiana Chapter. Dr. Overhage will be officially inducted as a Master at the Annual Meeting in Washington, DC in May, 2016.
As usual, the annual Doctors' Dilemma competition was an exciting affair, with teams from IU School of Medicine (the defending champion), St. Vincent, and IU Health Ball Memorial competing for the traveling trophy.
The competition was fierce through the entire competition, with all teams possessing substantial point balances going into the final round. However, IU School of Medicine again came up on top this year, with the winning team of (left to right): Faheem Beg, Cassidy Overpeck, and Antoine Saliba.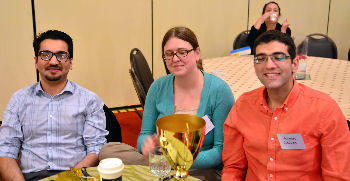 IUSM's team will represent Indiana in the National Doctor's Dilemma Competition at the National Meeting in Washington in May 2016.
The student round followed, with the resident champion team competing against the Program Directors and student teams from Marian University College of Osteopathic Medicine and Indiana University School of Medicine.
In a stunning, unprecedented upset, the program directors prevailed, making this the first time in recent memory they have won this competition.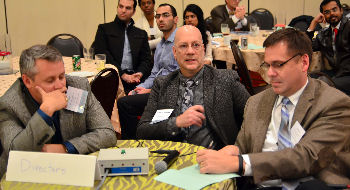 Handouts from the presentations can be found here.
The Friday meeting concluded with Dr. Neal's presentation of the annual business meeting, and Dr. Dickey's update on ACP Services.
Saturday consisted of three ABIM Self-Assessment modules. The first was the General Internal Medicine module presented by Marla Current, Michael Sha, and Adrian Singson.
Next up was the hospitalist module presented by Maryam Massoumi, Kapil Mehta, and Sternlate Tschilliwa.
The third module was the ACP High-Value Care Module presented by Emily Machogu and Curtis Wright.
The date for next year's meeting has not been set yet but will likely occur in early December due to several other conflicting events occurring in November 2016.
Thanks to all who attended the meeting this year!