You are here
GOVERNOR'S NEWSLETTER May 2015
GOVERNOR'S NEWSLETTER May 2015

---
---
From the Governor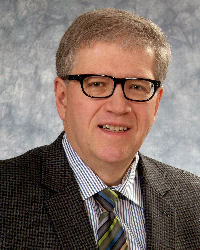 J. Matthew Neal, MD, MBA, CPE, FACP, FACE, FACPE, ACP Governor
The focus of this month's Newsletter is the 2015 Annual Meeting, held in Boston from April 30-May 2. 2015 marks the 100th anniversary of ACP and a number of events took place honoring this once-in-a-lifetime event. A special Centennial reception was held on April 29, with a concert by Julliard-trained and Harvard-educated psychiatrist Dr. Richard Kogan, who gave a lecture and stirring performance highlighting the late composer George Gershwin.
Dr. Michael Sha, the Indiana Chapter Centennial Award Winner, was recognized at Convocation for his many sterling contributions, ensuring the continued viability of the Indiana Chapter.
While as Governor I was not able to attend as many sessions as I would have liked, I again realized what a special organization ACP is and what a wonderful experience the ACP National Meeting is, especially in such a marvelous place as Boston.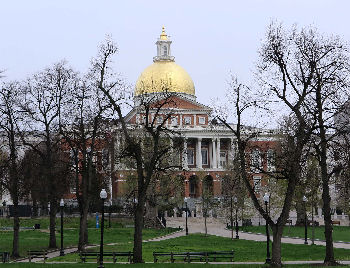 State House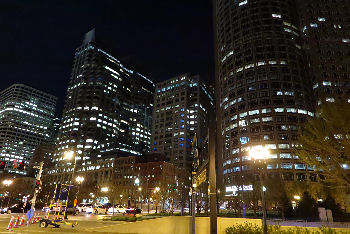 Boston Night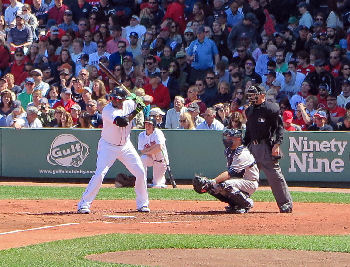 Ortiz at bat
---
2015 Boston Annual Meeting Recap
The keynote speaker for the opening address was former U.S. Senator Tom Daschle, who spoke on the topic "Decades of Daschle: An Insider's View on President Obama's Public Policy."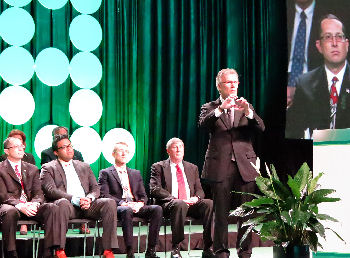 An important part of the National Meeting is the presentation of posters by medical students and Resident/Fellow members. Several Indiana Resident/Fellow members presented posters at the Annual Meeting. It is an honor to present a poster, this means that the presenter either won at the Indiana Chapter Meeting or gained entry via in the at-large National Abstract Competition.
Dr. Jinous Etemadi of IU Health Ball Memorial Hospital was a national winner in the Clinical Vignette category for presenting her poster (co-authored with Dr. Ahmed Behery of IU Health Ball Memorial Hospital) "A Case of a 30 year old Presenting with a Rare Condition Disguised as B Cell Lymphoma."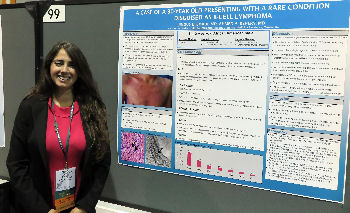 Other poster presenters at the meeting included:
Stephen Schutzman, St. Vincent, Research: "The Cost of A Cardiac Marker: It's Enough to Give You Chest Pain."
Stephanie Martin, St. Vincent, Research: "Evaluation of discrepancies in statin use recommendations between ATP3 and ACC/AHA lipid guidelines in a primary care population."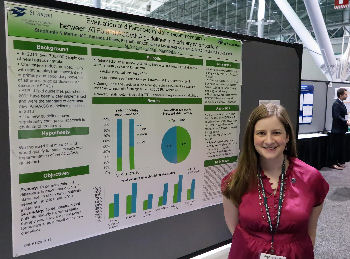 Rohan Mehta, St. Vincent, Clinical Vignette: "Salmonella isolation from perinephric abscess."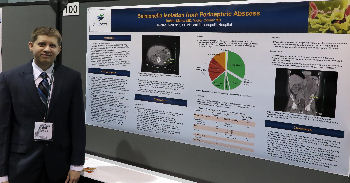 Harsh Shah, IU School of Medicine, Clinical Vignette: "Unlucky 13: A Bleeding Mystery of an 88 year old female."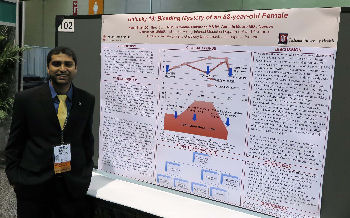 Emily Cochard, St. Vincent, Research: "Impact of Evidence-Based Guidelines for Management of Clostridium Difficile Infection."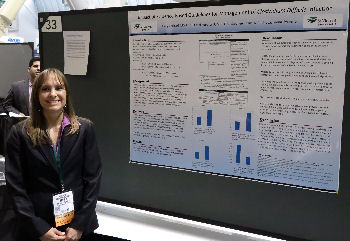 Emily Cochard, St. Vincent, Clinical Vignette: "Searching for Sarcoid: Utility of PET/CT Scan."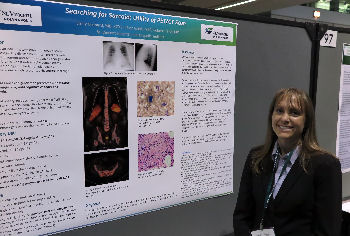 Wesley Prichard, St. Vincent, Clinical Vignette: "Amiodarone-Induced Cirrhosis in the Absence of Long-Standing Transaminase Elevation."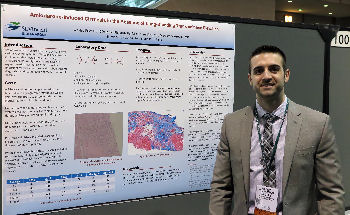 IU School of Medicine's team represented Indiana in the national Doctors' Dilemma competition. Despite a heroic effort, the IUSM team lost in the first round, but we thank them for representing Indiana and competing at such a high level.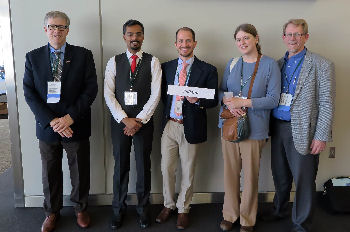 Left to right: Indiana Chapter Governor Matt Neal, Shahid Ahmed, Matthew Miles, Cassidy Overpeck, Governor-Elect Designee Brad Allen.
Convocation for new Masters, Fellows, and other awardees was on April 30. Five Fellows went through Convocation: James Bohney, Grace Carangal, Ramanand Heeralall, Suresh Jaiswal, and Louis Wright.
Dr. Christopher Callahan was honored with Mastership in the College for his many achievements and contributions to ACP.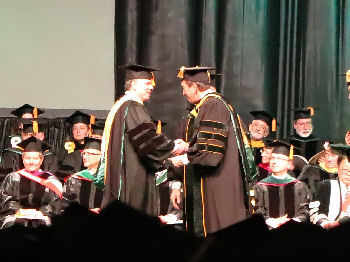 The Indiana Chapter reception was held Friday evening (May 1) at Salvatore's Restaurant in downtown Boston. Many Indiana attendees came to the event and had a great time.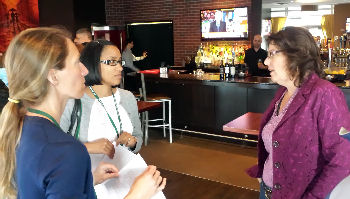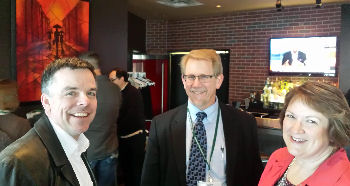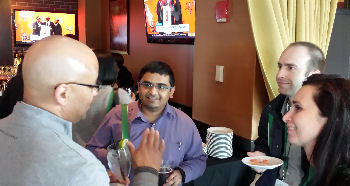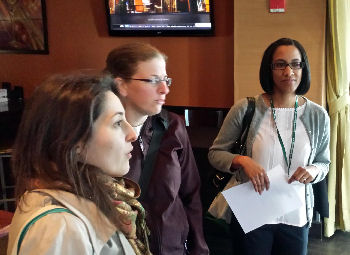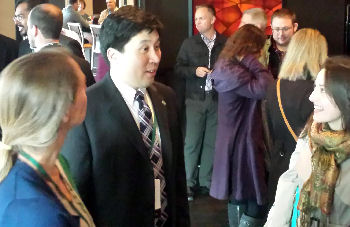 Saturday concluded with several great summaries of the three-day meeting, plus the "Final Four" of Doctors' Dilemma and the Young Achievers ceremony.
Next year's meeting will be May 5-7, 2016 in Washington, DC. Please plan to attend!
---
ACP Indiana Diversity Committee Meeting
The Indiana Chapter held its initial Diversity Committee meeting on March 16. The goal of the committee is to identify the recruitment, involvement, and participation of women, minority physicians, and international medical graduates as a primary goal for the Chapter. The committee is planning on developing educational programs to promote diversity in all aspects of the Chapter and encourage a more diverse membership.
We have put together a survey to assess our members' needs regarding diversity in the ACP Indiana Chapter. If you have not done so, we would appreciate your input by taking a few minutes to complete the survey.
---
Save the Date: ACP Indiana Chapter Annual Scientific Meeting: November 6-7, 2015
The 2015 Indiana Annual Meeting will take place on November 6-7, 2015 at the Renaissance North Hotel in Carmel. We are currently planning our scientific sessions to provide another great experience for all. More details will follow when they are available.
---
Celebrate 100 Years of ACP!
2015 marks the 100th anniversary of the American College of Physicians. The College is planning a variety of special Centennial-related events to celebrate the occasion-we invite you to be a part of the jubilation. See here for more details.
Over the next few months we will be highlighting specific historical information about the Indiana Chapter, including past leaders of the Chapter-past Governors and past Presidents of the American Society of Internal Medicine (ASIM). ACP merged with ASIM in 1998. On the National ACP Website you can find a timeline of the first 100 years of ACP as well as other factoids about the world's largest medical specialty organization!
---
Unique Indiana University Certificate Program Trains Health Care Innovation Leaders
A new Indiana University School of Medicine program offers the nation's first graduate certificate in health care innovation and implementation science. The pioneering hybrid program is targeted to clinicians and health care administrators who aspire to be catalysts for improved health care outcomes at lower cost.
The training will provide working clinicians the skills to become effective change agents. Specifically, the certificate will give participants applied knowledge on how to successfully identify, implement, localize, evaluate and scale up evidence-based practices, as well as innovate and invent new models of care and processes, when evidence-based practices do not exist.
Earning this new graduate certificate will equip those who work in health care to spearhead the discovery and implementation of new cost-effective, patient-centric and value-based care delivery models into their everyday work environments in physician offices, clinics, therapy centers, practice groups, surgical practices, health care agencies, hospitals, insurance companies and other settings.
The graduate certificate program is offered by the Center for Health Innovation and Implementation Science at the IU School of Medicine. In addition to health care, the center has expertise in health economics, operations management, project and team management, industrial engineering, biostatistics, implementation science and innovation.
Details on the program and application materials can be found here.