You are here
Governor's Newsletter March 2016
Governor's Newsletter March 2016

---
---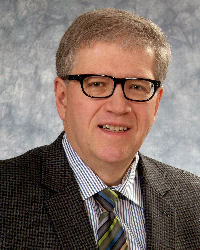 J. Matthew Neal, MD, MBA, CPE, FACP, FACE, FACPE, ACP Governor
---
From The Governor
I hope everyone is having a great February and is looking forward to warmer weather. With the Centennial year behind us, we have some great meetings coming up. The Annual Meeting will be in Washington this year (more info below) and will be combined with Leadership Day. This will be my final meeting as Indiana Governor as I will turn over the reins to Dr. Brad Allen at the conclusion of the meeting.
This month's newsletter focuses on a very important topic many of us have been talking about and seeing in the news: physician burnout. Last October at the fall Board of Governors meeting, I was fortunate to have been part of the initial ACP Wellness Champions Initiative, facilitated by Dr. Mark Linzer at Hennepin County Hospital in Minneapolis. It has certainly brought to my attention the vast problems that this represents and ways we can combat this. The most important thing I learned was that the number of clinicians who "need" to burn out is zero.
Below, I would like to showcase a wonderful event at Eskenazi Hospital on February 6 organized by ACP Resident members Drs. Lina Rosengren, Amanda Velazquez, and Kathleen Morris from IU School of Medicine. It was a wonderful event that was well attended.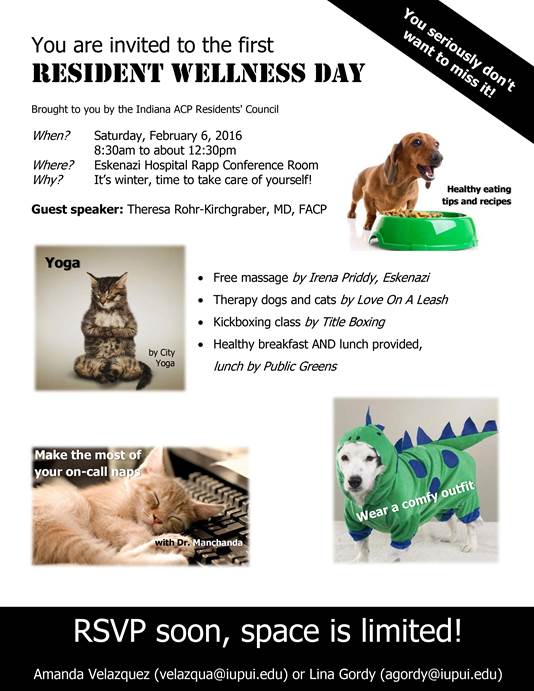 We are interested in hearing our members' opinions on burnout. If you have a few minutes, we would appreciate your completing this brief online survey for physician burnout which will be used in structuring further educational offerings.
---
ACP Indiana Chapter Residents and Fellows Council First Annual Resident Wellness Day: February 6, 2016
By Lina Rosengren, MD, Indiana ACP Resident/Fellow Member Council Chair
We have finally reached a point in medical history where recognition of physician wellness is becoming widespread. This is not only critical for physicians to lead healthy, happy, and balanced lives but also improves patient care. Previously, the medical culture emphasized tolerance of long work hours, frequent call schedules, and self-sacrificing devotion to medicine during residency training. Residency training is associated with long work hours, sleep deprivation, and often a lack of healthy diet and regular exercise. Also, it is associated with decreased family interactions and attendance at significant life events, and increase rates of suicide. This type of lifestyle is incompatible with sustaining a healthy, balanced life, and as such affects a large demographic of professionals and the many patients these physicians interact with.
But, times have changed and there is greater focus on wellness and prevention of physician burnout. Efforts are being made to promote resident wellness and lifestyle medicine through increased awareness, education, and incorporation of wellness in curricula at various medical institutions. Specifically, Indiana University School of Medicine (IUSM) in Indianapolis, IN collaborated with the Indiana Chapter Residents and Fellows Council of the American College of Physicians (ACP) to host the first annual Resident Wellness Day on Saturday February 6th, 2016 at Eskenazi Hospital. Highlighting ACP's mission to "support healthy lives for physicians", this event and was led by ACP Indiana Chapter Resident Physician leaders Drs. Lina Rosengren, Amanda Velazquez, and Kathleen Morris.
The resident wellness event was a free half-day event from 8:30am-12:30pm with approximately 15 resident attendees. Healthy food options were provided for breakfast with a selection of Greek yogurt, fresh fruit, cereals and coffee, showcasing options for a healthy diet. Lunch was catered by a local health-conscious restaurant, a newer Indianapolis urban kitchen with a mission to provide farm-market inspired cuisine, using 90% local ingredients. The agenda was packed with lectures by leading IUSM physicians, including Theresa Rohr-Kirchgraber, MD, FACP, FAMWA, a full time faculty member in the adolescent medicine section and the current president of the American Medical Women's Association (AMWA) who presented on prevention of physician burnout and importance of physician mental wellness.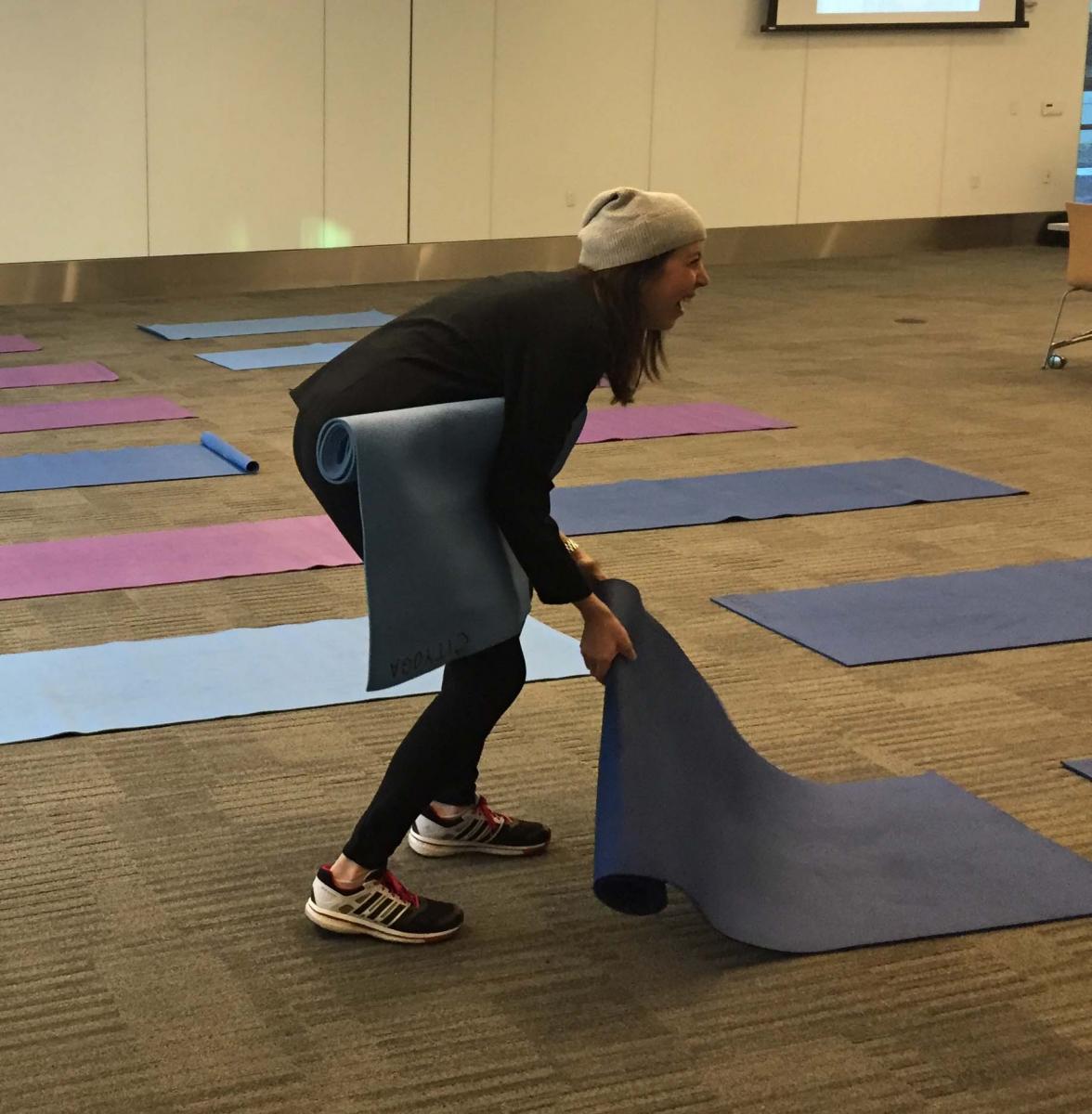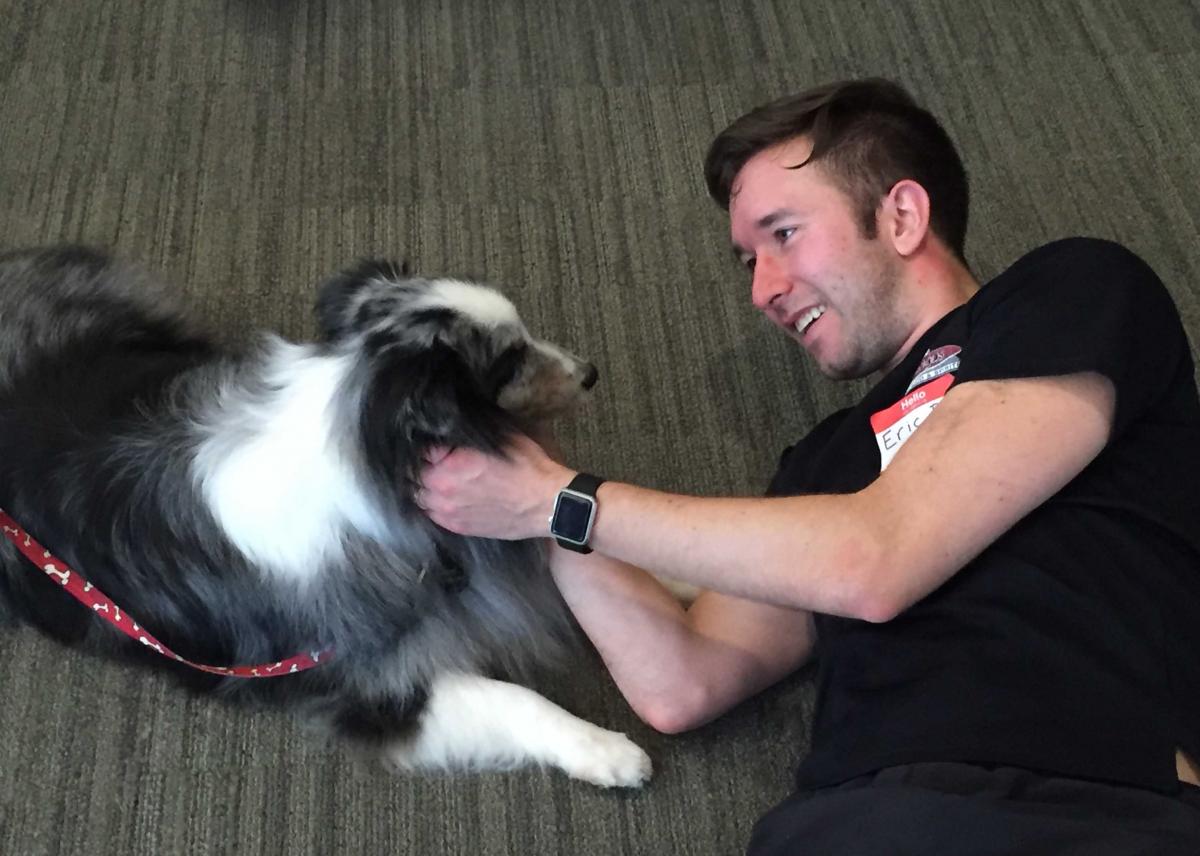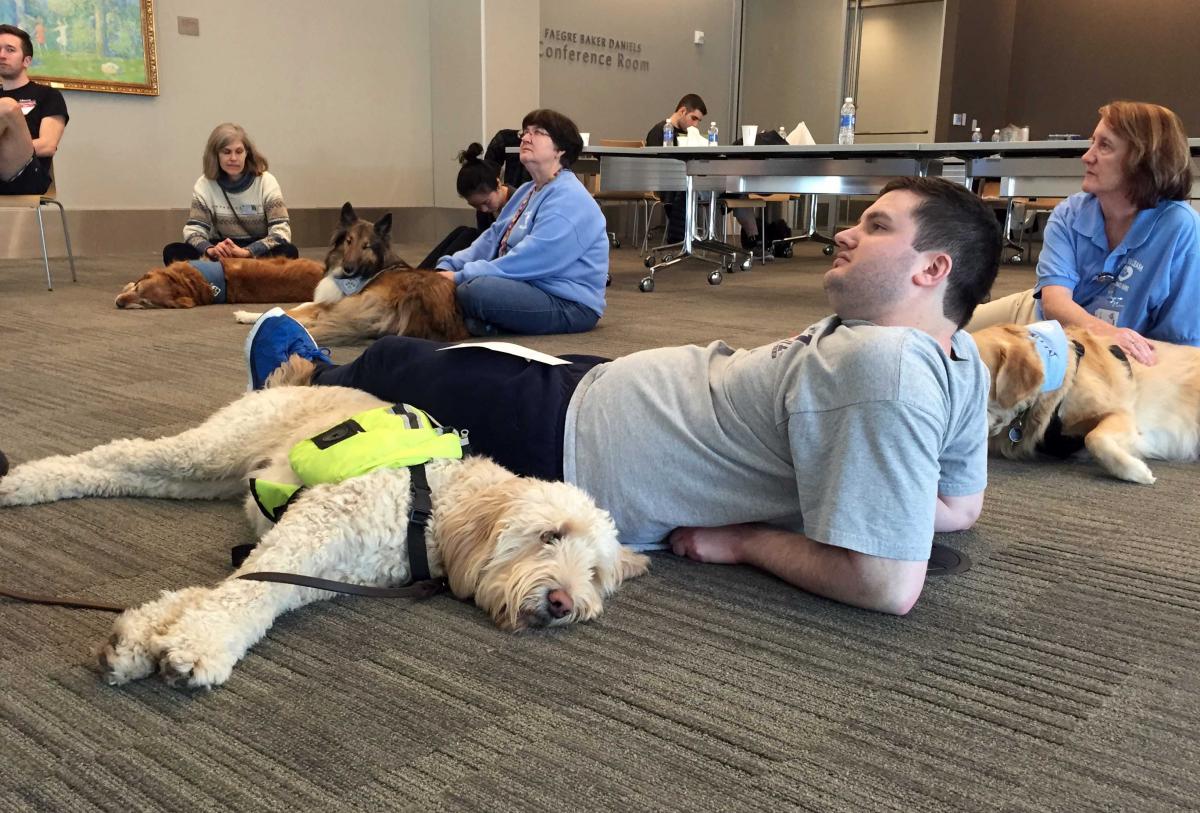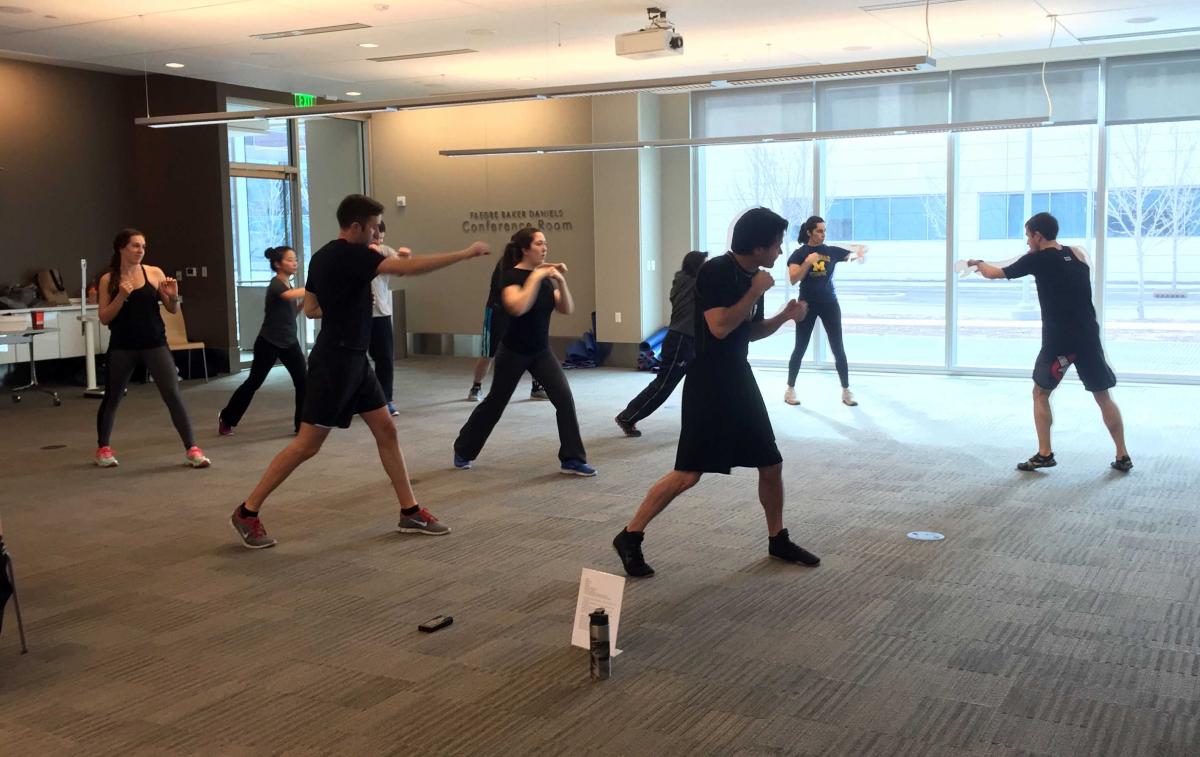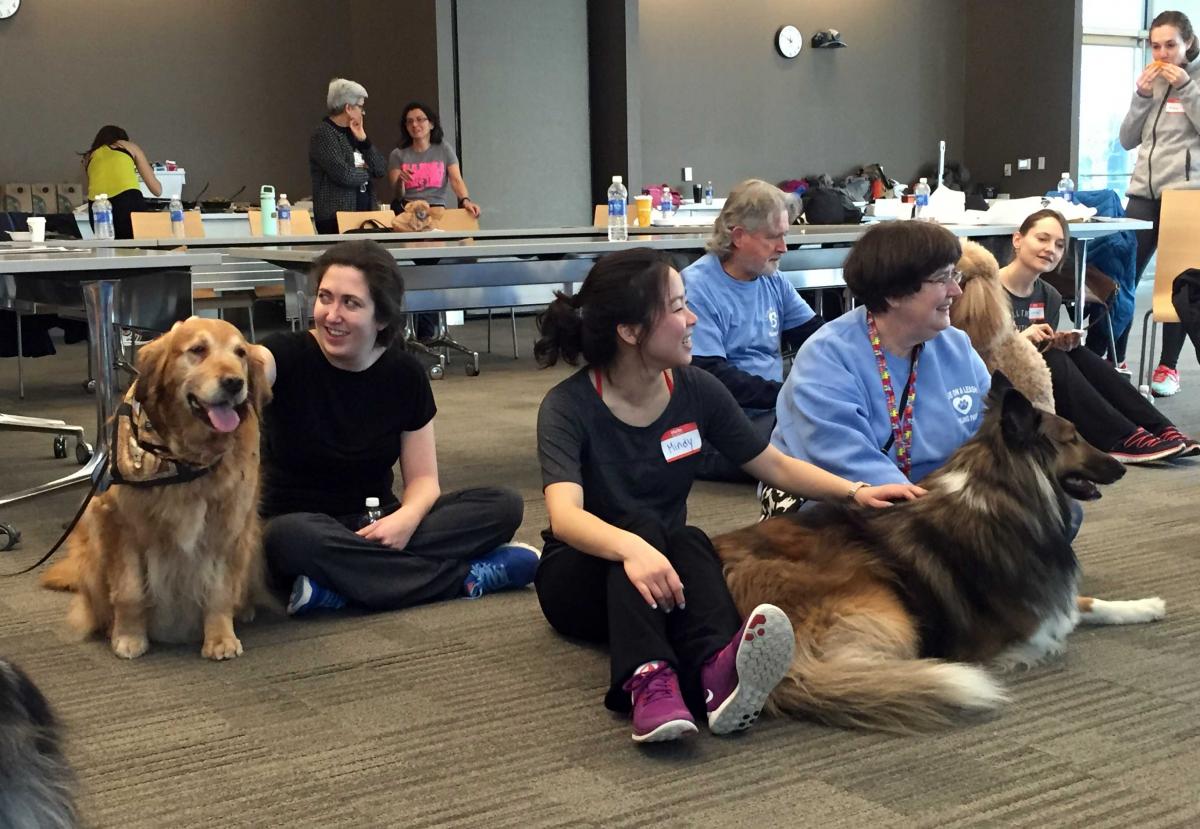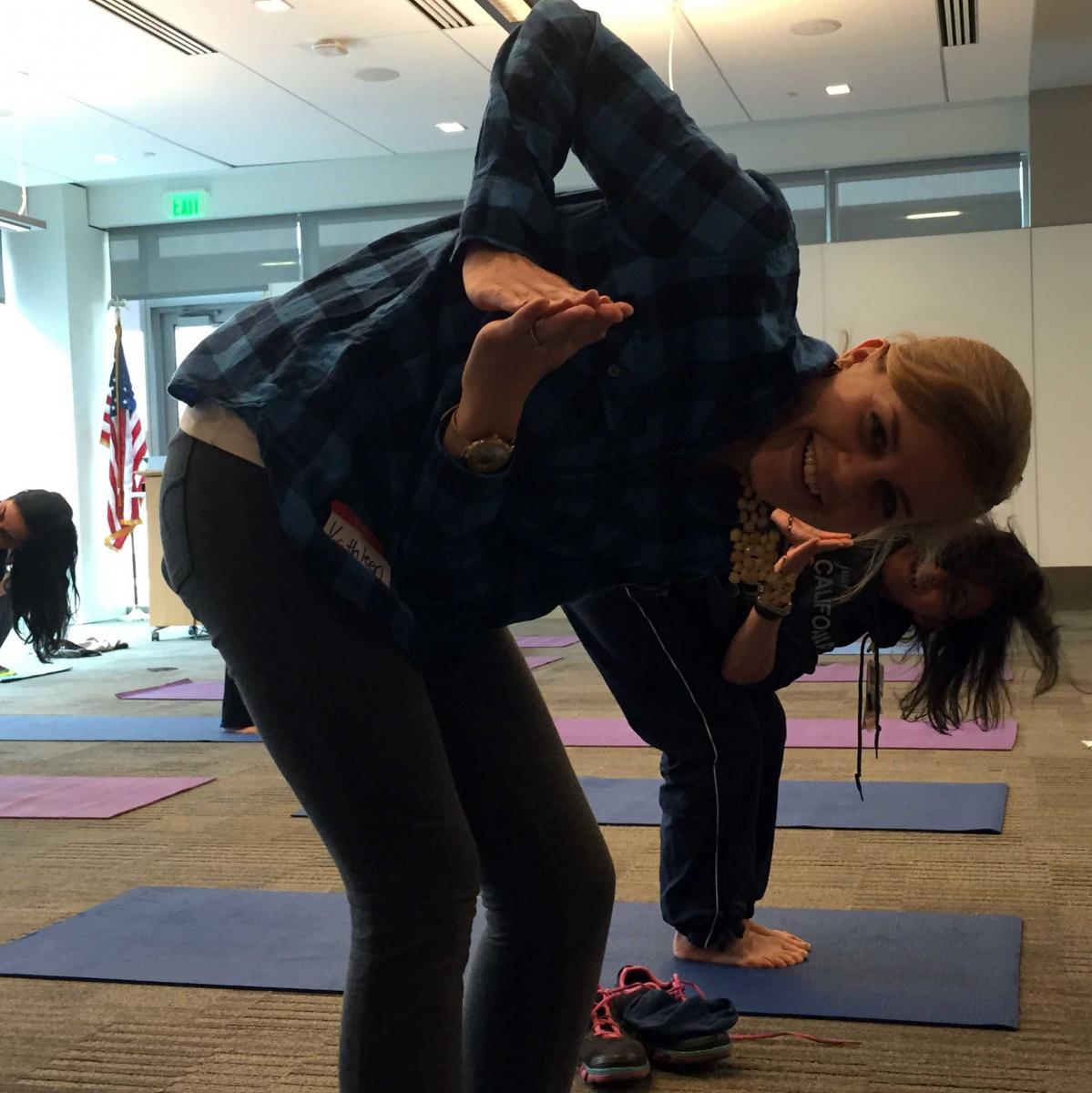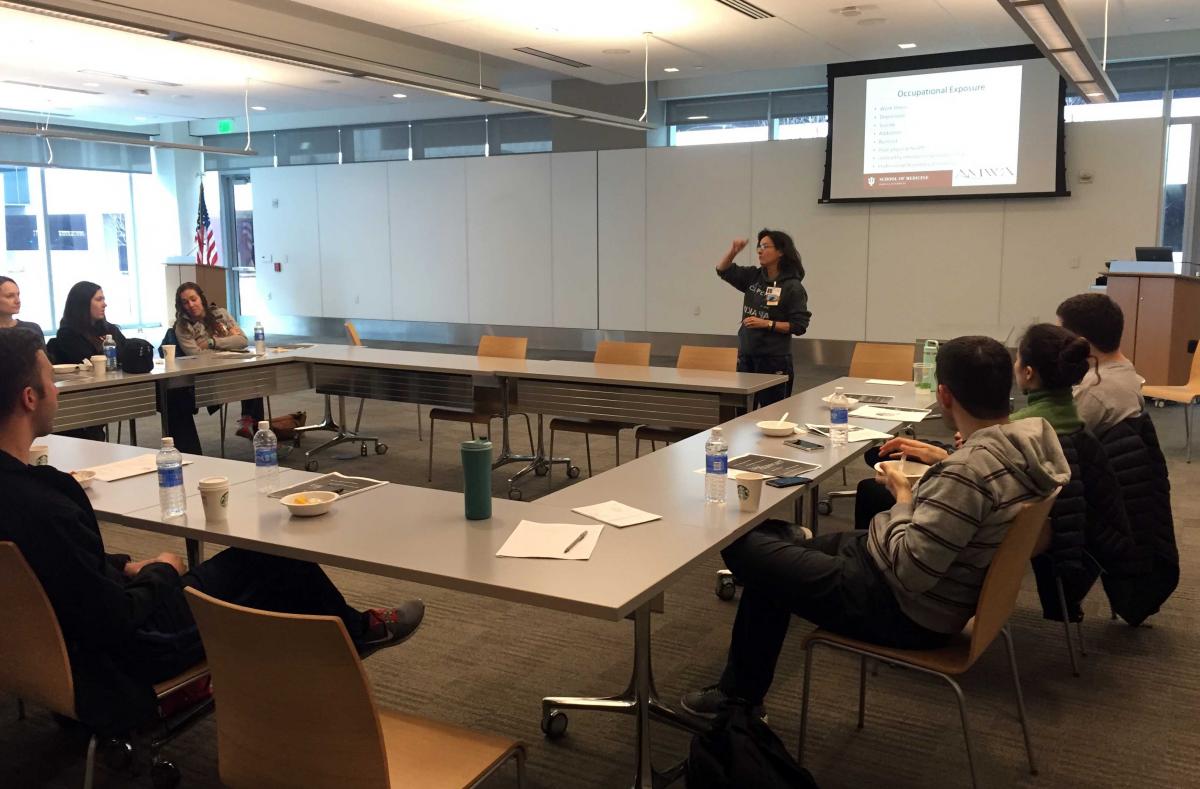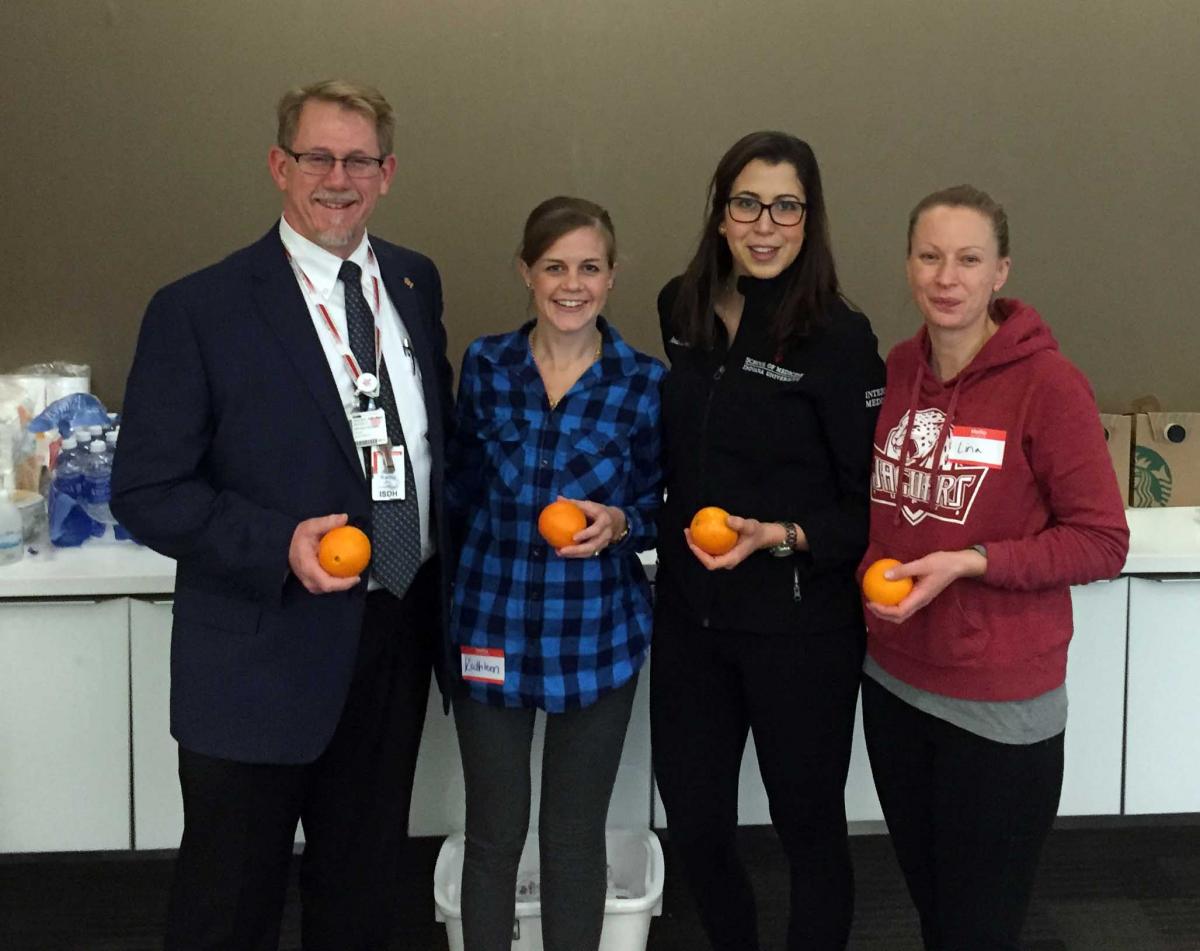 Also, Dr. Shalu Manchanda, MD, sleep medicine specialist, who spoke on the topic of sleep quality and means to improve mental and physical wellness with strategic naps while on call. Dr. Amanda Velazquez, third year internal medicine resident and soon to be nutrition and obesity fellow at Boston Medical Center, taught nutrition basics and tips healthy diets for resident physicians.
In addition to lectures, the wellness day included a series of activities including a yoga and meditation class, cardio-kickboxing class, interaction with therapy dogs from a local nonprofit organization, and information about aromatherapy with complimentary hand massages from Eskenazi Hospital's medical esthetician.
The resident wellness day was the first in a series of anticipated annual wellness initiatives for IUSM residents. In collaboration with the Indiana Chapter ACP Residents and Fellows Council, the organizers are seeking to establish a culture of resident wellness at IUSM. Feedback was sought from the attendees, indicating that the event was overall extremely well received, with suggestions for schedule changes and improvements for future events.
---
American College of Physicians and American Medical Women's Association Affiliate Membership Agreement
The American College of Physicians (ACP) and the American Medical Women's Association (AMWA) last year announced an affiliate membership agreement. ACP members can become AMWA Affiliate Members as part of their ACP membership and at no additional charge under this new umbrella agreement. ACP is the first organization to offer our members AMWA Affiliate Member status.
Benefits of AMWA Affiliate Membership include access to AMWA publications, opportunities to gain national leadership experience on one of AMWA's committees, networking, mentoring, and special discounts to AMWA local and national events.
Theresa Rohr-Kirchgraber, MD, FACP, longtime Indiana ACP member, is the current national president of AMWA.
The American Medical Women's Association (AMWA) is an organization that functions at the local, national, and international level to advance women in medicine and improve women's health. Founded in 1915, AMWA is the oldest multi-specialty organization of women in medicine. AMWA's programs help provide leadership, advocacy, education, mentoring and strategic alliances. As the vision and voice of women in medicine for nearly a century, AMWA empowers women to lead in improving health for all, within a model that reflects the unique perspective of women.
More information on AMWA can be found here.
---
Register Now for ACP National Meeting 2016!
The 2016 National Meeting will be held in Washington, DC on May 5-7, 2016. It will be combined with Leadership Day (occurring earlier in the week) for those attending that event. If you are attending, please make your meeting and hotel reservations soon, as rooms are filling up fast.
I hope to see you in Washington – as usual we will be having our Chapter Reception from 5:30-7:30 pm on Friday evening (May 6) at Acadiana. Acadiana is a contemporary Louisiana fish house, the only restaurant in the nation's capital to serve Louisiana cuisine at a heightened level of elegance.
---
Hold the Date – Indiana Chapter Meeting 2016!
The Indiana Chapter Meeting will be tentatively held again at the Renaissance Marriott Hotel in Carmel on November 10-12, 2016. Thursday (11/10) will consist of a Chapter reception and poster judging, and the main scientific meeting will take place on Friday (11/11). Saturday will consist of ABIM Self-Assessment (SEP) modules. We hope to see you there!
---
American College of Physicians Supports Core Quality Measures Collaborative Agreement
Philadelphia, February 16, 2016 – The American College of Physicians (ACP) supports the Core Quality Measures Collaborative agreement on core measure sets for select areas of practice – Accountable Care Organizations (ACO)/Patient Centered Medical Homes (PCMH)/Primary Care, Cardiology, Gastroenterology, and HIV/Hepatitis C.
"Clinicians, consumers, employers, and public and private payers benefit from making quality measurement more useful and meaningful," said ACP President Wayne J. Riley, MD, MPH, MBA, MACP. "This collaborative effort is a major step forward to reduce variability in measure selection, specifications, and implementation. It sets a model for future work on performance measurement alignment in these and other areas."
With input and participation from ACP and other professional organizations, the Centers for Medicare and Medicaid Services (CMS), health plans, the National Quality Forum, the National Committee for Quality Assurance, in addition to consumers and employers, the Collaborative has been working to create consistency and alignment across measures being used by both public and private payers.
The Collaborative seeks to promote measures that are evidence-based and generate valuable information for quality improvement, decision-making, and value-based payment and purchasing. The core measure sets are designed to be meaningful to patients and consumers and to physicians, while maintaining parsimony and reducing the collection burden and cost.
More information can be found here.