You are here
Governor's Newsletter April 2016
Governor's Newsletter April 2016

---
---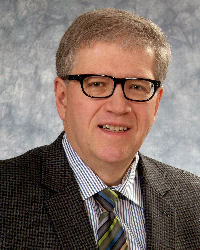 J. Matthew Neal, MD, MBA, CPE, FACP, FACE, FACPE, ACP Governor
---
From The Governor
This is my penultimate Governor's newsletter, as my term as Governor ends after the National Meeting in May when the Governor's office moves back to Indianapolis in the hands of our exceedingly talented, erudite Governor-Elect, Dr. Brad Allen. After that, I will be moving to the Old Governor's Home with my former Governor colleagues to decide what to do with all that free time.
How four years flies by! I can't believe how fast it has been gone. It has been a wonderful four years, something that has far exceeded my expectations. Being involved in many of the details of ACP at a national level has surely been a transformational experience for me. One of the best things has been the wonderful, diverse, and talented individuals whom I have worked with on the Board of Governors and Board of Regents.
The best thing, however, has been the honor of representing you at our Chapter events and at the National level. It certainly has been a privilege to have been elected Governor by you. Know that I will still continue to be involved in ACP in many aspects, and will always be happy to help any way I can.
We are so fortunate to have someone of Dr. Brad Allen's caliber coming in as Governor. We have worked closely together over the transition period and will continue collaborating in the future.
I would also like to thank my predecessor as Governor, Dr. Michael Sha, who has been a fantastic source of advice during my term. The Chapter also has benefited immensely from the services of Dr. Brandon Dickey, who has served as Treasurer during my term; he has also served as Program Chair, poster judge, Doctor's Dilemma moderator, and in numerous other capacities. Brandon will continue as an officer of the Chapter as C-6 (ACP Services) President. I am hopeful that one day we will be calling him "Governor."
Thanks to Heidi Lakanen for obtaining many of our keynote speakers for the Chapter meeting during my tenure and serving as a poster judge every year!
I would like to thank the four residents who served as Resident/Fellow Council Chairs during my term: Chrissy Doan (2012-13); Jeff Glant (2013-14); Chrissie Tran (2014-15), and Lina Rosengren (2015-16). The Resident/Fellow Council is an essential part of the Chapter, giving advice on many matters and helping organize many events.
I would like to thank Jeff Glant a second time as he has been our point person for Leadership Day, having organized it for the past several years. Thanks Jeff!
Finally, I would like to thank our Executive Director, Donna Seawards, for all her insight, help, and guidance, and putting up with me for four years!
---
Member Burnout Survey
We are interested in hearing our members' opinions on burnout. If you have a few minutes, we would appreciate your completing this brief online survey for physician burnout which will be used in structuring further educational offerings.
---
Residency Match positions for internal medicine critical to high quality health care system
Internal medicine programs offered 7,024 residency positions this year, a 3.75 percent increase from 6,770 in 2015, according to the 2016 National Resident Matching Program. Of the 6,938 (98.8 percent) internal medicine positions filled, 3,291 (46.9 percent) positions were filled with U.S. medical school seniors.
"The continued increase of internal medicine residency positions is critical to ensuring that patients have access to general internal medicine and primary care physicians who specialize in preventive care, diagnostic evaluation, and long-term treatment of complex and chronic diseases in coordination with internal medicine subspecialists such as cardiologists and endocrinologists," said Philip Masters, MD, FACP, senior physician educator and director, clinical content development, American College of Physicians. "While the trend is positive, it is important to remember that right now only about 18 percent of internal medicine residents eventually choose to specialize in general internal medicine, while 12 percent choose to become hospitalists."
Barriers to careers in general internal medicine and primary care include increasing administrative burdens, under-recognition of cognitive and care coordination skills, and compensation and debt burden issues. Graduate medical education (GME) funding also plays a major role in addressing the nation's physician workforce needs. ACP:
believes that GME funding needs to be sustained, and increased on a prioritized basis, to train more physicians in the specialties in greatest need. It is especially important that GME dollars support training of more internal medicine physician specialists.
believes that GME is a public good – it benefits all of society, not just those who directly purchase or receive it – and supports an all payer GME funding system where private payers join federal and state governments in contributing to the GME funding pool.
recommends increased training in ambulatory settings and supports community-based training programs such as the Teaching Health Center Graduate Medical Education (THCGME) program.
Internal medicine enrollment numbers have increased every year since 2012: 5,226 in 2012; 6,242 in 2013; 6,465 in 2014; 6,698 in 2015; and 6,938 in 2016. The percentage of U.S. seniors who matched to postgraduate year one (PGY-1) internal medicine positions in 2016 (19.3 percent; 3,291 total) was about the same as last year (19.6; 3,371 total).
The 2016 match showed a continuing increase of U.S. medical graduates who matched in internal medicine-primary care (156 in 2010, 166 in 2011, 186 in 2012, 200 in 2013, 202 in 2014, 206 in 2015, and 210 in 2016) and in medicine-pediatrics (299 in 2010, 309 in 2011, 276 in 2012, 312 in 2013, 284 in 2014, 319 in 2015, and 329 in 2016).
---
Marian University College of Osteopathic Medicine (MUCOM) Event Recap
The Indiana Chapter hosted an event at MUCOM on March 23 which was well attended by over 100 students interested in primary care. MUCOM enrolled its first students in Fall 2013 and its first seniors will participate in the 2017 Match. Thanks to Allison Wildin (Ball) and Kathleen Morris (IUSM) and Allison Palmer (President, MUCOM Internal Medicine Club) for organizing the event, as well as our other resident panel members: David Ingram (IUSM), Andrew Wiele (IUSM), Wesley Prichard (St. Vincent), Michelle Solik (St. Vincent), and Olufemi Olurunda (Ball).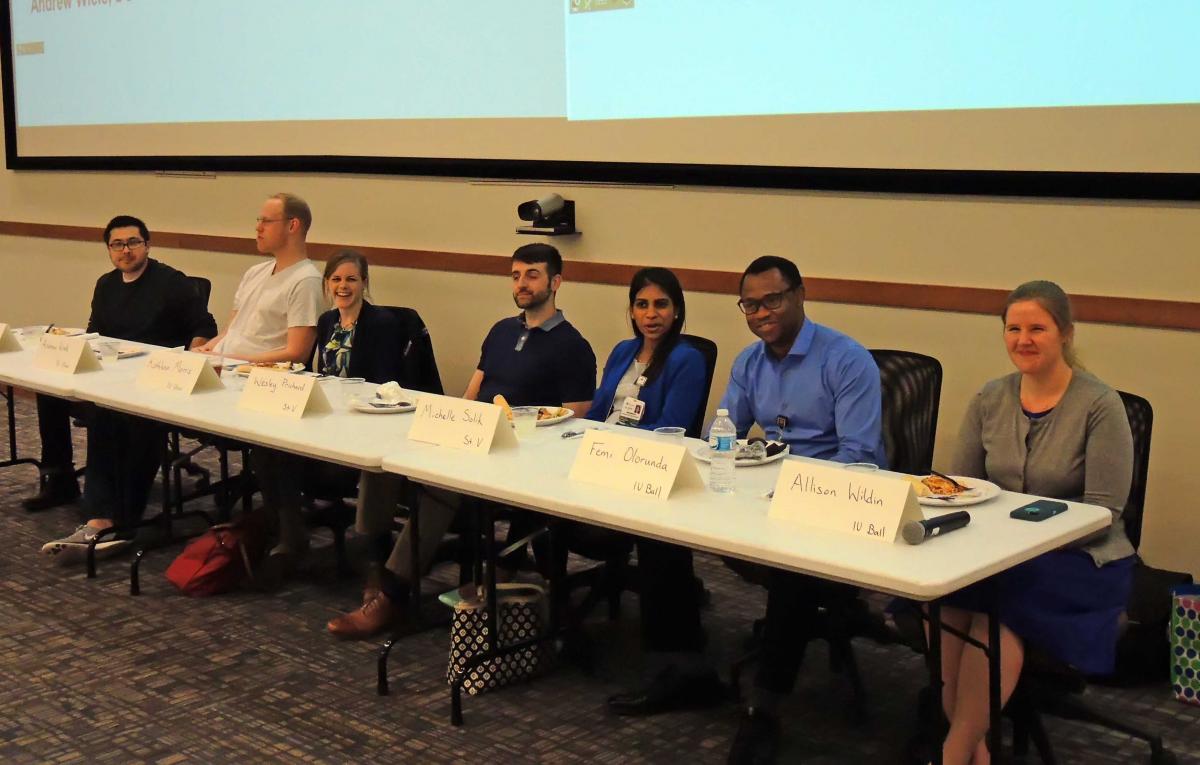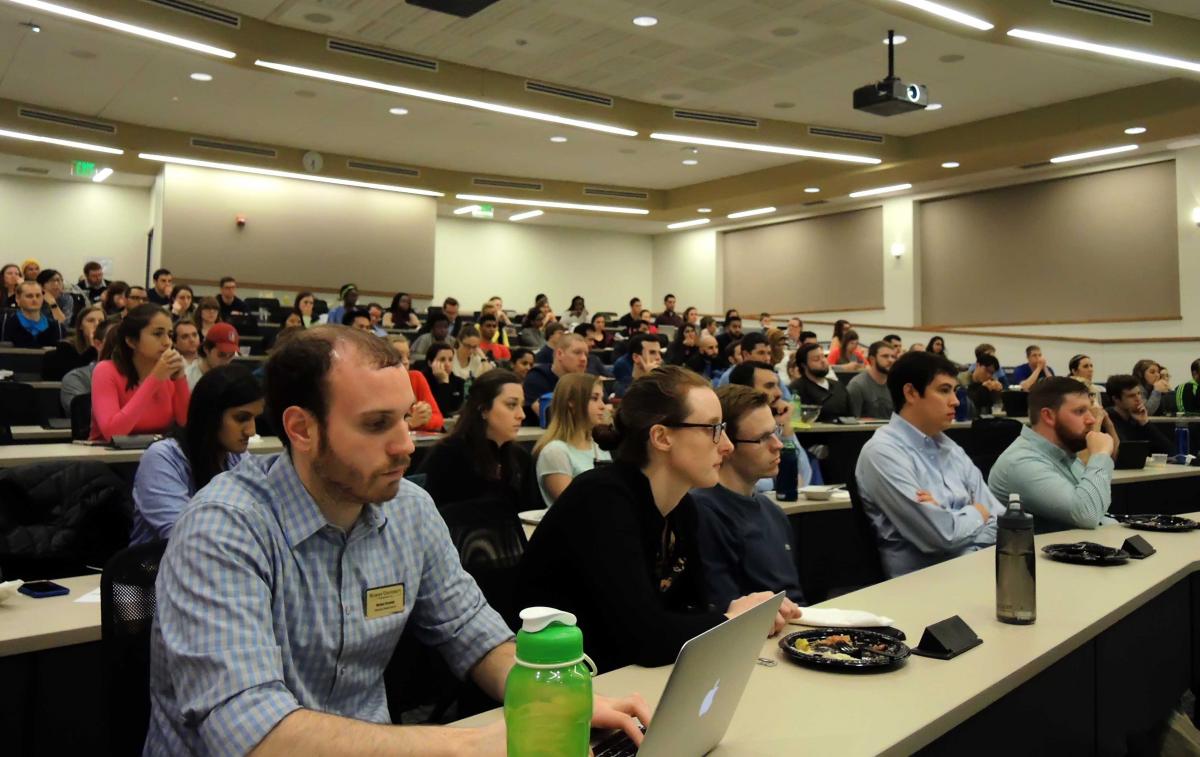 ---
Exploring Alternatives to the MOC exam: Physicians Invited to Participate in ABIM Research on Open Book Assessments
The ABIM is seeking physicians who have passed the Internal Medicine Certification exam or have taken the Internal Medicine MOC exam within the last five years to participate. Click here for further information.
---
American College of Physicians and American Medical Women's Association Affiliate Membership Agreement
The American College of Physicians (ACP) and the American Medical Women's Association (AMWA) last year announced an affiliate membership agreement. ACP members can become AMWA Affiliate Members as part of their ACP membership and at no additional charge under this new umbrella agreement. ACP is the first organization to offer our members AMWA Affiliate Member status.
Benefits of AMWA Affiliate Membership include access to AMWA publications, opportunities to gain national leadership experience on one of AMWA's committees, networking, mentoring, and special discounts to AMWA local and national events.
Theresa Rohr-Kirchgraber, MD, FACP, longtime Indiana ACP member, is the current national president of AMWA.
The American Medical Women's Association (AMWA) is an organization that functions at the local, national, and international level to advance women in medicine and improve women's health. Founded in 1915, AMWA is the oldest multi-specialty organization of women in medicine. AMWA's programs help provide leadership, advocacy, education, mentoring and strategic alliances. As the vision and voice of women in medicine for nearly a century, AMWA empowers women to lead in improving health for all, within a model that reflects the unique perspective of women.
Click here for more information on AMWA.
---
Register Now for ACP National Meeting 2016!
The 2016 National Meeting will be held in Washington, DC on May 5-7, 2016. It will be combined with Leadership Day (occurring earlier in the week) for those attending that event. If you are attending, please make your meeting and hotel reservations soon, as rooms are filling up fast.
I hope to see you in Washington – as usual we will be having our Chapter Reception from 5:30-7:30 pm on Friday evening (May 6) at Acadiana. Acadiana is a contemporary Louisiana fish house, the only restaurant in the nation's capital to serve Louisiana cuisine at a heightened level of elegance.
---
Hold the Date – Indiana Chapter Meeting 2016!
The Indiana Chapter Meeting will be held again at the Renaissance Marriott Hotel in Carmel on November 10-12, 2016. Thursday (11/10) will consist of a Chapter reception and poster judging, and the main scientific meeting will take place on Friday (11/11). Saturday (11/12) will consist of ABIM Self-Assessment (SEP) modules. We hope to see you there!
---
American College of Physicians Supports Core Quality Measures Collaborative Agreement
Philadelphia, February 16, 2016 – The American College of Physicians (ACP) supports the Core Quality Measures Collaborative agreement on core measure sets for select areas of practice – Accountable Care Organizations (ACO)/Patient Centered Medical Homes (PCMH)/Primary Care, Cardiology, Gastroenterology, and HIV/Hepatitis C.
"Clinicians, consumers, employers, and public and private payers benefit from making quality measurement more useful and meaningful," said ACP President Wayne J. Riley, MD, MPH, MBA, MACP. "This collaborative effort is a major step forward to reduce variability in measure selection, specifications, and implementation. It sets a model for future work on performance measurement alignment in these and other areas."
With input and participation from ACP and other professional organizations, the Centers for Medicare and Medicaid Services (CMS), health plans, the National Quality Forum, the National Committee for Quality Assurance, in addition to consumers and employers, the Collaborative has been working to create consistency and alignment across measures being used by both public and private payers.
The Collaborative seeks to promote measures that are evidence-based and generate valuable information for quality improvement, decision-making, and value-based payment and purchasing. The core measure sets are designed to be meaningful to patients and consumers and to physicians, while maintaining parsimony and reducing the collection burden and cost.
Click here for more information.