You are here
Illinois Northern Governor's Newsletter January 2019
Illinois Northern Governor's Newsletter January 2019
---
---
Suja Mathew, MD, FACP, ACP Governor, Illinois Northern
---
Governor's Message
Dear Colleagues,
Happy new year!
I love new beginnings and the opportunities they bring to refocus and redefine. 2019 is sure to challenge each of us in some way. But it will also bring us many opportunities to reaffirm our commitment to our patients and our profession. We at ACP vow to continue as your trusted source of clinical knowledge, practice support, professional satisfaction, and advocacy. We have a number of chapter-wide and national activities already planned this year; please scroll to the end of this newsletter for details. In addition, our chapter committees are busy planning educational and networking events that aim to support the meaningful work you do each day.
Enjoy reading about some of our recent events below. I hope to see you soon.
Warmly,
Suja Mathew
---
Illinois Internal Medicine 2018 Meeting
The Illinois Chapter – recently hosted the annual IL IM Meeting on November 9-10, 2018, at the Embassy Suites Riverfront Hotel and Conference Center, East Peoria, Illinois. Vidya Sundareshan MD, MPH, FACP, FIDSA, and her committee created an outstanding program. Presentation
Some of the exciting sessions included "Women in Medicine Initiatives", "Toast of New Orleans: Highlights of ACP IM 2018", and an interactive Clinical Skills Ultrasound Workshop.
Save the Date for our 2019 Meeting October 25-26, 2019 at the Hilton Oak Brook Hills Resort, Oak Brook, IL.
---
2018 Laureate Award recipient
The ACP Illinois Northern Chapter is honored to announce the 2018 Laureate Award was awarded to Carlotta Rinke MD, FACP.
The Laureate Award is designed to honor those Fellows and Masters of the College who have demonstrated, by their example and conduct, an abiding commitment to excellence in medical care, education, and research, and service to their community, their chapter, and the ACP.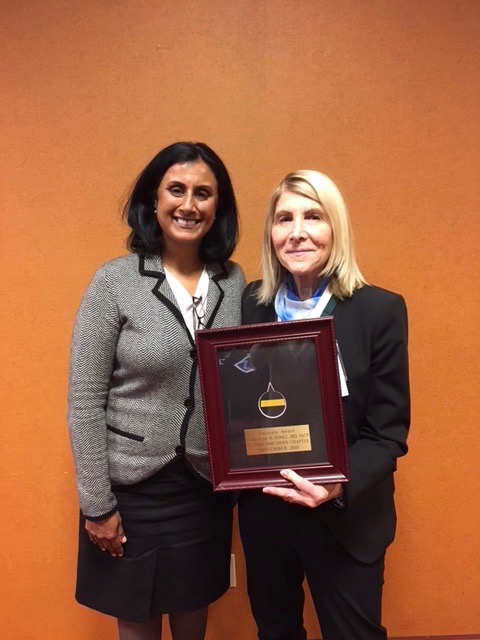 ---
40 Year Member Award
Dr. Suja Mathew, ACP ILN Governor, presented Dr. Warren Furey MD, MACP with the ACP 40 Year Membership Award. Dr. Furey is a past ACP IL Northern Governor, and has been an ACP member for 48 years.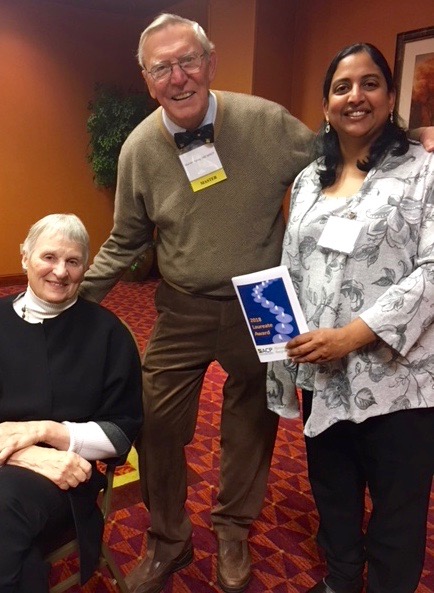 ---
Poster Winners and Doctor's Dilemma Resident/Student Day 2018
The Doctor's Dilemma competition during Resident and Medical Student's Day on October 10, 2018 was fierce. The winning team, Presence St. Joseph team will travel to Philadelphia to compete in the global championship during the annual ACP meeting: IM 2019. The Oral Clinical Vignette winner, Daisy Zhu presented a wonderful case. The poster winners included, Faisal Ali, Theodora Pappa, and Donna Asupan. Congratulations to all!
---
Leadership Day 2019 Essay Contest
Interested in Health Care reform? Want to make a difference at the national level? Join the ILN Chapter at Leadership Day 2019 in Washington, DC, May 14-15, 2019.
This event provides an opportunity for ACP and our members to increase our presence in Washington and bring visibility to issues of common concern. Participants receive a comprehensive orientation and briefing on ACP's top legislative priorities and then have an opportunity to meet with legislators and the staff on Capitol Hill.
The Northern Region is again sponsoring members to attend. Attendees will receive $750 travel stipends for up to one individual from each member category: student, resident/fellow, early career physician (less than 10 years out of training). (3 Total Attendees)
Essays on "Why is physician advocacy important to you? What do you hope to accomplish by attending ACP Leadership Day?" should be submitted no later than Friday, February 25, 2019.
General information regarding Leadership Day 2019 can be found HERE:
---
Call for Fall 2019 Board of Governors Resolutions
Are you concerned about a practice or clinical issue or have an idea you'd like to suggest? If so, you might consider submitting a resolution to your Governor or chapter council.
Not sure how to begin drafting a resolution? Researching the College's position on an issue can give you a start. Visit the ACP Online homepage and click the "Advocacy" link in the right-hand, top margin to access ACP policy positions, read about recent ACP advocacy activities, or search ACP's library of policies and recommendations. Visit your chapter website, too, and click the link under "Advocacy" to access Electronic Resolutions System (ERS) where you can search past or proposed resolutions. Deadline for submitting new resolutions is March 25, 2019.
---
Recent resolutions adopted by the ACP Board of Regents
Resolutions initiated by ACP members and endorsed by a chapter council and the Board of Governors become ACP policy when adopted by the Board of Regents. The ACP Board of Regents met in November 2018 and acted on the following resolutions.
Adopted and referred for implementation
Measuring the Association between Medicare's Nonpayment Policy and the Injurious Inpatient Falls Outcome Addressed by the Hospital-Acquired Conditions (HACs) Initiative
Promoting the High Value Provided by Primary Care Internists
Petitioning to Change Tramadol from DEA Schedule IV to Schedule III
Improving Reimbursement for Cognitive Services
Reimbursing Tetanus Vaccinations for Better Patient Care
Developing ACP Policy Opposing the Requirement for Ninety-Day Prescribing in Order That Prescriptions be Covered by Insurance Companies
Advocating for Immunity from Federal Prosecution for Patients and Physicians in States That Allow Use of Medical Marijuana
Adopted as amended and referred for implementation
Modifying the ACP BOG Resolutions Process to Include an Electronic Vote Count and Summary of Dissenting Opinions
Developing ACP Policy Calling for Transparency and Community Learning Towards Physician Suicide Prevention
Adopted as a reaffirmation of current ACP policy
Energizing the Patients Before Paperwork Project
Calling Upon the ACP to Publicly Support the Consensus Statement Recently Prepared by a Collection of Medical/Health Care Associations Requesting Improvement in the Prior Authorization Process
Seeking Legislation to Require Medicare Advantage, Medicaid, and Commercial Insurers Pay for Advance Care Planning
Referred for Study
Establishing a Council of Independent Practice Internists
Paying for Physician Performance rather than Patient Performance
---
Webinar MKSAP Live Online Study Hall
Join us on Tuesday nights at 8:00 Central!
Each week our hosts reveal a new "episode" of MKSAP 18, preparing you for boards over the next two years. This is an opportunity to prepare for recertification in a weekly casual, collegial, online setting. It's free for ACP members*, but you must own MKSAP 18.
*At this time, Online Study Hall is open to master, fellow, and attending physician members. We hope to open it to resident members in the near future.
More information and registration HERE
---
Save-the-Date
Every Tuesday at 8:00 PM Central Time: Webinar MKSAP Live Online Study Hall
11-13 April 2019: Internal Medicine Meeting 2019 in Philadelphia, PA
14-15 May 2019: ACP Leadership Day on Capitol Hill, Washington DC, 2019, at the Mandarin Hotel
25-26 October 2019: ACP Illinois Annual Scientific meeting, Hilton Hotel, Oak Brook, IL
12 November 2019: ACP Illinois Resident/Student Day at the iHotel in Champaign, IL