You are here
Illinois Northern Governor's Newsletter January 2017
Illinois Northern Governor's Newsletter January 2017

---
---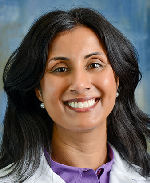 Suja Mathew, MD, FACP, ACP Governor, Illinois Northern
---
GOVERNOR MESSAGE
Dear Colleagues,
As we begin a bright new year, I am sure we can agree that 2016 has been an exciting and tumultuous year filled with uncertainty. For some of us, the year has brought great victory and accomplishment. For others, the year left us feeling dismay and even despair. I, like most, have experienced highs and lows, success and failure. In fact, 2016 brought me a lifetime record of extremes, both personally and professionally.
Annually, I take this opportunity to reflect on what is most important in my life. And as I create my list, I quickly realize that my "whats" become "whos". People have always been most important. My family, my friends, my colleagues, and my patients are for whom I live and work. I have managed to surround myself with amazing people who challenge me to be a better version of myself every day. Christmas is my time to renew my commitment to each of them. I hope you take a moment to do the same.
The American College of Physicians has been faithfully committed to you in 2016. We continue to work for what matters: policies that promote health and wellness for all patients, educational resources that meet your needs, and maintenance of certification that makes sense. Despite the current uncertainties around healthcare, please be reassured that the ACP will fight for you and your patients.
In the Northern Illinois Chapter, we have been busily maintaining and building programs, as well as making a few changes. The most exciting of our changes is the promotion of Ms. Colleen Keeku to the position of Executive Director. Colleen is well known to many of us, having served as associate ED for some time. She is immensely skilled and knowledgeable to guide the Council and me as we move through the next year. I thank Ms. Donna Seawards for her service to our chapter and wish her much success in her next endeavors.
A few more highlights of the fall including Resident and Medical Student Day 2016, ACP Illinois Chapter Meeting, Early Career Physician and Resident Financial Wellness Event are described below. Please also consider joining us for the MKSAP Online Study Hall and review the ACPs High Value Task Force finding, both also described further below.
Finally, I would like to highlight one of our Northern Illinois Chapter programs, our Speakers Panel. The Speakers Panel is a group of local experts and trained speakers who present lectures on a collection of topics important to ACP on the national and regional level. Our speakers have been invited into many area hospitals and professional society meetings to deliver Grand Rounds and other educational talks. I encourage you to view our brochure and reach out to us with any questions. I wish you all a joyful and peaceful season. See you in the New Year.
Warmly,
Suja Mathew, MD, FACP
Governor, Illinois Chapter Northern Region
---
Residents' and Medical Students' Day 2016
ACP IL Northern Resident's Day was held November 9th at UIC, and ACP hosted 17 residency programs and over 350 attendees. Congratulations go to the many poster, oral presentation, and Doctor's Dilemma champions. In March, the ACP IL-N poster winners and the Presence St. Francis Doctor's Dilemma team are headed to the National ACP Competition in San Diego. Many thanks to the Rush and Stroger Hospital of Cook County Chief Residents for planning a successful day!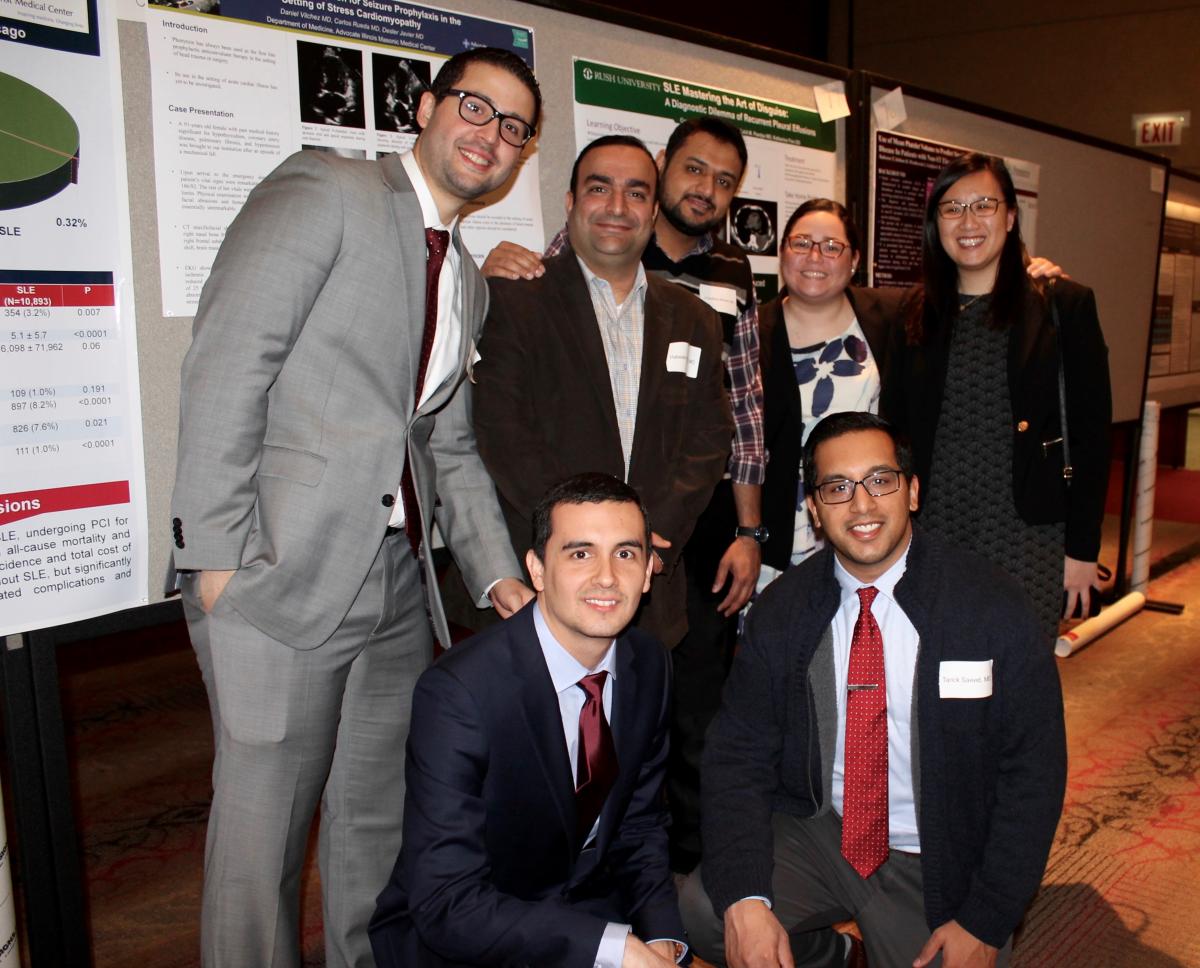 2016 Resident Poster Competition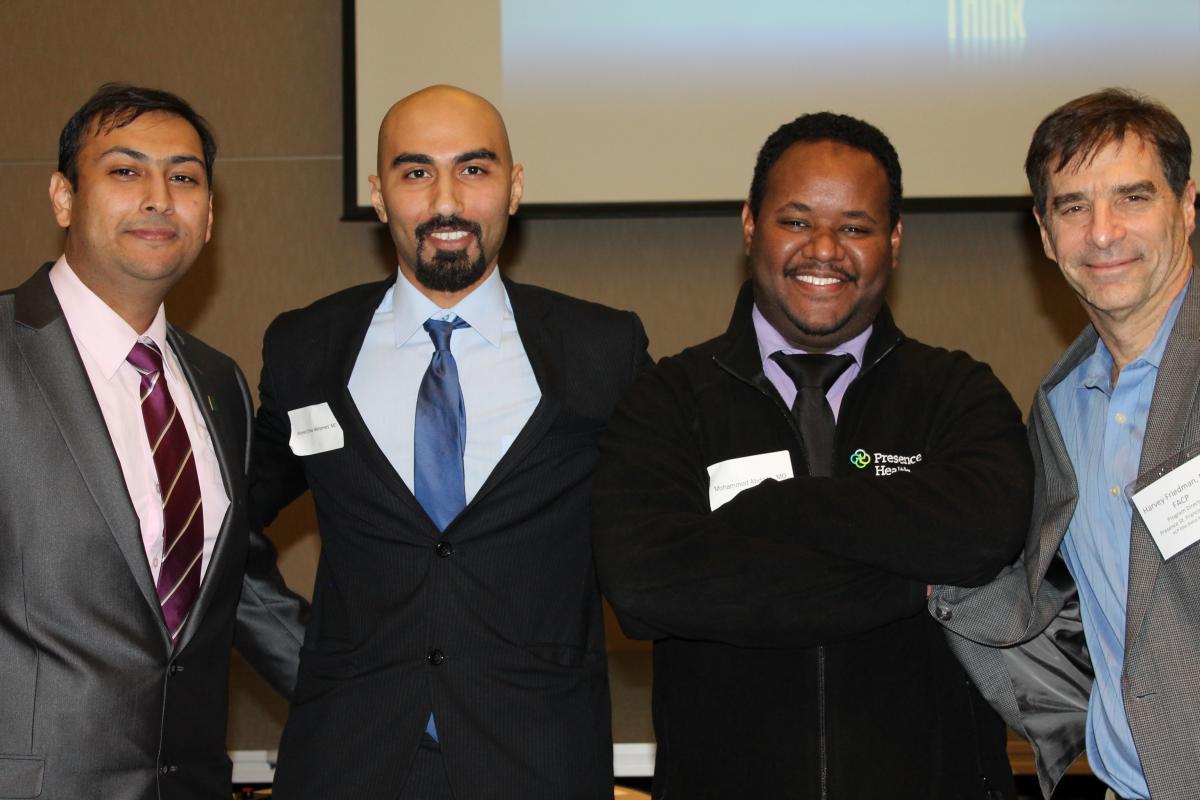 2016 Doctor's Dilemma Champions-Presence St. Francis
---
ACP Illinois Internal Medicine 2016
ACP IL Internal Medicine 2016 was held November 18th and 19th. Our colleagues downstate in Champaign designed a successful two days filled with educational sessions, maintenance of certification modules, and opportunities to connect with colleagues. Speakers from ACP Illinois spoke in dynamic and didactic sessions over the two-day meeting. During the meeting, Dr. Cathy Cheng was awarded the 2016 ACP Laureate Award. Dr. Cheng is a founder of our MKSAP Online Study Hall and is Chair of the ACP IL Education Committee. The Laureate is awarded for significant contributions to ACP at the Chapter Level. Congratulations!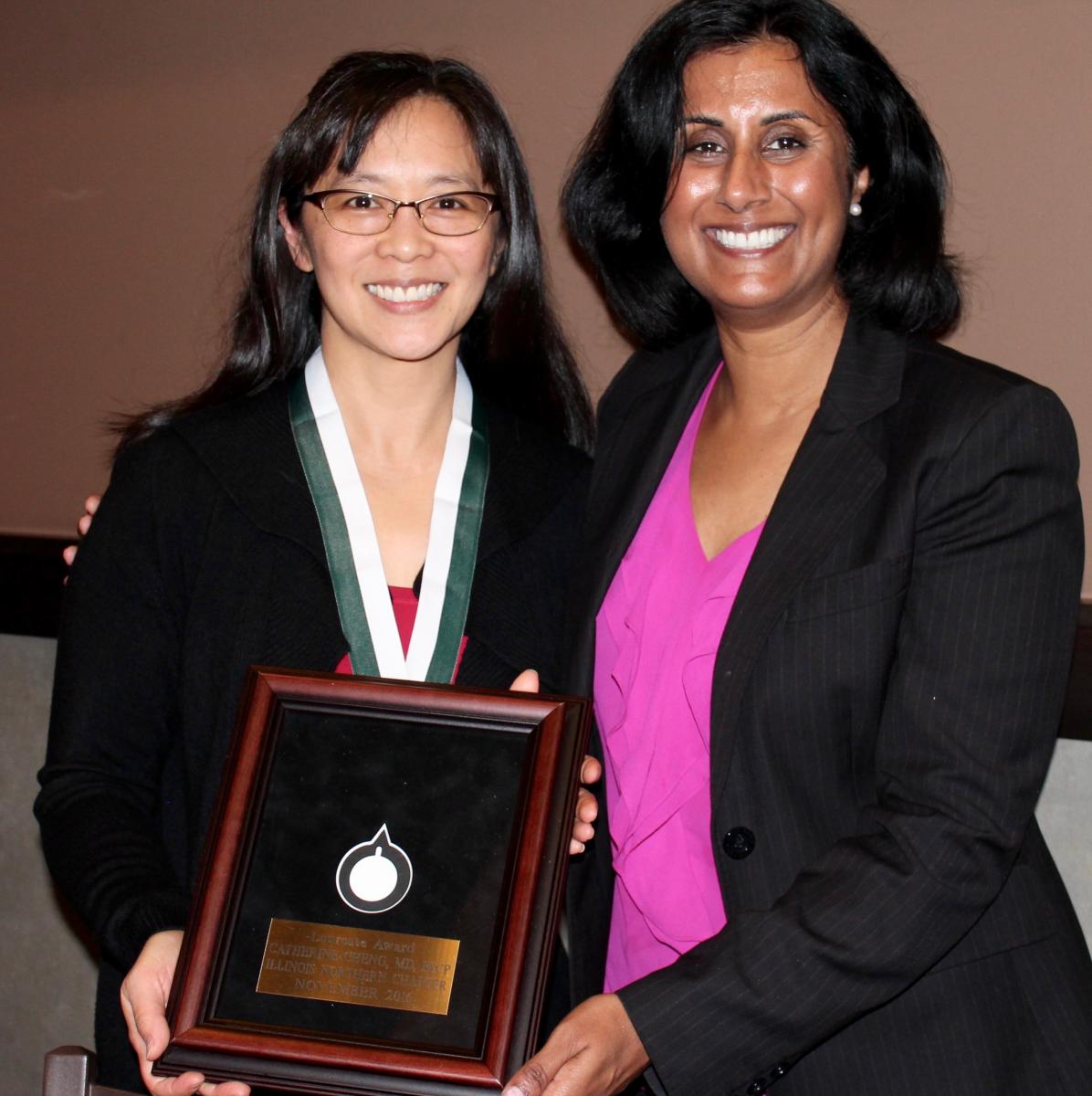 Dr. Cathy Cheng
---
Early Career Physician and Resident Financial Wellness Event
On December 1st, MEDIQUS, a national financial advisory firm headquartered in Chicago, IL, presented pertinent topics targeting residents and practicing early career physicians. Jeff Witz and Ronald Paprocki JD, CFP, CHBC discussed wealth management, retirement investments, and asset protection against medical lawsuits. We were also very pleased to have exhibitors from STC Capital Bank and Carter Property Group to speak in regards to home/condo purchases for physicians.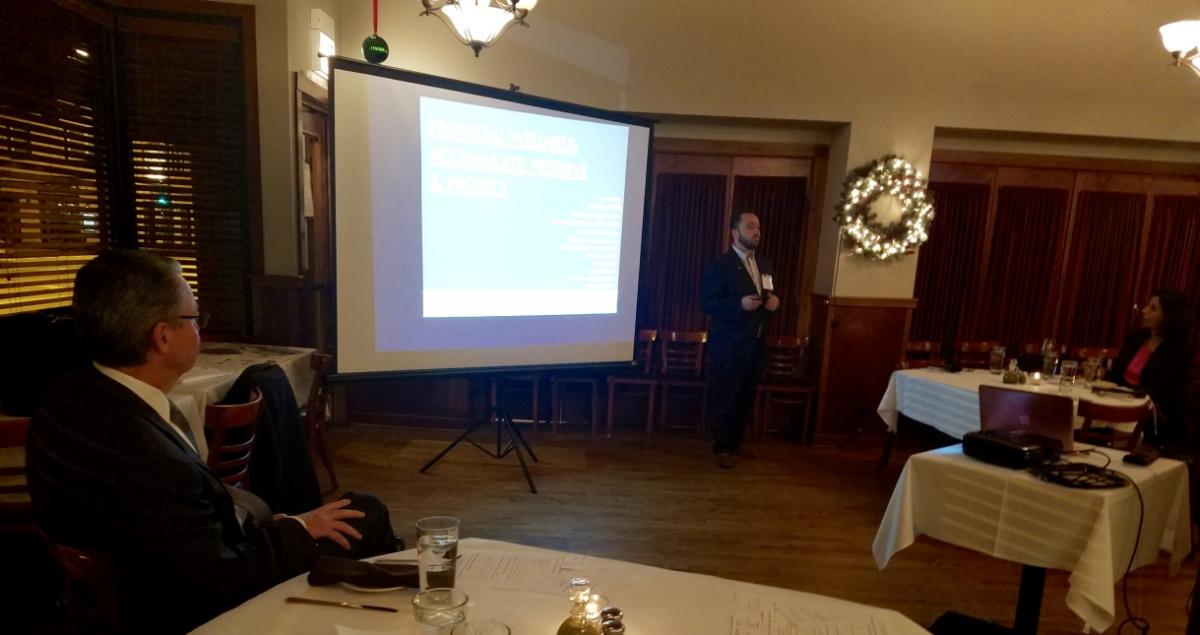 ---
Prescribing Antibiotics, Narcotics, and Opioids is Common but Little Benefit for Patients
A study by ACP's High Value Care Task Force found that overuse of antibiotics, aggressive non-palliative treatment in patients with limited life expectancy, treatment of chronic pain, and dietary supplements may be the most frequently used low value treatment interventions used by doctors.
---
MKSAP Online Study Hall
Every Tuesday, 8:00 PM, MKSAP Live Online Study Hall, for recertifying Illinois ACP members, and 'elite' residency programs (that is, programs with more than 90% of residents registered as ACP members). Register HERE .
---
Save the Dates
ACP Internal Medicine 2017, in San Diego, March 30-April 1, 2017. More info here!
ACP Leadership Day, May 23-24, 2017, Washington DC. Click here to learn more.
ACP IL Internal Medicine 2017 Scientific Meeting, Friday & Saturday, November 17th and 18th, Oakbrook, IL
---
New Members
Zainab Abbas, MD
Osamah Abdallah, MD
Oriade K Adeoye, MD
Asrar Ahmed, DO
Efesomwan Aisien, MD
Hatem Al Kassem, MD
Fadi Aldaghlawi, MD
Haris Aleem, MD
Troy A Alexander-El, MD
Dima Alfakara, MD
Sharifa Alhassan, MBBS
Sonika Anand, MD
Vijay Anand, MD
Phil Andreoli, DO
Evelyn Angulo, MD
Swapna Aradhyula, MD
Huda Arif, MD
Melissa M Arredondo, MD
Maged M Attia Saad, MD
Ami U Badami, MD
Sukhveer Bains, MD
Sheila D Ballintine, MD
Neha Balmoori, MD
Sheila M Barry, MD,PhD
Elizabeth M Bauer, MD
Nicole Bendin, MD
Lane Benes, MD
Anne-Marie Bertino, MD
Ravinder Pal S Bhatti, MD
Mayank Bhayana, MD
Zakria Bilal, MD
Franziska Elisabeth Blum, MD
Prajwal C Boddu, MBBS
Christopher W Bogan, MD
Christopher A Boyle, MD
Julia Brown, MD
Eugene Bukhman, DO
Lucas A Burke, MD
Elaine Cabugason, MD
Enrique P Campos, MD
Andrew D Carmichael, DO
Bishan Chakravarty, MBBS
Sara Chauhan, MD
Yan Chen, MD
Tharian S Cherian, MD
Carroll Christopher Christie
Kamala Gullapalli Cotts, MD
Natalie Crawford, MD
Shengchuan Dai, MD
Joseph Vartan Danavi, DO
Siddhartha A Dante, MD
Mutazz Darweesh, MD
Maja Delibasic, MD
Lela Demeter, MD
Denise D Dewald, MD
Ibrahima Diop, MD
Venkata Satish Dontaraju, MD
Demetrios Doukas, DO
Karen Dugan, MD
Anna Duloy, MD
Mohammed El-Dallal, MBBS
Nader Eldris, MD
Arnolfo Elman, MD
Osama Elsallabi, MBChB
Emily Escue, MD
Mazin Fattouhi, MBChB,MD
Valena Nole Fiscus
Michelle Forson, MD
Lisa Garland, MD
Bryan R Gaynor, DO
Gemy M George, MBBS
Esho Georges, MD
Todd Gephart, MD
Hemil Gonzalez, MD
Harishankar Gopakumar, MD
Aravind Gopal, MD
Vikram Goyal, MD
Anna Maria Gramelspacher, MD
Gregory Grzesik, DO
Ashish Gupta, MD
Ali Haider, MD
Christie L Hancock, MD
William Harper, MD
Miranda Hart, MD
Faiza Hashmi, MD
Hiroaki Hayashi, MD
Bruce L Henschen Jr, MD
Jacqueline N Horst, MD
Daniela Huerta De Hathaway, MD
Christian Hyun, MD
Hussain Ibrahim, MBBS
Isaac I U Ikwu, MD
Joel Ingrim, MD
Amena Iqbal, MBBS,MD
Nenita R Irabagon, MD
Rasha Issa, MD
Jeffrey D Jacobs, MD
Sawan S Jalnapurkar, MBBS
Michael Jelinek, MD
Robert Jen, MD
Omar Khan Jilani, MD
Nicholas Jones, MD
Joel Kalavelil, MD
Anita Kallepalli, MD
Christopher Kapp, MD
Susan Karam, MD
Olufemi Kassim, MD
Andrew N Khalil, DO
Ambareen Khan, DO
Mahjabeen Khan, MD
Prakash Khanal, MBBS
Jawaad S Khokhar, MD
Emily M Kitchin, MD
Malgorzata Kochanek, MD
Michael Kolozsvary-Kiss, MD
Vinod Kondragunta, MD
Komal D Koya
Kimberly R Kruczek, DO
Fouad Kutuby, MD
Tommy J Kwak, MD
Stephanie Labedz, MD
Bhranti C Langaliya, MD
Kathryn Lee Noll, DO
Jessica Lum, MD
Sonal Mahajan, DO
Nanditha N Malakkla, MD
Gurveen Malhotra, MD
Andrea Man, MD
Bernice Man, MD
Angelica M Manzur, MD
Ava Mastny, MD
Ralph Matar, MD
Kristin McBeath, DO
Irena Medenica, MD
Chandramohan Meenakshisundaram, MBBS
Arjun Mehta, MD
Gautam R Mehta, MD
Sheela Metgud, MD
Maryanne Miller, MD
Divyanshu Mohananey, MD
Sujata A Morker, MD
Shaham Mumtaz, MD
Akshay Muralidhar, MD
Saleh Musleh, DO
Lekshmi Nair, MD
Mechu Narayananan, MD
Marquita Nelson, MD
Margaret Newman, MD
Duyhuu T Nguyen, MD
Quang Tung Nguyen, MD
Quynh-Lan Nguyen, MD
Neha NSN, MD
Aswin Nukala, MD
Kathleen Ann O'Shea-Wilk, MD
Estefania Oliveros Soles, MD
Bushra Osmani, MD
Imran A Osmani, MD
Denada Palm, MD
Greg R Papiez, MD
Elizabeth J Pappano, MD
Venu Pararath Gopalakrishnan, MD
Kunal Patel, MD
Manali Patel, MD
Mihir Patel, MD
Nilesh G Patel, MD
Ruchi Patel, MD
Chad J Pendley, MD
Jessica Pillarella, MD
Mitchell Popovetsky, MD
Elizabeth Prickett, MD
Amutha V Rajagopal, MD
Nirosuthan Rajasingam, MD
Neelima Rehil, MD
John P Reid, MD
Kristin J Richardson, MD
Michael Richman, MD
Adam Rodos, MD
Jason M Rodriguez, MD
Grigory Roginsky, MD
Ari J Rosenberg, MD
Jamal Ross, MD
Yakov Ryabov, MD
Ali Salem, MD
Neema Saraiya, MD
Sarah Sarfraz, MD
Lesley Anne Schmaltz, MD
Brett Segel, MD
Meredith H Sellers, MD
Vladimir Selounski, MD
Jennifer Y Seo
Pankti Shah, MD
Timothy Shih, DO
Joseph Michael Shulan, DO
Nyal Siddiqi, DO
Faiza Siddiqui, MD
Saba Siddiqui, MD
Sarah Siddiqui
Jonathan Silverman, MD
Taeyong Sim, MD
Mariamou C Sims, MD
Dilpreet Singh, MD
Gurpreet Singh, MD,MBBS
Kunal Singh, MD
Shruti Singh, MD
Wasseem Skef, MD
Ben J Small, MD
Charlotte H So, MD
Malini Soundarrajan, MD
Janet V Starck, MD
Robin Staudinger, MD
Danielle Steker, MD
Matthew Stier, MD
Michael Stokas, MD
Mary Beth Sutkowski, MD
Natalia A Szaflarski, DO
Andrew B Thompson, MD
Gabriel J Thornton, MD
Mateo Tole, MD
Allen Tung, MD
Dioma U Udeoji, MBBS
Erin Unger, MD
Sreekanth Uppuluri, MD
Susan Vahebi, MD
Anita Vasan, MD
Iazsmin B Ventura, MD
Neha Verma, MD
Julia Vermylen, MD
Ernesto Villegas, MD
Subeer Wadia, MD
Brian L Wagenaar, MD
Qian Wang, MD
Kaitlin Wanta, DO
M Sheraz Waris, MBBS
Max Weiss, MD
John P Willoughby, MD
Travis Yamanaka, MD
Michael Yeager, MD
Annette Zacharia, MD
---
New Fellows
Angela M. Bell, MD, FACP
Alana Biggers, MD, FACP
Thomas E Bleasdale, Jr. MD, FACP
Katya Y. Cruz Madrid, MD, FACP
Michael J. Davidovich, MD, FACP
Jill O. Jin, MD, FACP
K M L S T Moorthi, MBBS, FACP
Salih Samo, MD, FACP
Sukhchain Singh, MD, FACP
Laurent S. Tao, MD, FACP
Alvin F. Wells, MD, FACP