You are here
GOVERNOR'S NEWSLETTERAugust 2015
GOVERNOR'S NEWSLETTERAugust 2015

---
---
Governor's Message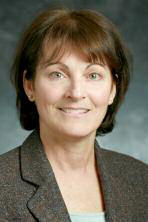 Marie T. Brown, MD, FACP, ACP Governor, Illinois Northern
2015 has brought exciting news already for ACP members and even more spectacular events are coming to Illinois this fall!
The ACP celebrated its 100th anniversary in historic Boston and here in Illinois we will continue the celebration at the first ACP Illinois - Internal Medicine 2015 designed for the practicing physician. Nationally known experts in their fields in a fast-paced, two-day event at the University Club in Downtown Chicago, November 13-14, 2015. This meeting will provide you with the most relevant updates and guidelines for 2015 across a broad range of topics (hospitalist and ambulatory tracks) that you can apply at your very next patient encounter!
View the Brochure
Online Registration
It is also my great pleasure to announce the next ACP Governor 2016-2020 of the Northern Region:
Suja Matthew, Chair of Medicine at Cook County Health and Hospital Systems. Many of you know her from training in medical school and residency at the University of Chicago. She became Program Director at the largest residency program in the nation CCH and has been interim chair of medicine since 2014. In addition to those busy roles, she has led the ACP Residents Day for the past 2 years, bringing innovative educational opportunities to residents from all 17 programs in our region. I am very excited and will be very proud to entrust the leadership of the Illinois Northern Chapter to Suja at the conclusion of our next national Annual Meeting in Washington DC, in May 2016.
Congratulations to Mary Anderson and Anne Schultz. Dr. Anderson was reelected and Dr. Schultz was elected to the ACP Illinois Northern Governors Advisory Council each for a 2 year term.
Please join me in congratulating our new Fellows who participated at convocation in Boston along with our national Awardees and our legacy awardee Dr. Rolf Gunnar. Consider applying for Fellowship now as new Fellows will also be honored at the fall meeting.
Leadership Day in DC was another successful Spring event. The Northern Region sent 9 members we would like to thank them for their time and energy in communicating the perspective of our patients and colleagues to our government leaders. ACP National worked tirelessly on the SGR issue and is to be congratulated for its efforts. Recent Supreme Court rulings ensure that more Americans will continue to receive basic health care though our work is not yet complete.
I invite all ACP members to contact me if you have time, energy and interest in joining any of our open committees. Below is a list of our current committees and chairs. I hope you will consider one of them!
Mary Anderson, Chair, IT Committee
Abha Agrawal, Chair, Membership Committee
David Ansell & Carlotta Rinke, Co-Chairs, HPPC
Harneet Bath & Angela Bell, Co-Chairs, Council of Early Career Physicians
Stephanie Berg & Katie Mena, Co-Chairs, Council of Resident/Fellow Mbrs
Corey Black & Poushali Bhattacharjee, Co-Chairs, Hospitalists Committee
Jennifer Bussell, Chair, Patient Safety/QI Committee
Don Casey & Janu Khandekar, Co-Chairs, Awards Committee
Rachel Caskey & Leah Durst, Co-Chair, Med-Peds
Cathy Cheng, Chair, Education Committee
Erik Escuro & Alexandra Lane, Co-Chair, Medical Students
Sean Greenhalgh, Co-Chair, Speakers Bureau & MKSAP Study Hall
Sarah Lovinger, Chair, Public Health Interest Group
Beth Schulwolf, Chair, Women in Medicine
Syed Shah, Student Interest Group Liaison
Babs Waldman & Robert Saqueton, Chair, Safety Net Interest Group
---
ACP Illinois: Internal Medicine 2015
Learn and interact with nationally known hospital medicine and ambulatory experts on various topics during "Multiple Small Feedings of the Mind" presentations. Get up close with Ultrasound Simulation workshops, ABIM Expert Bar and SEP Modules. Earn up to 14.75 CME credits and meet at least two Part 2 MOC (Maintenance of Certification) requirements.
The Friday Night Gala will be an opportunity to network with colleagues from around the state! Join us for an exciting two days at the prestigious and private University Club as we celebrate the 100th Anniversary of the American College of Physicians.
View the Brochure
Online Registration
---
Women in Medicine
The Women in Medicine Committee invites you to "Tips and Strategies for Effective Leadership", featuring Mary Lee Hannell, Chief Human Capital Officer for The Port Authority of NY&N. Join us September 22, 5:30 - 8:30 pm, at the Metropolitan Club in Willis Tower.
---
Northern Region Residents' and Students' Day
The 2015 Northern Region Residents' and Students' Day takes place October 21, 2015, at the University of Illinois at Chicago. The deadline for abstract submissions has been extended to Wednesday, August 12 at midnight. Review the Call for Abstracts.
Abstract Submission
Registration opens in August. Watch for additional information at that time.
---
MKSAP Live! Online Study Hall
The MKSAP Study Hall continues to draw members weekly and will begin to transition to MKSAP 17 later in the fall. We are currently covering MKSAP 16 Cardiology through August 4, and starting General Internal Medicine on August 11 for 12 weeks. The group will then transition to MKSAP 17.
Register for MKSAP Study Hall.
---
IM 2015 Recap
The ACP Illinois Chapter Norther Region was well represented at IM 2015, the ACP's Centennial Celebration, with two national award winners, a new Master, and Resident/Fellow members in the poster and Doctor's Dilemma competitions. Many new Fellows walked in Convocation as well as Rolf Gunnar, MD, MACP, the Illinois Northern Centennial Legacy Award Winner. We were also joined by Suja Mathew, MD, FACP, the Governor-Elect for Illinois Northern. Dr. Mathew's term as Governor begins at IM 2016 in Washington, DC, next May.
Many of our members from both regions joined together for networking after Convocation at The Daily Catch Restaurant. Drs. Gunnar, Widen and Ensrud (Downstate Centennial Award Recipient) shared pearls of wisdom from their many years in practice and of their service to the ACP.
Join me in congratulating our new Fellows from last year:
Robert R. Blanco, MD, FACP
David J. Kushner, DO, FACP
Joshua S. Baru, MD, FACP
Neda Laiteerapong, MD, FACP
David W. Baumberger, MD, FACP
B. Lakshminarayanan, MD, FACP
Kathleen P. Bogacz, MD, FACP
Johan O. Lane, MD, FACP
Kristine K. Bordenave, MD, FACP
Jeanette S. McLaughlin, MD, FACP
Amit G. Chauhan, MD, FACP
Michael S. McNear, MD, FACP
Subramanyam Chittivelu, MD, FACP
Muhammad Ali N. Memon, MD, FACP
Kathleen L. Collins, MD, FACP
Erik P. Mikaitis, MD, FACP
Robert J. Connelly, MD, FACP
Glenen Nordehn, DO, FACP
Edgard A. Cumpa, MD, FACP
Amber T. Pincavage, MD, FACP
Jay S. Dalal, MD, FACP
Vidya Puthenveetil, MBBS, FACP
Krishna Das, MD, FACP
Abby M. Reich, MD, FACP
Rupel H. Dedhia, MD, FACP
Lendell Richardson, MD, FACP
Neeraj Rashmikant Desai, MD, FACP
Madhulika Saxena, MBBS, FACP
Melanie Jaynee Gordon, MD, FACP
Sachin Dilip Shah, MD, FACP
Waldo Herrera Novey, MD, MSc, FACP
Kyungran Shim, MD, FACP
Josune N. Iglesias, MD, FACP
Jennifer G Smith, MD, FACP
Sharon A. Irons, MD, FACP
Bobbie J. Sweitzer, MD, FACP
Khalid Javed, MD, FACP
Prakash Thopiah, MD, FACP
Rajesh Jindal, MD, FACP
Christopher R. Thorp, MD, FACP
Sindhu L. Joseph, MD, FACP
Moncy Varughese, MD, FACP
Tilak Joshi, MD, FACP
Stephanie Vomvouras, MD, FACP
Shawn Keeven, MD, FACP
Jill L. Wener, MD, FACP
Talal R. Khairi, MD, FACP
Laura J. Zimmermann, MD, FACP
David W. Koh, MD, FACP
Ramzi A. Zureikat, MD, FACP
Jah-Won Koo, MD, FACP
---
Doctor's Dilemma Team and Poster Presenters at IM 2015
Residents from the Cook County residency program competed in Doctor's Dilemma and made it to the second round. Sharath Vipparthy, Sriman Swarup, and Amith George Jacob represented us well in this competition.
First place poster winners from the fall 2014 Residents and Students Day, Lindsay Esch, Briana Costello, and Adjoa Anyane-Yeboa, also attended IM 2015 and competed in the poster contest.
---
Member Accomplishments and Awards
Suja M. Mathew, MD, has been appointed to the position of Chair of the Department of Medicine for the Cook County Health and Hospital System, effective June 28, 2015.
Dr. Mathew came to the Cook County Health and Hospitals System in 2000. She has served as Program Director for the Internal Medicine Residency Program since 2008, Associate Chair of the Department of Medicine since 2009, and Interim Chair of the Department since the retirement of Dr. Robert Weinstein in 2014. Dr. Mathew is also a faculty member of Rush Medical College, where she holds the rank of Assistant Professor in the Department of Medicine.
As director of one of the largest Internal Medicine residency programs in the nation, Dr. Mathew has an outstanding record of accomplishment as an educator. She personally mentored dozens of residents and medical students. In addition to mentoring outstanding students and residents, Dr. Mathew has taken the initiative to mentor women professionals, encouraging them to advocate for themselves in their professional careers and become committed advocates for their patients.
Dr. Mathew consistently demonstrates a dedication to excellence. She is a Fellow of the ACP and currently serves as Governor-Elect of the Illinois Chapter Northern Region, and will assume the Governorship in May 2016. Dr. Mathew is the recipient of numerous awards acknowledging her as a skilled teacher, outstanding leader, and compassionate advocate for patients.
Congratulations to Dr. Mathew on her appointment.
*******************************************************************************************
Mark Siegler, MD, MACP, Mastership
Dr. Siegler is a general internist regarded by other physicians and patients as an excellent and compassionate practicing doctor. His entire medical career since entering medical school in 1963 has been at the University of Chicago. His current academic titles are Lindy Bergman Distinguished Professor of Medicine, Director of the MacLean Center for Clinical Medical Ethics, and Executive Director of the Bucksbaum Institute for Clinical Excellence. His principal research interest is in Clinical Medical Ethics, and he is widely considered the founder of this new field of medicine. He is the author of 200 scientific papers; 59 book chapters; and five books, including Clinical Ethics (coauthored with Jonsen and Winslade), now in its 7th edition. One of his papers was cited repeatedly by the President's Commission on Bioethics (1979 to 1982) in reaching their proposal for a shared decision-making model of the doctor-patient relationship. In 2010, he won the Lifetime Achievement Award of the American Society for Bioethics and Humanities, and in 2013 the MacLean Center of which he is the Director won the Cornerstone Award for shaping the directions of the fields of bioethics and medical humanities.
*******************************************************************************************
Walter J. McDonald Award for Young Physicians: Jay D. Bhatt, DO, MPH, FACP
The Walter J. McDonald Award for Young Physicians was established by the Board of Regents on January 11, 2003. Dr. McDonald is a former Governor and Regent who served as Executive Vice President of the College from 1995 to 2002. The award recognizes outstanding achievement by a physician member who is within 16 years of graduating medical school and who is not an ACP Medical Student Member or Resident/Fellow Member.
Dr. Bhatt received both his Doctor of Osteopathic Medicine medical degree from the Philadelphia College of Osteopathic Medicine and his Master in Public Health degree from the University of Illinois at Chicago School of Public Health in 2008. From 2008 to 2012, he was a resident physician in internal medicine and a clinical fellow at Cambridge Health Alliance/Harvard Medical School. In 2012, he received his Master's degree in Public Administration from the Harvard University Kennedy School of Government as a Zuckerman leadership fellow. He currently serves as a primary care internist at Erie Family Health in Chicago. Dr. Bhatt also serves as the first Chief Innovation Officer and Managing Deputy Commissioner for the Chicago Department of Public Health. He was a member of the ACP Council of Resident/Fellow Members (CRFM, formerly Council of Associates) and chaired the Council from April 2012 to April 2013 and also served on the ACP Board of Regents. During his tenure on the ACP CRFM, Dr. Bhatt was active in advocating for the profession, high-value care, and exposing physicians-in-training to the evolving health landscape. He has been an invited speaker across the nation and published in numerous outlets about health policy, leadership, and innovation.
*******************************************************************************************
Outstanding Volunteer Clinical Teacher Award: Arnold Widen, MD, MACP
The Outstanding Volunteer Clinical Teacher Award was established by the Board of Regents on January 11, 1997. The Outstanding Volunteer Clinical Teacher Award is bestowed upon a Fellow of the College who has consistently volunteered his or her services to teach medical students and residents. This individual should have demonstrated outstanding teaching prowess, displayed exemplary characteristics of care and concern for individual patients at the bedside, and served as a role model and mentor.
Throughout his career, Dr. Widen has been devoted to the teaching of residents, medical students, and other health professionals, and his teaching and personal patient care have been the most fulfilling and significant aspects of his professional life. After practicing Internal Medicine for 15 years, Dr. Widen became the Medical Director of a consumer-sponsored and community-based HMO, subsequently held many leadership positions in national and local HMO associations, and eventually served as the Corporate Medical Director of Blue Cross and Blue Shield of Illinois. Throughout, Dr. Widen continued to provide medical care to patients. He left health insurance to devote more time to patient care and in particular to the care of the poor and uninsured. He has served as President and then Executive Director of the Institute of Medicine of Chicago (IOMC). He later became the Medical Director of the Office of the Illinois Attorney General. Since 1997, Dr. Widen has served as a volunteer physician at CommunityHealth in Chicago, the largest free clinic in the United States, and became a member of its Board and subsequently its President. He currently teaches Northwestern Internal Medicine Residents at CommunityHealth and is a Clinical Associate Professor of Medicine at the Feinberg School of Medicine of Northwestern University. His honors include Mastership in the ACP, the Lifetime Achievement Award of the IOMC, the Serafino and Visionary Awards from CommunityHealth, the Russe Citation for Exemplary Compassion in Healthcare, the Community Service Award from Rainbow/Push, and the Aesculapian Award of the Chicago area Anti-Defamation League.
*******************************************************************************************
Centennial Legacy Award: Rolf Gunnar, MD, MACP
The Centennial Legacy Award celebrates ACP's centennial by recognizing one seminal chapter member whose service to the chapter had a significant impact on the chapter's viability. This individual exemplifies ACP's core values including leadership, excellence, respect, compassion, professionalism, and responsibility.
Dr. Gunnar has committed his professional life to improving the care of others and worked tirelessly in support of universal health care. He is a past ACP Governor from 1980-84 and later served as Chair of Board of Regents from 1993-94. No one in this chapter has done more to support the ideals of the college.
---
Photo Gallery
Convocation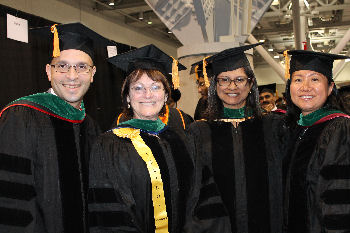 L-R Waldo Herrera Novey, Marie Brown, Krishna Das, Kyungran Shim

Ram Krishnamoorthi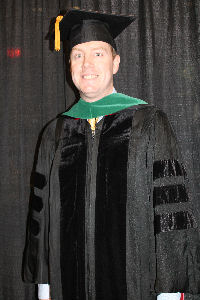 Johan Lame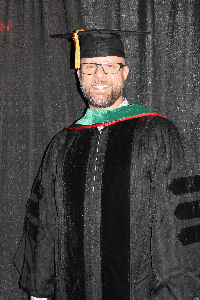 Christopher Thorp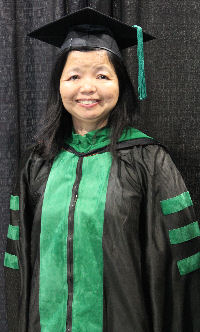 Celina Tsang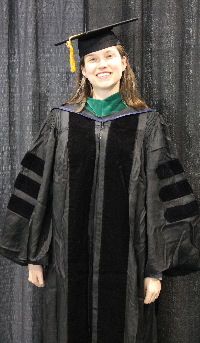 Laura Zimmermann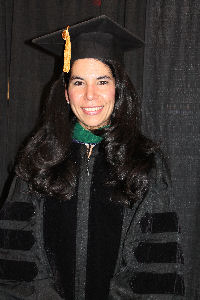 Josune Iglesias
Reception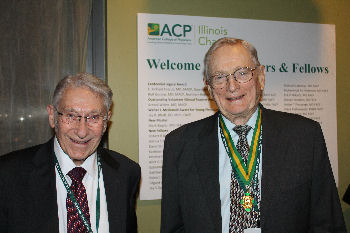 Arnold Widen, MD, MACP and Rolf Gunnar, MD, MACP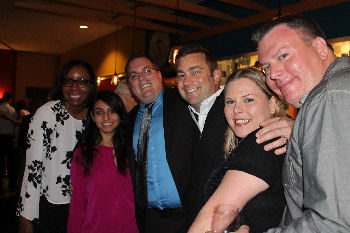 Jackie Ivey-Brown and Sean Greenhalgh with colleagues.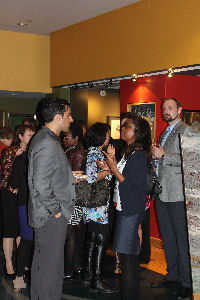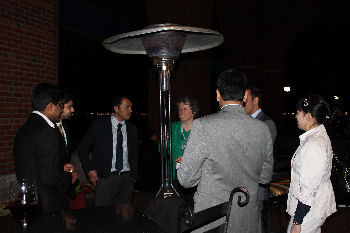 Dr. Janet Jokela, with downstate members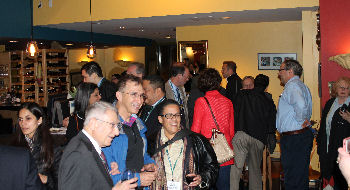 Dr. Arnold Widen, Dr. David Ansell, and Claudia Fegan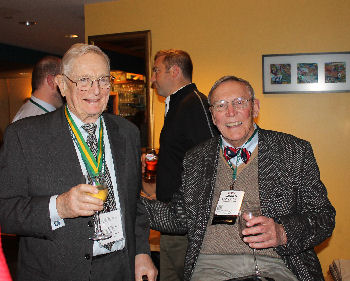 Dr. Gunnar with Dr. Warren Furey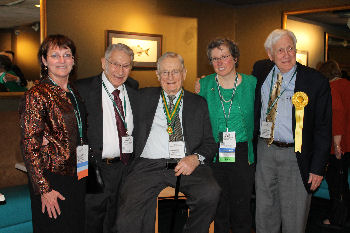 L-R, Marie Brown, Arnie Widen, Rolf Gunnar, Janet Jokela, Dick Ensrud