You are here
GOVERNOR'S NEWSLETTER December 2014
GOVERNOR'S NEWSLETTER December 2014

---
---
Governor's Message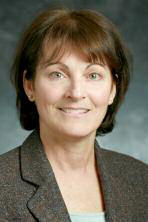 Marie T. Brown, MD, FACP, ACP Governor, Illinois Northern
The practice of medicine continues to change at lightning speed and yet so much of what we do as physicians remains unchanged. Our vision is to provide you with resources to help incorporate those changes that improve you and your patients' lives while protecting the essence of the physician patient relationship. There is an art to good communication - one that we can all strive for (and not always succeed) as I share a recent office encounter that follows:
We can so easily lose perspective in our rush to solve a problem, frantically answer a question or quickly dispense with a request, as I did just this week. At the end of a visit addressing numerous medical problems, a woman added one more: nasal congestion ever since she got a cat. I found myself pressed to dispense with this seemingly simple low priority problem and smugly suggested she get rid of the cat (saving me 20 clicks on the computer to prescribe yet another medicine). When she then asked me what she was supposed to do with the rats in her apartment for which she had purchased the cat, I found myself speechless, humbled and embarrassed. Embarrassed that I had judged, prioritized and dismissed her request without listening.
Knowing your patients, listening carefully to their requests and not judging too quickly is the essence of that patient physician relationship that we all value so greatly. We have focused on improving that communication with several programs through ACP, several of which I will highlight below.
As our membership has grown in our region to over 5000 including generalists, specialists, medical students and senior practitioners so has the diversity of activities in our chapter and we hope to continue to provide these innovative learning opportunities to all our members.
Three faculty from the Alan Alda Center for Communicating Science at Stonybrook, New York, led ACP members through an amazing workshop on November 9 to improve our ability to communicate with patients and colleagues. Faculty, through the use of improve, taught us to react 'with' not 'to' each other. A 'train the trainer' session was held in Annapolis, Maryland, November 21 attended by 6 of our of local ACP members. National ACP leaders assisted attendees in engaging their colleagues and leadership in quality improvement strategies, bring tools to their home institutions and achieving patient centered medical home recognition through practice transformation and redesign.
Through technology, the MKSAP Live Online Study Hall organized by Drs. Cathy Cheng and Sean Greenhalgh continues every Tuesday night and remains free to ACP members.
The ACP Speakers Panel has been well received for those who prefer a 'live' program. Expert ACP speakers without industry support may be invited to your location to discuss a variety of topics from How to Avoid Physician Burnout to Choosing Wisely to Updates in Internal Medicine and Hospital Medicine.
Interest groups around a variety of themes continue to form and are supported including: Public Health (Dr. Sarah Lovinger), SafetyNet providers (Dr. Babs Waldman) and Med/Peds (Dr. Rachel Caskey). If you and your colleagues have an idea for a unique interest group please contact us.
---
Early Career Physicians
The Early Career Physicians, led by Drs. Harneet Bath and Angela Bell, held a wine tasting event at Bin 36 on October 2. It was well attended by more than 25 physicians from the northern region. There was a presentation on the benefits of ACP membership as well as information about the Early Physicians Council. The attendees enjoyed the opportunity for social networking, and of course the wine tasting with 8 different wines from around the world. The Council is planning an event for Spring 2015, so stay tuned for more details.
The following photos were all taken during the Council of Early Career Physicians Wine Tasting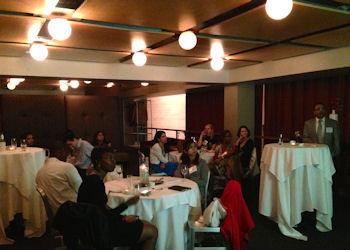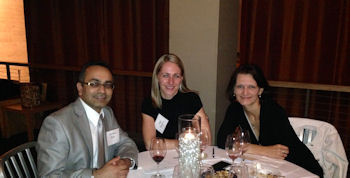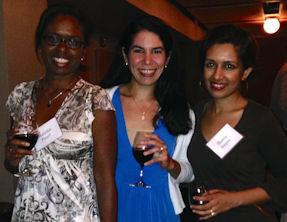 ---
Medical Students and Resident Fellow Members
On September 16, 2016, Dr. Eileen Barrett, Governor of the New Mexico Chapter, spoke to students about her experiences working on a Navajo Reservation in New Mexico and global health care volunteerism. Her description of the impact on patient lives inspired attendees to embrace volunteerism and global health care.
The committee is planning a panel presentation featuring area Residency Program Directors in the spring. Watch for details.
Residents' and Medical Students' Day (formerly Associates Day)
Residents' and Medical Students' Day 2014 was held at UIC Student Center East on October 10, 2014. Three hundred seventy-five participants enjoyed a day of live and e-poster presentations, clinical and ultrasound workshops, and a keynote presentation by Dr. Steven Weinberger. Next year's event will be at UIC on October 21, 2015.
The following are the winners from our recent competitions:
Clinical Vignette Poster Winners
Third place: Jin Hyung-Yoo, University of Chicago
Giant Right Atrial Mass, A Rare Presentation of Small Cell Cancer
Second Place: Julie Waisbren, Northwestern
The BRCA Gene Mutation and GIST: A Potential Association
First Place: Adjon Anyane-Yeboa, University of Illinois Chicago
A Case of Black Esophagus after Cardiac Arrest
Research Poster Winners
Third place: Ehete Bahiru, Northwestern
A Retrospective Study of Co-infections, Mortality, and Treatment Adherence Among HIV/AIDS Patients at ALERT Hospital in Ethiopia
Second Place: Daniel Kobrinski, Loyola
Gilbert syndrome and the risk of cardiovascular disease and all-cause mortality: a systematic review
First Place: Lindsay Esch, University of Chicago
Preparing for the Primary Care Clinic: An Ambulatory Boot Camp for Internal Medicine Interns
QI Poster
First Place: Briannna Costello, Rush
If Your Patient Has-Bled, Did You calculate the CHA2DS2-VASc Score?
Medical Student Poster
First Place Medical Student Clinical Vignette Poster: Chad Hochberg, University of Chicago
Tip of the Iceberg: TTP as the Initial Event in SLE
First Place Medical Student Research Poster: Michael Chen, Loyola
Alcohol intoxication potentiates post burn remote organ damage through shifts in fluid compartments mediated by bradykinin
Doctor's Dilemma
After a spirited competition, Stroger Cook County will represent Illinois Northern in the National Doctor's Dilemma Competition at IM 2015 in Boston. Team members are: Sriman Swarup, Sharath Vipparthy, and Amith George Jacob.
2014 Oral Clinical Vignette Winners
Third place: Kristina Quinn, Loyola
Common (and Uncommon) Infectious Causes of Acute Pericarditis in an Immuno-comptetant patient
Second Place: Syed Shad Mahmood, University of Chicago Northshore
An Unusual Case of Shoulder Pain
First Place: Vishal Kapadia, Advocate Lutheran
Vancomycin Induced Immune Thrombocytopenia in a Renally Insufficant Patient
The First Place Medical Student: Claire Beveridge, University of Chicago
A Spontaneous Painful Complication
---
Elite Status Residency Programs Present Resident of the Year Awards
In 2013, six residency programs exemplified outstanding commitment to ACP by achieving Elite Status whereby more than 90% of the residents are ACP members, leadership at the program level is demonstrated and commitment locally and nationally is prominent. The program directors and medicine chairs exemplify the importance of life-long education and demonstrate the value of the ACP and all it stands for.
The Illinois Chapter Northern Region acknowledges the programs' commitment and efforts, giving them the opportunity to present the ACP Governor's Outstanding Resident of the Year Award in recognition of one resident's exceptional qualifications. The awardee will also receive a $750 award toward travel to IM 2015 in Boston.
Advocate Christ Medical Center
Awarded to: Suliman Alradawi, MD Presented by: Dr. Armand Krikorian and Dr. Marc Sliver
Loyola Medicine
Awarded to: Jo-Ann Jose, MD Presented by: Dr. Kevin Simpson
MacNeal Hospital
Presented to: Yan Chen, MD Presented by: Dr. Sajan Thomas
Mercy Hospital
Presented to: Jyothi Achankunju Presented by: Dr. Steve Potts
University of Illinois Chicago
Presented to: Andrew Watson MD Presented by: Dr. Fred Zar
West Suburban Medical Center
Presented to: Lianghe Gao, MD Presented by: Dr. Karen Weinstein
Event photos can be viewed in the photo gallery.
---
Chapter Meeting
The 2014 Chapter Meeting was held in Champaign on Friday and Saturday, November 7 & 8. The morning kicked off early with a mentoring breakfast attended by Early Career Physicians. The opening plenary session, given by Cynthia (Daisy) Smith, MD, FACP, the national ACP Senior Educator leading the ACP's High Value Care initiative, was next, followed by multiple other excellent topics including New Guidelines for Lipids and Hypertension, Multiple Small Feedings of the Mind: New Anticoagulants, Advances in HepatitisC and Inpatient Polypharmacy. Dr. Ende, ACP Regent, gave an inspiring talk on the Characteristics of Effective Clinical Teachers. Afternoon breakout sessions were well attended, addressing a variety of topics from leadership development to clinical updates.
Save the date for the 2015 Illinois Chapter Meeting, November 13 & 14, at the beautiful University Club across from Millenium Park in Chicago. The statewide Chapter meeting will be held for ACP members who have completed their training, focusing on educational programs, recertification needs of ACP members already in practice, and renewing friendships with colleagues. A Residency Program Reunion Gala will be held following the Friday sessions at the University Club. Watch for details.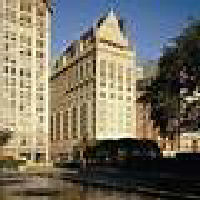 University Club
---
Hospitalist Committee
Dr. Luke Hansen has passed the leadership baton to new co-chairs Drs. Corey Black and Poushali Bhattacharjee.
We thank Dr. Hansen for his service to this committee and the Chapter as a whole; he will remain active on the Governor's Council. Watch for details related to upcoming events.
---
Save the Date
April 30 - May 2, 2015 - IM 2015, Centennial Celebration, Boston, Massachusetts
April 30, 2015 ACP Illinois Reception at IM 2015, immediately following Convocation, The Daily Catch, 2 Northern Ave, Boston
May 20 - 21, 2015 - ACP Leadership Day
October 21, 2015 - Residents' and Medical Students Day, UIC
November 13 -14, 2015 - Illinois Chapter Meeting, SEP Modules, and Residency Program Reunion Gala, University Club of Chicago