You are here
From the Governor
From the Governor

---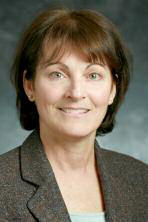 Marie T. Brown, MD, FACP, ACP Governor, Illinois Northern
2014 has started out as a most productive and busy year for our ACP Chapter. Your ACP strives to provide trusted educational resources, advocate for you and your patients and bring more "Joy to Your Practice'. I am always interested in hearing from you about what ACP can do for our members to meet your professional needs.
This newsletter will highlight some of the educational and networking activities that are planned for 2014, invite your participation in local ACP committees and will celebrate many of the 2013 activities.
2014 is momentous for another reason which was brought home to me in the office just this week. Healthcare reform has become a reality and this was ever so tangible for me when two young patients without health insurance for whom I have cared for greeted me with the news that they now had health insurance! One obtained coverage through the Exchange, and another as a result of Medicaid expansion. Both worked part-time, had been unable to obtain services outside of my office, and both had serious medical conditions.
The relief I saw in their eyes was profound and their entire demeanor had changed from defeated to hopeful. Here in Illinois as more patients are able to access health care, internists are key to meeting their needs. ACP resources are easily available to facilitate the team based and patient centered medical home models needed to serve this increasing number of patients. Learn more about ACA impact in Illinois. Download a patient information flyer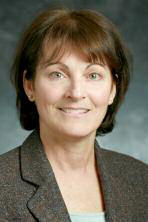 to provide you and your patients with more information about the Exchange.
In 2013, the Illinois Chapter hosted the largest ever Residents' and Students' Day at the Rosemont Convention Center. Over 300 abstracts from 17 residency programs were submitted. Nearly 200 posters were judged and prizes awarded. First place winners will compete at IM 2014 in Orlando. Winning abstracts are listed later in this newsletter. In addition, Cook County Medical Center residents beat 15 other Doctor's Dilemma teams and will represent Illinois Northern in the national competition at IM 2014. In addition, three Resident of the Year Awards were presented by the Program Directors from our Elite Status programs: Advocate Christ, MacNeal, and West Suburban.
The ACP chapter cosponsored Vaccinate Illinois Week in December along with the Board of Health. ACPnet, the national quality improvement program, was launched that evening with a focus on vaccination. This is a program free to members to assist in recertification, PQRS with access to the Medical Home Advisor (licensing fees valued at $1,300). The afternoon began with a Presentation Skills Training course for any interested ACP members and was followed by a dinner program at the beautiful Aqua Hotel.
Finally, committees in the Northern Region are more active than ever, reaching out to members and providing benefits and services to help you care for your patients, your business, and yourselves. Please review the list of committees below. If any committee is of particular interest to you, we welcome your input and encourage you to become involved. As your Governor, I am available to speak with you individually or meet with you and your colleagues at your institution.
---
ACP Speakers Panel
An ACP Speakers Panel will be available in 2014 to speak with you and your colleagues regarding hot new medical topics, coding updates, and bringing more 'Joy in Practice'.
---
Council of Early Career Physicians
Valerie Press, MD, FACP
The CECP is a council comprised of physicians within 16 years of completing their training (including residency and fellowship). The council aims to provide opportunities for professional development, networking, socializing and learning about topics and skills necessary to advancing our careers and maintaining our certifications. Examples of events include social hours at local eateries, financial advising, and networking dinners affiliated with the Chapter meetings. Future events include a networking and 'get involved' dinner coming up this spring and a leadership day debriefing social hour. We are currently building our council and are seeking individuals who would like to serve on the council and/or participate in our hosted events. For more information please contact me at: vpress@medicine.bsd.uchicago.edu.
---
Council of Resident/Fellow Members
Assist Dr. Stewart and Dr. Mena Lora advocate for the needs of residents and fellows in our chapter. The council of residents and fellows has activities that vary from networking at happy hours to educational sessions on key topics of interest for residents, such as information on career paths in academic medicine and what to look for in contracts for jobs after residency. Join us and help us develop these activities and bring your own ideas for advocacy!
For more information, please contact Dr. Mena Lora.
---
Education Committee
Dr. Katherine Tynus chairs the Education committee which is responsible for developing and implementing CME activities for our members. Activities include the annual regional chapter meeting when held in the Northern Region, Residents' & Students' Day, the innovative MKSAP Study Hall Webinar series, and the development of an ACP Speakers Bureau. You may contact Dr. Tynus with any questions.
---
Health and Public Policy Committee
Dr. Carlotta Rinke joins Dr. David Ansell to co-chair this committee. The Health and Public Policy Committee may be the forum to articulate your concerns, participate in some informed discussion, and create some positive energy in developing resolutions to submit to the Illinois Chapter Council. The first meeting was a teleconference on Feb. 20th. The committee will be entertaining ideas for resolutions. Previous resolutions forwarded to the ACP Board of Governors have addressed issues about AGME, ABIM certification, physician wellness, promoting gun safety, and payer initiatives.
More recently in August 2012, the Northern Illinois Chapter submitted a resolution supporting a single payer healthcare system, which the ACP Board of Governors did not adopt. This year, in 2014, the Illinois Chapter has the opportunity to react to the changing healthcare landscape of Accountable Care Organizations. How are the changes affecting your practice? What are unanticipated consequences of the health care exchanges that you are seeing, that the ACP needs to recognize and direct ACP resources to address? What's on your mind? Lots of unanswered questions; this is an opportunity to let ACP hear your voice! Join us! Contact Colleen Keeku for meeting details.
---
Hospitalist Committee
Chaired by Luke Hansen, MD, FACP, the Hospital Medicine Committee was created in 2012 with the goal of facilitating professional networking and collaborative learning among hospitalists in the Northern Illinois Chapter. The Committee is composed of elective members and welcomes ACP members interested in planning events related to hospital medicine practice. Previous events have included a dinner forum with former Society of Hospital Medicine President John Nelson and collaborative happy hour events with the chapter's Council of Young Physicians.
The Committee will host a dinner panel conversation in May 2014 at which hospitalists practicing in area hospitals with high levels of patient satisfaction and low rehospitalization. Further information will be available in the coming weeks. If you would like further information on the activities of the Hospital Medicine Committee, please contact Committee Chair Luke Hansen.
---
Informatics Committee
Chair Mary Anderson, MD, FACP
The Illinois ACP Information Technology Committee is charged with counseling the ACP Illinois Governors and ACP Illinois Council on medical informatics, health information technology (HIT), and technology solutions to communicate with and assist Illinois ACP members. The goals of the committee are to advise the Governor and Council
On the educational topics for the Illinois ACP membership including Health Information Technology. Topics which may be relevant are:

PQRS, Meaningful Use,
E-prescribing,
ICD 10,
Electronic Health Records,
Accountable Care,
Medical Home;

On developing an Illinois ACP website which will be the first source of information for Illinois ACP members;
On utilizing technology solutions to communicate with and educate Illinois ACP members;
On proposed and/or pending legislation and regulations pertaining to all aspects of health IT;
On the development, implementation, and evaluation of ACP programs, products, and services to support members' educational needs in the use of information technology to enhance their practices;
On the promotion of computer literacy throughout the membership and education of both membership and College leadership on medical information systems;
On leveraging partnerships with organizations invested in health information technology including CHITREC, HITREC, American EHR Partners, HIMSS, AMIA
If you are interested in participating on the committee please contact Mary_C_Anderson@rush.edu.
---
Med Peds Interest Group
ACP is planning to host a forum for our Med Peds colleagues possibly as early as this May in Chicago. The intent is to develop an ACP section that will assist the Med Peds physician in navigating the waters of both the ABIM and ABP with maintaining dual board certifications, and advocating on their behalf in finding balance within professional opportunity and clinical practice.
The goals of the forum will be:
Performing a needs assessment of the group;
Establishing this network of Med Peds physicians with ACP as the home base.
The next steps after the forum will be to analyze and prioritize the needs and concerns of the group; determine the areas that ACP might provide structure and support; formally establish the Med Peds subgroup of the ACP; and have ACP provide the network capabilities for cohesion and expansion.
If anyone is interested in being a part of this exciting development, please contact Colleen Keeku.
---
Membership Committee
Dr. Abha Agrawal chairs this committee and is available to facilitate a forum for the Governor or a Council member to meet with you at your institution, clinic or offices to learn more about ACP. This committee can also help you understand the various pathways to ACP Fellowship and help you navigate the application process.
---
PQRS Reporting
The deadline for data submission for PQRS is approaching fast. The 2013 reporting year will be the last year to participate in PQRS and receive an incentive payment of 0.5% of the total allowed charges for Medicare Physician Fee Schedule (MPFS) covered services during 2015. In addition, failure to participate in PQRS during 2013 triggers a 1.5% reduction in Medicare reimbursement in 2015.
The specific deadlines for the data submission are dependent on a physician's reporting method:
Physicians submitting data through an EHR or claims-based reporting for the 2013 PQRS requirement must have their data and claims processed by February 28, 2014.
Physicians submitting data through a qualified registry should check with their registry to determine the registry-specific deadline for physician data submission. Qualified registries have until March 31, 2014 to send their data to CMS, however many registries have earlier deadlines for physician data submission.
March 13, 2014, is the deadline for data submission for physicians using the PQRSwizard.
ACP offers several resources to help in meeting the PQRS reporting requirements. The PQRSwizard is an online tool, similar to tax preparation software, designed to help physicians and other eligible professionals quickly and easily participate in the PQRS requirements. ACP members can purchase the PQRSwizard at a discounted rate. More information available on the Medicare Physician Fee Schedule is available online as well as information on the PQRSwizard : acp.pqrswizard.com
An instructional video, sponsored by the Council of Medical Specialty Societies (CMSS), provides an overview of PQRS reporting options and a demonstration of the PQRSwizard registry.
For more information on upcoming important dates related to a variety of regulatory, payment, educational and delivery system changes and requirements, visit ACP's Physician and Practice Timeline.
---
Safety Net Focus Group
This new group, led by Dr. Babs Waldman, addresses the needs of our colleagues who work in Safety Net settings. Members interested in this group can contact Colleen Keeku.
---
Resident of the Year Awards
Residency programs reaching Elite Status (90% of residents are ACP members) were given the opportunity to recognize a resident who demonstrates exemplary qualities personally and professionally, and is a leader among colleagues. Each honoree will receive up to $750 in reimbursed travel expenses to attend IM 2014 in Orlando.
We are honored to recognize the Residents of the Year from Advocate Christ Medical Center, MacNeal Hospital, and West Suburban Medical Center:
Albara Said, MD, Advocate Christ Medical Center
Sunny Sharma, MD, West Surburban Medical Center
Sri Rama Kattula, MD, MacNeal Hospital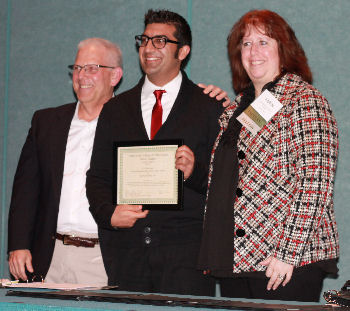 Sunny Sharma presented with Resident of the Year Award by Dr. Max Harris and Dr. Karen Weinstein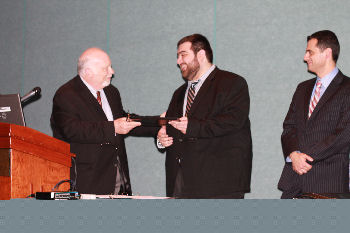 Dr. Albara Said presented with Resident of the Year Award by Dr. Marc Silver and Dr. Armand Krikorian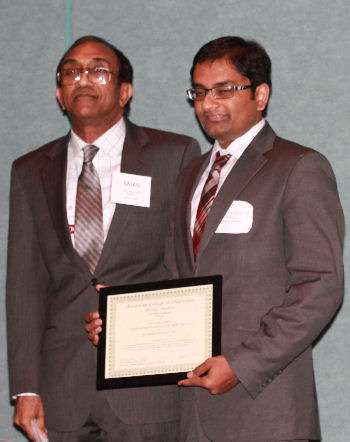 Dr. Sri Rama Kattula presented with Resident of the Year Award by Dr. Sajan Thomas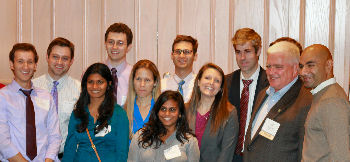 Dr. Jim Foody with Northwestern Residents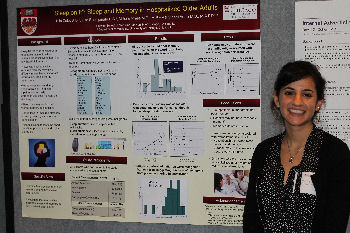 Hila Calev, Univ of Chicago, Pritzker School of Medicine

Dr. Jay Oberoi, West Suburban Medical Center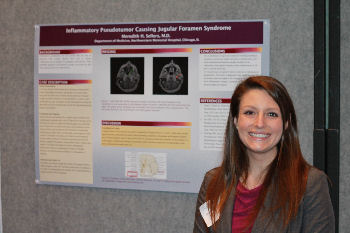 Dr. Meredith Seller, Northwestern University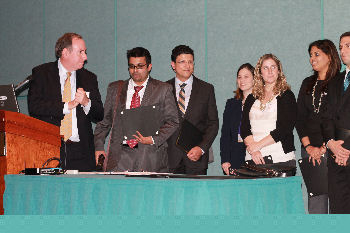 Dr. Steve Potts thanks Chiefs from Loyola and Mercy for organizing Residents' Day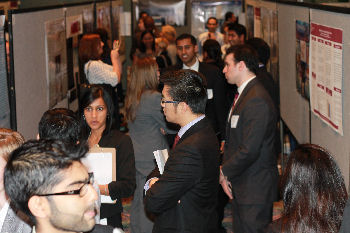 Poster Contest
More Photos of Residents' Day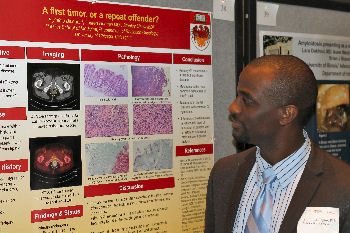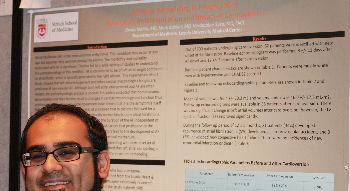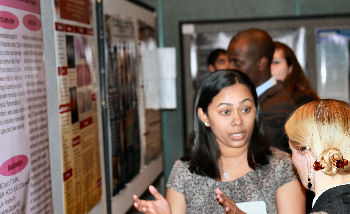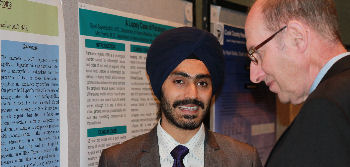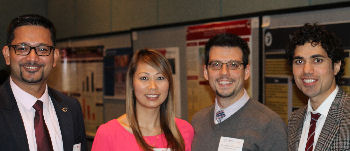 ******************************************************
Poster Winners from 2014 Residents' and Students' Day
Resident Clinical Vignette Poster Winners
Third Place
Hazem Alhawasli, St. Joseph Hospital Poster Title: Coronary Myocardial Bridging in Noonan Syndrome - A Case Report
Second Place
Dima Dandachi, St Francis Hospital
Poster Title: Painless Enlarging Breast Mass: What Could it Be?
First Place:
Ifechukwude Ebenuwa, University of Chicago Northshore Program (Northshore University Health System) Poster Title: Cutaneous Lichen Amyloidosis in two sisters - earliest sign of Multiple Endocrine Neoplasia 2A
Resident Research Poster Winners
Third Place:
Peter Hountras, Loyola University Medical Center
Poster Title: Impact Ventilation-Feedback Plus Exercise Training on Respiratory Muscle Performance in Patients with COPD
Second Place:
Laneshia Thomas, Loyola University Medical Center
Poster Title: Does Wrist Plus Ankle Actigraphy Accurately Quantify Sleep Architecture in Patients Weaning From Prolonged Mechanical Ventilation?
First Place:
David Smith, Loyola University Medical Center
Poster Title: Frail Elderly Patients with NSCLE Are More Likely to Discontinue Chemotherapy for Disease Progression Than For Adverse Treatment Effects
Resident Medical Student Poster Winner
Michael Chen, Loyola University - Stritch School of Medicine
Poster Title: Restoration of the Gut-Liver Axis After Burn Injury in Intoxicated Mice Attenuates Pulmonary Inflammation
---
ACP Illinois Northern Region Congratulates New Members
(since August 2013)
Atique Ahmad, MD, Lake In The Hills
Alfred L. Amin Shehata, MD, Springfield
Craig Alan Backous, DO, Norridge
Tina C. Bansal, MD, Roselle
Nathan R. Bolden, MD, Chicago
Meredith H. Brauer, MD, Bridgeview
Shawn Brickner, MD, Chicago
Amber K. Brown Keebler, MD, Chicago
Ryan J. Buck, MD, Chicago
Timothy W. Caprio, MD, Chicago
Sandeep Chandra, MD, Palos Heights
William J. Cotter, MD, Wilmette
Nayana P. Dave, MD, Glenview
Anjali J. Desai, MD, Chicago
Neetha Dhananjaya, MD, Chicago
Elizabeth Engman, MD, Naperville
Adeshola A. Ezeokoli, MD, Chicago
Henry Chihang Fung, MD, Chicago
Victoria A. Greenfield, MD, Chicago
Ying Hensel, MD, Winnetka
Baudelio Herrada, MD, Burr Ridge
Brian Hugh, DO, Evergreen Park
Christine Jun, Des Plaines
Ali Raza Khan, MD, Chicago
Jeehyun Lee, MD, Chicago
Owais Lodhi, MD, Chicago
Katherine Louise Maietta, La Grange Park
Roman Mandzij, DO, Winnetka
Dave Mante, MD, Aurora
Latha Mariyappa, MD, Villa Park
Rena C. Mehta, MD, South Elgin
Mohammed I. Memon, MD, Naperville
Maher Mourad, MD, Westmont
Lawton Moy, MD, Shorewood
Denyce Nichols, MD, Chicago
Naveen Reddy, MD, Chicago
Madhavi E. Ryali, MD, Westmont
Lisa J. Shives, MD, Evanston
Sanya Siraj, MD, Rockford
Matthew A. Strauch, DO, Streamwood
Thomas E. Woike, DO, Libertyville
Mohammad K. Zaheerullah, MD, Morton Grove
---
ACP Illinois Northern Region Congratulates New Fellows
(since August 2013)
Shashi K. Bellam, MD, FACP, Evanston
Henish A. Bhansali, MD, FACP, Chicago
Rachel N. Caskey, MD, FACP, Chicago
Joseph Cyriac, MD, FACP, Burr Ridge
Ananya Gangopadhyaya, MD, FACP, Chicago
Mohammad A. Khan, MBBS, FACP, Oak Park
Joseph A. Kowalczyk, MD, FACP, Oak Lawn
Theresa M Kristopaitis, MD, FACP, Oak Brook
May M. Lee, MD, FACP, Chicago
Jose Magana, MD, FACP, Sugar Grove
Savio G. Manatt, MBBS, FACP, Olympia Fields
Jeffrey A. Murawsky, MD, FACP, Bolingbrook
Bina Patel, MD, FACP, Maywood
Jochen Reiser, MD, PhD FACP, Hinsdale
Ankur Sethi, MD, FACP, Chicago
Faten Suhail, MD, FACP, Oak Lawn
Rajiv K. Udani, DO, FACP, Highland Park
Parameswaran Venugopal, MD, FACP, Chicago
---
Save the Date!
April 10 - 12, 2014
Internal Medicine 2014: Orlando, Florida
Details related to the meeting, registration, lodging, and air travel can be found on the College website.
April 10, 2014
The Illinois Chapter Reception will be Thursday, April 10, from 8 - 10 pm, following Convocation. Join us at Maggiano's Little Italy (9101 International Dr. Bldg #5, Suite 2400) to network with colleagues and celebrate Illinois Chapter award winners, new Fellows, new Masters, and new members!
April 14, 2014 After Hours with ACP Webinar
Applying for Subspecialty Fellowship
Featured Speaker: Janet Jokela, MD, FACP & Andrew Varney MD, FACP
Register
May 19, 2014
After Hours with ACP Webinar
Advancing to ACP Fellowship
Featured Speaker: Susan Hingle, MD FACP
Register
May 2014
Hospitalists Panel Discussion
Details TBA
October 10, 2014 Residents' and Students' Day, hosted by UIC and Advocate Christ UIC Student Center East
November 7 & 8, 2014
Save the Date for the Illinois Chapter Scientific Meeting, Friday & Saturday, at the iHotel in Champaign. Watch for details!
MKSAP Study Hall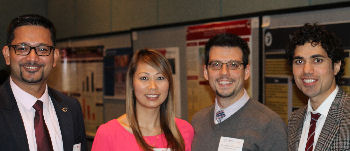 Every Tuesday night from 8 - 9 pm. MKSAP Study Hall keeps you up-to-date as well as prepares you for the recertification exam in a fun and engaging format.