You are here
2015 Governors-elect Candidates' Bios and Statements
2015 Governors-elect Candidates' Bios and Statements
Illinois Southern Chapter
The ballots for the current Governors-elect election have been mailed. The voting membership (Masters, Fellows, Members, and Resident/Fellow Members with an electdate of 9/1/2013 or earlier) can vote online at(www.directvote.net/ACP/) or mail-in ballot. You will need your mailed ballot with your ACP Member Number and Election Passcode in order to make a vote. Below are the bios and statements of the candidates that are running in this election. Online voting began on September 21, 2015 and ends on November 9, 2015 at 11:59 PM Eastern. Please be sure to vote!
For replacement ballots and election customer service, e-mail support@directvote.net or call toll-free 1 866 909 3549, Monday-Friday, 8:00 a.m. - 5:00 p.m. Central. For general election information, you may email Evelyn James, Governor Election Coordinator, or call her at 215 351 2699.
---
Rajesh Govindaiah, MD, FACP

EDUCATION: Undergraduate - B.A. Finance, University of Illinois at Urbana Champaign, 1996 Medical School - M.D. University of Michigan Medical School, 2000
POST DOCTORAL TRAINING: Internship - William Beaumont Hospital, Royal Oak Michigan, 2001 Residency - St. Joseph Mercy Hospital, Ann Arbor Michigan, 2005
CERTIFICATION: ABIM-Board Certified in Internal Medicine
PRESENT POSITION: Senior Vice President and Chief Medical Officer, Memorial Health System, Springfield Illinois, 2010- Present
ACP CHAPTER INVOLVEMENT/LEADERSHIP ACTIVITIES: Member, Illinois Southern Chapter - 2006 - Present; Illinois Chapter Educational Committee - 2012-Present
ACP NATIONAL ACTIVITIES: Member - 2002-Present; Fellow - 2011-Present
OTHER APPOINTMENTS/ACTIVITIES: Sangamon County Medical Society - Member - 2006 - Present; Board member 2011-Present
AREAS OF PROFESSIONAL INTEREST/EXPERTISE: Medical Leadership Hospital Administration Physician Development
CANDIDATE STATEMENT: I am honored to be considered for the ACP Illinois Southern Chapter Governor position. My clinical background is as a Hospitalist, however since 2010 I have been in an administrative role as Chief Medical Officer of Memorial Health System based in Springfield Illinois. While I have been able to maintain 4-5 weeks of clinical practice as a Hospitalist, my primary duties are non-clinical. The practice of medicine is under rapid evolution. Physicians are challenged by this change and the knowledge, skills and abilities to succeed in this new environment are very different than those required to care for patients. In order to succeed, I believe that organizations like ACP must also adapt to this changing environment. As ACP Governor I will bring the perspective of an individual physician and the knowledge of a Health System Administrator and believe I can assist ACP in fulfilling the needs of its members.
---
James F. Graumlich, MD, FACP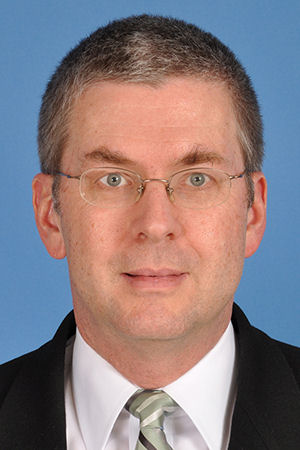 EDUCATION: Medical School: Vanderbilt University, 1981
POST DOCTORAL TRAINING: Residency, Internal Medicine, Tripler Army Medical Center, Honolulu, Hawaii, 1981-84; Fellowship: Clinical Pharmacology, US Food and Drug Administration and Uniformed Services University of the Health Sciences, Bethesda, Maryland, 1991-94
CERTIFICATION: American Board of Internal Medicine, 1984, participating in maintenance of certification; American Board of Clinical Pharmacology, 2001
PRESENT POSITION: Professor and Chair, Department of Medicine, University of Illinois College of Medicine at Peoria; Current patient care activities: 25% internal medicine hospitalist; Current activities in administration, research, and teaching: 30% department and formulary administration, 20% research, 25% teaching
ACP CHAPTER INVOLVEMENT/LEADERSHIP ACTIVITIES: Member, Governor's Council, Illinois ACP Downstate Chapter; Member, Scientific Program Committee for the annual chapter meetings, Illinois ACP; Poster judge, Illinois ACP, annual scientific meetings
ACP NATIONAL ACTIVITIES: Fellowship ACP 1998; Illinois Delegate to ACP Leadership Day in Washington DC
OTHER APPOINTMENTS/ACTIVITIES: Chair, Department of Medicine, OSF Saint Francis Medical Center; Chair, formulary subcommittee of the Pharmacy and Therapeutics Committee, OSF Healthcare System; Co-principal Investigator on NIH-sponsored research award (1R01AG031718) entitled "Health literacy and aging: A process-knowledge approach;" Member, Board of Directors, Human Service Center, from MAR 2006 to present. The Human Service Center is a non-profit, community mental health center that serves patients with severe mental illness and substance abuse in Central Illinois.
AREAS OF PROFESSIONAL INTEREST/EXPERTISE: Past chair, scientific program committee, Illinois ACP annual meeting; Laureate Award winner from the Illinois Chapter, American College of Physicians, 2007; Continuous RO1 funding as Principal Investigator by the NIH or Agency for Healthcare Research and Quality from 2004 to present;
CANDIDATE STATEMENT: I seek the governorship because I want to pursue the strategic goals of the Illinois ACP. Those goals focus on the linkages between practicing internists and their professional home in the ACP. Additional goals include the professional development of internal medicine chief residents and other early-career internists because they are the future leaders of the ACP. If elected, I believe I have the necessary leadership skills acquired from 20 years as an officer in the US Army Reserve. In addition, I have performance improvement and change management skills from my work with the Institute for Healthcare Improvement. My experience with quality assurance comes from my membership on the Board of Directors, Illinois Foundation for Quality Health Care, MEDICARE Quality Improvement Organization for the State of Illinois. I hope my skills and experiences will allow me to represent internists faithfully and fulfill the strategic goals of the Illinois ACP.