You are here
Idaho Governor's Newsletter May 2020
Idaho Governor's Newsletter May 2020
---
---
Lisa S. Inouye, MD, MPH, FACP, ACP Governor
---
Saying Goodbye
At the end of April, we will be saying goodbye to our Chapter Governor, Melissa (Moe) Hagman and welcoming a new governor for our chapter. As Executive Director, I can say Moe has been an absolute pleasure to work with. Anyone that knows her knows she has a "special" personality. Her humor abounds and brightens up any situation.
Under Moe's leadership our chapter membership has experienced a huge leap in our number of medical students and residents. When she started we had 20 Medical Student Members and we now have 84. We also had 21 Resident/Fellow Members and now have 59. For our small chapter, those increases are impressive. Membership totals have increased by more than 100 during her term.
One of Dr. Hagman's passions is Doctor's Dilemma. She has hosted or judged the event at the Internal Medicine meeting for the past four years.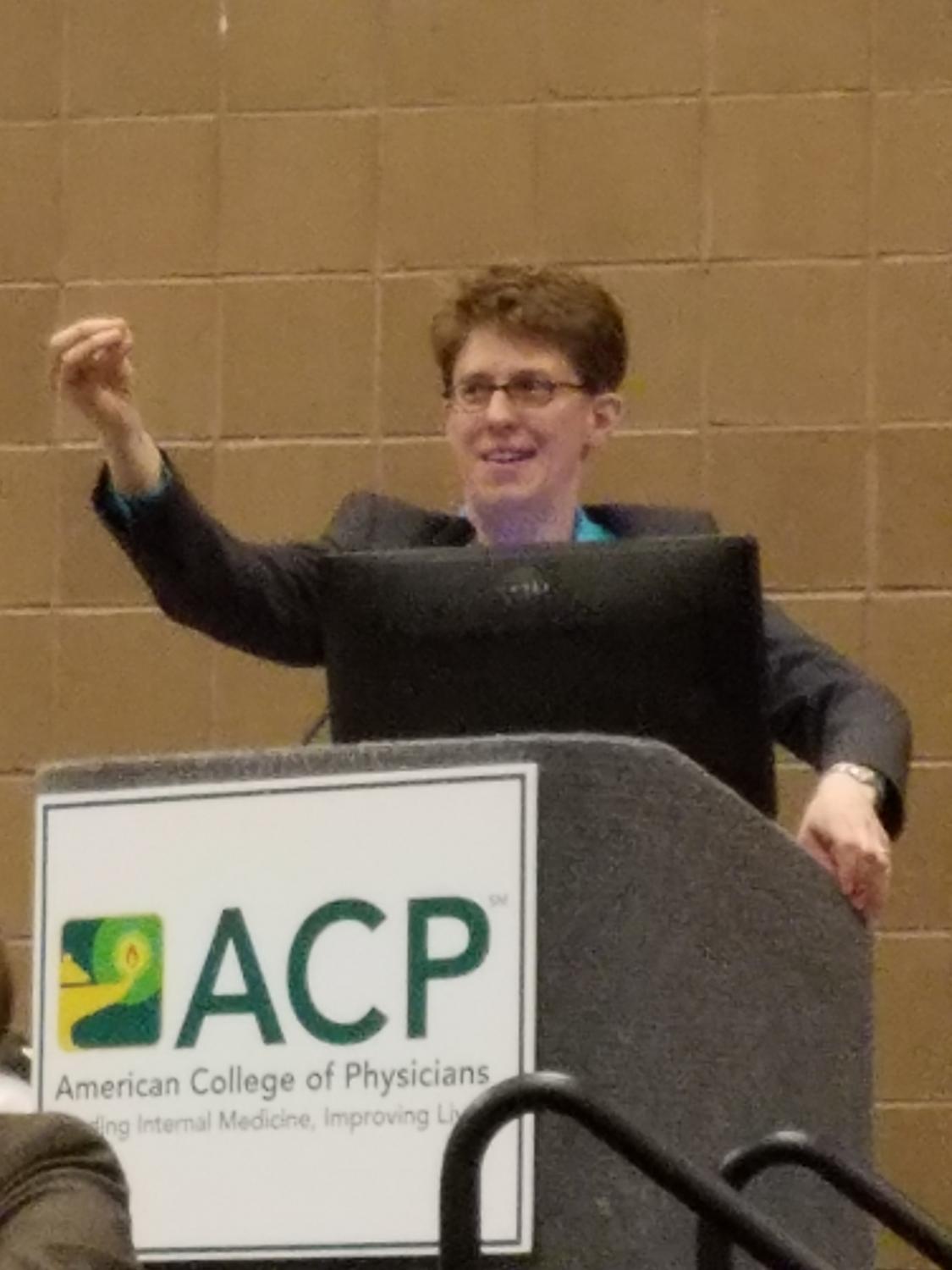 Dr. Hagman has also inspired growth in our chapter committees. We now have a quite active Health and Public Policy/Advocacy Committee, an Awards Committee, a Diversity policy, and we regularly help send residents to the national poster competition. Idaho has received the Chapter Excellence Award during each year of her term.
Thank you Moe, for all you have done for our chapter. Please join me in welcoming our new Governor, Lisa Inouye, MD, MPH, FACP. As Moe introduced her in our November 2018 newsletter, she is a general internist and teacher extraordinaire at the Boise VA. I am sure Lisa will be able to guide our chapter members through the difficult times we are now all going through.
---
Winners at the Idaho Chapter Meeting in McCall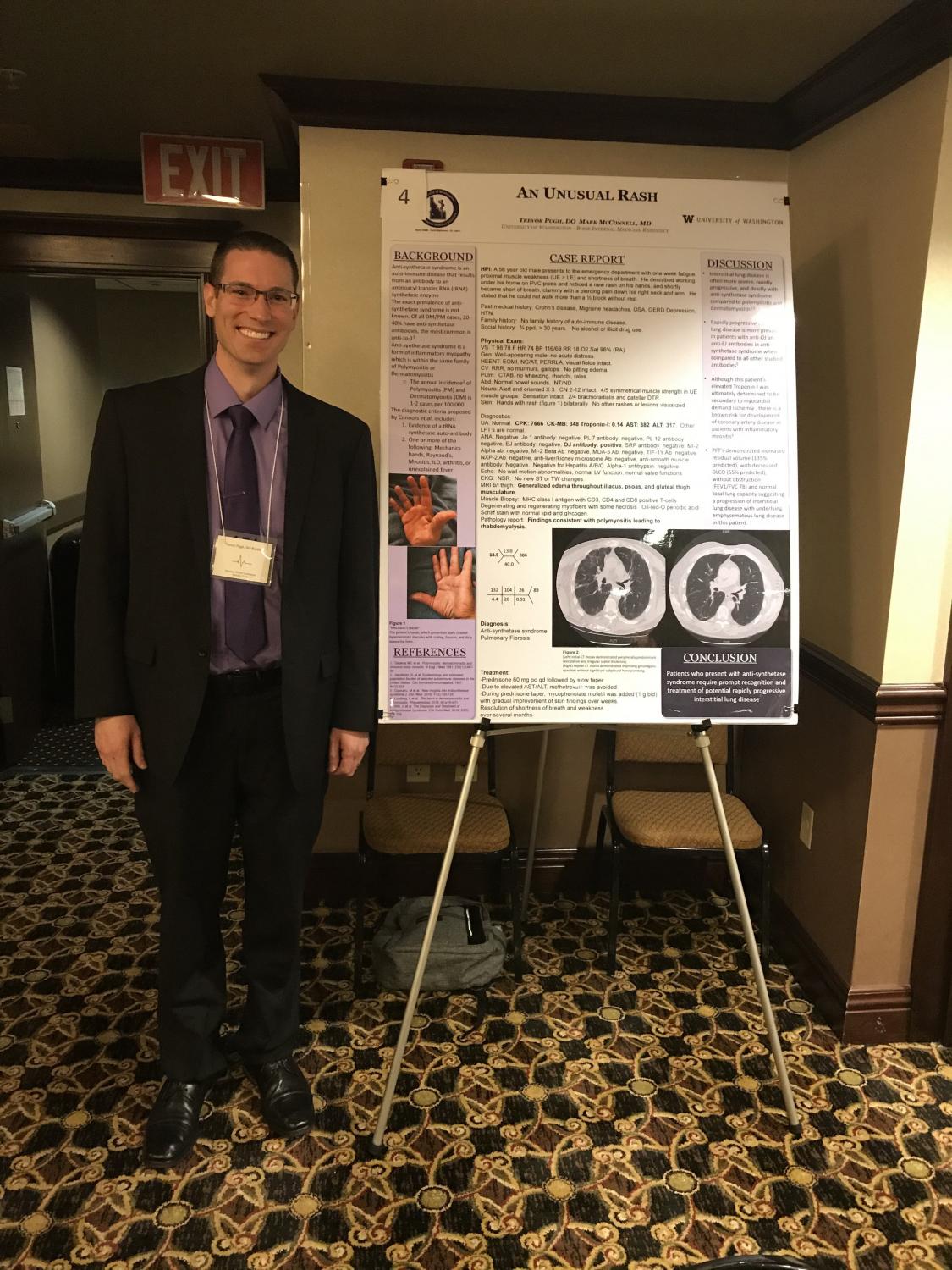 Trevor Pugh at His Poster Entitled "An Unusual Rash"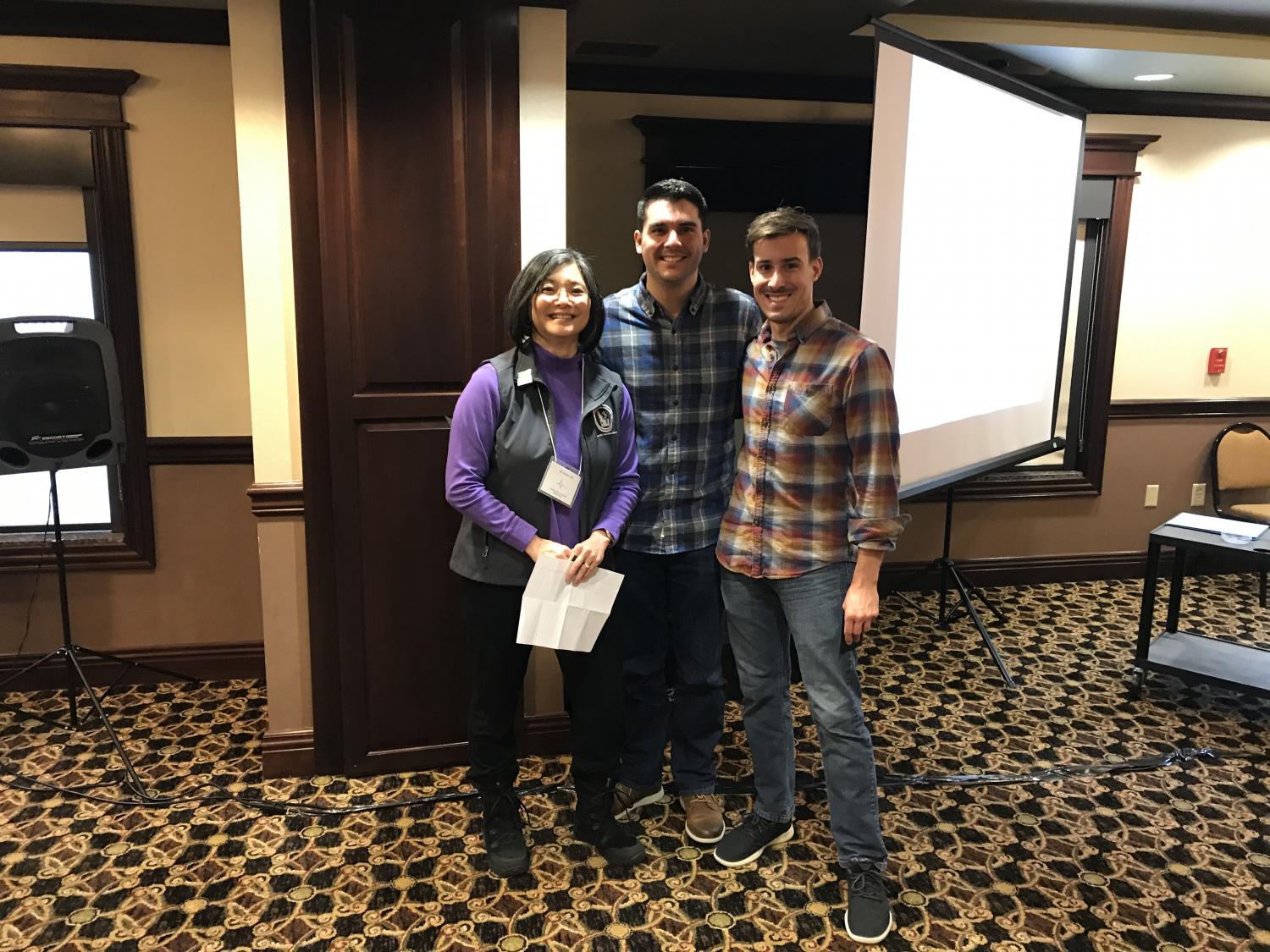 Lisa Inouye, Dr. Jesse Keeler UW Boise R2, Dr. Joshua Hollabaugh UW Boise R3: Resident/Student Oral Case Presentation Winners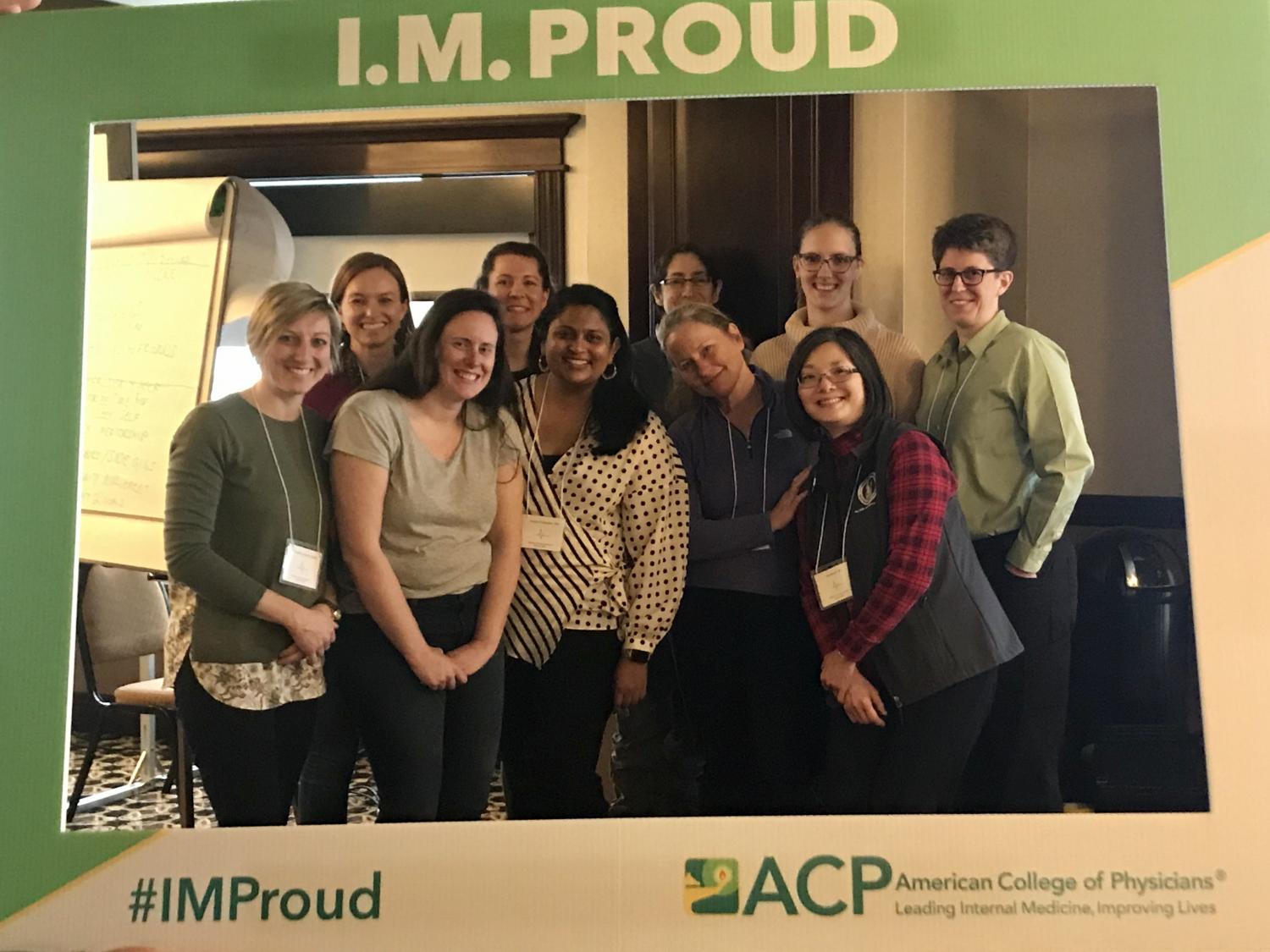 Idaho ACP Women in Medicine. Back row- Jodie Donovan, Danielle Orchard, Lonnie Schumsky, Carlee Fountaine, Moe Hagman. Front row- Cristina Gabutti, Liz Miller, Andrea Christopher, Leslie Nona, Lisa Inouye
---
Idaho Chapter Awards
The following awards were presented at the chapter meeting. Please congratulate:
Danielle Orchard, MD, FACP - Distinguished Teacher
Kathy Mathews, MD, FACP - Distinguished Internist
Lesleigh Box, MD, FACP - Advocacy Award
Banu Symington, MD, MACP - Laureate Award
---
Internal Medicine 2020 Meeting Cancellation
After careful consideration, the American College of Physicians (ACP) made the necessary and responsible decision to cancel its Internal Medicine Meeting 2020, originally scheduled to take place in Los Angeles, CA, April 23-25, 2020. ACP's decision is based on recent reports from the World Health Organization (WHO) and the Centers for Disease Control and Prevention (CDC) of rapidly escalating concerns about the Coronavirus Disease 2019 (COVID-19), and in recognition of the vital role of internal medicine physicians in diagnosing, managing and caring for their patients and communities on the front lines.
ACP feels strongly that ensuring the health and well-being of patients is always of paramount importance, and particularly given these rapidly evolving circumstances. As the largest medical specialty organization in the U.S. with 159,000 members in more than 145 countries worldwide, ACP also recognizes its professional responsibility to consider the safety of its meeting participants by modeling social distancing and not contributing to the spread of the virus through a large public gathering such as its annual scientific meeting.
If you have already registered to attend the Internal Medicine Meeting 2020, you will be offered a refund by the method in which you paid.
Additionally, ACP will continue to update its ACP COVID-19 Resource Hub which includes curated information and ACP's "Novel Coronavirus: A Physician's Guide" a free online learning activity that provides a clinical overview of infection control and patient care guidance, to help internists and other clinicians prepare for, diagnose, and manage COVID-19 as it continues to spread in the U.S. and around the world.
Thank you for your commitment to internal medicine and to your patients, and for all you do every day.
---
COVID-19
ACP is committed to doing everything possible to prevent and slow the spread of COVID-19 virus to ensure that our patients get the care they need.
These resources are meant to assist internists seeking to prepare and manage their response. ACP will continue to update this page with resources developed by ACP and other organizations.
Please visit ACP's Coronavirus Disease 2019 (COVID-19): Information for Internists to access an ACP Physician's Guide, COVID - 19 Telehealth Coding and Billing Practice Management tips, and Incorporation of Telehealth into Your Practice.
For Idaho specific information and links to various resources see: Idaho Medical Association - Coronavirus Resources for Physicians and the Idaho Government site: Official Resources for the Coronavirus (COVID - 19)
---
Congratulations to our New Fellows
Nicolle R Benz – Rathdrum
Ilana B Shumsky – Boise
John S Seimers – Coeur D Alene
Joseph M Stroebel – Idaho Falls
---
ACP Fellowship
Are you interested in becoming a Fellow of the American College of Physicians? Fellowship in the College is an honor. Being an FACP® is a distinction earned from colleagues who recognize your accomplishments and achievements over and above the practice of medicine. The most important considerations for ACP Fellowship are excellence and contributions made to both medicine and to the broader community in which the internist lives and practices.
ACP Fellowship is primarily achieved through advancement from ACP Membership.* Fellows are authorized to use the letters FACP (Fellow of the American College of Physicians) in connection with their professional activities for as long as their membership remains current. FACP is a federally registered service mark and is defined as providing recognition by way of an honorific. Fellows of the American College of Physicians have the right to vote, hold office, and sponsor applicants for Membership and Fellowship.
For more information or to apply for ACP Fellowship, visit here
---
Idaho Chapter Facebook Page
Please visit the Idaho Chapter's Facebook page. The page currently has over 150 followers from all over the world and is updated regularly with health news, interesting tidbits, and local news. Please feel free to let the executive director Kelly Hess know if you have any health care related events you would like mentioned on the page. We also have a Twitter account