You are here
Idaho Governor's Newsletter May 2019
Idaho Governor's Newsletter May 2019
---
---
Melissa Hagman, MD, FACP, ACP Governor
---
Advocates for Internal Medicine
The Advocates for Internal Medicine Network (AIMn) is a program for ACP members interested in participating in federal advocacy. It is designed to help members engage with their federal lawmakers on policy issues important to ACP and internal medicine, using a platform that is user-friendly. As key issues approach the decision-making stage on Capitol Hill, the College emails or faxes legislative updates and alerts to AIMn members, who we call Advocates. Legislative alerts include all of the necessary information (including sample messages that can be easily personalized) to make informative contacts with members of Congress, and ACP staff is always available to provide support and answer legislative questions.
Join more than 15,000 colleagues in the AIMn program in advocating for the interests of internal medicine in Washington, D.C. By joining, you will receive legislative updates on key policy issues and engage in outreach to your federal lawmakers. If you are already an AIMn member, you do not need to register again. Sign up here
If you are interested in joining the Idaho Chapter's Advocacy Committee as well, please contact Kelly Hess, the chapter Executive Director.
---
Idaho Poster Presentation at the 2019 ACP Internal Medicine Meeting
UW Boise Internal Medicine R2 Abigail "Abby" Mansch represented the Idaho chapter at the 2019 ACP National Internal Medicine meeting in Philadelphia with her poster, "A Severe Presentation of Coccidiomycosis in an Immune-Competent Patient".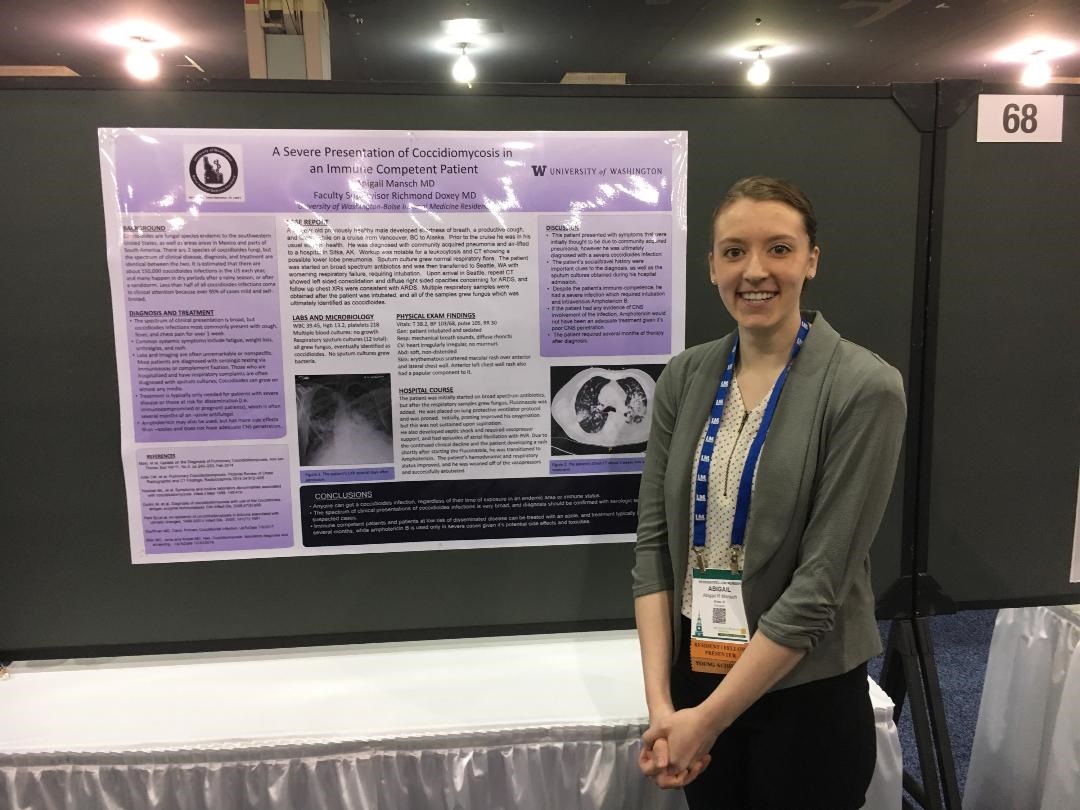 Abigail "Abby" Mansch
---
Chapter Dinner at IM 2019
The Idaho Chapter held a dinner at the ACP National Internal Medicine meeting in Philadelphia. We had a huge turnout this year and enjoyed some great food at Maggiano's Little Italy. All of our new Fellows who walked in convocation attended as well as our Governor, Moe Hagman, our Governor-Elect, Lisa Inouye, some of our committee chairs, our chapter poster winner, our past Governor, and new chapter members.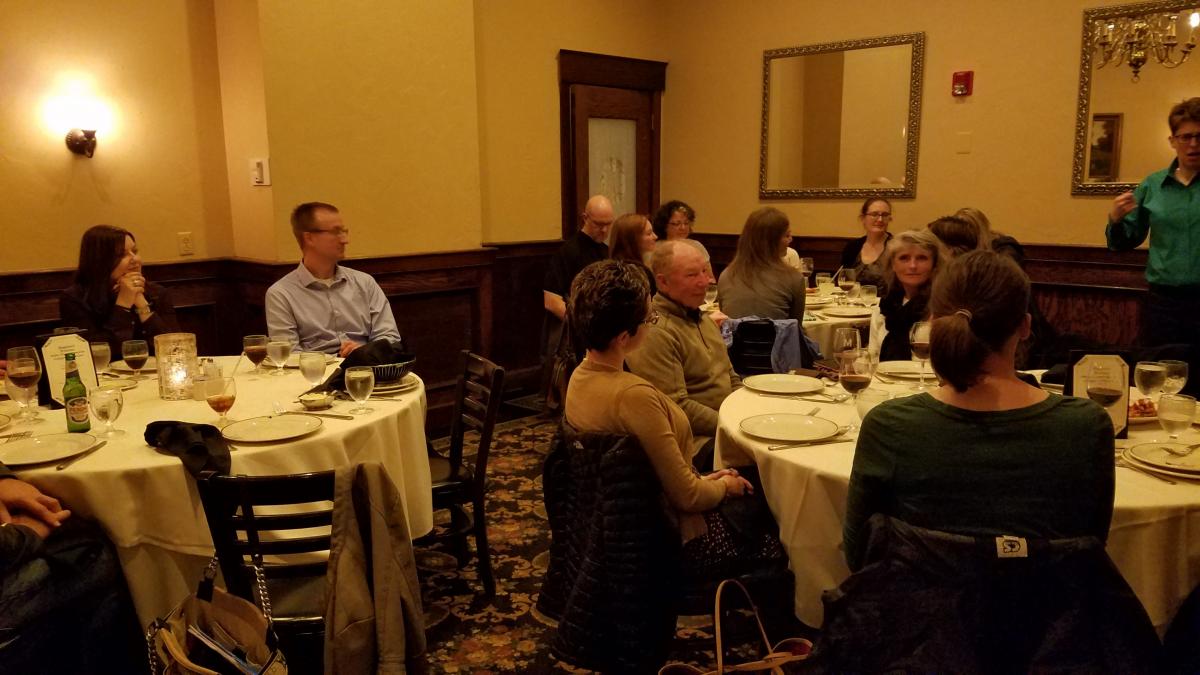 ---
Our New Fellows at Convocation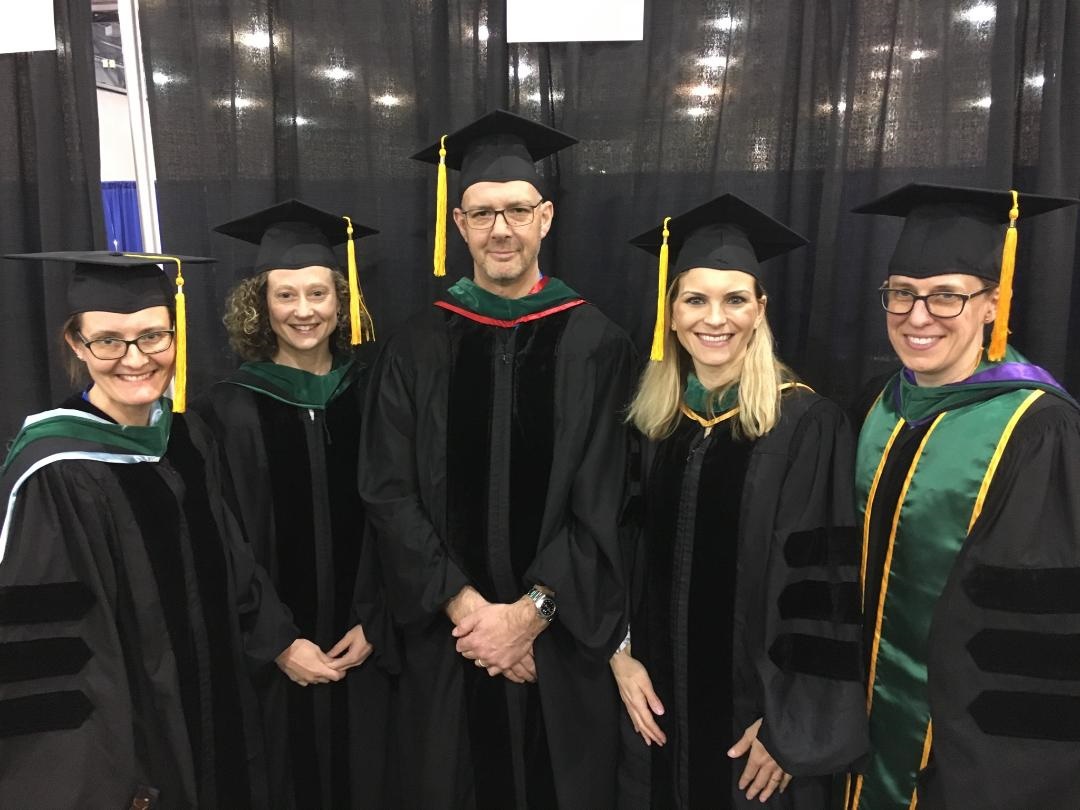 Left to right: Magni Hamso, Lesleigh Box, Thomas Pintar, Carolyn McFarlane, and our governor; Melissa (Moe) Hagman
---
Welcome our New Members
Carla Apezzato – Boise
Lakshmi Priya Esturi – Eagle
Heng Rao – Twin Falls
Carl Vance – Idaho Falls
Fallon Fehringer – Coeur D' Alene
---
Adult Immunization Resource Hub
ACP's Adult Immunization Resource Hub was developed as part of ACP's I Raise the Rates initiative to assist physicians and their teams to assess, understand and improve adult immunization rates and patient outcomes in their clinical settings.
I Raise the Rates is a collaborative, data-driven campaign to support patients, physicians, health care teams, systems, and communities in raising adult immunization rates and reducing vaccine preventable diseases. The program seeks to assist internists and other primary care providers in both understanding the immunization rates of their patients and making practice changes that promote immunizations.
For more information, please visit Adult Immunization
---
ACP Fellowship
Are you interested in becoming a Fellow of the American College of Physicians? Fellowship in the College is an honor. Being an FACP® is a distinction earned from colleagues who recognize your accomplishments and achievements over and above the practice of medicine. The most important considerations for ACP Fellowship are excellence and contributions made to both medicine and to the broader community in which the internist lives and practices.
ACP Fellowship is primarily achieved through advancement from ACP Membership. Fellows are authorized to use the letters FACP (Fellow of the American College of Physicians) in connection with their professional activities for as long as their membership remains current. FACP is a federally registered service mark and is defined as providing recognition by way of an honorific. Fellows of the American College of Physicians have the right to vote, hold office, and sponsor applicants for Membership and Fellowship.
For more information or to apply for ACP Fellowship, visit this area
---
New ACP Paper Offers Recommendations to Strengthen Affordable Care Act
"Improving the Affordable Care Act's (ACA) Insurance Coverage Provisions," a new paper published on April 16 in Annals of Internal Medicine, explores common-sense approaches to improve the ACA as internists continue to advocate for universal health care for all patients and consumers. Recommendations include stabilizing the health insurance market, expanding Medicaid, increasing competition in the marketplace, and amplifying awareness about how the ACA works to help patients and how to enroll in coverage plans.
A detailed analysis of the paper and accompanying video are featured in the ACP Advocate.
---
Idaho Chapter Facebook Page
Please visit the Idaho Chapter's Facebook page The page currently has over 150 followers from all over the world and is updated daily with health news, interesting tidbits, and local news. Please feel free to let the executive director Kelly Hess know if you have any health care related events you would like mentioned on the page. We also have a Twitter account