You are here
Idaho Governor's Newsletter March 2019
Idaho Governor's Newsletter March 2019
---
---
Melissa Hagman, MD, FACP, ACP Governor
---
News from the 2019 Hindson Winter Conference and Idaho Chapter Meeting
2018 Laureate Award – C. Scott Smith, MD, MACP
The Idaho Chapter of the American College of Physicians is proud to present the 2018 Laureate Award to Dr. C. Scott Smith. Dr. Smith is a professor emeritus in the Department of Medicine, Division of General Internal Medicine, and an adjunct professor emeritus in the Department of Medical Education and Biomedical Informatics, Division of Education and Evaluation, at the University of Washington through the VA Medical Center in Boise, Idaho.
Nationally, Dr. Smith has served as the Physician Consultant for the VA Centers of Excellence in Primary Care Education, and in the Society of General Internal Medicine he has been a member of the SGIM-VA Task Force and a member of the SGIM Clinical Practice Committee. Locally, he has served as a member of the Health Information Technology Committee for the Idaho SHIP Grant and as a member of the Governor's Idaho Medical Home Collaboratives.
Dr. Smith is originally from Coeur d'Alene, Idaho. He completed his undergraduate education at Massachusetts Institute of Technology with a degree in Medical Engineering. He completed his medical training at the University of Washington. After residency, he served in the United States Air Force before moving to New York and Texas where he worked in Emergency Departments as a Board Certified Emergency Physician. Although he has worked in the VA system in other locations, Dr. Smith moved to Boise in 1990 and has worked at the Boise VAMC since that time.
Dr. Smith has served in multiple leadership and teaching roles at the Boise VA Medical Center, including as the first Program Director for the University of Washington Boise Internal Medicine Residency when it converted to a three-year program in 2011. Medical education has been a passion of Dr. Smith's throughout his career. He has researched, written and spoken extensively on medical education teaching, patient-centered interprofessional collaboration, cultural issues and stereotypes in medical education. He has worked tirelessly to improve the medical education experience for learners. Unsurprisingly, Dr. Smith has won over 15 awards including multiple teaching awards, the WWAMI Alumni Excellence Award, and the VA's David M. Worthen Award recognizing outstanding contributions and achievements of national significance in the area of health care professional education. Dr. Smith is a nationally and internationally recognized author, speaker and researcher: he has authored books, manuscripts, textbook chapters, and journal articles, and has delivered well over 100 conference presentations.
In 1993, Dr. Smith became a Fellow of the American College of Physicians. He served as Idaho ACP Governor and in 2012 he was named a Master of the College. He remains active in the Idaho Chapter.
He is married to Dr. Cathy Sandstrom and they have two children, Devin and Tynan. Dr. Smith retired in 2018. He enjoys fossil hunting, hiking, and traveling.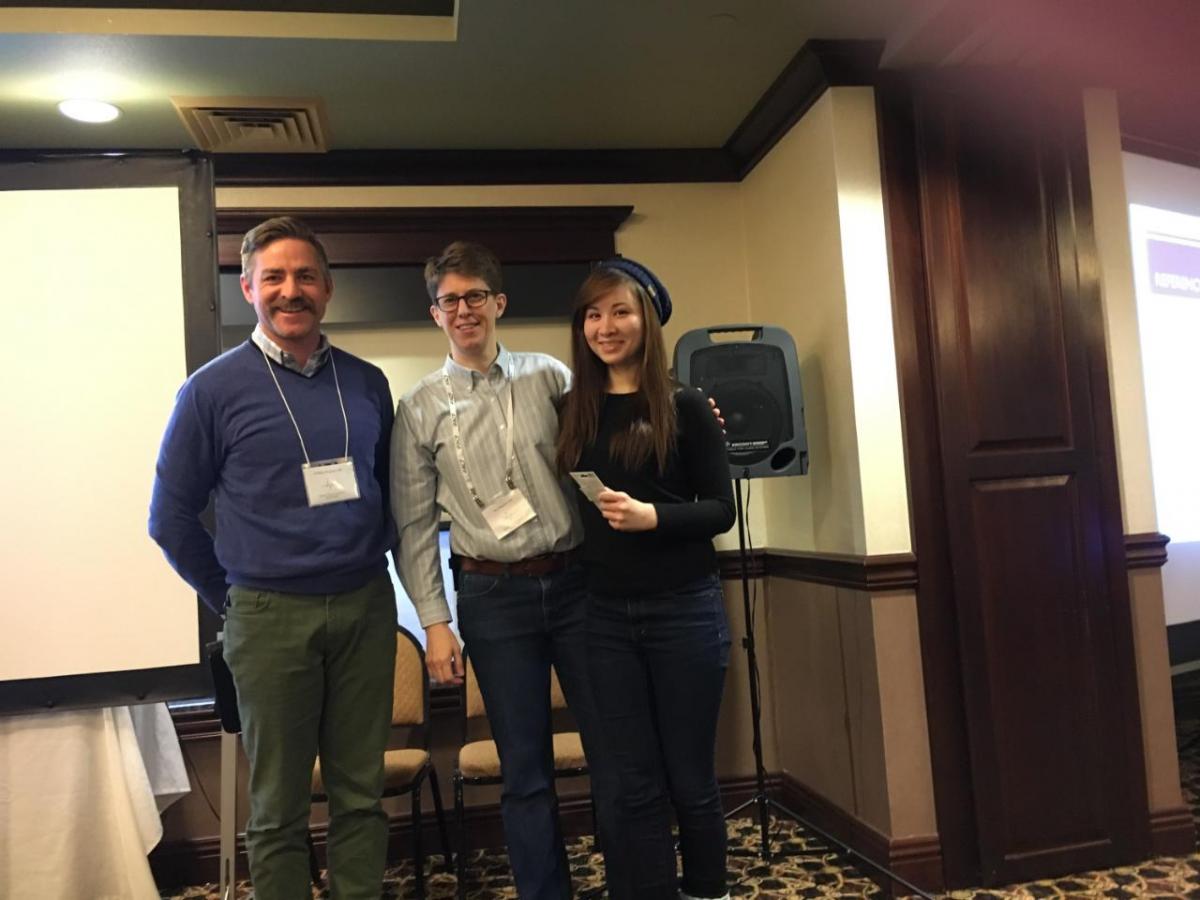 Bill Weppner, Moe Hagman, and Theresa "Tessie" Pham - Oral presentation winner for "Why the Long Face?"
Oral Case Presentation Winner
Medical students from the University of Washington (UW) and residents from UW Boise Internal Medicine Residency and Eastern Idaho Regional Medical Center Internal Medicine Residency presented oral case presentations at the January Idaho ACP Meeting in McCall. All presentations were extremely well done and educational. Radiology Preliminary Intern Tessie Pham from UW Boise won the award for best presentation with her discussion of atypical migraine presenting as hemifacial droop.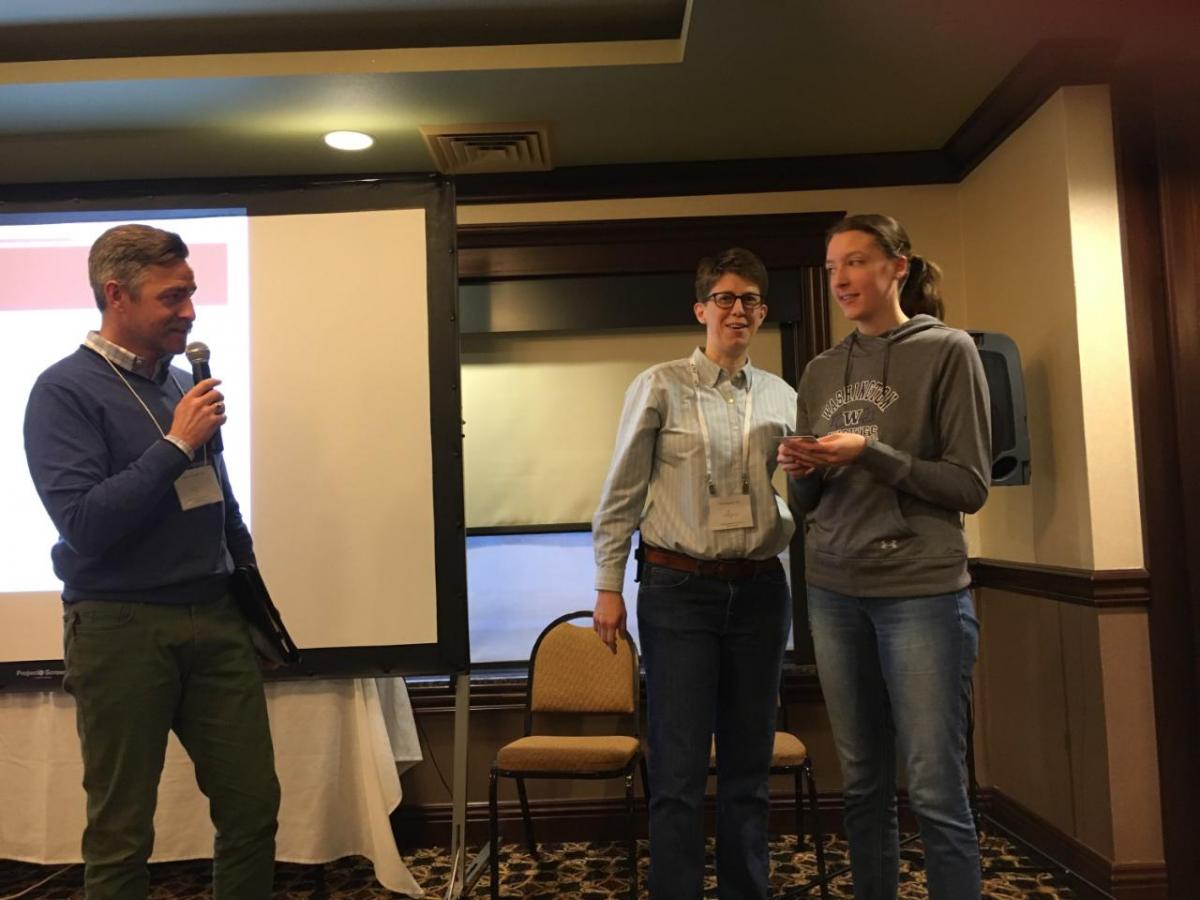 Abigail "Abby" Mansch
Poster Presentation Winner
UW Boise Internal Medicine R2 Abigail "Abby" Mansch was the Poster Presentation winner at the January Idaho ACP Meeting in McCall for "A Severe Presentation for Coccidiomycosis in an Immune-Competent Patient". Abby will represent the Idaho chapter at the 2019 ACP National Internal Medicine meeting in Philadelphia this April.
Thank you to the following individuals who provided feedback to students and residents as oral or poster presentation judges: Sarai Ambert-Pompey, Neil Argyle, Alice Blake, Chris Bullard, Barry Cusack, Peggy Doucette, Meg Dunay, Lisa Inouye, Magni Hamso, Bill Loome, Ben Powers, Elke Swakhammer, Alex Tanabe, Scott Smith, Andy Wilper.
---
Idaho Chapter Advocacy
By Lesleigh Box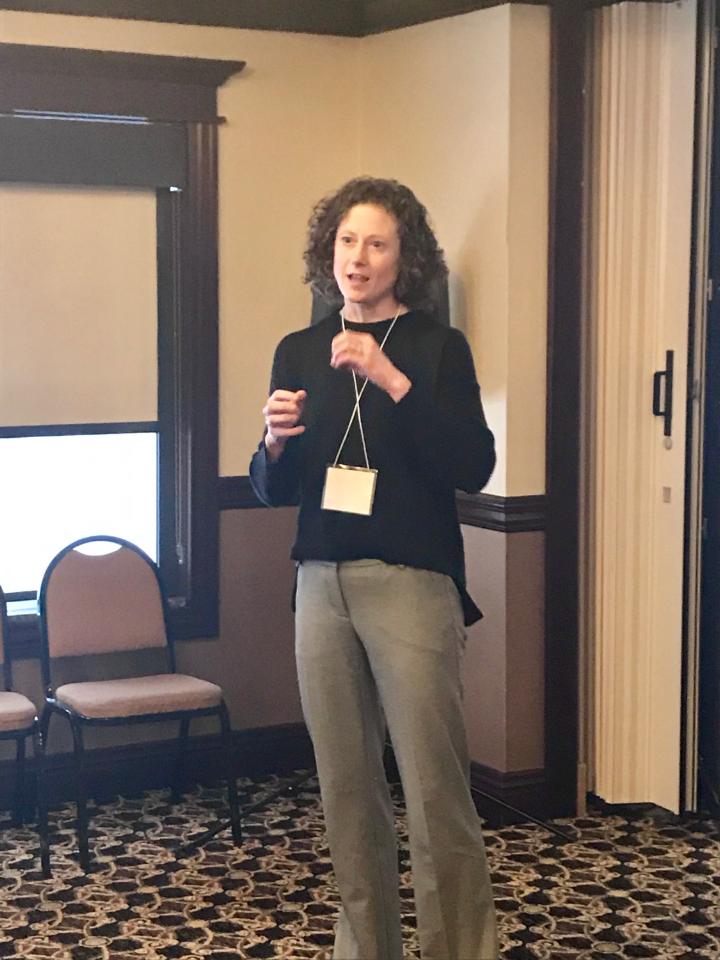 Lesleigh Box, Chair of Idaho Chapter Health and Public Policy Committee
Idaho has voted to expand Medicaid and ACP needs your help to ensure that it is enacted without a bunch of red tape. Thank you to all who attended the ACP chapter meeting and heard about ACP advocacy work in Idaho. ACP is currently working to advocate for appropriate enactment of Medicaid expansion in Idaho. ACP does not support making Medicaid recipients fulfill work requirements. Work requirements have not been effective at improving employment in other federal programs and have been an administratively costly addition to such programs. Arkansas was the first state to implement the addition of work requirement to receipt of Medicaid in June of 2018. Since that time, over 16,000 individuals have lost health coverage in Arkansas. This cannot happen in Idaho. ACP advocates unrestricted improved access to care as was voted on by Idahoans on November 6, 2018. As physicians we play an important role letting our legislators know how our patients can be served with the expansion of Medicaid. We have all known patients, family members and friends who could benefit from Medicaid expansion. Join ACP in upcoming events where we can share our thoughts and stories with our local legislators.
Here are some of the upcoming events (one takes a few seconds!)
Very easy!!!! Sign the letter to show your support
Meet in person with your local legislator. Meetings will be arranged around the state. Email to get on the email list to find out when they are happening
Attend the Advocacy 101 Day at the Capital event March 4, 2019 11am-1pm
---
Congratulations to our New Fellows
Carolyn McFarlane - Eagle
---
Welcome our New Members
Suzanne Nebeker – Salmon
Caleb Sires – Boise
Carl Vance – Idaho Falls
Wade Flowers – Pocatello
---
Welcome our New Medical Student Members since December 2018
Steven Carson
Samuel Loescher
Daniel Shin
Amity Peterson
Trey Morgan
Brandon Bautista
Kiefer McQuade Starks
Matthew Engel
Sarah Downs
Thomas Auen
Aaron Singh
Thomas Adams
Andrius Vaidila
Kent Stanton
Yalda Chalabi
Zemar Ahadzada
Chelsea Stevenson
Macey Horch
Jess Richelieu
Nick Rasmussen
Samantha Mallory
Grace Meeker
John Bartoletta
Laura Wheeling
Michelle Eide
Thanh Nguyen
Andrew Nilsen
Zach Nelson
Keiffer Hepola
Krista Niezwaag
Britnee Haynes
Jessica Wissenbach
Arman Isrealyan
Christina Bartoni
Morgan Papineau
Sarah Patterson
Chris Kilen
Cameron Farser
Rachel Bryant
Mitchell Spencer
---
ACP Fellowship
Are you interested in becoming a Fellow of the American College of Physicians? Fellowship in the College is an honor. Being an FACP® is a distinction earned from colleagues who recognize your accomplishments and achievements over and above the practice of medicine. The most important considerations for ACP Fellowship are excellence and contributions made to both medicine and to the broader community in which the internist lives and practices.
ACP Fellowship is primarily achieved through advancement from ACP Membership.* Fellows are authorized to use the letters FACP (Fellow of the American College of Physicians) in connection with their professional activities for as long as their membership remains current. FACP is a federally registered service mark and is defined as providing recognition by way of an honorific. Fellows of the American College of Physicians have the right to vote, hold office, and sponsor applicants for Membership and Fellowship.
For more information or to apply for ACP Fellowship, visit this page
---
ACP Releases New Edition of Ethics Manual
Posted on ACP January 14, 2019
ACP released the seventh edition of its Ethics Manual on Jan. 15, published as a supplement to Annals of Internal Medicine and available online at annals.org
New or significantly expanded sections of the ACP Ethics Manual include precision medicine and genetic testing, research and protection of human subjects, telemedicine, electronic communications, social media and online professionalism, electronic health records, and physician volunteerism.
A CME quiz and a MOC module are available for ACP members and subscribers to Annals of Internal Medicine.
For more information, please contact Lois Snyder Sulmasy, JD , Director of ACP's Center for Ethics and Professionalism.
---
Idaho Chapter Facebook Page
Please visit the Idaho Chapter's Facebook . The page currently has over 150 followers from all over the world and is updated daily with health news, interesting tidbits, and local news. Please feel free to let the executive director Kelly Hess know if you have any health care related events you would like mentioned on the page. We also have a Twitter account: @IDAHOACP1