You are here
Idaho Governor's Newsletter March 2018
Idaho Governor's Newsletter March 2018

---
---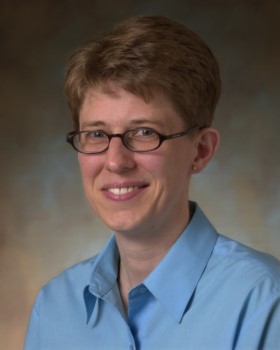 Melissa Hagman, MD, FACP, ACP Governor
---
Resident Oral and Poster Case Presentation Winners at the 2018 Idaho ACP/Hindson Winter Conference
Seven University of Washington (UW) Boise Internal Medicine residents and UW medical students presented oral case presentations at the January 2018 Idaho ACP/Hindson Winter Conference in McCall, ID. The winning oral case presentation was "The Utility of 18F-FDG PET/CT for the Diagnosis of Giant Cell Arteritis" by UW Boise Internal Medicine residents Irvin Huang, D.O. and Kyle Severinsen, M.B.B.S.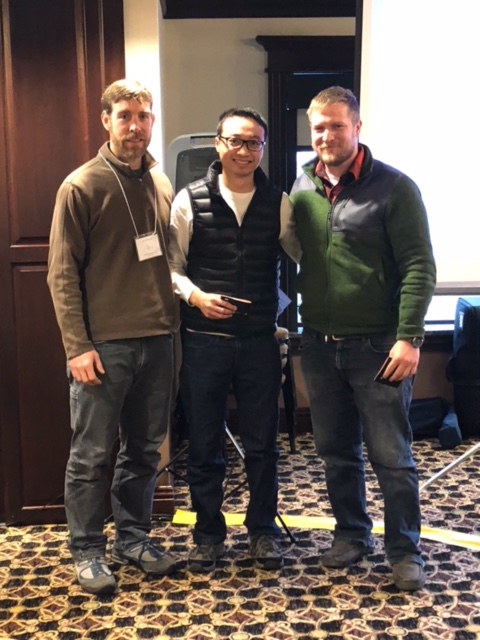 (Andy Wilper, M.D. and Idaho ACP Oral Case Presentation Winners Irvin Huang, D.O. and Kyle Severinsen, M.B.B.S.)
Fourteen UW Boise Internal Medicine residents, UW medical students, and Boise VA Pharmacy residents participated in the poster presentation session this year. There was a tie for first place in the clinical vignette poster competition. The winning posters were:
"When Physical Exam Findings and Lab Tests Disagree: Likelihood Ratios of Physical Exam Findings in Ascites of Undetermined Etiology" by UW Boise Internal Medicine intern Jennifer Miller, D.O., and co-authors UW Boise resident Farah Vega, M.D., and UW third-year medical tudent Justin Reed.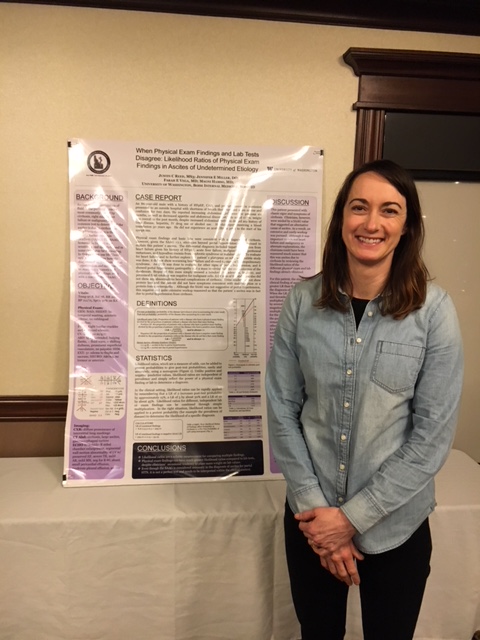 (Idaho ACP Poster Clinical Vignette Winner, Jennifer Miller, D.O.)
"Takotsubo Cardiomyopathy Caused by Malnutrition-related Hypoglycemia" by UW Boise resident Martine Troy, M.D., and UW Boise chief resident Caroline Davis, M.D.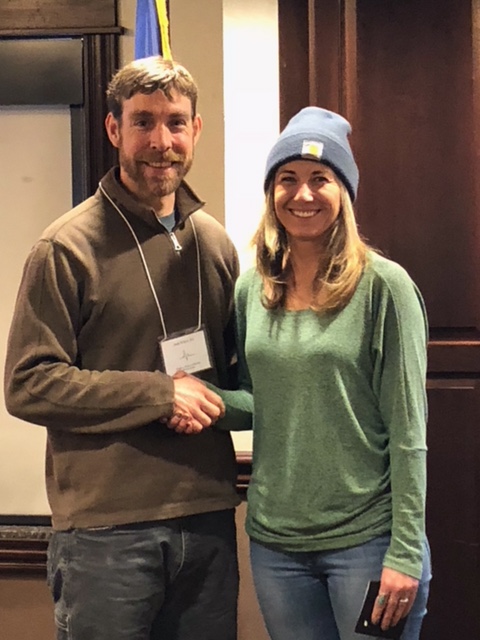 (Idaho ACP Poster Clinical Vignette Winner, Martine Troy, M.D.)
Dr. Miller will be representing the Idaho ACP Chapter and presenting her poster at the national ACP clinical vignette poster competition at IM2018. If you are going to IM2018 in New Orleans, please stop by the resident poster presentation session to support Dr. Miller.
---
Leadership Day 2018
The annual Leadership Day on Capitol Hill will be held on May 22-23, 2018, at the Mandarin Oriental Hotel in Washington, D.C. Leadership Day enables the College to increase its presence on Capitol Hill and bring our issues of concern to U.S. lawmakers.
This two-day event provides ACP members with advocacy training; an update on the College's legislative priorities; briefings from Members of Congress, Administration officials, and key Capitol Hill staffers; and an opportunity to meet with your state's elected officials. A special briefing for Residents/Fellows-in-Training and medical students is also provided.
Please mark your calendars for ACP's Leadership Day on May 22-23, 2018. More details about this year's event will follow in the coming weeks.
Our Governor, Dr. Melissa (Moe) Hagman, is planning on attending Leadership Day and you are welcome to join her to advocate for the important issues facing health care today. To learn more and to register for Leadership Day, go to this site
---
Reducing Tobacco Harms in Idaho
Our chapter's former governor, Dr. Banu Symington, penned the article below that was published last month in Idaho papers. Other physicians can help this effort by following and sharing information about Tobacco 21 Idaho with your community, including on any social media channels you use. You may also write letters to the editor to submit to your local newspaper. A template for letters to the editor can be downloaded here .
Reader Comment: Improving Idaho's health care includes reducing tobacco harms
AP- February 04, 2018 | Dr. Banu Symington
In this 2018 legislative session, Idaho will be presented with the option to pass Tobacco 21. Tobacco 21 will effectively raise the legal sale-age for all tobacco products — including electronic cigarettes — to 21, mirroring alcohol restrictions.
This bill is aimed at saving the lives of Idaho residents from the leading cause of preventable disease and premature death. With nearly 2,000 lives claimed in Idaho each year from tobacco, this is an issue we cannot ignore. Cigarettes today are engineered to addict. When a person becomes a smoker, they are regularly consuming the only legal product that — when used as intended — will kill half of all long-term users.
With the current rate at which teens become regular smokers in Idaho, 30,000 kids now under 18 and alive in Idaho will ultimately die prematurely from smoking. When smoking cuts a life short unnecessarily, it also adversely impacts the lives of the family, friends and neighbors of every victim of tobacco use.
We are all familiar with tobacco related cancer. Tobacco use (smoking and chewing) accounts for 26.6 percent of all cancer deaths in Idaho. It also cuts lives short by causing emphysema, other chronic lung conditions, peptic ulcers, heart disease and stroke. Data from 2007 showed about one-quarter of Idaho adults who had been diagnosed with a heart attack or stroke reported higher rates of smoking.
As we continue to fight for better health care and coverage, passing Tobacco 21 in Idaho will be a major step in reducing preventable deaths and fostering healthier lives for our children. If a person can make it to their 21st birthday without becoming addicted to tobacco, they are much more likely to live their entire lives tobacco-free. Let me say that again so it sinks in — postponing the start-date for smoking can reduce overall smoking rates!
In 2015, the Institute of Medicine reported the significant potential public-health benefits of raising the tobacco sale age to 21. It demonstrated that delaying the start-age for smoking decreases smoking-related deaths by 10 percent. This can save as many as 223,000 lives among people born between 2000 and 2019.
I'm asking Idahoans to help take back control for the health of their communities. I'm asking our legislators to reduce the harms of tobacco by passing this legislation. Five states and hundreds of communities across the U.S. have already taken this significant step to raise the age to 21. Now Idaho has that same opportunity.
Idaho deserves a brighter healthier future, free of tobacco and the harmful addiction of nicotine. This is what community health is all about! More information
---
Congratulations to our New Fellows
Thomas J. Pintar – Eagle
Manjusha A. Gupte – Boise
Michael F. Krug – Boise
Andrea S. Christopher – Boise
Ann E. Hansen – Boise
---
Welcome our New Members
Gregory Trapp, MD
Rodney Bates, DO
Jennifer Hofstrja, MD
E R McClennen, DO
Allen Salem, MD
---
ACP Fellowship
Are you interested in becoming a Fellow of the American College of Physicians? Fellowship in the College is an honor. Being an FACP® is a distinction earned from colleagues who recognize your accomplishments and achievements over and above the practice of medicine. The most important considerations for ACP Fellowship are excellence and contributions made to both medicine and to the broader community in which the internist lives and practices.
ACP Fellowship is primarily achieved through advancement from ACP Membership.* Fellows are authorized to use the letters FACP (Fellow of the American College of Physicians) in connection with their professional activities for as long as their membership remains current. FACP is a federally registered service mark and is defined as providing recognition by way of an honorific. Fellows of the American College of Physicians have the right to vote, hold office, and sponsor applicants for Membership and Fellowship.
For more information or to apply for ACP Fellowship, visit this site
---
Idaho Chapter Facebook Page
Please visit the Idaho Chapter's Facebook page . The page currently has over 100 followers from all over the world and is updated daily with health news, interesting tidbits, and local news. Please feel free to let the executive director Kelly Hess know if you have any health care related events you would like advertised on the page.
---
For Your Information
Only ACP Offers Board Review Prep Courses with a 30-Year Record of Success
Posted on February 5, 2018
ACP's Internal Medicine Board Review prep courses are completely board-centric and backed with a guarantee. With hundreds of practice questions, test-taking strategies, and alignment with the ABIM exam blueprint, these courses cover what exam takers need to know. Each course is taught by a faculty of clinician educators, all experts in their fields. The variety of highly regarded generalists and subspecialists ensures an engaging and dynamic experience.
Registration includes a full-color, downloadable syllabus for review before and after the course. Attendees also receive a free ACP Board Review Flashcard app as a bonus. More information is available on ACPOnline.org.