You are here
Idaho Governor's Newsletter December 2018
Idaho Governor's Newsletter December 2018
---
---
Melissa Hagman, MD, FACP, ACP Governor
---
Congratulations to our New Chapter Governor-Elect
Lisa S. Inouye, MD, MPH, FACP
It is my pleasure to announce that Lisa S. Inouye, MD, MPH, FACP, has been elected the Idaho ACP Governor-elect. Dr. Inouye is a general internist and teacher extraordinaire at the Boise VA. She has a primary care patient panel in the Boise VA Womens' Clinic and attends on the VA Medicine Wards with medical students and residents from the University of Washington. In addition to patient care and education, Dr. Inouye is interested in quality improvement and lifelong learning. Dr. Inouye will assume the Governor role in April 2020.
My huge thanks to Mark Christenson, MD, FACP, who ran a good race. Dr. Inouye and I look forward to continuing to work with Dr. Christenson as a vital member of the Idaho Chapter Council.
Melissa (Moe) Hagman, MD, FACP
Idaho ACP Governor
---
A Message from our New Governor-Elect
I am really looking forward to representing our chapter! Moe is doing a fantastic job as governor and will leave big shoes to fill. I hope to expand membership and continue the excellent education and advocacy (for patients and for internists) this chapter currently provides.
Lisa S. Inouye, MD, MPH, FACP
---
2019 Hindson Winter Conference and Idaho Chapter Meeting
Registration is now open for the 2019 Winter Conference and Idaho Chapter Meeting! The meeting will be held January 17-20, 2019, at the Hunt Lodge in McCall, Idaho. Learn how to treat opioid use disorder with buprenorphine/naloxone in a four-hour interactive session Saturday afternoon. Dr. Pieter Cohen from Harvard will talk about slow medicine and nutritional supplements. Other topics will include: updates in hospital and outpatient medicine, dermatology for primary care, women's health, gut microbiome, Mediterranean diet, DVT, pulmonary medicine, peripheral vascular disease, and more. To see the full agenda, visit the Hindson Foundation
---
ACP Releases Firearms Policy Update; Calls for Sweeping New Policies to Help Reduce Firearms Related Injuries and Deaths: American College of Physicians: Posted on October 31, 2018
ACP has published an updated version of our 2014 firearms policy paper Reducing Firearm-Related Injuries and Deaths in the U.S. in Annals of Internal Medicine. The update offers nine evidence-based strategies that will help reduce firearms-related injuries and deaths by keeping guns out of the hands of those at risk of harming themselves or others. The new recommendations include support for laws to prohibit persons with a history of domestic violence—including persons subject to restraining orders—from buying and possessing firearms and for extreme risk prevention laws to allow family members to seek an immediate court order to remove guns from a family member who is at risk of using firearms to inflict harm on themselves or others.
All ACP firearms-related health policy content is published in Annals of Internal Medicine and is free to the public.
---
2018 Chapter Excellence Award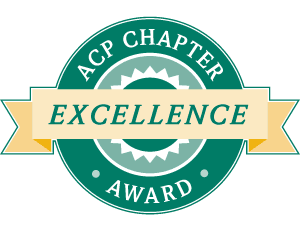 We are pleased to announce that our chapter is in receipt of the 2018 Chapter Excellence Award! The award recognizes chapters which successfully meet the standards for managing a chapter. In order to achieve the Chapter Excellence Award, chapters must meet all basic criteria and ten optional criteria. Criteria include such activities as formulating an effective Governor's Council and committees, communicating frequently with membership, providing educational opportunities, recruiting and advancing members and celebrating membership through local awards. We would like to extend a special thanks to those chapter members who assisted us in all of these endeavors for their hard work and dedication.
---
Congratulations to our New Fellows
Lesleigh Box - Boise
Marianne Huntington - Meridian
Magni Hamso - Boise
---
Welcome our New Members
Ana Velik - Boise
Joel Wagstaff – Twin Falls
Alex Tanabe - Boise
Paul Visscher – Boise
Shaye Lewis – Boise
Karmen Wielunski – Boise
Michael Fry – Twin Falls
Nikhil Reddy – Boise
Caitlin Kinahan – Boise
Carla Apezzato – Boise
Baldwin Sutts- Blackfoot
Lance Wehrie – Blackfoot
Michael Fall - Boise
---
ACP MKSAP Online Study Hall Begins Soon!
Come join the team for Board Reviews, every Tuesday night at 8:00pm (CST). Each week the hosts reveal a new "chapter" of MKSAP 18, preparing you for boards over the next two years. It's free for ACP members with purchase of MKSAP 18! More Information: 312-618-5839 or email . Please see the attached flier for more information. Registration link
---
ACP Fellowship
Are you interested in becoming a Fellow of the American College of Physicians? Fellowship in the College is an honor. Being an FACP® is a distinction earned from colleagues who recognize your accomplishments and achievements over and above the practice of medicine. The most important considerations for ACP Fellowship are excellence and contributions made to both medicine and to the broader community in which the internist lives and practices.
ACP Fellowship is primarily achieved through advancement from ACP Membership.* Fellows are authorized to use the letters FACP (Fellow of the American College of Physicians) in connection with their professional activities for as long as their membership remains current. FACP is a federally registered service mark and is defined as providing recognition by way of an honorific. Fellows of the American College of Physicians have the right to vote, hold office, and sponsor applicants for Membership and Fellowship.
For more information or to apply for ACP Fellowship, visit this page
---
Healthcare Innovators Need Your Input
American College of Physicians: Posted on October 29, 2018
Become a member of ACP's Startup Advisors Network and you'll help health-tech startups develop innovative products to solve clinician and patient challenges and connect with a diverse group of ACP influencers.
Be a part of the future of medicine - The ACP Startup Advisors Network
This free service connects digital health startups with experienced ACP physicians like you. Your real-world input and practical advice will help entrepreneurs develop products that address clinician needs, assist healthcare delivery, and improve patient outcomes.
Be among the first to learn about new digital health products before they're widely distributed
Help shape the new technologies to meet physicians' and patients' needs
Provide feedback and direction that is valued and respected
---
Become an ACP Startup Advisor
The network is facilitated through an online, ACP members-only forum. You control whom you engage with as well as your time commitment.Join the Network Today
P.S. Already working with a startup incubator or entrepreneurial program? We'd love to explore potential collaborative opportunities. Forward contact information today
---
Idaho Chapter Facebook Page
Please visit the Idaho Chapter's Facebook page. The page currently has over 100 followers from all over the world and is updated daily with health news, interesting tidbits, and local news. Please feel free to let the executive director Kelly Hess know if you have any health care related events you would like advertised on the page.
---
SAVE-THE-DATE: 2019 Idaho Chapter Meeting
January 17-20, 2019
Hunt Lodge
McCall, Idaho