You are here
GOVERNOR'S NEWSLETTER June 2014
GOVERNOR'S NEWSLETTER June 2014

---
---
Message From the Governor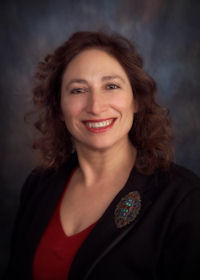 Banu E. Symington, MD, FACP, ACP Governor
---
Internal Medicine 2014
In case you happened to miss the IM2014 meeting in sunny Orlando, Florida, let me tell you what you missed. Florida offered beautiful sunshine, wonderful flora and fauna along the streets, informative meetings, and a huge steak and shrimp dinner with beautiful and interesting people (from your Idaho Chapter).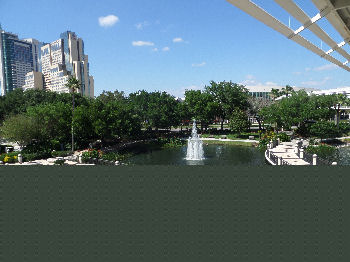 Florida Sunshine
Seriously, all of the above is true with the exception of rain the first day. Your Idaho Chapter Governor, Banu Symington, MD, FACP walked in convocation with one of Idaho's newest Fellows, Lisa Nelson, MD, FACP from Boise. Of those becoming Fellows, 211 are under 35, 55 are over 70, three married couples, and a father and son participated in the Convocation. The Convocation of the American College of Physicians is an annual ceremony whereby the College recognizes and applauds its new Fellows and the recipients of various honors. Fellowship in the College is quite an honor. It is a mark of esteem from colleagues who recognize accomplishments and achievements over and above the practice of medicine. So, congratulations to our newest Fellows!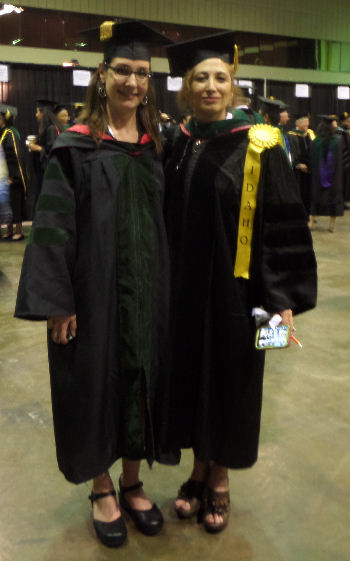 Lisa Nelson & Dr. Symington
The Board of Governors Meetings at IM2014 included a presentation on the Affordable Care Act and how it affects medicine, physicians, and patients, from Matthew G. Heinz, MD. Heinz is Director for Provider Outreach, Office of Intergovernmental & External Affairs, U.S. Department of Health & Human Services in Washington, DC.
Further, an interesting presentation was delivered by Bob Doherty, a Star Trek based presentation titled, "Where No One Has Gone Before: What the Future Holds for Healthcare and Delivery System Reform." Doherty claimed, as Mr. Spock would say, "The whole system is highly illogical." Bob Doherty is Senior Vice President, American College of Physicians Government Affairs and Public Policy and author of the ACP Advocate Blog.
Other presentations included information on Maintenance of Certification (MOC), unveiling of the new ACP logo, and "Minimally Disruptive Medicine" by Victor Montori, MD MSc. Montori is Director, Mayo Clinic Healthcare Delivery Research Program and Professor of Medicine for Mayo Clinic.
Back to the things you missed; a Chapter Reception dinner was held at Delmonico's Italian Steakhouse on our last night in Orlando. The dinner was impressive, boasting the largest steaks the other side of Texas, huge shrimp and pasta dishes, and artery clogging desserts. Our speaker for the evening was Tom Tape, MD, FACP, the former Nebraska Chapter Governor. Dinner conversation was informal and pleasant, and all had a good time. Thanks to all who attended and to Dr. Tape for keeping the event lively.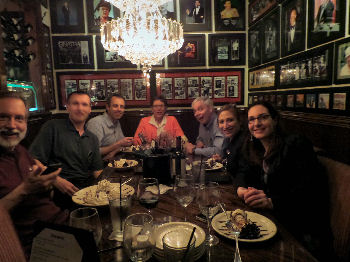 Chapter Dinner
---
Spring Board of Governor Resolutions
Also happening at IM2014, at the Board of Regents (BOR) Organizational Meeting, Dr. Darilyn Moyer, Chair, Board of Governors, presented for discussion and vote nine Spring BOG Resolutions, along with recommendations for their referral. If you are interested, you may read them in the BOR Minutes.
---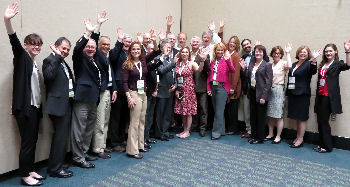 BOG Class of 2016
ACP Pledge
At the end of the IM2014 Convocation ceremony, members were asked to recite the pledge of the American College of Physicians.
I affirm my belief in the mission of the American College of Physicians,
To preserve and maintain the highest traditions and precepts of our professional calling And I solemnly declare that I will conform to these ideals to the utmost of my ability,
I therefore reaffirm my dedication to the practice of medicine,
To act always in the best interests of my patients,
To respect the reputation and integrity of my colleagues,
To supplement my own judgment with the counsel of others when the occasion requires,
To render assistance to my colleagues in every way,
To extend my professional aid to the unfortunate,
To increase my medical knowledge and understanding by continuing study by association with physicians of the highest intellectual and ethical standards and by the free exchange of information and experience with all of my medical colleagues,
I hereby pledge to uphold the ethics of medicine as exemplified by the standards and traditions of this College.
---
Celebrating ACP's New Brand Video
Your commitment to excellence brought you here, to lead internal medicine and improve lives. In case you haven't seen it, this is an excellent video celebrating membership in ACP. I would encourage you to take the three minutes required to watch it. Dr. Symington commented that it gave her goose bumps.
---
For Your Information
New, Free CME is available from Annals of Internal Medicine!
Introducing The Consult Guys! A unique and entertaining way to earn FREE CME from Annals of Internal Medicine! The Consult Guys make learning a pleasure!
Hosted by Geno Merli & Howard Weitz, two, seasoned clinicians, educators, and comedians who answer questions from preoperative evaluations to clinical puzzlers. Each episode reviews topics essential for anyone practicing internal medicine or its subspecialties.
Enjoy, learn, and laugh while Geno and Howard entertain and teach you on their medical consult talk show: Watch the videos and then take the companion CME quizzes, ACP Members and Annals subscribers can earn .5 CME credit per quiz. Nonmembers can purchase tokens for CME, two premier episodes are available now.
Episode 1: Cleared for Surgery? Perioperative Risk Assessment
Episode 2: Stumper: A 23 year old with a myocardial infarction - will you get the right diagnosis? Tune into a new episode each month.
---
A Message from your Executive Director
The Idaho Chapter Governor Elections are coming up soon. Please be sure to watch your email for information and requested responses. Also, if any of you have any topics you would like to see covered on our Facebook page or at a future meeting, please let me know by sending an email and I will see what we can do to accommodate the request. All suggestions are welcome! Additionally, I would like to add a section to our Chapter Newsletter, a member's editorial. If you would be willing to contribute to the newsletter, send a note, to Kelly Hess.
One other thing; please come visit our Facebook page. It's not all business, we try to have a little fun there too.
---
Save the Date!
ACP Idaho Winter Conference
January 15, 2015 through January 18, 2015
Hunt Lodge
McCall, Idaho
E-mail Kelly Hess for more information.