2022 Chapter Awards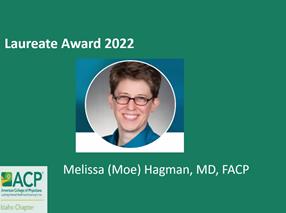 Congratulations to our Laureate winner: Melissa (Moe) Hagman, MD, FACP
Melissa (Moe) Hagman, MD, FACP, completed her undergraduate studies at the College of Idaho in 1995. She then earned her medical degree from the University of Washington (UW) School of Medicine in 1999. Moe completed her Internal Medicine Residency at the UW Seattle/Boise Combined Internal Medicine Residency Program in 2002. She served as Inpatient Chief Resident at the UW Medical Center in Seattle, WA, until 2003. She became faculty at UW Medical Center. In 2008 she became an Associate Program Director for the UW Internal Medicine Residency based in Seattle. Moe moved back to Boise in 2011 to be near family and to assume the role of Associate Program Director at the newly formed, three-year, UW Boise Internal Medicine Residency. In 2017, Moe shifted into the Program Director role. She is also a hospitalist and palliative care physician at the Boise VA Medical Center. The joys of her life are her wife, her family, and the 30+ residents and students she has the pleasure to work and learn with each year.
Moe has been instrumental in developing the Idaho chapter of the College as well as contributing significantly at the regional and national level. She serves on the Hindson Winter conference/Idaho ACP meeting planning committee. She oversees the Associate abstract presentations at the Idaho ACP meeting. She has run MOC sessions at both Idaho ACP and Washington ACP meetings for several years. She hosts Doctors' Dilemma competitions at the Washington ACP and national ACP meetings. She has eight teaching awards as well as other awards for excellence in leadership and clinical care. Moe embodies the best characteristics of a Laureate awardee—fully committed to excellence in medical care, education and research, and has provided distinctive serve to her community, the Idaho ACP chapter and the entire ACP organization. She is most deserving of the recognition and honor of the Laureate Award.
It was also a banner year for Teaching Awards: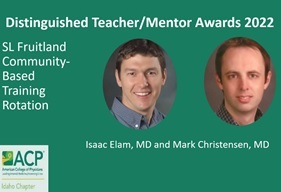 Congratulations to Isaac Elam, MD and Mark Christenson, MD, FACP for the teaching they do of medical students and University of Washington Boise Internal Medicine residents in their practice in Fruitland, ID.
Another Teaching Award was presented to: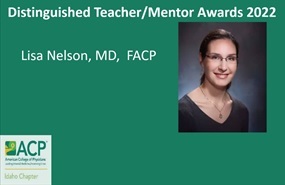 Congratulations to Lisa Nelson, MD, FACP for being a fierce advocate for the continuation of education despite our challenges with COVID. Dr. Nelson is passionate about medical education, peer to peer support, and is one of the main leaders of exploring and planning out the future for graduate medical education in Idaho.
Congratulations to our Chapter Abstract Winners
Quality Improvement-Patient Safety - Resident Fellows – James Yan, MD for "Improving Transitions of Care for CHF Patients"
Clinical Vignette - Medical Students – Camas Curren, MS3 for "That Diaphragm is Not Supposed to Be There"
Clinical Vignette - Resident Fellows – Pramod Chavali, MD and Rick LeCheminant, DO for "Metastatic ACTH-producing Neuroendocrine Tumor Presenting as Difficult to Control Hyperglycemia"