The Chapter Centennial Legacy Award celebrates ACP's centennial by recognizing one seminal chapter member whose service to the chapter had a significant impact on the chapter's viability. This individual should exemplify ACP's core values including:

Leadership
Excellence
Respect
Compassion
Professionalism
Responsibility
Read about the state awardee and join us in congratulating him.
---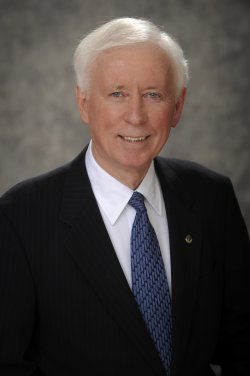 For a career dedicated to the practice and service of our profession, the Florida Chapter is honored to nominate Cecil B. Wilson, MD, MACP for the Centennial Award.
A board member of FSIM and ASIM, he served as Secretary, Treasurer, Vice-President and President-elect of FSIM. Within ACP, he ascended to Chair of the Board of Regents. His ACPASIM Merger Committee led to today's unified College.
He is an unparalleled voice for internists on state and national levels. His peers have elected him President of the Florida Medical Association, the American Medical Association, and the World Medical Association. Yet despite his national and international obligations, Dr. Wilson remains a fixture at Chapter events; most recently strategizing with residents and new chapter leaders at this year's meetings.
In summary, Dr. Wilson exemplifies the definition of mentor, teacher, friend, humanitarian, visionary, and leader. His life embodies the foundation of the College's Core Values.
More about the Chapter Centennial Legacy Award:
Award Booklet - full listing of winners
Press Release Template - for Chapter use