You are here
News & Meetings
News & Meetings
---
2020 Chapter Virtual Annual Scientific Meeting
November 14-15
Already registered? Visit the chapter virtual meeting hub.
Please contact Kat Cavallo for information.
---
---
We'd like to acknowledge and thank the many members who have contributed so much of their time, energy, and talent during this pandemic crisis. Do you have a DC ACP member whose work in this pandemic should be highlighted? Someone who has led, volunteered or otherwise inspired? Send the Governor an email at sshoham1@jhmi.edu and tell him about them. Please read the first in this series about Peter Marks, MD, PhD, FACP.
---
Please read this important information from the Office of the State Superintendent of Education.
---
District of Columbia Chapter Receives 2020 Chapter Excellence Award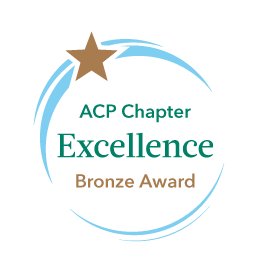 We are pleased to announce that our chapter is in receipt of the Bronze Level of the 2020 Chapter Excellence Award! The award recognizes chapters that achieve basics in chapter management. In order to achieve the Chapter Excellence Award, chapters must meet twenty-one Bronze criteria. Criteria include such activities as being involved in advocacy activities, communicating with members, having a chapter/regional scientific meeting along with a planning committee, having a sound financial structure in place, recruiting and advancing members and having an awards committee that identifies candidates for local or national awards. We would like to extend a special thanks to those chapter members who assisted us in all of these endeavors! For their hard work and dedication, we received this award.
---
2019 Annual Chapter Meeting - Thanks for Attending!
2019 Chapter Meeting Presentations
Claim Your CME Credits for the 2019 Chapter Meeting.
---
Medical Society of the District of Columbia Request
Lawyers Seek Physician Help: Physician Consultation Services Needed for Compassionate Release of Terminally III and Medically Disabled Prisoners
Please see the flyer for more information.
---
Past Events
Financial Planning Event
The DC Chapter sponsored an early career event with the Medical Society of DC and Suntrust to raise awareness about financial planning.
News
---
Physician Burnout and Wellness Resources
Agency for Healthcare Research and Quality (AHRQ) and ACP Partnership
CP is a national partner with the Agency for Healthcare Research and Quality, helping to raise awareness and encourage use of AHRQ's evidence-based resources designed to help clinicians and patients make informed treatment decisions. Please read more information online.
Community Partnership to Help Youth with Special Health Care Needs Transition from Pediatric to Adult Care
Governor's Newsletters
Governor's Newsletters Archive
-->