You are here
Meet Our Governor
Meet Our Governor
The District of Columbia Chapter Governor, Ashesh D. Patel, MD, FACP started his four-year term as Governor in the Spring of 2016. As Governor, Dr. Patel will serve as the official representative of the College for the District of Columbia Chapter, providing a link between members at the local level and leadership at the national level. To learn more about Dr. Patel, feel free to read his bio below.
---
Ashesh D. Patel, MD, FACP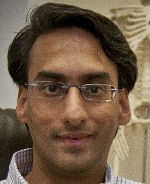 EDUCATION: BA: University of Cincinnati, Cincinnati Ohio, MD: University of Cincinnati, Cincinnati Ohio
POST DOCTORAL TRAINING: Internship: Good Samaritan Hospital, Cincinnati Ohio (Internal Medicine) Residency: George Washington University (Internal Medicine)
CERTIFICATION: I am Certified as Diplomate of American Board of Internal Medicine (time-limited: 1999-2009, 2009-2019) and I am currently meeting MOC requirements.
PRESENT POSITION: Primary Care Physician in private practice since 2000.
ACP CHAPTER INVOLVEMENT AND LEADERSHIP ACTIVITIES: DC Chapter Leadership Award (2013). Chair, DC Chapter Early Career Physician committee (2014). Poster Judge, DC area ACP Steps to Success Symposium for med students (2014). Current Active member of DC Chapter Governor's Council, Health Policy committee, Scientific Program committee, Medical Student Mentoring Program. Regular Attendee, DC Chapter Scientific Program. PGY-3 Team Leader, GWU Team, Medical Jeopardy Contest, DC Chapter Associates' Meeting (1999).
OTHER APPOINTMENTS/ACTIVITIES: I joined ACP in 1996 as an Associate during residency training, was directly elected to Membership in 2001 and became a Fellow in 2013. Current Participant, ACP SIG (Special Interest Group) online forum. Current Participant, ACP IM Insider focus group research. Past Participant in Pre-Testing MKSAP questions.
AREAS OF PROFESSIONAL INTEREST AND EXPERTISE: General Internal Medicine. Health Policy in regards to Physicians and Patients.