You are here
Governor's Newsletter February 2016
Governor's Newsletter February 2016

---
In this Issue:
---
Governor's Notes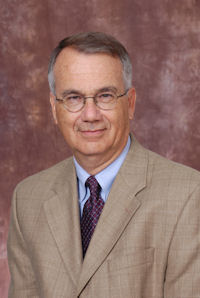 R. Bradley Slease, MD, FACP, ACP Governor
This will be my final newsletter message as a Governor of the Delaware Chapter. As someone who was initially ambivalent about taking on the position, I can honestly say it's been an amazingly fulfilling experience, one I would recommend to all of you. For me, it has been an opportunity to continue my involvement with the chapter, and to become associated with the College at the national level.
During my four year tenure, the changes in medical care and in our health care system have been nothing short of phenomenal. The development of targeted therapies has revolutionized the management of many diseases, including many of those in my own subspecialty, yet the costs of these agents threaten to bankrupt the system. Since the implementation of the Affordable Care Act, more than 19 million previously uninsured citizens now have health coverage, yet many of our elected officials remain intent upon dismantling this program and reversing the gains that have been made. ACP has been consistent in its support of universal health care, but sadly, we remain the only developed country in the world that does not provide health care for all of its citizens.
ACP's advocacy efforts have also focused on the concerns of practicing internists and subspecialists. After many years of lobbying efforts, the onerous SGR has finally been repealed. The ABIM's maintenance of certification program is undergoing extensive revamping, in large part due to the concerns of ACP's leaders and the membership.
To improve our professional lives, ACP has developed the Patient-Centered Medical Home model, which promises to increase quality of care while supporting the traditional concept of internal medicine as a relationship-based, longitudinal care specialty. ACP has developed care guidelines for a number if commonly encountered disease situations, and is promoting a "Patients Before Paperwork" initiative to minimize the time internists spend doing irrelevant, non-patient-care activities. The "Choosing Wisely" campaign helps internists select appropriate, cost-effective diagnostic studies, and avoid unnecessary expensive testing. It provides support for internists to resist a defensive medicine posture. As a practicing internal medicine subspecialist for more than 40 years, I am very proud to be a member of this organization.
Before I complete my term as chapter governor at Internal Medicine 2016 in Washington, D.C. in May, there are a number of people I must thank. First, John O'Neill, our previous Governor, demonstrated amazing patience in teaching the business of the chapter to a clueless pupil, and has thankfully stayed involved as our Chapter treasurer. Mansour Saberi, MACP, also a previous Delaware chapter Governor, has continued to organize the annual Lower Shores ACP Conference in Rehoboth, and without him that outstanding event would simply not exist. We are all in his debt. And finally, I am deeply grateful to Ann Tennett, our Executive Director, who John O'Neill hired as one of his last acts as Governor, perhaps because he realized how much help I would need. Ann, who has served as Executive Director for a number of chapters for several years, has forgotten more about ACP business than I will ever know. Without her, the Delaware Chapter would probably not still be afloat.
At the May meeting, our new Governor, Tabassum Salam, will begin her four-year term. She has already begun the transition, and I am confident the Chapter will be in capable hands. As a start, she was one of the speakers at our upcoming ACP Chapter meeting on February 13th. Cheryl Jackson, MD, FACP, our program chair, put together an excellent group of speakers. The representative from the national office was Doug DeLong, MD, FACP, the current Governor from New York Hudson Valley, Chair-elect of the ACP Board of Governors, and a member of the Board of Regents.
Once again, thanks for your support during these past four years. It has been a privilege for me to be your Chapter Governor, and I am grateful for the opportunity.
---
Chapter Excellence Award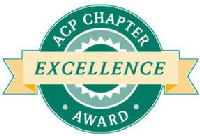 I am pleased to announce that our chapter is in receipt of the 2015 Chapter Excellence Award! The award recognizes chapters which successfully meet the standards for managing a chapter. In order to achieve the Chapter Excellence Award, chapters must meet all basic criteria and seven optional criteria. Criteria include such activities as formulating an effective Governor's Council and committees, communicating frequently with membership, providing educational opportunities, recruiting and advancing members and celebrating membership through local awards. I would like to extend a special thanks to those chapter members who assisted me in all of these endeavors! For their hard work and dedication, we received this award.
---
A Few Words from Your Governor-Elect

Tabassam Salam, MD, FACP, ACP Governor-elect
Hello Fellow Chapter Members. I hope everyone is off to a roaring start in 2016!
I have to admit, winter isn't my favorite season, but I constantly remind myself that Spring will soon be here. Spring, 2016 is going to be exciting and busy for our ACP members. Of course, Internal Medicine 2016 will be held from May 3 to 7 in Washington DC, and this year, there is a special bonus for our members who are interested in public policy.
Leadership Day 2016 and Internal Medicine Meeting 2016 are both being held in Washington DC during the same week. Leadership Day is our annual advocacy day on Capitol Hill. This will be a great opportunity for ACP and our members to increase our presence on Capitol Hill and bring visibility to issues of common concern. The delegates from the Delaware Chapter will receive a comprehensive orientation and briefing on ACP's top legislative priorities and then have an opportunity to meet with legislators and the staff on Capitol Hill.
Here is a quick overview of Leadership Day activities:
Tuesday, May 3, 2016
Medical Students and Resident Fellows-in-Training Briefing
8:30–10:00 a.m.
Advocacy Workshop
10:30 a.m.–Noon
Presentations and Briefings
1:00–5:30 p.m.
Wednesday, May 4, 2016
Briefings and Hill Visits
7:00 a.m.–5:00 p.m.
If you are a member interested in public policy, join us!
This is a free event for our Chapter members. The Chapter will reimburse transportation and accommodation costs for 2 members to attend Leadership Day. Please contact Tabassum to join in.
Tabassum Salam, MD, FACP
---
ACP's Special Interest Groups
ACP's Special Interest Groups provide members with opportunities to engage in discussions online, share ideas, and support one another professionally and personally.
Participate by joining as many groups as you would like, then connect with ACP members from all over the world with similar interests. Groups include:
ACOs/New Practice Models | African American Members | Caring for Adults with Developmental Disability | Clinical Problem-Solving | Clinical Research | Emerging Technologies | Genetics and Genomic Medicine | High Value Care | Hospital Medicine | LGBT Health | Maintenance of Certification | Medical Students | MKSAP | Obesity Medicine | Perioperative Medicine | Physician Educators | Point-of-Care Ultrasound | Re-entry Physicians | Sex- and Gender-Specific Medicine | Small Practices | Volunteerism | Women in Medicine | Work/Life Balance | Working Abroad
Interested in a topic not listed? Contact ACP to ask about forming a new group.
---
Advocacy and Policy News for Internists
ACP Notes Some Legislative 'Big Wins' in the Past Year
Ending the SGR and maintaining the ACA top the 'good news' list for 2015
The American College of Physicians -- and patients and doctors in general -- enjoyed some major legislative victories in 2015.
"We had quite a winning streak -- one of the best years we've had in a long, long time," said Bob Doherty, ACP's Senior Vice President for Governmental Affairs and Public Policy. "This Congress ended up being more productive than some of its predecessors. It passed legislation, reached an accord on the budget and managed to avoid any government shutdowns -- all of those things that Congress should have been doing all along."
Areas in which the federal government took action to support physicians and patients in the past year included:
Medicare Reimbursement System. Last spring, Congress finally snuffed out the much-disliked sustainable growth rate approach to Medicare reimbursement. In its place came a complex reimbursement system designed to lower costs and support high-quality health care. The change means that the annual congressional battles over Medicare reimbursement are history, along with the accompanying uncertainty about whether physicians would get paid.
"A lot of people have forgotten about that," Doherty said, "but it was a really big deal, maybe the biggest legislative accomplishment for ACP and organized medicine in decades."
ACP still has work to do as the federal government works out the kinks of the new reimbursement system, but even so, the victory is still sweet, he said.
Health Care Coverage. Congress did pass a bill to repeal the Affordable Care Act, but President Obama vetoed it early this month. Ultimately, then, "Congress didn't do anything to substantially gut, defund or hurt the key coverage requirements of the Affordable Care Act," Doherty said. In addition, the Supreme Court in June confirmed the legality of the federal subsidies for insurance coverage, considered a cornerstone of the ACA.
Health Care Costs. Doherty also noted that Congress took action to rein in the cost of drugs and phase out higher payments for outpatient care offered by hospitals. Critics argue that these payments give hospitals an incentive to gobble up private practices. Congress also delayed until 2020 implementation of a tax on high-cost employer-sponsored health insurance plans.
Electronic Health Records. As part of its budget agreement, Congress gave the Centers for Medicare and Medicaid Services the authority to streamline the process for granting hardship exemptions so that doctors who treat Medicare and Medicaid patients would not be penalized for being unable to meet the reporting deadline on "meaningful use" of electronic records because the government published the rule too late. For 2015 alone, doctors can affirm their meaningful use of electronic records for any 90-day period. "We and the American Medical Association pushed Congress very hard to get legislative relief," Doherty said. "Right before they adjourned, they passed the legislation. That's a big, big win for us."
Advance Care Planning. Congress did not intervene to stop Medicare from paying for advance care planning as of this year. Doherty noted that that should end the battle over so-called death panels, with its misleading claims, and will enable physicians to be paid by Medicare for helping patients plan their final days, including discussions on living wills and advance directives.
The achievements of 2015, Doherty noted, came with a lot of hard work.
On the sustainable growth rate issue, for instance, "we just wore them out," he said. "They were so tired of having to deal with it every year and hear from physicians lobbying them. And we laid the groundwork for two years in a row when we brought forth consecutive ideas about how to get rid of the SGR and how to replace it. We came to the table with ideas about how to transfer to alternative payment models."
Despite the year's successes, "I don't think we're out of the woods," Doherty said. "We haven't entered a new year of bipartisan agreement."
And, there have been disappointments. The start of 2016 brought the end of 10 percent bonuses in Medicare reimbursements for primary care physicians. "Although there was a lot of interest in continuing the program among Republicans and Democrats alike," Doherty said, "it fell victim to several things, like the cost and the difficulty in getting Congress to spend more money on anything these days."
The initiative to reduce gun violence that ACP pushed for also didn't come about. Nor did federal funding get approved, as ACP had hoped, for a study into shortages in the primary care workforce.
But overall, Doherty said, 2015 brought plenty of good news.
January 13, 2016
Health News Copyright © 2016 HealthDay. All rights reserved.