You are here
Governor's Column
Governor's Column

| | |
| --- | --- |
| January 2014 | R. Bradley Slease, MD, FACP, ACP Governor |
---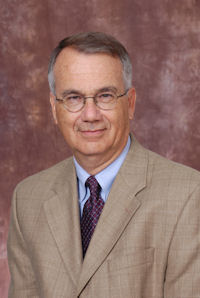 Some random thoughts while watching the Rose Bowl and waiting for the next consult . . .
We hear a lot about changing the compensation formula for physicians from a volume-based system to one rewarding value. That idea seems attractive on the surface. If successfully implemented, it might help enable us to provide quality, comprehensive care for patients, which they demand and deserve. On the other hand, I've seen little evidence that volume pressures will diminish significantly in the near future. I suspect that the modest income supplements afforded by so-called "pay for performance" will not lead to spending more time with individual patients. There are a number of reasons for this: a growing primary-care manpower shortage; an increase in the number of patients entering the healthcare system; and the rising pressures placed on salaried physicians by hospital administrators desperate to maintain their revenue margins.
My biggest problem with value-based compensation, though, is the definition of "value". Are we talking about value to patients? The value benchmarks, at least for hematology, set an embarrassingly low bar for quality. Instead, they promote the one-size-fits-all, cookbook approach to care. They do not begin to assess the clinical judgment of internists and subspecialists. Furthermore, there is a dearth of evidence that meeting these benchmarks actually improves the quality of care delivered to patients. My fear is that value will inevitably become defined more by cost-savings to institutions and third-party payers than by quality of patient care.
ACP has long championed the concept of the patient-centered medical home for primary care internists and, for subspecialists, the PCMH "neighborhood". This is an approach to value-based care that changes compensation formulas for physicians and arguably provides better, more comprehensive care to patients with some cost savings. While the PCMH has not yet gained great traction in Delaware, some small groups are moving in this direction. Feedback I've received from a few primary care internists, however, points out the formidable up-front costs and increased administrative burdens needed to establish such a program. To help internists with this transition, ACP has developed ACP Practice Advisor, an online tool. I encourage you to access the ACP website for more information. To date, more than 5,000 primary care practices nationwide have adopted this model and patient satisfaction has been excellent.
Finally, let me encourage all of you to attend our annual chapter meeting February 22. Jim Ruether has put together a terrific scientific program. (Here is the program and registration information.) Our guest speaker from the National ACP Washington Office is Bob Doherty, Senior Vice-President for Government Affairs and Public Policy. Bob will give us an update, in his usual dynamic fashion, of the trials and tribulations of the ACA rollout and ongoing implementation. Prior to the meeting, let me refer you to his postings on The ACP Advocate Blog, which can be accessed from the ACP website. His most recent posting is a priceless parody entitled, "The Twelve Weeks of Obamacare". Those of us who favor universal healthcare, and believe that the Affordable Care Act is an important, if flawed, first step, have to be able to laugh at ourselves. I have to believe it will get better.
---
Medical Jeopardy Competition
Matthew Burday, DO, FACP
What encapsulated organism can lead to life threatening complications in patients treated with Eculizumab? Answer: What is Meningococcus?
What cardiac disorder is associated with almost complete absence of the right ventricular myocardium, normal tricuspid valve, and preserved septal and left ventricular myocardium? Answer: What is Uhl's anomaly?
These were just a small sample of some of the questions confronting the Department of Medicine's Jeopardy team from Christiana Care this past fall. On October 30, 2013, Drs. Mike Gross, Reena Mascarenhas, and Usman Choudhry made their way to Einstein Medical Center in Philadelphia. Akash Sethi was the alternate. The questions flew fast and furious; and, while many in the audience concurred that some of the questions seemed esoteric to say the least, a good time was had by all. The team did well on the hot seat with hands close to buzzers staring down their competitors. At the end of the first round, however, Christiana was defeated but not broken. "Jeopardy" is a team event and it's the camaraderie of the team that makes preparing for the event and then actually being there in all the excitement a fun time.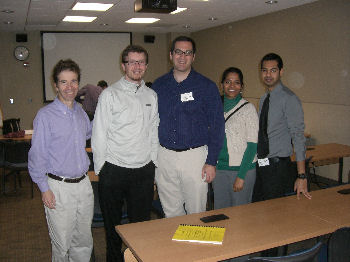 From left to right: Matthew Burday, DO; Donald Slack, MD; Michael Gross, MD; Tresa Mascarenhas MBBS; Usman Choudhry, DO MPH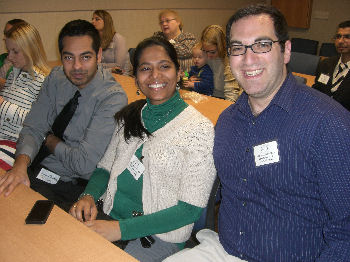 From left to right: Heather Ragozine, MD (head down); Usman Choudhry DO MPH; Tresa Mascarenhas MBBS; Michael Gross MD
In the end, Einstein took home the winning trophy. In addition to Christiana (the only team outside Pennsylvania), teams competing came from Penn, Jefferson, Abington, Crozer, Pennsylvania Hospital, Drexel, Lankenau, and Temple.
We are looking forward to next year and hope to advance further! Piebaldism and Cameron ulcers here we come!
---
ACP announces new Leadership Academy
The ACP Leadership Academy is ACP's new leadership development program designed to provide early-career internists with the skills and knowledge necessary to become leaders in medicine.
The program's first offerings will be live and online courses offered in partnership with the American College of Physician Executives (ACPE), the nation's largest health care organization for physician leaders. These courses are eligible for CME credit through the ACPE and were selected to provide episodic leadership training for members wanting to brush up on a specific content area. Participants can put these courses toward earning a nationally recognized leadership certificate from the ACPE and can also roll course credits into advanced degree programs from accredited universities. ACP members will receive a 15% discount on approved courses.
In addition to these courses, in coming months, the ACP Leadership Academy will begin offering additional, informal leadership development opportunities via other College-wide vehicles to enhance the formal coursework.
The new ACP Leadership Academy replaces ACP's Leadership Enhancement and Development (LEAD) program. Members currently pursuing an ACP LEAD Certificate must declare their intent to complete the requirements by e-mailing ACP by Dec. 31, 2013. To earn a LEAD certificate, you must participate in 5 out of 7 LEAD activities and complete your application by June 30, 2014. Former ACP LEAD certificate recipients and members who have completed some but not all of the requirements for a LEAD certificate may transfer up to 22 credits toward completion of the prerequisites for ACPE's certificate by June 30, 2014. To determine how many credits you may transfer, please e-mail ACP by Dec. 31, 2013. Applications for ACP's LEAD certificate or transfer of credits will not be accepted after this date.
More information, including a list of courses and LEAD transition information, is online.
---
ACP Practice Advisor
(formerly Medical Home Builder) Now Free to Internal Medicine Training Programs
ACP Practice Advisor continues to improve and expand. First offered as Medical Home Builder, the online tool provides practice assessment based on national standards related to PCMH and the input of experts, contains content on a wide variety of topics, and hosts a large library of resources to be used by practices interested in improving their clinical and practice operations. In addition, MOC "self evaluation of practice performance" points are available at no additional charge. If you are unfamiliar with Practice Advisor, please register for a free demonstration.
To help prepare young physicians for their roles in contemporary practice, the American College of Physicians is offering Practice Advisor to internal medicine residency training programs at no charge.
To set up account or to ask questions, please contact Paula Woodward or practiceadvisor@acponline.org.
.