You are here
From the Governor July 2012
From the Governor July 2012

| | |
| --- | --- |
| July 2012 | R. Bradley Slease, MD, FACP, ACP Governor |
---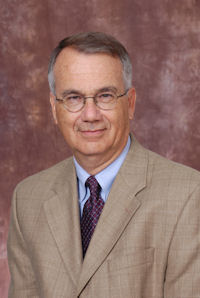 By now, all of you are aware of the Supreme Court's decision to uphold the constitutionality of the Affordable Care Act. Regardless of your opinion about the decision, I encourage you to read the comments of Dr. David Bronson, ACP President, on the College website, (www.acponline.org). Dr. Bronson points out some of the positive features of the legislation, including elimination of insurance limitations on annual and lifetime coverage, allowing coverage of young adults on their parents' plans up to age 26, phasing out of the Medicare Part D doughnut hole, and providing no-cost preventive care benefits. Taken together, along with the individual insurance mandate and expansion of Medicaid coverage to those with income up to 133% of the poverty level, these provisions will expand health care coverage to millions of previously uninsured Americans, a huge step toward ACP's long-standing goal of universal health care. For physicians, the legislation supports funding for primary care programs, for testing of new patient-centered payment and delivery models, and for research to assess effectiveness of different therapies.
No one believes that the ACA is a perfect piece of legislation. For example, it does not address the ridiculously flawed SGR formula; it takes no position on medical liability reform; and it apparently does not provide for the government to negotiate Part D drug prices with pharmaceutical companies. Those reforms, which could potentially save billions of dollars, are sorely needed. Despite those deficiencies, the College believes that the ACA is an important first step in improving health care for all Americans and should be implemented immediately.
In September, the ACP Board of Governors will meet in Vancouver to consider 13 resolutions for adoption. These resolutions are posted on the ACP website for your consideration. Some of these resolutions are clearly controversial, such as the recommendation that the ACP advocate for immediate adoption of a single payer health care system. The Board of Governors will vote on these resolutions; those that are affirmed will be sent to the Board of Regents for final action. I encourage you to read these resolutions and I welcome your comments on any or all of them. They will be collated by the ACP National Office, forwarded to me, and I will certainly express your thoughts at the Governors Board Meeting.
There are a few changes to announce in the Delaware Chapter leadership group: Ann Tennett, who has experience in the Virginia and D.C. Chapters, will be our Executive Director; John O'Neill will serve as treasurer; Nancy Fleurancois has replaced Edmondo Robinson as head of our Council of Young Physicians and will be planning programs for the coming academic year; Javid Gilani will chair the Awards Committee with the help of Steve Weatherill, our most recent Laureate awardee; Heather Ragozine-Bush, the Chief Medicine Resident at CCHS, will chair the Associates group.
Finally, I encourage you to attend the annual Lower Shores meeting in Rehoboth Beach on October 27th. Once again, Mansour Saberi and Bandu Palekar have put together a terrific meeting that includes five hours of CME credit. I've never failed to learn useful clinical information at that meeting. Besides, it's a day at the beach. Space is limited, so register early.
Between now and the next newsletter in January, if you have any issues you'd like to discuss, please contact me. My e-mail address is bslease@dclp.com and the office phone is 737-7700.
Brad
---
Leadership Day
Daniel Elliott, MD, FACP
We had a highly successful Leadership Day again this year. I was pleased to be joined this year by Brad Slease, Eric Schwartz, Heather Ragozine-Bush, and Kristen Facciolo. Eric is the Associate Medical Director of the Medical Group of ChristianaCare, Heather is the incoming Chief Resident of Internal Medicine at ChristianaCare, and Kristen just graduated from LECOM and will an incoming categorical internal medicine resident at ChristianaCare. It is always beneficial to have varied backgrounds in our group, and this year was no exception. Our breadth of experiences allowed us to speak to many different issues that arose during our meetings with Legislative Aides for our Congressional delegation.
It's clear that money is tighter, politics more divided, and inertia more active than in years past. Our primary "asks" focused on core priorities. The three priority issues were:
Eliminating the Sustainable Growth Rate (SGR). It would not be Leadership Day if we did not have to talk about SGR! For those of you who don't know, the SGR is the formula initiated by Congress during the Balanced Budget Act of 1997 that mandates reductions in the Medicare Physician Fee Schedule to compensate for overall growth in health care spending. This has been a recurrent issue over the last several years and, due to previous reluctance to solve the problem, will mandate a 30.3% cut in Medicare payments to physicians on January 1, 2013 if left in place.The good news this year is that we heard continually that there is no will to see these cuts go into effect. The bad news is that there is no consensus on how best to make it all just go away. There is a bill in the House (HR 5707 - Medicare Physician Payment Innovation Act of 2012) sponsored by Allyson Schwartz (D-PA). The bill would repeal the SGR permanently using money from the Overseas Contingency Operations Fund and provide for stable updates for the next few years while as a system we transition to newer payment models. The bill has bipartisan support with co-sponsorship by Joe Heck (R-NV), an Emergency Department Physician. We also learned yesterday that Rep. Carney signed on as a co-sponsor, which is good news.
Eliminate projected cuts under Sequestration. Perhaps like me most of you associate sequestration with splenomegaly, but in fact this time sequestration refers to the across-the-board budget cuts mandated by the Budget Control Act of 2011. This is the bill that took effect when the infamous "Super-Committee" was unable to chart a path forward for cost containment. We advocated for selective preservation of key health care programs that have implications for the supply of physicians to primary care and patient access, including the National Health Service Corps and Title VII Funding for Primary Care Training. We also advocated for continuation of funding for public health and research infrastructure including the Centers for Disease Control (CDC), Agency for HealthCare Research and Quality (AHRQ), and the National Institutes of Health (NIH).
Liability Reform: We always feel like a little bit of a broken record here, but we continued to advocate for caps on non-economic damages as well as the introduction of pilot funding for health courts. Health Courts would utilize specially-trained judges and medical experts to expedite fair and just decisions about medical liability claims.
I encourage you to read more about each of the priority issues.
I hope that you will consider lending your voice to our ongoing advocacy efforts in the year ahead.
---
A trip to the White House…sort of.
John H. O'Neill, D.O., FACP
Immediate past-Governor, DE Chapter
Since I get a lot less email than Brad Slease these days, I have some free time for extra-curricular activities, like visiting the White House - well, almost. I still have the privilege of serving on ACP's MPQC (Medical Practice and Quality Committee, DC Office), and was lucky to be one of three physicians to be invited to a conversation on care coordination, hosted by the Obama Administration's staff and Secretary Kathleen Sebelius of US Dept. of Health and Human Services, on June 6th. This was held at the Eisenhower Executive Office Building, a mammoth Civil War-era marble palace, next to the west wing of the White House.
Dr. Mary Newman (immediate past-Governor, Maryland) and Doug Delong (Governor, Hudson Valley, NY) and I were among about 80 physicians, representing half as many medical organizations at this 2 hour conference. Among the listeners were Dr. Richard Gilfillan, Director, Center for Medicare and Medicaid Innovations (HHS), Dr. Richard Baron, also of CMMI, and Liz Fowler, Special Assistant to the President for Healthcare and Economic Policy. The White House Staff had assembled an intriguing four-member panel of physicians who are currently involved in active patient-centered medical home (PCMH)-based delivery systems, from small group practices to larger rural and urban academic centers, and Federally Qualified Health Centers. We had the opportunity to hear these physicians describe how they became involved in their current practice arrangements, and what their days are like, taking care of patients in that practice paradigm. It was interesting and inspiring, to say the least.
Many of the attendees had the opportunity to step up to the microphones and describe their concerns about inequities in our health system, their suggestions for delivery system reform, problems they have encountered locally, and how lack of communication between health care professionals remains a huge deterrent to improving care of patients, here and now. I expressed concern about the large number of physicians who are in solo and small group practices (~45% of US physicians), barriers they face in considering adoption of the PCMH in their practices or relating to ACO's, and how shared community resources (such as care manager/coordinators, clinical pharmacists, home health agencies, mental health professionals and social workers) might be part of a solution to this challenge. Another concern of the group was the current status of implementation of health information technology in physicians' offices and hospitals, and how expense, barriers to efficiency and lack of interoperability are limiting the potential of this effort.
One theme we heard was clear: our health care delivery system is transforming, and physician payment methodologies will be transforming with it. The "change" train is leaving the station and for the next 6-8 years, we who provide medical care for patients will need to find ways to be on-board. Since the government can only be our partner in this transformation, physician leadership will be paramount to ensuring the success of this process. We have seen some small steps in this direction recently here in Delaware, with the Medical Society's PCMH initiative, partnering with BCBS of DE. It is reasonable to ask ourselves the question: "what is my role in this innovation/transformation process?"
The group that gathered that day agreed that the conversation should be continued and the administration's staff will be facilitating that ongoing communication. I hope to have something good to report from this effort, in the future.
---
DE Chapter Health Literacy Project
I am happy to report that the Delaware Chapter still has funds to support the Health Literacy Project we started a few years ago with the assistance of a grant from the ACP Foundation. In this, we created a tri-fold medication list card, with room for 14 medications, details about their brand and generic names, and their doses and indications, that could be used in physician offices and distributed to patients to help them with the complicated but essential process of medication reconciliation. The project attempted to draw attention to the fact that brand and generic names of medicines can create significant confusion on the part of patients, and may result in their omitting or duplicating their medications, resulting in preventable morbidity and mortality.
35 physicians have participated in the project thus far, and have favorably reviewed its impact on the care they provide to patients. The medication list cards are still available to new and previous participants upon request, in packs of 100, along with simple posters for the exam room that explain their purpose to patients. If you would like to try these, or are missing them and want some more, please send me an email at drjho7@verizon.net with "med cards" in the subject line and we'll get them out to you, at no cost. My patients love them and I have distributed close to 500 cards in my office thus far. Our chapter plans to continue the project as long as funds are available.
Thanks in advance for your interest and participation!
---
Annals of Internal Medicine Launches New Web Site
Sophisticated Web Platform Features Advanced Content Delivery System, Optimized for Internal Medicine
PHILADELPHIA, June 18, 2012 - Annals of Internal Medicine, the flagship journal of the American College of Physicians (ACP), is launching its Web site - www.annals.org - on a new digital platform to provide internal medicine specialists and subspecialists with a faster, more personalized Web experience across Annals, ACP Journal Club, In the Clinic, and PubMed, and a new multimedia library. An improved search function delivers faster, targeted search results that incorporate individual preferences, and sophisticated article tagging enables automatic display of related articles.
"Visitors can access information quickly and easily - whether it is the latest Annals articles or related commentary, CME, multimedia content, patient education materials, or teaching slides," said Christine Laine, MD, MPH, FACP, Annals' editor-in-chief and senior vice president at ACP. "The new design, information architecture, and site navigation are intended to make the user experience more efficient, effective, and engaging for busy internists."
The new Annals' Web site has a cleaner, more attractive design new features including:
Online First: Streaming media of the latest clinical news before it is published in the journal's print edition.
Quick Links: Article-specific CME, slides, patient information, multimedia, and commenting and sharing features.
Smarter Article Collections: Immediate access to collections organized by specialty, disease, and special topics.
Better Search Tools: More meaningful results, with screening and refining options.
Mobility: Automatic mobile-friendly display when accessing annals.org from any smart phone.
Annals of Internal Medicine is one of the top five most widely cited peer-reviewed medical journals in the world, with a current impact factor of 16.7. The journal has been published for 85 years. It accepts only about 7 percent of the original research studies submitted for publication. Follow Annals on Twitter and Facebook.
The American College of Physicians is the largest medical specialty organization and the second-largest physician group in the United States. ACP members include 132,000 internal medicine physicians (internists), related subspecialists, and medical students. Internists specialize in the prevention, detection, and treatment of illness in adults. Follow ACP on Twitter and Facebook.
Media Contact:
Angela Collom, ACP, acollom@acponline.org or 215-351-2653