You are here
From the Governor January 2013
From the Governor January 2013

| | |
| --- | --- |
| January 2013 | R. Bradley Slease, MD, FACP, ACP Governor |
---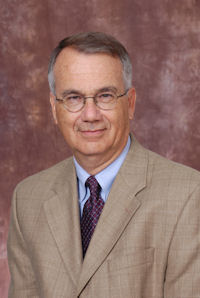 The Chinese curse, "May you live in interesting times", was intended to condemn recipients to lives of war, economic uncertainty, and government upheaval. The phrase could reasonably be applied to American physicians in this era. Those who believed the re-election of President Obama would guarantee a clear path forward for American medicine under the Affordable Care Act were, perhaps, naïve. In the words of Coach Lee Corso, "Not so fast, my friend".
Although the ACA has become law, aspects of it are already under assault. Several states have indicated their intentions to opt out of the Medicaid expansion provision. I cannot understand their rationale, as the federal government pays 100% of the additional coverage costs for the first 3 years, decreasing gradually to 90% in 2019. These funds offset decreased hospital payments for uncompensated care and provide payments to physicians for care given to previously uninsured patients. For those who fear that this and other provisions of the ACA would increase the deficit, the nonpartisan Congressional Budget Office projects that, if fully implemented, the ACA would actually decrease the deficit by $130 billion over 10 years. Not a bad deal, considering health care coverage will be expanded to nearly all of our citizens. Fortunately, Delaware has already agreed to participate in the Medicaid expansion, and to partner with the Federal government in the new insurance exchange program.
One important issue not addressed by the ACA is the flawed SGR formula, which as of this writing, would result in a nearly 30% reduction of Medicare/Medicaid payments to physicians, beginning January 1, 2013. While such a reduction is unlikely to occur, a permanent fix is not being seriously considered. Congress will probably "kick it down the road" once again, resulting in ever-increasing costs. Also, the ACA provision to raise Medicaid physician payments to Medicare rates is being re-considered, apparently to reduce entitlement spending. ACP has gone on record as opposing those cuts.
Another feature of the ACA important to physicians is the goal of shifting compensation from "volume-based" to "value-based" models. Of course, value is likely to be defined differently by payers, hospital administrators, and physicians. The benchmarks of quality that have been proposed so far seem somewhat superficial. Physicians need to take the lead in developing determinants of quality that actually reflect quality; not an easy task given the variability of individual patients. Those who believe "one size fits all" guidelines can be universally applied simply do not understand the complexities of patient care. If physicians do not lead this effort, we are likely to be saddled with a compensation system that is inequitable and detrimental to patients.
Clearly, the ACA is not a perfect piece of legislation and does not create a perfect health care system, but I am convinced it is an important first step. As Bismarck noted in 1867, "Politics is the art of the possible". Going forward, the key is for practicing physicians to have a voice in modifying the system to improve patient care. The ACP has been an advocate for universal health care for many years and is focusing its efforts on strengthening the role of primary care and of medical subspecialties. Their advocacy effort relies on input from practicing physicians like you and me. I encourage you to get involved and make your voice heard.
---
Delaware Chapter Scientific Meeting
The annual Scientific meeting will be held at Clayton Hall at the University of Delaware in Newark on Saturday, February 23. This meeting has been approved for 5.75 CME credits. The Program Committee has done a great job in choosing topics of interest with outstanding speakers. Topics to be presented are: "Pharmaceutical Update A to Z: New Drugs 2011-13"; "10 Most Important Papers of 2012 for your Practice"; "Doctors, Death, and Dignity: Using Your Heart as Well as Your Head in Medicine"; and, "Smoking Cessation: A Critical Component of Chronic Disease Management". Virginia Hood MBBS, MPH, MACP, former president of the College, will present the ACP Update ("Ensuring Value for Patients in a Cost-Conscious World"). The popular "Clinical Pearls" format will be used for presentations in bariatric surgery, cardiology and nephrology. There will be abstracts presented by both Medical Students and Associates. Registration information
A block of rooms has been reserved at the Courtyard Marriott-Newark. Reservations must be made by January 22.
---
ACP Adult Immunization Initiative
Happy New Year to our colleagues in the Delaware Internal Medicine Community! 2013 is off to a busy start, with the fiscal cliff negotiations of the Congress, and the troublesome issue of SGR related physician payment cuts, front and center on the health care policy agenda. As we look forward to the New Year, and the challenges it holds, I wanted to update Delaware ACP Chapter members about an exciting new Adult Immunization Initiative that your practice will have the opportunity to participate in.
The Center for Quality of ACP (from the Washington DC office) has obtained a grant from the CDC to support a project in which internal medicine practices can assess their current adult immunization practices, implement a plan to improve these practices, and measure the results of this plan. In essence, it is a quality improvement (QI) initiative for medical practices. As you are aware, practice based QI efforts will be part of our future as practicing physicians. Since many of us have little or no experience in the QI arena, ACP will be developing programs for its member physicians that will take the mystery out of QI efforts and make it much easier for us to participate.
Most internists provide some immunizations for their adolescent and adult patients. Most commonly, these have included influenza vaccine, pneumococcal vaccine, tetanus vaccines (Td and Tdap) and herpes zoster vaccine. Nationally, we know that adult immunization rates have been low. There are many reasons for this, and one is the lack of practice based initiatives that promote immunization. Other important factors are related to patient acceptance and cost/reimbursement issues. ACP and other physician specialty organizations have recognized these dilemmas and are promoting adult immunization efforts on behalf of physicians and their patients.
Those of us who have implemented EHR's in our practices have been required to report clinical quality measures (CQM's) as part of the meaningful use government incentive program. Some of the easier to document and measure CQM's have been immunization related. Starting in 2013, practices that do not participate in the government's PQRS program for this year, will receive a penalty linked to their Medicare reimbursement in 2015. Some of the PQRS measures are immunization related. Many of us are required to recertify in internal medicine every 10 years through the ABIM. A PIM (practice improvement module) is now required. An approved quality improvement (AQI) pathway is one way to accomplish this requirement, and it can be immunization based, if supported by a program through an organization such as ACPNet (ACP's practice based QI and research network).
You can see where this is going. ACP, as a professional organization for internal medicine is supporting its members by developing programs that coordinate making it easier for physicians to comply with government regulatory requirements, to avoid penalties in reimbursement, to participate in maintenance of certification, to facilitate receiving CME credit toward maintenance of licensure and to improve patient care. The idea is: practice based quality improvement efforts satisfy these multiple requirements simultaneously, to avoid redundancy and maximize benefit.
One of the ways Delaware internists can accomplish the above is through participation in the Adult Immunization Initiative. We are one of 7 chapters that will have this opportunity this year. Stay tuned, as more information will be available at our February Delaware Chapter meeting at Clayton Hall, and through chapter communications. If you think your practice may be interested in participating in this initiative as it unfolds this year, please feel free to contact me at drjho7@verizon.net for more information.
John H. O'Neill, D.O., FACP
Immediate Past Governor, DE Chapter, ACP
---
Welcome, New Fellows!
The Chapter would like to congratulate those who became new Fellows of the College in 2012. Congratulations! We look forward to your continued interest in the College! The new Fellows elected in 2012 were:
Reynold S. Agard, MD, FACP
Frank V. Beardell, MD, FACP
Kunal P. Bhagat, MD, FACP
Joanne C. Brice, MD, FACP
Michael W. Lankiewicz, MD, FACP
James A. Piacentine, DO, FACP
---
ACP Physician Affiliate Membership Now Available
Physicians trained in specialties other than internal medicine may now join ACP as Physician Affiliate members.
In the past, the College received requests for membership from physicians who did not meet the requirements of full Membership. These physicians often worked alongside ACP members in their practices, and were exposed to the valuable benefits and resources that the College offered. Until now, the College followed a rigorous review/approval process for these applicants. If elected, they were afforded the same rights and privileges as full Members.
In the spirit of supporting a patient-centered care delivery system based on a team-based environment, the ACP Board of Regents determined that the College should expand its eligibility for membership, while still maintaining its mission and focus on internal medicine. With that in mind, Physician Affiliate membership was approved.
Eligibility includes graduation from a medical school found in the International Medical Education Directory (IMED) maintained by the Foundation for Advancement of Medical Education and Research (FAIMER), and holding a current medical license to practice in their field. No applicant will be accepted as a Physician Affiliate member who has trained in, or who is practicing in, internal medicine.
ACP Physician Affiliate members have access to most of the benefits provided to full Members. They are excluded from voting, holding office, or attaining Fellowship in the College.
Dues for Physician Affiliates are the same as full Members. Outside of the US, Physician Affiliates may only apply for the online Membership option.
To learn more, or to share this opportunity with non-internal medicine physicians in your office, visit www.acponline.org/join.
---
Call for Fall 2013 Board of Governors Resolutions
Are you concerned about a practice or clinical issue or have an idea you'd like to suggest? If so, you might consider submitting a resolution to your Governor or chapter council.
Initiating a resolution provides ACP members an opportunity to focus attention at the ACP national level on a particular issue or topic that concerns them. Participating in the Board of Governors resolutions process provides the ACP grassroots member a voice and allows you to shape College policy that impacts the practice of internal medicine. When drafting a resolution, don't forget to consider how well it fits within ACP's Mission and Goals. In addition, be sure to use the College's Strategic Plan to guide you when proposing a resolution topic.
If effecting change interests you, the deadline for submitting new resolutions to be heard at the Fall 2013 Board of Governors Meeting is March 20, 2013. Members must submit resolutions to their Governor and/or chapter council. A resolution becomes a resolution of the chapter once the chapter council approves it.
Not sure how to begin drafting a resolution? Researching the College's position on an issue can give you a start. Visit the ACP Online homepage and click the "Advocacy" link in the right-hand, top margin to access ACP policy positions, read about recent ACP advocacy activities, or search the ACP's Public Policy Virtual Library (PPVL). Visit your chapter website, too, and click the link under "Advocacy" to access Electronic Resolutions System (ERS) where you can search past or proposed resolutions. A copy of the resolutions process is available on the ERS which furnishes more details on formatting resolutions, as well the process for submission, review, and approval.
Share your good idea with us. Draft a resolution.
---
Statement of the ACP: Reducing Firearms-Related Deaths and Injuries
Statement attributable to: David L. Bronson, MD, FACP, President, American College of Physicians
December 20, 2012
The incalculably sad and tragic murders of children, teachers, and staff at an elementary school in Newtown, Connecticut reminds us all that we are not doing enough as a country to prevent deaths and injuries from firearms.
President Barack Obama, in his remarks on Sunday at the Sandy Hook Interfaith Prayer Vigil, noted that "This is our first task - caring for our children. It's our first job. If we don't get that right, we don't get anything right. That's how, as a society, we will be judged. And by that measure, can we truly say, as a nation, that we are meeting our obligations?" The answer, he continued, is "We're not doing enough. And we will have to change."
The American College of Physicians, representing 133,000 internal medicine physician specialists and medical student members, is committed to being part of that change. Since 1996, ACP has proposed policies to reduce deaths and injuries related to firearms, even as we must also acknowledge today that we are not doing enough. Over the next weeks and months, ACP will review the research on the most effective approaches to reduce firearms-related injuries and deaths, and then from this review, offer our ideas for a multi-faceted, comprehensive approach.
But we know already that there are policies that can help and should be acted upon immediately. Congress should start by banning the sale of assault-type weapons and high capacity (ammunition) magazines that are designed to kill as many people as possible in the shortest possible time. Weapons like the semi-automatic rifle used to kill 26 children and adults at Sandy Hook Elementary School.
The public health system must be strengthened and adequately funded to provide access to treatment, as long as it is needed, to people with mental health and substance abuse problems. It is especially urgent that the system provide affordable and effective treatment options for persons who may be at greater risk of inflicting violence on themselves and others, even as we recognize that most persons with mental health and substance abuse problems pose no danger.
Government must not impose any restrictions on physicians being able to counsel their patients on reducing injuries and deaths from firearms in the home, as some state legislatures have attempted to do.
Much more, though, needs to be done, not only to prevent massacres like Sandy Hook, and Tucson, and Virginia Tech, and Aurora, and Columbine, but also to reduce the deaths and injuries that kill more than 10,000 people each year-- in their homes, neighborhoods, and workplaces.
President Obama observed that "No single law - no set of laws can eliminate evil from the world, or prevent every senseless act of violence in our society. But that can't be an excuse for inaction. Surely, we can do better than this. If there is even one step we can take to save another child, or another parent, or another town, from the grief that has visited Tucson, and Aurora, and Oak Creek, and Newtown, and communities from Columbine to Blacksburg before that - then surely we have an obligation to try."
The American College of Physicians concurs, and today we pledge to do our part to try to end the recurring tragedy of deaths and injuries from persons using firearms and all forms of violence.