You are here
Delaware Governor's Newsletter February 2018
Delaware Governor's Newsletter February 2018

---
---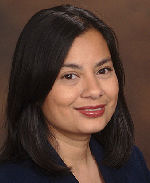 Tabassum Salam, MD, FACP, ACP Governor
---
Highlights from the Annual Chapter Meeting
We held another successful Chapter Meeting on February 10, 2018 in Newark, DE. Sincere thanks to Dr. Himani Divatia, Chair, and all members of the of the Program Planning Committee for a full year of hard work that culminated in a wonderful opportunity for learning and fellowship.
Dr. Micah Beachy joined us from the University of Nebraska Medical Center and elevated spirits with practical tips on how to stay resilient. Take a self-assessment to see if you are burned out. For practical tips on how to promote resilience in you and your colleagues, look here.
Thank you to Dr. Sourin Banerji from the Advanced Heart Failure and Transplant Cardiology practice of Christiana Care Health System for a wonderful summary of updates in CHF management. 2017 heart failure guidelines can be accessed here.
Dr. Albert Rizzo, Senior Medical Advisor American Lung Association, and Chief of Pulmonary and Critical Care Medicine, Christiana Care Health System shared a comprehensive update on COPD management. Details can be obtained here.
Dr. Nyasha George, from the Stephen Klein Health Center in Philadelphia, gave us a very informative presentation on caring for transgender patients. You can find more information here and here.
Dr. George Abraham, Professor of Medicine at the University of Massachusetts School of Medicine, summarized the hefty topic of Hepatitis C diagnosis and treatment. These references show the remarkable variety, simplicity and efficacy of Hepatitis C treatment today.
https://academic.oup.com/cid/article/66/3/464/4085946
https://www.hcvguidelines.org/
Dr. Caitlin Halbert, from the Advanced GI and Bariatric Surgery practice at Christiana Care Health System shared important tips on the long-term care of patients post bariatric surgery. Attached is a great infographic to share with patients, which illustrate the opportunity to resolve several on co-morbidities after bariatric surgery.
---
Chapter Awards
Every year, the Chapter recognizes outstanding members for their contribution to the practice of Internal Medicine and the DE Chapter.
The Laureate Award is designed to honor those Fellows and Masters of the American College of Physicians who have demonstrated by their example and conduct an abiding commitment to excellence in medical care, education, research, and services to the community, their Chapter, and the American College of Physicians. This year, we honor Cynthia Heldt, MD, FACP, who has practiced in Wilmington, DE for over 3 decades. Dr. Heldt has not only provided excellent patient care, both in the ambulatory and hospital setting, but has also served as educator and mentor for many residents.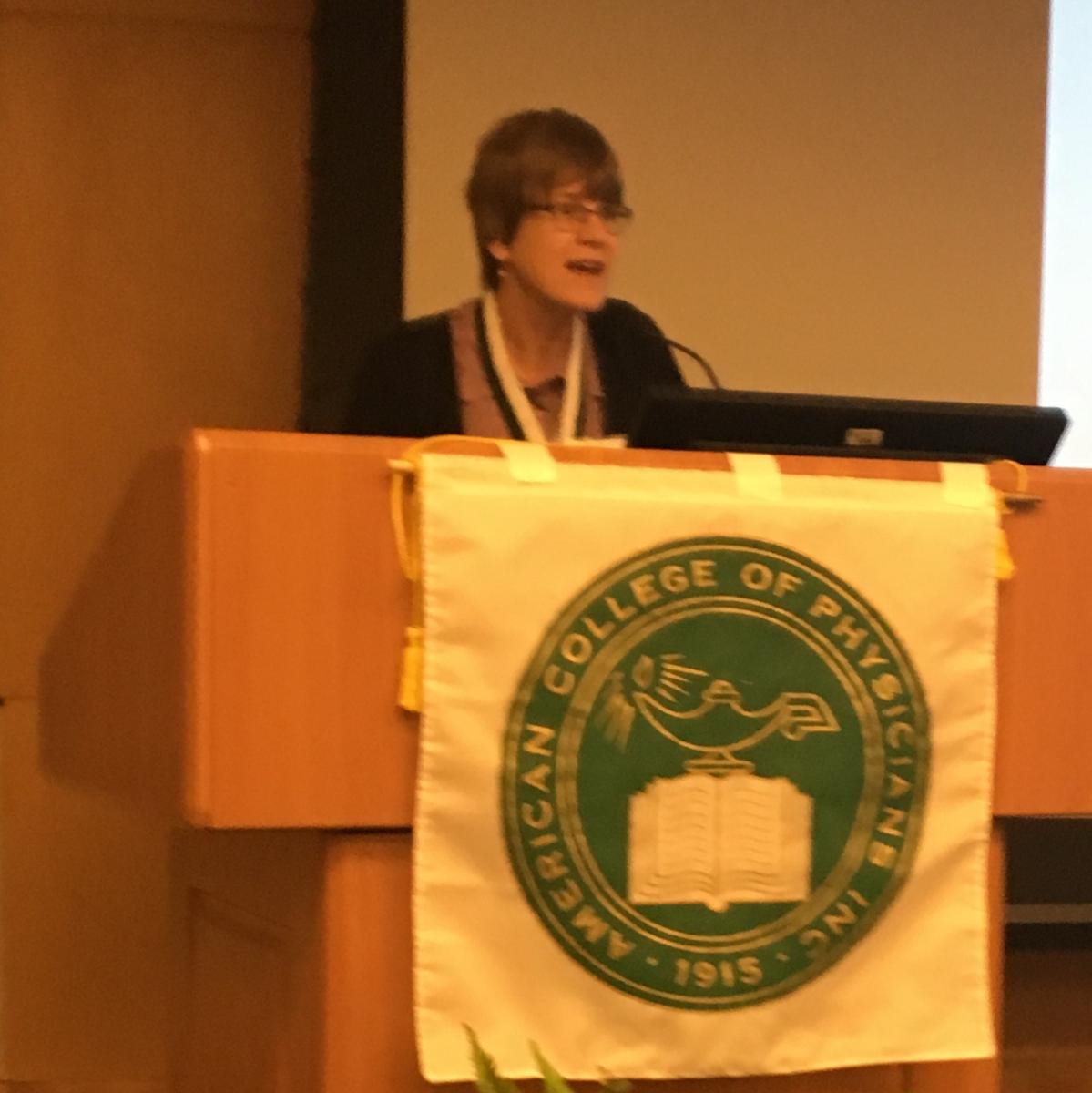 The Leonard P. Lang Award is given annually to honor an internist and Chapter member who exemplifies in his or her personal and professional life the qualities of an outstanding internist. This year we honor Vinod Kripalu,MD, FACP, not only for his excellence in the practice of Internal Medicine, but also for his many charity programs focused on supporting communities, both locally and internationally.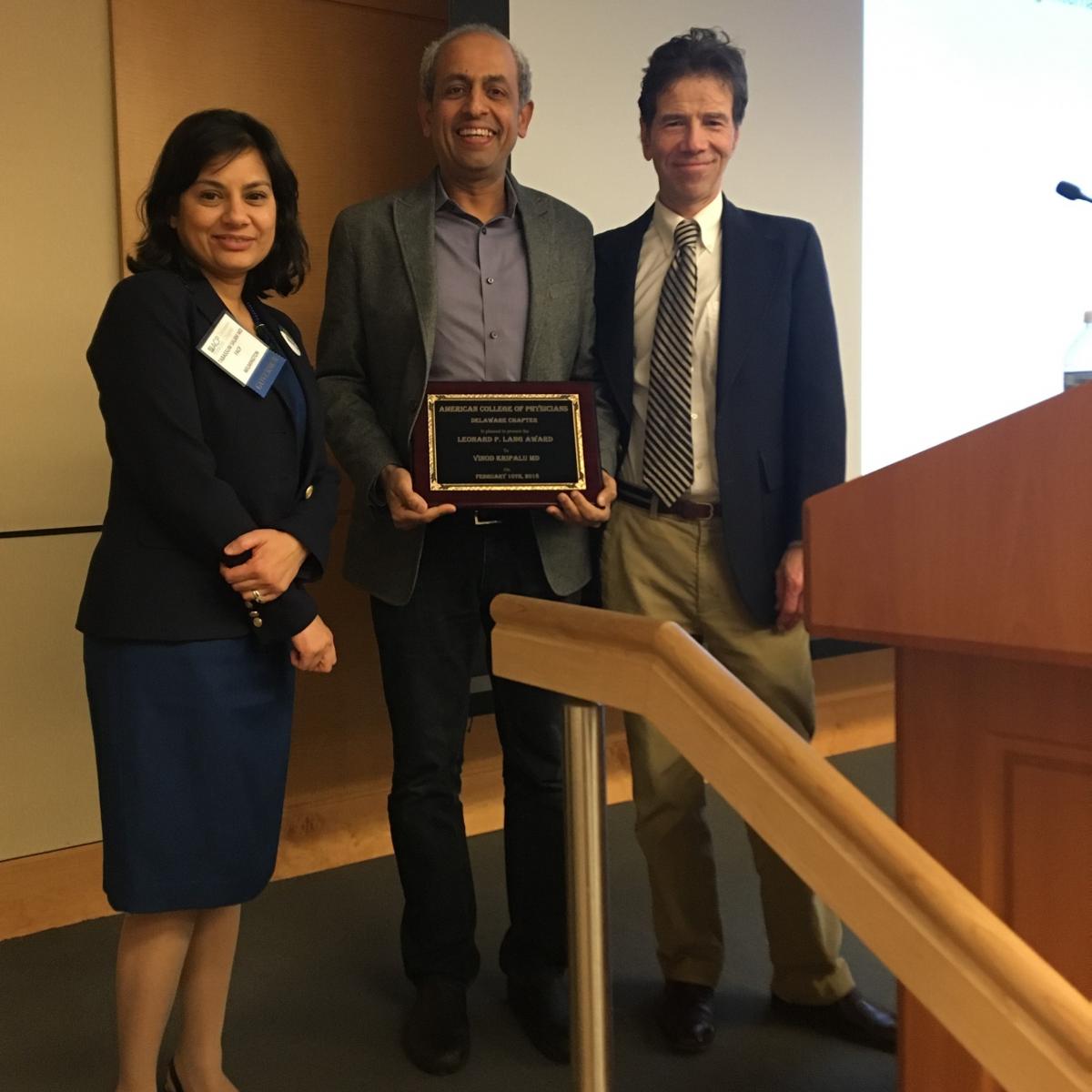 The Hospitalist Award is given to honor an internist and Chapter member who has demonstrated excellence in hospital medicine. This year we are thrilled to honor 2 recipients - Thomas 'Jomy' Mathew, MD, FACP and Neelambari Kerkar, MD, FACP.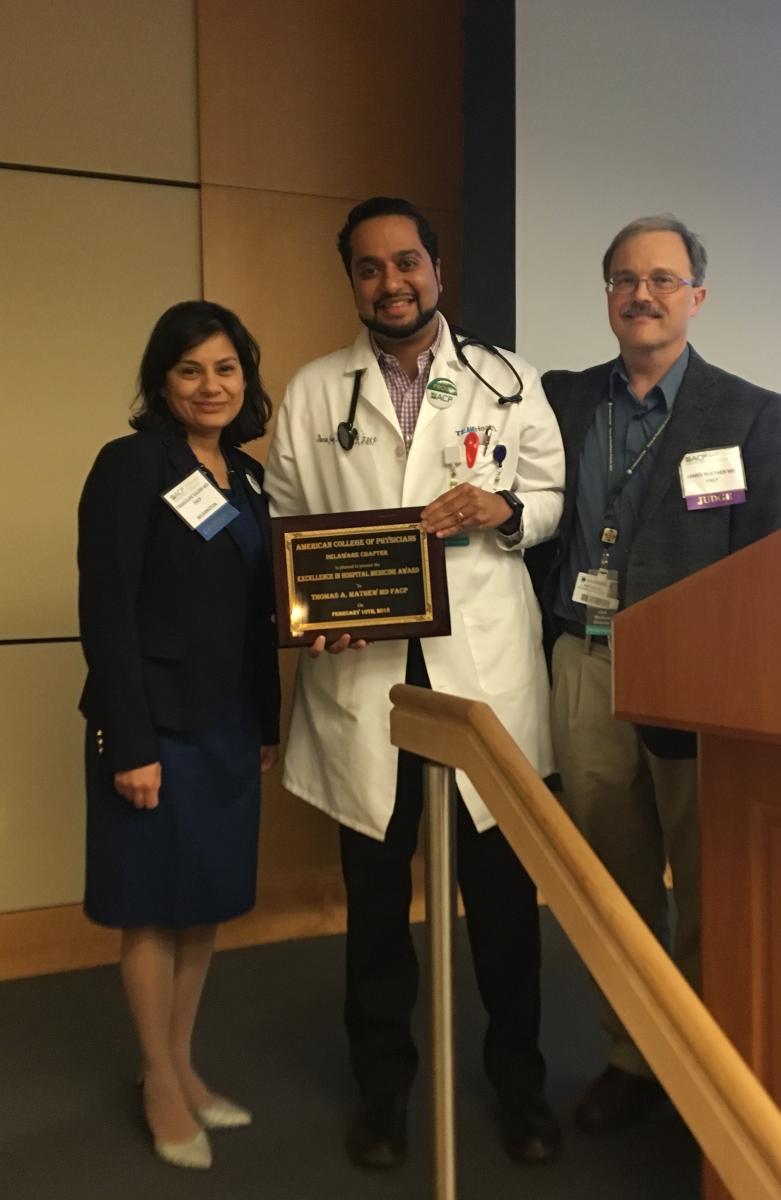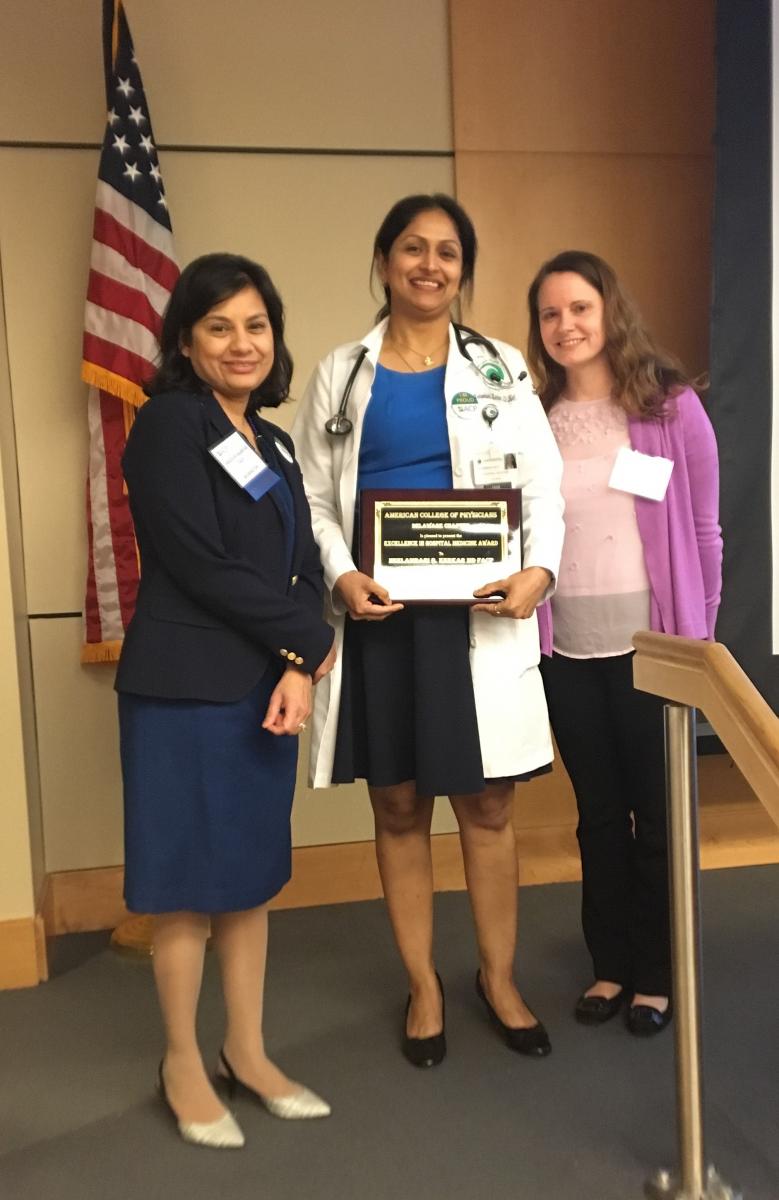 ---
Firearms Safety
What can we do to help protect our patients, their families and our communities from firearm-related harms? We can recognize risk factors, and when present ask our patients about firearm safety. It's what we do all the time: we recognize risks to our patients, ask questions, and aim to help.
Please consider joining me and your ACP colleagues by pledging that, "When risk factors for harm to my patients or others are present, I will ask my patients about firearm ownership and safety."
You may do so at this link.
See the names of colleagues who have made the pledge at the "comments" tab to the left of a concise paper explaining why it's so important or at "Jump to" on a smart phone.
And, you can learn to recognize risks and how to talk to patients in a recent, concise paper published in Annals.
We can do something. As physicians we must. Talking to our patients at risk for harming themselves or others about firearms is the right thing to do, it's legal, and supported by ACP's positions.
If we each take action when we encounter a patient at risk for harming her/himself or others, we might save a life or lives. What could be more important?
Thank you!
---
Save the Date
55th Annual William J. Holloway Infectious Disease Symposium
Tuesday, May 1, 2018
8 a.m. - 4 p.m.
John H. Ammon Medical Education Center - Christiana Hospital Campus
4755 Ogletown-Stanton Road, Newark, DE 19718 directions
The 55th Annual William J. Holloway Infectious Disease Symposium continues its rich tradition of addressing topics of local and global significance for providers practicing medicine today. The upcoming symposium features topics such as:
Challenges to providing quality and safe care for patients living in developing nations.
Providing care for sexually transmitted diseases, specifically for the LGBTQ population and patients infected with HIV.
Empowering the outpatient caregiver to practice good antibiotic stewardship.
Care for patients with signs of sepsis.
Care for Lyme Disease, which the U.S. National Institute of Allergy and Infectious Disease reports is diagnosed in more than 35,000 people annually.
The symposium also features Dr. Allan R. Tunkel, Associate Dean for Medical Education at the Warren Alpert Medical School of Brown University in Providence, R.I., for the Visiting Professor Conference.
Please contact Office of Continuing Medical Education at 302-623-3882 for more information.