You are here
GOVERNOR'S NEWSLETTER June 2015
GOVERNOR'S NEWSLETTER June 2015

---
---
From the Governor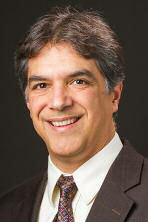 Robert (Rob) J. Nardino, MD, FACP, ACP Governor
The Connecticut Chapter had a great turnout Internal Medicine 2015, during which ACP celebrated its Centennial. Chapter members Julie Rosenbaum and Jeanette Tetrault presented educational sessions, as did local pulmonologist Klar Yaggi. The winners of last October's Resident Abstract Competition had the chance to present their posters at the national meeting. Special mention to Birinder Singh, of Danbury Hospital, who won recognition for his clinical vignette abstract. And, after inducting 15 new Fellows at Convocation, we enjoyed a memorable multi-chapter reception with the Maine, Massachusetts, Michigan, New Hampshire, Rhode Island and Vermont, held at Legal Harborside Restaurant. We hope to see you next year in Washington, D.C. for Internal Medicine 2016!
---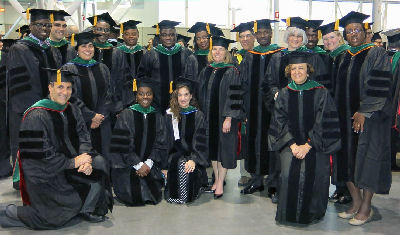 Fifteen new fellows marched at Convocation in Boston
---
If you were present for Internal Medicine 2015 in Boston, you are eligible to obtain MOC credit. Visit to answer the question modules. Sign in with your ACPonline username (restricted to registered attendees). Complete the questions, check your answers, enter your ABIM MOC candidate number, and click to submit to ABIM. Successful completion of a module - a score of 60% or higher - qualifies for 10 ABIM MOC points. Earn up to a total of 30 MOC points. Modules must be completed by March 30, 2016. Each module spans a broad range of clinically-relevant topics, contains 30 multiple-choice questions and is available online at no cost to all Internal Medicine Meeting 2015 attendees.
---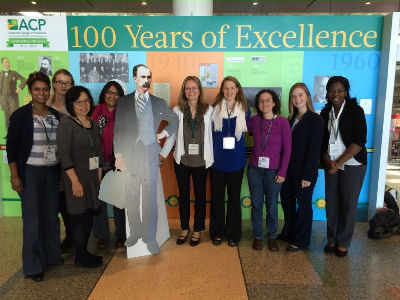 Diversity Committee co-chairs Naseema Merchant and Diana Sewell flank Sir William Osler; and are joined by other members at Internal Medicine 2015 in Boston
---
Finally, I'd like to provide you with an update from the Board of Governors meeting that took place the same week.
Resolutions passed by the BOG included advocating for HRSA designation of individuals with intellectual and developmental disabilities as a medically underserved population; raising awareness about the transition of care from pediatric to adult health care through educational sessions, electronic publications, and chapter outreach; and encouraging the Board of Regents and ACP Leadership to assess MOC programs in accordance with the ACP Principles of Professionalism and Accountability (submitted by chapter member Rodney Hornbake).
These adopted resolutions go to the BOR for implementation.
MKSAP 17, will be released this summer. ACP's best-selling product has undergone several improvements. There is now an on-line pretest with 120 briefer, ABIM-type questions. The online version also includes a filter to view hospitalist-focused material. The 4th Edition of Board Basics is included free for resident-fellow members. A new feature is MKSAP Flashcards - 1200 "question bytes" linked to each MKSAP 17 question, which help reinforce learning concepts covered in the MKSAP text.
We were also treated to an excellent keynote address from Paul Offit, who you may have seen on the Colbert Report speaking about immunization and the dangers of vaccine refusal.
---
Annual Chapter Meeting Update
By Naseema Merchant, MD, FACP
We have another exciting program scheduled for the annual meeting on October 30, 2015 at the Aqua Turf Convention in Plantsville, CT. The morning will start with poster competition by the residents and judging by expert faculty. New this year, is a networking breakfast event for medical students and women in medicine. The main program following poster judging will start at 10 am. Given the popularity of the format from the previous years, we will again have two simultaneous parallel tracks relevant to inpatient and outpatient medicine.
Featured morning topics include:
Outpatient track: New Hypertension Guidelines; Telemedicine-What You Need to Know
Inpatient track: Admission for Congestive Heart Failure: Signs, Symptoms, and New Therapeutic Agents; Delirium in Hospitalized Patients.
Our afternoon session includes two consecutive talks on management of chronic pain and addiction using a case-based approach, following a patient from outpatient to inpatient and then through the addiction phase. New this year is an interactive workshop on how to write and publish a clinical vignette where participants will be able to bring a case and learn how to turn that into a manuscript. This workshop will be offered in the am to allow residents an equal opportunity to attend since some may need to leave to cover clinical duties. We will again offer the "Razor Case" session this year due to its popularity last year. This is an interactive workshop focusing on appropriate resource utilization for inpatient and outpatient care as part of promoting ABIM's Choosing Wisely Campaign. This case based interactive workshop will be run by Yale residents, chief residents, and faculty and involves students, house staff, and faculty, all working in separate locations simultaneously to reach the clinical diagnosis using the least number of diagnostic tests. The day will conclude with our all-time popular sessions, Medical Challenge and review of an ABIM SEP module. This is a great event for education and networking and we hope to see you all there.
---
Early Career Physicians Council Update
By Marilyn Katz, MD, FACP and Doug Olson, MD, FACP
The Early Career Physicians Council held networking happy hours in the spring in both New Haven and Hartford.
Presently there are plans to have a volunteer event in July. Our volunteer event last summer was very well attended and was a lot of fun, and we hope the same will be true for this year. Please keep your eyes peeled for details and an invitation in the next 1 to 2 weeks. We, of course, welcome all ACP members to help in the volunteering event to help give back to the communities that we serve.
Always a favorite event, we will again be having our regional networking happy hours in September and a dinner talk about health care reform in the fall. We as a chapter are very fortunate to have many members involved in healthcare reform in the state, and we're looking forward to hearing about changes to the healthcare landscape from our colleagues. We are also working with the Council of residents and fellows to include them in the healthcare reform event.
---
Resident-Fellow Members Council Update
By Rebecca Andrews, MD, FACP
Spring is in the air and so are a myriad of learning opportunities for the Resident-Fellows Council. I met up with a few of our state's residents and fellows at the annual scientific ACP meeting in Boston. Several were presenting posters at the national poster contest, others were just present for learning, and of course, our state Doctor's Dilemma™ team from the Yale primary care program had the opportunity to participate in the national challenge. We also held another Educational Toolbox series in conjunction with the Connecticut Institute for Primary Care Innovation (CIPCI) at Saint Francis Hospital in Connecticut. This skills session centered on disability assessments, the cost of disability status to patients and society, and how to determine who qualifies. As always, the lecture portion accompanied by dinner segued into a question and answer period. Residents, students, and attendings from New Haven, Waterbury, Hartford, and Farmington came out.
Upcoming events include the next Educational Toolbox talk - Electronic Engagement of Patients on June 18. As always, the event is open to attendings and residents alike and registration is available online on the CIPCI website. It is also already time to think about a repeat of our "careers in internal medicine" event planned for early fall in Middletown. We hope to add to those previously highlighted with careers such as deans, medical journalists, department of corrections providers, community health center medical directors, research, and private practice. We would like to hear nominations for inspiring or intriguing attendings from any residents or fellows to help the program grow in breadth.
---
Medical Student Committee Update
By Ellen Nestler, MD, FACP and Barry Wu, MD, FACP
This is one of the most extraordinary years for graduating Connecticut medical students pursuing careers in internal medicine. The Class of 2015 included 27 of 107 (25%) from Yale University and 24 of 89 (27%) from the University of Connecticut matched to internal medicine residencies. It is wonderful to reflect that 1 in 4 graduating medical students are entering the field of internal medicine. This is the seventeenth year the ACP Internal Medicine Award was given at graduation to students entering a Connecticut internal medicine program. The recipients were chosen based on their academic achievement and community service. This year's winners were Ebenezer Asare, MD from the University of Connecticut and Roger Kim, MD from Yale University. Roger and Ebenezer are by now being oriented to internship at the Yale Internal Medicine Program.
We look ahead to a new academic year and opportunities to network between the University of Connecticut, Yale School of Medicine and Quinnipiac Frank H. Netter Medical School. It is spectacular to have a renewed interest in internal medicine at three medical school campuses in Connecticut.
---
Resolutions - The Grassroots Voice of ACP
Are you concerned about a practice or clinical issue or have an idea you'd like to suggest? If so, you might consider submitting a resolution to your Governor or chapter council.
Initiating a resolution provides ACP members an opportunity to focus attention at the ACP national level on a particular issue or topic that concerns them. Participating in the Board of Governors resolutions process provides the ACP grassroots member a voice and allows you to shape College policy that impacts the practice of internal medicine. When drafting a resolution, don't forget to consider how well it fits within ACP's Mission and Goals. In addition, be sure to use the College's 2015-2016 Priority Initiatives to guide you when proposing a resolution topic.
If effecting change interests you, the deadline for submitting new resolutions to be heard at the spring 2016 Board of Governors Meeting is October 7, 2015. Members must submit resolutions to their Governor and/or chapter council. A resolution becomes a resolution of the chapter once the chapter council approves it.
Not sure how to begin drafting a resolution? Researching the College's position on an issue can give you a start. Visit the ACP Online homepage and click the "Advocacy" link in the right-hand, top margin to access ACP policy positions, read about recent ACP advocacy activities, or search ACP's library of policies and recommendations. Visit your chapter website, too, and click the link under "Advocacy" to access Electronic Resolutions System (ERS) where you can search past or proposed resolutions. A copy of the resolutions process is available on the ERS which furnishes more details on formatting resolutions, as well the process for submission, review, and approval.
Share your good idea with us. Draft a resolution.
---
Leadership Day
On May 21 we had the opportunity to go to Washington, DC and advocate for internal medicine. It was our first time on the Hill where the main topic was not the SGR! However the enactment of MACRA, which put an end to the SGR, still does not address some important issues. Key priorities discussed included the Medicare Primary Care Incentive Program, which is set to expire at the end of this year. This program, which began in 2011, pays eligible internal medicine specialists, family physicians, and geriatricians a 10% bonus on designated office visits and other primary care services. We also asked Senators to cosponsor the Ensuring Access to Primary Care for Women & Children Act (S. 737), and House members to cosponsor (H.R. 2253), which would re-establish Medicare-Medicaid pay parity, which expired at the end of 2014. Funding for Graduate Medical Education was another big topic, especially with some calling for cuts. One suggestion is to create an all-payer system where Medicare, Medicaid and private payers would contribute to GME funding as a public good. Also, we sought enactment of legislation that will increase the number of GME training positions in primary care specialties (including internal medicine) and to provide continued funding for the Teaching Health Center Graduate Medical Education (THCGME) program, which provides GME grants to THCs to train primary care physicians in community-based, ambulatory patient care settings. (The MACRA law funds THCGME at $60 million in mandatory dollars for FY2016 and FY2017.)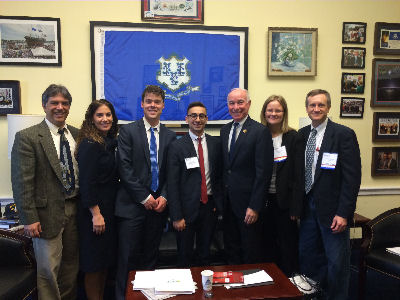 Leadership Day, May 2015 - Chapter members with Representative Joe Courtney (D) District 2
---
Out with the SGR, In with MACRA
Keith vom Eigen, MD, PhD, MPH, FACP
Chair, Health and Public Policy Committee, ACP Connecticut Chapter
By now you probably have heard that we finally achieved, after 12 years of trying, one of ACP's primary policy goals - elimination of the Medicare SGR (Sustainable Growth Rate) formula that threatened to cut physician reimbursement by 21% across the board. But the Medicare Access and CHIP Reauthorization Act (MACRA) that was passed by Congress in April did much more than just eliminate the SGR. It's time to start preparing for how this new law will shape physician payment over the next decade and beyond. Starting July 1, 2015, through the end of 2019, fee-for-service payments under Medicare, which generally set the standard for all insurers, will increase at a rate of 0.5% per year. This will hold steady until 2026, when it will return to 0.5% increase per year (1% for physicians in APMs). Starting in 2019, there will be two alternative incentive programs to choose between. Physicians working in Alternative Payment Models (APMs) such as Accountable Care Organizations (ACOs) or Advanced Patient Centered Medical Homes (PCMHs) will be eligible for a 5% bonus each year for 5 years (2019-2024), over and above whatever payment incentives they get through those systems. The alternative track will combine existing quality incentive programs (PQRS, Value Modifier, Meaningful Use) into a unified program known as the Merit-Based Incentive Payment System (MIPS). In this program, physicians will have more flexibility in setting quality goals based on their practice and baseline data, and will get credit for achieving quality targets, as well as for transitioning their practice to a PCMH model. Performance will be scored on quality of care, resource use, meaningful use of electronic health records, and practice improvement activities. Those exceeding threshold targets will get bonuses, but there is downside risk as well for those who fail to meet standards. Up to $500 million additional funding per year will be added to the payment pool for the program from 2019-2024 for the highest performers, and there is an additional $20 million per year from 2016-2020 specifically targeted to assist smaller practices. The bottom line is that physicians will need to work diligently to make the transition to quality and data driven practice improvement, or face potential declines in payment in years to come.
---
Welcome to Our New Fellows and Members!
---
Save the Date
2015 Connecticut Chapter Meeting
Friday, October 30, 2015
The Aqua Turf Club
Southington, CT
Please contact Nancy Sullivan with any questions about this and other future meetings.
---