You are here
GOVERNOR'S NEWSLETTER December 2015
GOVERNOR'S NEWSLETTER December 2015

---
---
From the Governor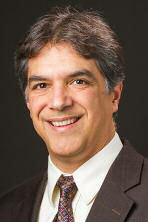 Robert (Rob) J. Nardino, MD, FACP, ACP Governor
Best wishes to everyone as we enter into the holiday season. The biggest news to report is the result of our recent election to determine the next Governor of the Connecticut Chapter. Rebecca Andrews, MD, FACP, has been elected as our next presiding officer. Rebecca attends the ACP Board of Governors meeting in May as Governor-Elect Designee, spends 2016-17 as Governor-Elect, and then takes the reins following Internal Medicine 2017. Congratulations, Rebecca!
One of the great things we do as a chapter is honor members for some of the outstanding work they do. Our 2015 Chapter Award Winners were announced at the Annual Chapter Meeting on October 30. The Laureate Award for excellent service to the ACP was presented to Dr. Naseema Merchant, who for the last several years has chaired the annual meeting planning committee. The Thornton Award for medical education went to Drs. Nancy Adams of University of Connecticut and Chuck Seelig of Greenwich Hospital. The Henry C. Gift Distinguished Internist Award was presented to Dr. Ernest D. Moritz, for many years of Hospital Saint Raphael and more recently Yale-New Haven Hospital and the Volunteerism and Community Service Award was presented to Dr. Eric Fan, a private practice internist in New Haven. You can see their biographies on the chapter website.
Attention Faculty Members: The American College of Physicians (ACP) in collaboration with the Alliance for Academic Internal Medicine (AAIM) will host a one-day meeting for faculty interested in learning how to better engage, mentor and assess trainees in high value care quality improvement projects. It will be held at ACP headquarters in Philadelphia on Wednesday, March 16, 2016, from 9 a.m.-4 p.m. The registration fee for the course is $150 for ACP members ($200 for nonmembers).
ACP now offers members more assistance in preparing for their job search. Preparing for a job interview can be stressful. There are many factors to consider when trying to make the best possible first impression with a potential employer. Twenty short CareerSpot videos have you covered whether you need advice in email etiquette, how to prepare for an interview, how to dress, or how to negotiate a fitting salary. Members have free access.
Below, you will read updates from many of our committee leaders. The chapter is thriving and I am indebted to the hard work and dedication of these colleagues.
---
Diversity Committee Notes
By Varidhi Nauriyal, MD
The Connecticut Chapter's Diversity Committee hosted its first-ever "Women in Medicine" networking event at the 2015 Annual Meeting. We were happy to see great participation with over 70 attendees. The discussions were passionate and honest. We had a fantastic panel of accomplished physicians from academic, non-academic, primary care and hospital-based settings. Our small group interactive session highlighted many pertinent issues, including conflicts women physicians face related to their career choices; challenges in maintaining work-personal life balance; lack of meaningful mentorship for residents as well as practicing physicians; and various other topics of mutual interest. Our aim was to create a network of physicians who could share their ideas and experiences with each other and in that regard, the event was a great success. The Diversity Committee plans to organize future events to support interests of women CT ACP members.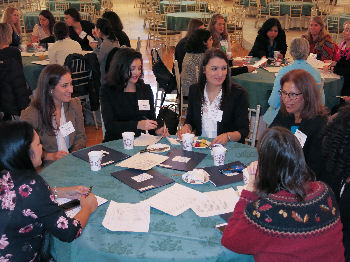 Group discussion at the Women In Medicine event
In order to welcome and include medical students in our chapter annual meeting, the Diversity Committee organized faculty buddies who were connected with small groups of medical students on the day of the meeting. The purpose of this faculty-student buddy system was to allow the medical students to network with attending physicians of various backgrounds. Several students took advantage of this opportunity and tagged along with faculty members for part of the day.
---
Early Career Physicians Council Update
By Marilyn Katz, MD, FACP and Doug Olson, MD, FACP
The Early Career Physicians Council has been busy and several events have provided networking and professional enrichment! We kicked off the fall season with a well-attended happy hour in New Haven geared at networking and discussing ACP policy, mission and impact.
We had a fantastic turnout at the CT Chapter meeting in October at the Aqua Turf Club in Southington. Many ECP's attended the (first annual) Women's Breakfast and gained wonderful insight into various topics such as career options, work-life balance and financial planning. Next year at the CT Chapter meeting the ECP Council will host the Tri-State Early Career Physician Poster competition, so start identifying great cases now to present next year!
Our annual volunteer event took place at Foodshare in Hartford on November 21. We donated frozen turkeys and helped package food for Thanksgiving meals for many families across the state. In addition to giving back to our community, it helped remind us of the true holiday spirit and reflect on our roles in medicine.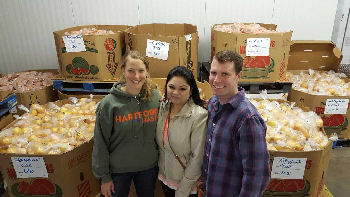 Marilyn Katz, Varidhi Nauriyal and Doug Olson at Foodshare
We are currently planning events for 2016, so if you have any ideas or suggestions about how ECPC can better serve you, please reach out to either Marilyn or Doug! Otherwise, keep your eyes open for events on health policy, more networking, and ways to enhance your practice and life balance!
---
Resident-Fellow Members Council Update
By Rebecca Andrews, MD, FACP
The call has gone out for nominees to the national councils and the council of resident- fellow members is one of them. I am excited that this year we have several residents applying. For those of you that missed the announcement or want to think about it next year, the notices are posted on the main ACP website in October and the deadline is always late October or early November. Good luck to those who have submitted their names to have the chance to represent CT.
Our annual scientific meeting was another success. Over 200 resident abstracts were submitted and judged by attendings from all over the state. As usual, it was a tough competition. Please congratulate the winners.
For clinical vignettes:
Ana Onuchik - UCONN Categorical
Shoshana Streiter -Yale Primary Care
Rebecca Dyer - UCONN Categorical
For research:
Katherine Araque - Bridgeport Hospital
Tanveer Singh - St. Vincent's Medical Center
Michael Bianco - Greenwich Hospital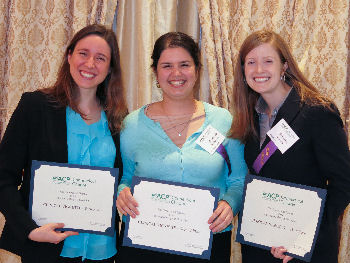 Clinical Vignette poster winners (L to R): Ana Onuchik, Shoshana Streiter, Rebecca Dyer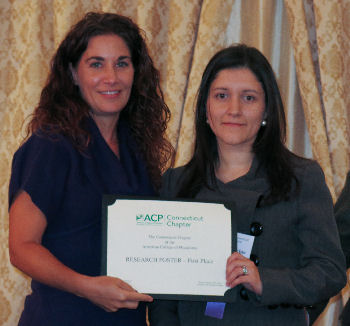 Rebecca Andrews and Research poster winner Katharine Araque
For those of you submitting posters next year, here is a list of tips and reminders:
To win a clinical vignette, you must have submitted a case that you actually participated in the care of the patient either in the clinic or hospital setting.
Posters should remain up for viewing until after lunch. Program directors should help coordinate someone to collect and return the posters for residents headed back to the hospital. This is a perfect time to have your work viewed by attendings that may help you leverage the poster for presentation at the national level or another society meeting.
Wording of the poster should be:

Clear
Contrasting and easy to see
Succinct
Spell-checked twice (at least!)
Images can be powerful, but make sure image quality is good, and that each image magnifies well when blown up and is placed in a way that makes reading the poster easy.
Make a proof before printing the large poster and have more than one person review it and give suggestions.
List all of the appropriate physicians on the poster, but if their name is listed give them the opportunity to review and correct your work.
Practice the presentation! The judges have about 8 -10 minutes per poster including time for questions. A polished presentation will increase the impact of your poster and time for questions allows the judge to evaluate what you have learned and give you a chance to shine.
At the annual meeting we also had the finals of our MedChallenge (medical jeopardy) contest. The first round, held at Quinnipiac School of Medicine earlier in the fall, narrowed the field to four teams: Bridgeport, Yale-Waterbury, UConn Primary Care, and Yale. The competition came down to the final question and Yale was the victor; they were represented by Benjamin Cherry, Joshua Bilsborrow, Mohsin Chowdury and George Goshua. I am looking forward to seeing the team compete in the Doctor's Dilemma at the national annual scientific meeting held in D.C. in May - good luck!
I would like to thank the council's "unsung heroes": the many judges, question writers, staff and program directors throughout the state. Without your assistance, encouragement of the residents, and support neither the abstract competition nor Doctor's Dilemma would be possible. They both serve as unique opportunities for the residents to excel professionally.
The national meeting, as mentioned, is in Washington D.C. this year and as is befitting the location there should be some unique opportunities to learn about advocacy. The healthcare system is in the midst of a "redesign." You, as residents and fellows, are the future of medicine. I encourage you to take part in any advocacy workshops you can find within the state or at the national meeting. The future landscape of medicine will only reflect the thoughts of those who spoke up about innovative ideas for change. Contact a member of our CT Governor's Council if you are interested in these opportunities.
Finally, this spring we will have a "New Provider Boot Camp" to learn skills on time management, coding, utilizing electronic resources, and speak with vendors on financial security.
---
Medical Student Committee Update
UConn update by David Oveisi and Ellen Nestler, MD, FACP
Yale update by Nicholas Wilcox, Alina Yang, Cortlandt Sellers, Woong Hwang and Barry Wu, MD, FACP
The UConn School of Medicine currently has 33% (135/410) of students enrolled as ACP members! This surpasses our goal of 30% and we hope to increase it further by December 31, 2015 when the ACP's IMIG program recruitment period ends. We have been discussing ACP opportunities and membership incentives at each Internal Medicine Interest Group meeting to raise awareness and increase membership. At the annual ACP chapter meeting in Plantsville, we had strong representation from our second, third, and fourth year medical students as they participated in various workshops and lectures. In early 2016, we will have a Lunch-and-Learn for UConn students to discuss ACP's core values and mission. We look forward to collaborating with the Yale School of Medicine and Quinnipiac Frank H. Netter Medical School to promote statewide ACP events for medical students in the future.
The Internal Medicine Interest Group (IMIG) at the Yale School of Medicine organized several successful events during the Fall 2015 semester specifically oriented towards medical student engagement and education. First, in early September, the annual welcome BBQ was organized in collaboration with the Yale Surgical Interest Group (YSIG) to mark the start of the academic year. This event was attended by numerous faculty members in both Internal Medicine (IM) and Surgery, and most importantly by over 90 interested first and second-year Yale medical students wishing to learn more about each interest group. In addition, a semester-long weekly clinical shadowing program in Yale-New Haven Hospital's Medical Intensive Care Unit (MICU) and Donaldson (HIV) Service was organized. This program was fully subscribed by 39 first and second-year Yale medical students, with all available slots for clinical shadowing being filled for the entire semester. In late September, a panel composed of 7 Yale IM residents, as well as Mark Siegel, M.D., the Yale Internal Medicine Traditional Residency Program Director, was organized. The panel spoke about applying, interviewing and matching into IM residency programs, and forty medical students representing each of the different years at Yale attended the event. Finally, a speaker event was organized in collaboration with the Yale Cardiovascular Society (YCS) in October. A talk by P. Roy Vagelos, M.D., the former Chairman and CEO of Merck & Co. and the current Chairman of Regeneron Pharmaceuticals titled "An Unplanned Career in Medicine" was delivered to an audience of nearly seventy Yale medical and health professions students. This event was followed by a luncheon with student leaders. Medical students were exposed to past and future opportunities in drug discovery and innovation across academia and the biopharmaceutical industry, as well as insights into alternative career paths in medicine. Further events organized by IMIG are currently being planned for 2016, and we look forward to another productive and fulfilling semester.
---
Annual Chapter Meeting Update
By Diana Sewell, MD and Naseema Merchant, MD, FACP
The ACP CT Chapter Annual Meeting took place on October 30, 2015 at the Aqua Turf Club in Southington, CT. It was another successful meeting with over 400 attendees.
The day started out with poster presentations by Internal Medicine residents from the state's 14 residency programs. A total of 236 posters were presented to 86 judges from around the state. Dr. Rebecca Andrews moderated the session. Drs. Ana Onuchik (UCONN) and Katherine Araque (Bridgeport) won first prizes in the clinical vignette and research categories, respectively. They will have the opportunity to represent Connecticut at Internal Medicine 2016, the national ACP meeting, in Washington D.C. next May. The second and third prizes in the clinical vignette category went to Drs. Shoshanna Streiter (Yale Primary Care) and Rebecca Dyer (UCONN). In the research category, second and third prizes went to Drs. Tanveer Singh (St Vincent's Medical Center) and Michael Bianco (Greenwich Hospital).
One of the highlights of the meeting was an event sponsored by the CT Chapter's Diversity Committee. For the first time at our chapter meeting, this committee hosted a breakfast titled "Women in Medicine". There were over 60 attendees including medical students, residents and seasoned physicians representing various professional backgrounds, all of whom eagerly participated in discussions and shared experiences. Our 3 panelists, Dr. Pia Dogbey, Dr. Jennifer Bellino and Dr. Sally Bergwerk, delivered powerful messages and moderated discussions along with the members of the diversity committee. This event was well received and highlighted the need for more meetings of this kind in the future.
In order to welcome and include medical students, the Annual Meeting Planning Committee organized faculty buddies who were connected with small groups of medical students on the day of the meeting. The purpose of this faculty-student buddy system was to allow the medical students the opportunity to network with attending physicians of various backgrounds
The formal educational and didactic sessions started at 10 a.m. with 3 sessions in parallel - an inpatient track, an outpatient tracks, and a separate session on clinical vignette writing. Dr. Billy White (UCONN) spoke about the changing hypertension guidelines, while Dr. Ellice Wong (VA West Haven Medical Center) gave a talk on the evaluation of anemia in the outpatient setting. The inpatient track started off with Dr. Lavern Wright (UCONN) who delivered a talk on delirium, followed by Dr. Thomas Donohue (YNHH SRC campus) who spoke about heart failure and prognostic indicators at admission. Both tracks were well attended and provided several opportunities for audience participation. Dr. Chris Sankey (Yale) delivered an informal and interactive clinical vignette writing workshop that was well attended especially by residents and medical students.
Meeting Attendees had the opportunity to visit posters and network between the morning sessions and lunch. Several other mini sessions took place during the lunch hour. Dr. Benjamin Doolittle presented findings from a recent study on physician burnout. Dr. Robert Nardino, CT Chapter Governor, introduced members of the board of governors, accepted nominations for governor's council next year, and presented chapter awards. The chapter awards were presented to the following individuals:
Dr Naseema Merchant was the awardee for the Laureate Award
Dr. Nancy Adams and Dr. Charles Seelig were the George Thornton Teaching Award winners
Dr. Eric Fan won the Volunteerism Award
Dr. Ernest Moritz won the Henry C. Gift Distinguished Internist Award
Following the Governor's address and awards, Dr. Henry Schneiderman (St. Francis Hospital and Medical Center) shared his observations on several posters he reviewed from around the state, highlighted some keys findings, and commended presenters who used knowledge and clinical skills to come to a diagnosis (as opposed to imaging, pathology or consultants).
The afternoon session included a presentation by Dr. Daniel Tobin (Yale) who spoke about the management of chronic pain, followed by Dr. Jeannette Tetrault (Yale) who addressed the management of opioid addiction. A parallel high value care workshop called the "razor case workshops' was hosted by Yale residents where attendings competed against the trainees to come to a diagnosis at the lowest expense possible. The case presented to the two teams was that of paralysis caused by hypokalemia in a patient with AIDS and cryptosporidium related diarrhea. The attendings clinched the diagnosis spending just under $60. Dr. Alexandra Norcott, PGY3 resident and Dr. Sara Bouberhan, Chief Resident, both from the Yale Traditional Program, moderated the workshops.
The afternoon was concluded with 2 parallel sessions. The first one was an ABIM SEP module presented by Drs. Barry Wu and Stephen Atlas. It was both entertaining and informative, and participants had the opportunity to claim MOC credit afterwards on the ABIM website. The second one was a medical quiz in a jeopardy format called the "Med Challenge", moderated by Drs. Nardino and Sewell. It was an exciting contest between our four state finalists: UConn, Yale Primary Care, Bridgeport Hospital and Waterbury Hospital residency programs. Competition between Yale and Waterbury was tight towards the end and Yale ultimately left victorious. The winners will get the opportunity to compete nationally at the 2016 national ACP meeting in Washington, D.C.

Benjamin Cherry, Mohsin Chowdury, Joshua Bilsborrow and George Goshua, representing Yale
Overall it was a great scientific meeting with several state of the art educational sessions, workshops and networking events. On behalf of the CT Chapter, we thank the members of the planning committee, our speakers, moderators, and everyone else involved in the planning and execution of this successful educational event.
---
ACP Clinical Guidelines Committee
By Robert McLean, M.D., FACP, ACP Regent
I have had the opportunity over the past 2 years to serve as a member of the ACP's Clinical Guidelines Committee. The charge of this committee is really quite simple: To oversee the development of and recommend guidelines that will improve the practice of medicine. You may have seen our latest in the Annals of Internal Medicine on November 24: Improving Adherence to Therapy and Clinical Outcomes While Containing Costs: Opportunities From the Greater Use of Generic Medications: Best Practice Advice From the Clinical Guidelines Committee of the American College of Physicians
ACP's goal is to provide clinicians with recommendations based on the best available evidence; to inform clinicians of when there is no evidence; and finally, to help clinicians deliver the best health care possible.
With this in mind, the Clinical Guidelines Committee develops three different types of clinical recommendations:
Clinical Practice Guidelines--based on a systematic review of the literature,
Clinical Guidance Statements-based on a review of existing guidelines,
Best Practice Advice-developed through a review of available evidence and guidelines, and generally evaluating the value of diagnostic tests and therapeutic interventions.
When these various recommendations are published, typically in the Annals of Internal Medicine, you will notice these different classifications. The Committee meets in person three times per year with conference calls as needed in between and spends great effort reviewing evidence and its epidemiologic quality for the topic being considered. Sometimes the clinical topics are brought to the ACP from Agency for Healthcare Research & Quality (AHRQ) with the query whether the ACP would develop a clinical practice guideline based on a systematic review that has already been done, usually because AHRQ developed an internal interest to pursue the topic and had already commissioned an official Evidence-based Practice Center (several academic centers and V.A. centers have this designation) to perform a systematic literature review. In other situations, the ACP has decided that a Clinical Practice Guideline (CPG) is needed on a given topic or needs to update one from the past. Recent standards established by the Institute of Medicine require that CPGs must updated every 5 years.
Recognizing the critical roles that CPGs and Performance Measures will play as our healthcare delivery system continues to evolve, the Board of Regents decided in its priority initiatives for 2015-16 to devote greater resources to: "Redesign ACP's approach to setting clinical standards so that guidance from ACP is in areas of high value to internal medicine physicians; succinct; always current; easily accessible through multiple modalities; reflects the perspectives of subspecialists and patients; and includes access to related information for patients, practice improvement programs, and appropriate performance measures." So stay tuned to this important work.
---
MOC Update
Just to clear up some ongoing confusion, the ABIM has not eliminated MOC. In order to be participating in good standing, you must earn some points every two years, and complete 100 points every 5 years. It remains to be determined if the ABIM will accept the recommendation of the Assessment 2020 Task Force and replace the 10-year secure exam with other more frequent assessments. Also, has extended the suspension of the non-medical knowledge components (Practice Assessment, Patient Safety, Patient Voice) through the end of 2018. If you haven't been to the ABIM website lately, now is a good time to see what has changed for MOC. There are more options for earning medical knowledge points, and the list is expected to grow.
If you were present for Internal Medicine 2015 in Boston, you are eligible to obtain MOC credit. Visit http://im2015.acponline.org/educational-program/moc-modules to answer the question modules. Sign in with your ACPonline username (restricted to registered attendees). Complete the questions, check your answers, enter your ABIM MOC candidate number, and click to submit to ABIM. Successful completion of a module - a score of 60% or higher - qualifies for 10 ABIM MOC points. Earn up to a total of 30 MOC points. Modules must be completed by March 30, 2016. Each module spans a broad range of clinically-relevant topics, contains 30 multiple-choice questions and is available online at no cost to all Internal Medicine Meeting 2015 attendees.
If you attended the SEP Module session at our Annual Chapter Meeting on October 30, you should go to the ABIM page and request the 2015 Update in Internal Medicine (C0R); then, enter the answers discussed at the session. On the redesigned page, you'll find this under Option Two (Would you like to complete an ABIM activity in your specialty?) This is worth 10 MOC medical knowledge points.
---
CT Chapter Wins ACP Chapter Excellence Award
Once again, our chapter is in receipt of the 2015 Chapter Excellence Award! The award recognizes chapters which successfully meet the standards for managing a chapter. In order to achieve the Chapter Excellence Award, chapters must meet all basic criteria and seven optional criteria. Criteria include such activities as formulating an effective Governor's Council and committees, communicating frequently with membership, providing educational opportunities, recruiting and advancing members and celebrating membership through local awards. I would like to extend a special thanks to those chapter members who assisted in all of these endeavors! For their hard work and dedication, we received this award.
---
Congratulations to New Fellows!
Freda Owusua Boateng, MD, FACP
Gary P. Cohen, MD, FACP
Abhijeet Shrikrishna Danve, MD, FACP
Louise M. Dembry, MD, FACP
David F. Garrell, MD, FACP
Tilahun A. Gemtessa, MD, FACP
Marilyn A. Katz, MD, FACP
Kenneth A. Litwin, MD, FACP
Rachel I. Lovins, MD, FACP
John D. Machado, DO, FACP
Jason R. Orlinick, MD, PhD, FACP
Rupal N. Panchal, MD, FACP
Tracy L. Rabin, MD, FACP
Jennifer Rockfeld, MD, FACP
Jeremy I. Schwartz, MD, FACP
Martha Severino, MD, FACP
Asha G. Tota-Maharaj, MD, FACP
Lee S. Wesler, MD, FACP
---
Welcome New Members!
Here are the new Members from the last six months.