You are here
Connecticut Governor's Newsletter December 2016
Connecticut Governor's Newsletter December 2016

---
---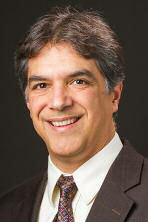 Robert J. Nardino, MD, FACP, ACP Governor
---
From the Governor
In the aftermath of the 2016 Presidential Election, the outlook for healthcare appears uncertain. We have been talking a lot about MACRA; now it is not clear what the future will hold. ACP, being a non-partisan entity, will of course continue to make substantial efforts to work with the new administration and with the Congressional leadership. In a letter to membership, ACP President Nitin Damle outlined some areas where we might make headway – such as initiatives to address the opioid epidemic, integrating behavioral health into primary care, redesigning quality measures, addressing the liability system. Of course, some of ACP's primary policy positions will meet with an icier reception: maintaining and building on the coverage gains seen due to the ACA, expanding Medicaid, facing up to the reality of climate change and advocating for sane legislation to help stem the tide of morbidity and mortality due to firearm related injuries. If you aren't already, consider becoming become a grassroots activist for internal medicine by joining . I also recommend following the ACP Advocate Newsletter , written by Bob Doherty, ACP's Senior Vice President for Governmental Affairs and Public Policy.
In better news, please take a look below at all the great things going on in the Connecticut Chapter. Please take time to enjoy the holiday season, and best wishes for a happy and healthy 2017!
---
Connecticut Chapter Award Winners
At the Annual Chapter Meeting, we were pleased to honor four chapter awardees.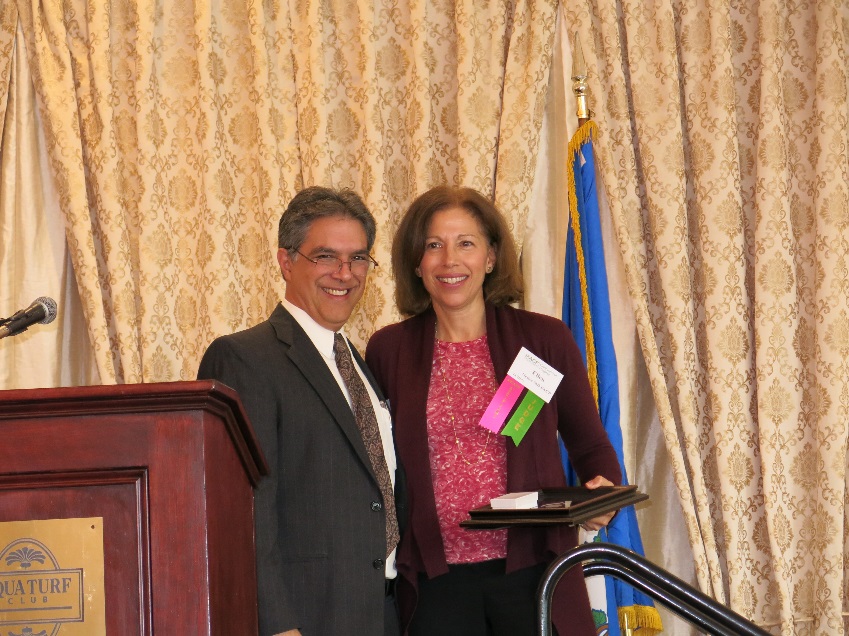 Laureate Award: Ellen Nestler, MD, FACP
Dr. Nestler is currently the Assistant Dean for Clinical Medical Student Education, and an Associate Professor in the Department of Medicine at the University of Connecticut School of Medicine (SOM). She has been a longstanding member of the Governor's Council for CT ACP, serving as the liaison for UConn's medical students.
George Thornton Teaching Award: Stephen Huot, MD, FACP
Dr. Huot served as director of the Yale Primary Care Internal Medicine Residency for 24 years, until June 2015. From 2008-2016 he served as Vice Chair for Education and Academic Affairs in the Yale Department of Medicine and in July 2016 he was appointed Director and Associate Dean for Graduate Medical Education at Yale New Haven Hospital/Yale School of Medicine.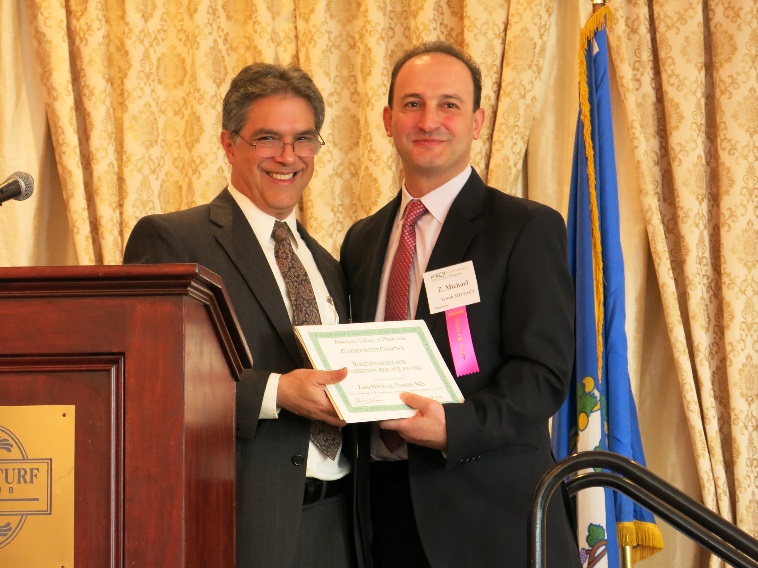 Volunteerism and Community Service Award: Z. Michael Taweh, MD, FACP
Dr. Taweh has been a primary care physician since 2000. His medical practice is Comprehensive Medical Care of Danbury. He is Founder, President and Medical Director of Kevin's Community Center Free Clinic, which has been providing free primary care and specialty services to patients with little or no insurance since 2002. Dr. Taweh has a particular interest in the nonprofit health care sector and works towards health care reforms for affordable healthcare.
Henry C. Gift Distinguished Internist Award: Joseph Cleary, MD, MACP
An educator at Norwalk Hospital for 37 years, Dr. Cleary truly embodies the features the award recognizes: excellence and compassion in patient care, professionalism, humanistic values, and dedication to lifelong learning. Dr. Cleary has also been an ACP leader, serving on the CT Governor's Council for over 30 years, and as Governor from 1993-1997. He was elected to Master of the College in 2007.
---
Report from the 2016 Annual Chapter Meeting
By Naseema B. Merchant, MD, FACP, FHM and Diana Sewell, MD, FACP
The Connecticut Chapter Annual Meeting took place on October 28, 2016 at the Aqua Turf Club in Southington, CT. It was another successful meeting with over 400 attendees, surpassing last year's total. The final tally was 432 registrants – 31 Medical Students, 264 Residents and 137 Member, Fellow and Masters. We are really excited to see that the number of both trainees and attending physicians has continued to increase over recent years. Here are some highlights of the program.
The day started out with poster presentations by our Residents representing 13 residency programs around the state. A total of 221 posters (199 clinical and 22 research) were presented at the meeting. Drs. Marilyn Katz and Rebecca Andrews moderated the poster session. Details are outlined below in the Resident and Fellow Member Council newsletter entry. The residents who won the first place will have the opportunity to represent Connecticut at Internal Medicine 2017. Medical student, resident and faculty volunteers were present at the ACP information booth for sharing details about chapter and national activities and to answer any questions from the attendees at the poster session.
New this year was a track on physician wellness. As part of ACP's commitment to improve and advocate for physician wellness, several activities were offered throughout the morning of the meeting including multiple sessions on mindfulness, yoga, and Tai chi. In addition, massage chair therapy was also offered in the exhibit hall and in the vicinity of the lecture halls.
The chapter has a long-standing culture of involving medical students in all of its events. This year, Erin Gombos, a medical student from UConn, was on the planning committee and helped to plan two workshops on the knee examination and interpretation of peripheral smear. Under the leadership of Erin, students from UConn helped moderate the two workshops, and also volunteer at the ACP booth. As part of welcoming the medical students to our annual meeting, and the ACP, the planning committee again organized faculty buddies for the students during the lunch hour. The purpose of this faculty-student buddy lunch was to allow the medical students to network with attending physicians of various backgrounds and also learn about ACP and the Connecticut Chapter.
The "Women in Medicine" networking breakfast was again a popular event this year, where women trainees and attending physicians from diverse backgrounds had an opportunity to interact and exchange ideas on topics of mutual interest. The feedback from the meeting was very positive and this will likely be a recurring event at the annual chapter meeting.
The formal didactic sessions started at10 am with simultaneous inpatient and outpatient tracks. In the outpatient track, Dr. Steven Aronin from Waterbury Hospital gave a great talk on antibiotic stewardship while Dr. Silvio Inzucchi from Yale gave another great talk on new drugs in the treatment of diabetes. ABIM's hospital Medicine module was the highlight of the inpatient track moderated by Dr. Jason Orlinik from Norwalk Hospital and Dr. Barry Wu from Yale New Haven Hospital.
Following the Governor's address and awards over lunch, Joseph Cleary, MD, MACP shared his views on the current teaching and practice culture in medicine in a talked titled "Restoring the Narrative".
There were two afternoon sessions following lunch, which ran concurrently. We were fortunate to have Nick Fitterman, MD, FACP and Governor from New York's Long Island Region, join us. He ran an interactive clinical vignette session entitled "Thieves' Market" based on the session pioneered by Dr. David Scrase, where audience members were asked to guess the diagnosis based on the information provided. Concurrently, a high value care workshop called the "Razor Case Workshops" was moderated by meeting co-chair Naseema Merchant and Alex Norcott, a Yale Chief Resident and member of the National Resident and Fellow Member Council. In this session, attendings competed against trainees as they separately attempted to reach a diagnosis at the lowest expense possible. The case presented to the two groups was that of young man with inflammatory bowel disease who acquired CMV colitis.
The last two sessions of the day included review of an ABIM module and Med Challenge (the CT Chapter's Doctors Dilemma tournament). Drs. Stephen Atlas and Iga Stepczynski moderated the ABIM SEP module, 2016 Update in Internal Medicine. Participants had the opportunity to claim MOC credit afterwards on the ABIM website.
The Med challenge is a medical quiz in jeopardy format which and turned out to be an exciting contest between our four teams of residents representing residency programs across the state. The winning team from this round of Med challenge at the annual chapter meeting will have the opportunity to compete nationally at the next year's national ACP meeting.
Overall, it was a great scientific meeting, with several state of the art favorite educational sessions, together with new sessions, which were all very well attended and the feedback has been overwhelmingly positive. The next year's planning committee will review the feedback from this meeting as the new meeting agenda for 2017 is being developed.
On behalf of the CT Chapter, we thank the members of the planning committee, our speakers, moderators, and everyone else involved in the planning and execution of this successful educational event.
---
Resident and Fellow Members Council
By Marilyn Katz, MD, FACP
Fall has been busy for the Resident and Fellow Members Council. We started off the season with a dinner meeting – "Job Search 101: How to Start the Search for Your Dream Job" - which focused on pairing key components of an ideal job with early career and seasoned doctors to share their experiences. It was a wonderful discussion and a wide variety of careers were represented in the mix. We hope to continue this session regularly to help make an overwhelming process seem more manageable!
Our annual Med Challenge preliminary competition was hosted by Waterbury Hospital with nine Connecticut based Internal Medicine residency programs participating. There were three rounds of competition with Bridgeport, UConn-Categorical and Yale-Traditional winning the top spot in each round. The Norwalk Hospital team grabbed the fourth spot as the highest scoring second place team among all three rounds. Griffin, St. Vincent's, UConn-Primary Care, Yale-Primary Care and Yale-Waterbury all had excellent showings but did not advance to the finals.
The Med Challenge Finals took place at our Annual Chapter Meeting. It was an incredibly tight battle between the four programs. Drs. Fernandes, Kribis and Balasubramananian represented Bridgeport, Drs. Koff, Ho, Ahuja and Shaikh represented Norwalk, Drs. Azeem, Panwala, Bindal and Shukla represented UConn-Categorical and Drs. Goshua, Chowdhary and Sinha represented Yale-Traditional. At the end of the first round, UConn was in the lead by 700 points. However, after the first category of the second round the field was even; all teams were within 200 points of each other. The teams remained neck-and-neck until the final two questions of the round, when UConn clinched the win, even prior to the Final Question. All teams answered the Final Question correctly and the final results were UConn-Categorical in first place, followed by Norwalk, Yale-Traditional and Bridgeport. UConn-Categorical will represent the Connecticut ACP Chapter in the Doctors Dilemma competition at Internal Medicine 2017 in San Diego.
The Abstract Competition at the CT ACP Chapter meeting on October 28th was incredibly well attended. There were a total of 221 posters presented this year: 199 in the Clinical Vignette category and 22 in the Research category. The Research abstracts went through two rounds of judging with Dr. Perry Tiberio of Yale-Primary Care winning the competition with "PrEPared: Implementation of a PreExposure Prophylaxis Program in a Hospital Based HIV Clinic." Second and third places were clinched by Dr. Kaur of Greenwich Hospital and Dr. Kandel of Yale-Waterbury. The Clinical Vignette presenters underwent a grueling three rounds of judging from which Dr. Rebecca Dyer of UConn-Categorical won with her poster "A Missed Diagnosis of Myasthenia Gravis." Dr. Tornatore of UConn-Categorical and Dr. Chow of Norwalk took the second and third place awards respectively. Both Dr. Tiberio and Dr. Dyer won the opportunity to present their posters at Internal Medicine 2017, but all participants are encouraged to submit for presentations.
An enormous thank-you to the 67 judges who volunteered their time, energy and expertise to the amazing posters! We hope to see many of you back next year!
Stay tuned for more events coming your way this winter and spring!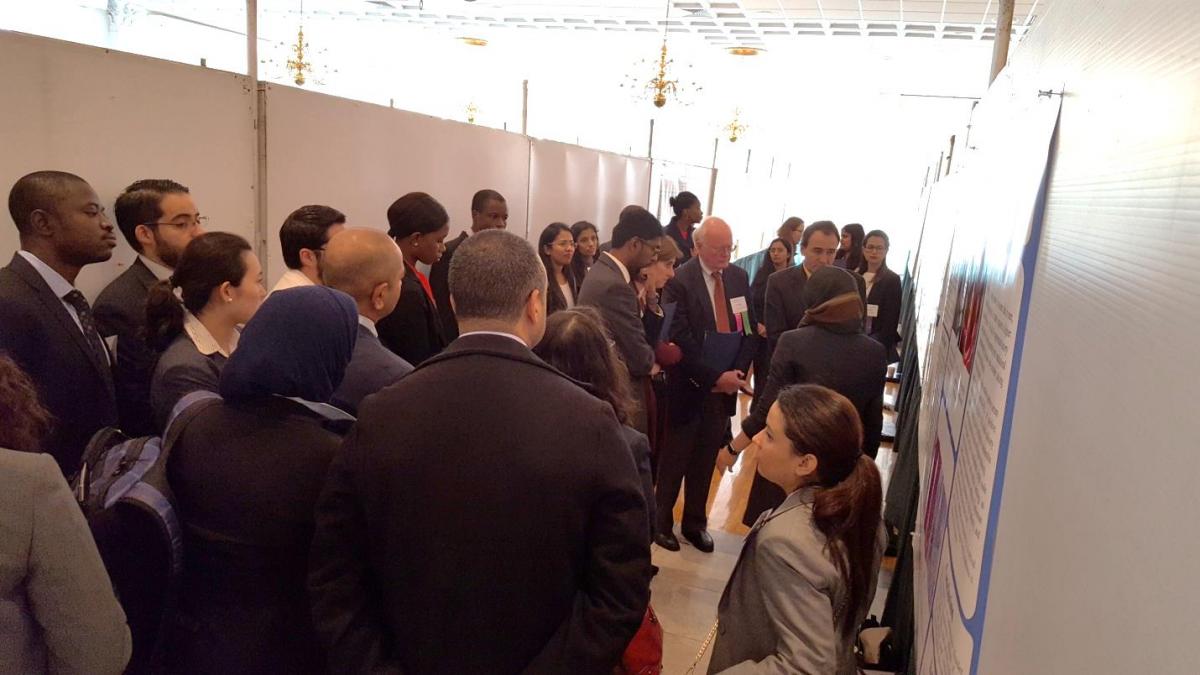 Final Round Clinical Vignette Competition – Dr. Idrees presenting to the judges with a growing crowd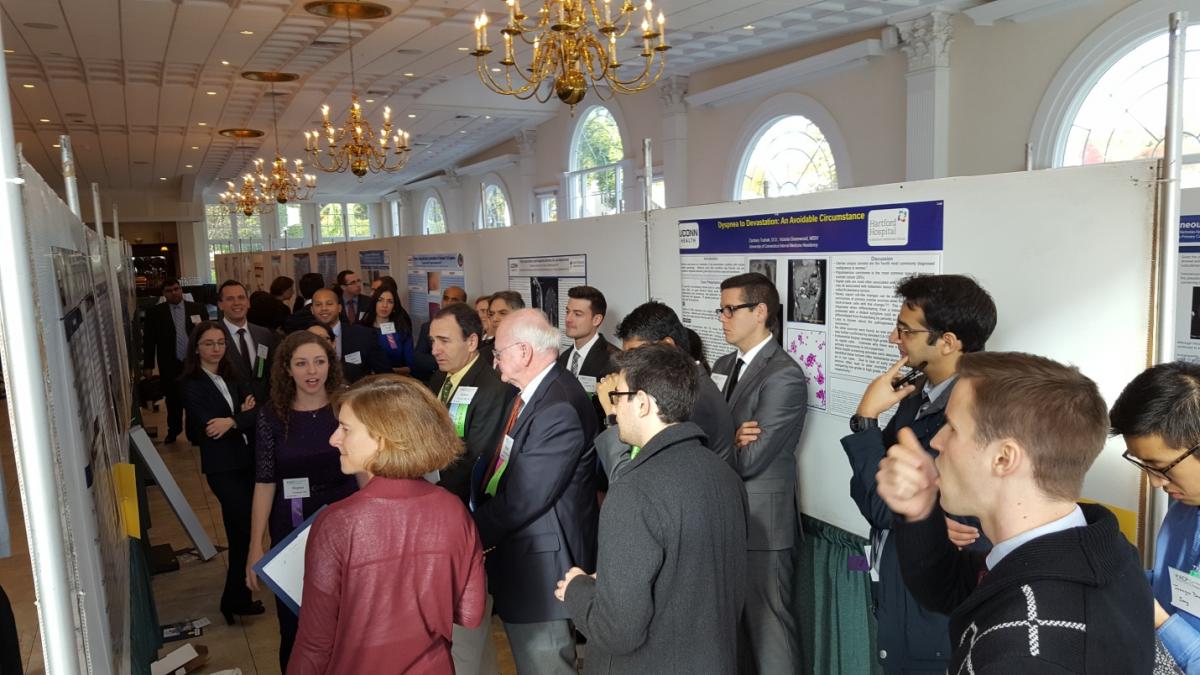 Second place Clinical Vignette Competition – Megan Tornatore with judges and enthusiastic spectators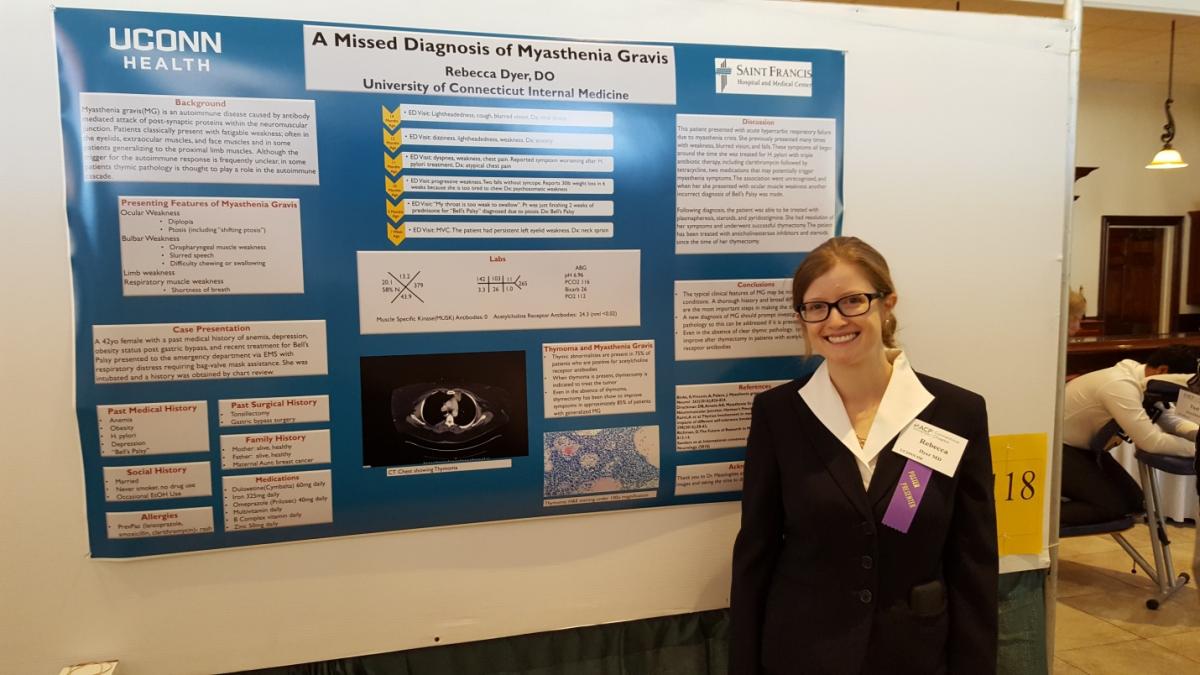 First place Winner, Clinical Vignette Category – Rebecca Dyer of UConn with her poster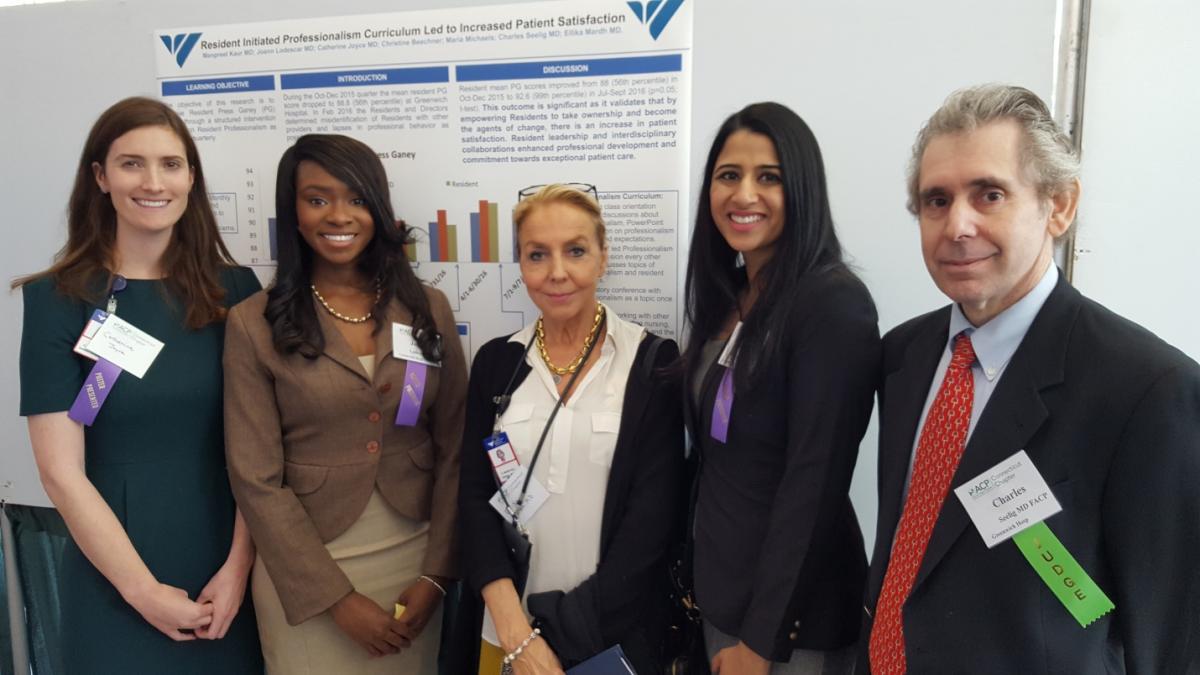 Second place Abstract Competition – Manpreet Kaur and colleagues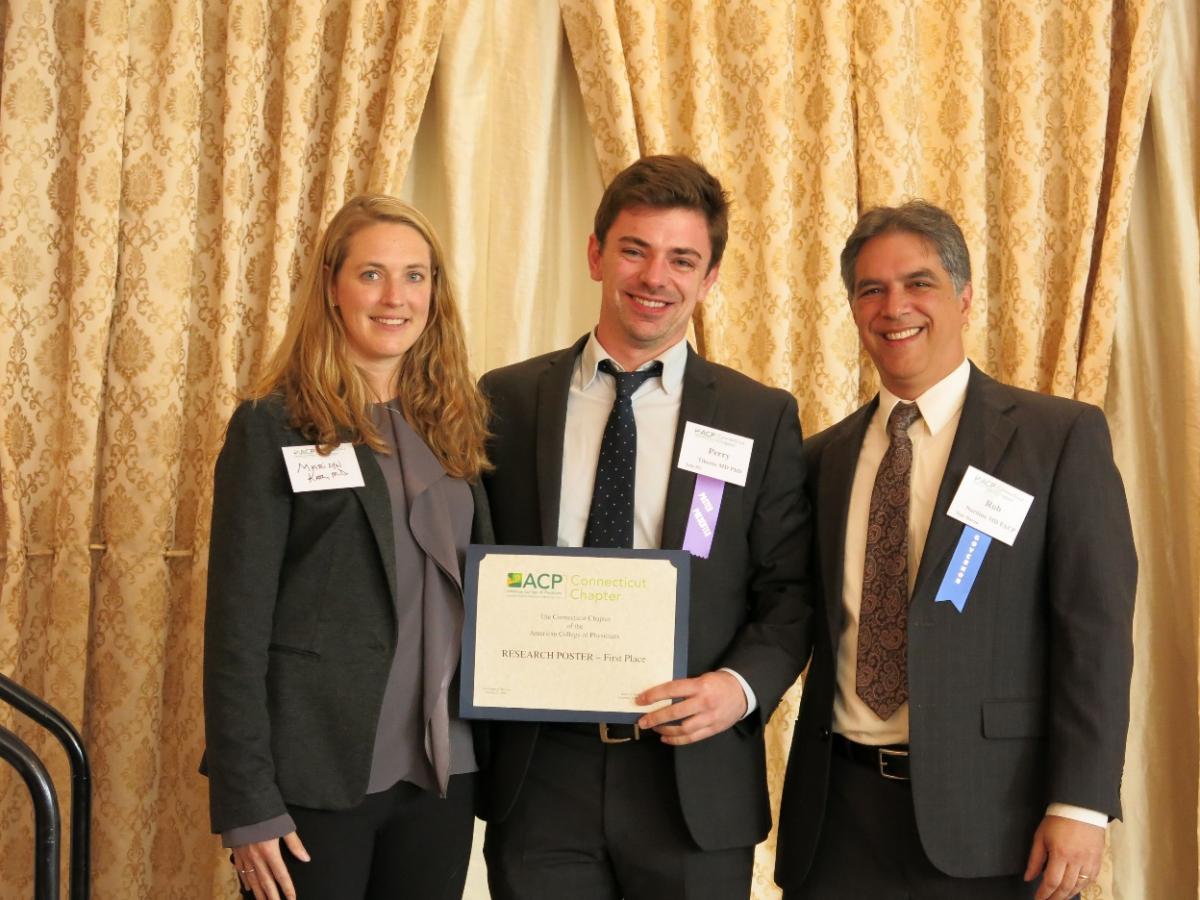 First Place, Research Competition – Perry Tiberio of the Yale Primary Care Program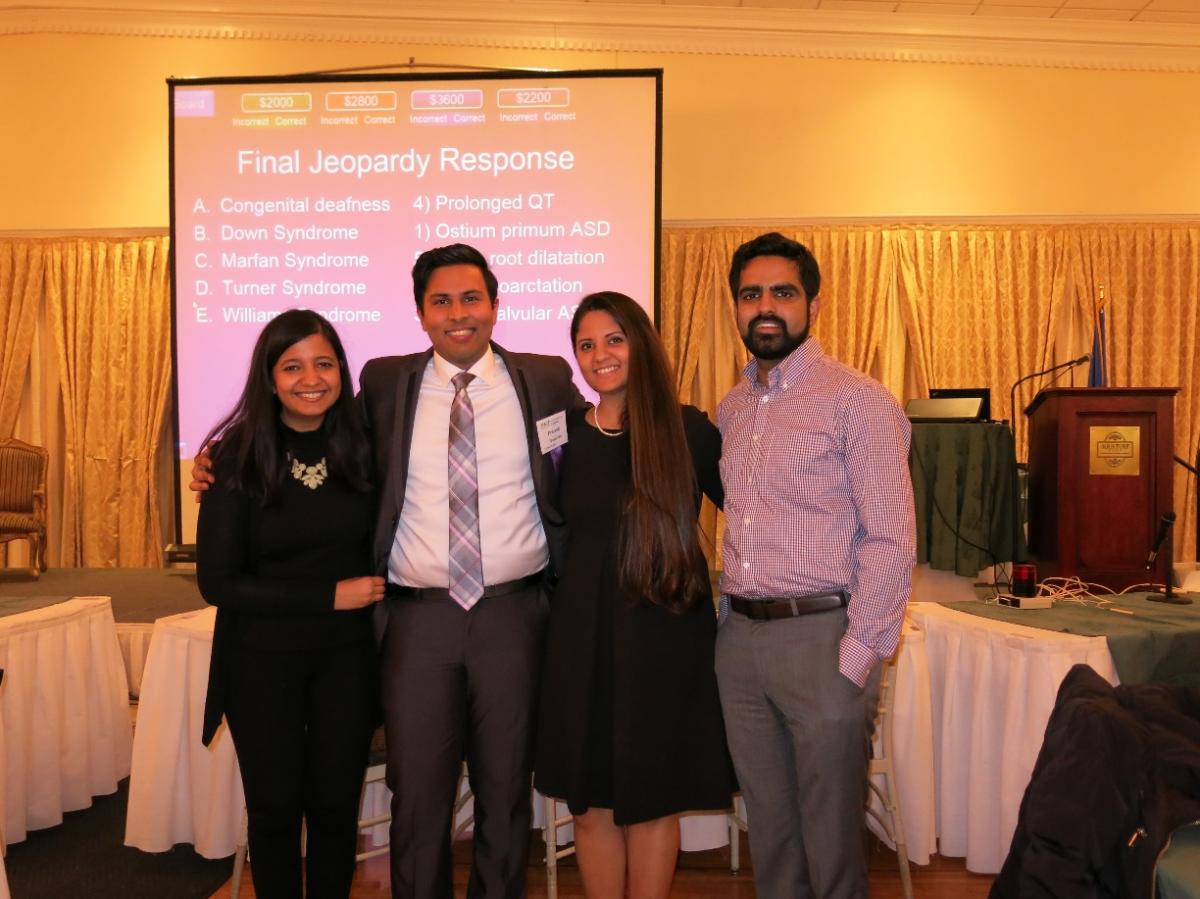 Congratulations to the winning MedChallenge team from UConn
Poorva Bindal, Prateek Shukla, Amruta Panwala, Ali Azeem
---
2016 Chapter Excellence Award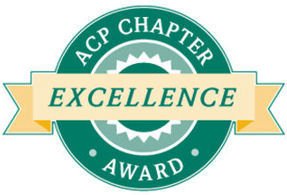 I am pleased to announce that our chapter is in receipt of the 2016 Chapter Excellence Award! The award recognizes chapters which successfully meet the standards for managing a chapter. In order to achieve the Chapter Excellence Award, chapters must meet all basic criteria and ten optional criteria. Criteria include such activities as formulating an effective Governor's Council and committees, communicating frequently with membership, providing educational opportunities, recruiting and advancing members and celebrating membership through local awards. I would like to extend a special thanks to those chapter members who assisted me in all of these endeavors! For their hard work and dedication, we received this award.
---
Diversity Committee Notes
By Varidhi Nauriyal, MD, FACP and Naseema B. Merchant, MD, FACP
The Connecticut Chapter's Diversity Committee hosted its second "Women in Medicine" networking event at the 2016 Annual Chapter Meeting. We were pleased to welcome nearly 60 participants to was an invigorating discussion. Our participants were divided into seven groups and each group highlighted issues pertinent to women at both the professional and personal levels. The groups consisted of a mix of students, residents and practicing physicians. Some key themes that generated great opinions were "individualized" work-life balance; challenges faced in the path to leadership; establishing an effective relationship as a mentor; keeping the channels of communication open; and the art of negotiating & delegating. The participants were also encouraged to provide suggestions on how ACP could help provide ongoing support to women in medicine. Feedback for the event was positive and there was enthusiastic support for future similar events in different parts of the state. We would love to hear of any additional ideas or suggestions for the diversity committee. Please feel free to reach out to us by contacting Varidhi Nauryal or to Naseema Merchant .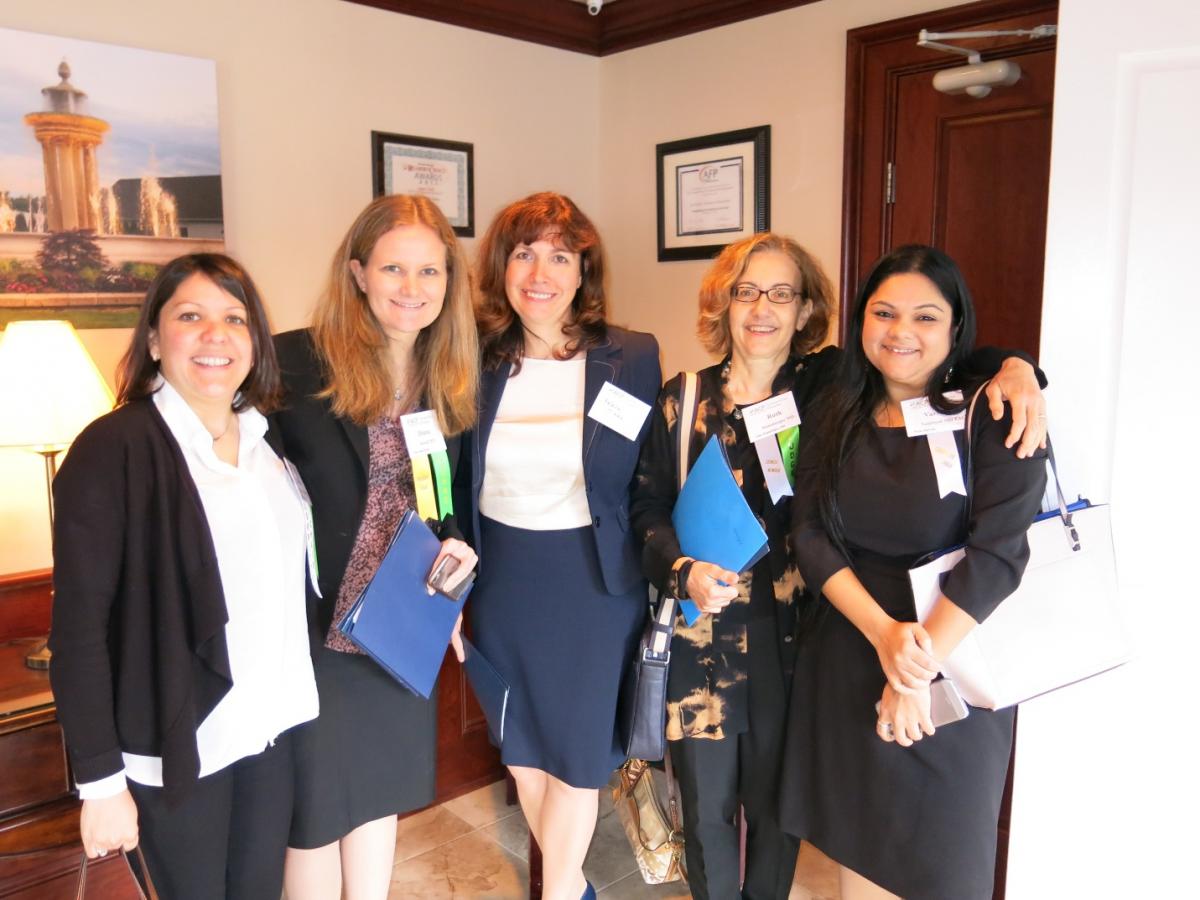 ---
Medical Student Council Activity at Lyman Orchards
Constance Zou, Class of 2019 Medical School Candidate, Yale School of Medicine
On a beautiful fall day in September, medical students joined their peers from Yale School of Medicine, UConn School of Medicine and Frank H. Netter MD School of Medicine (of Quinnipiac University) for a lovely afternoon of fall apple picking. The event was supported by the chapter faculty liaisons, Dr. Ellen Nestler, Dr. Barry Wu, and Dr. Ilene Rosenberg; and facilitated by student leaders. Long-time Yale faculty member Dr. Leonard Grauer, FACP, gave an illuminating workshop on preventative medicine and nutrition. Students appreciated the natural beauty of the state; enjoyed the company of each other; and procured healthy fruits. Freshly picked apples were donated to Columbus House, a local homeless shelter working with YNHH to offer critically needed bridging care for the homeless.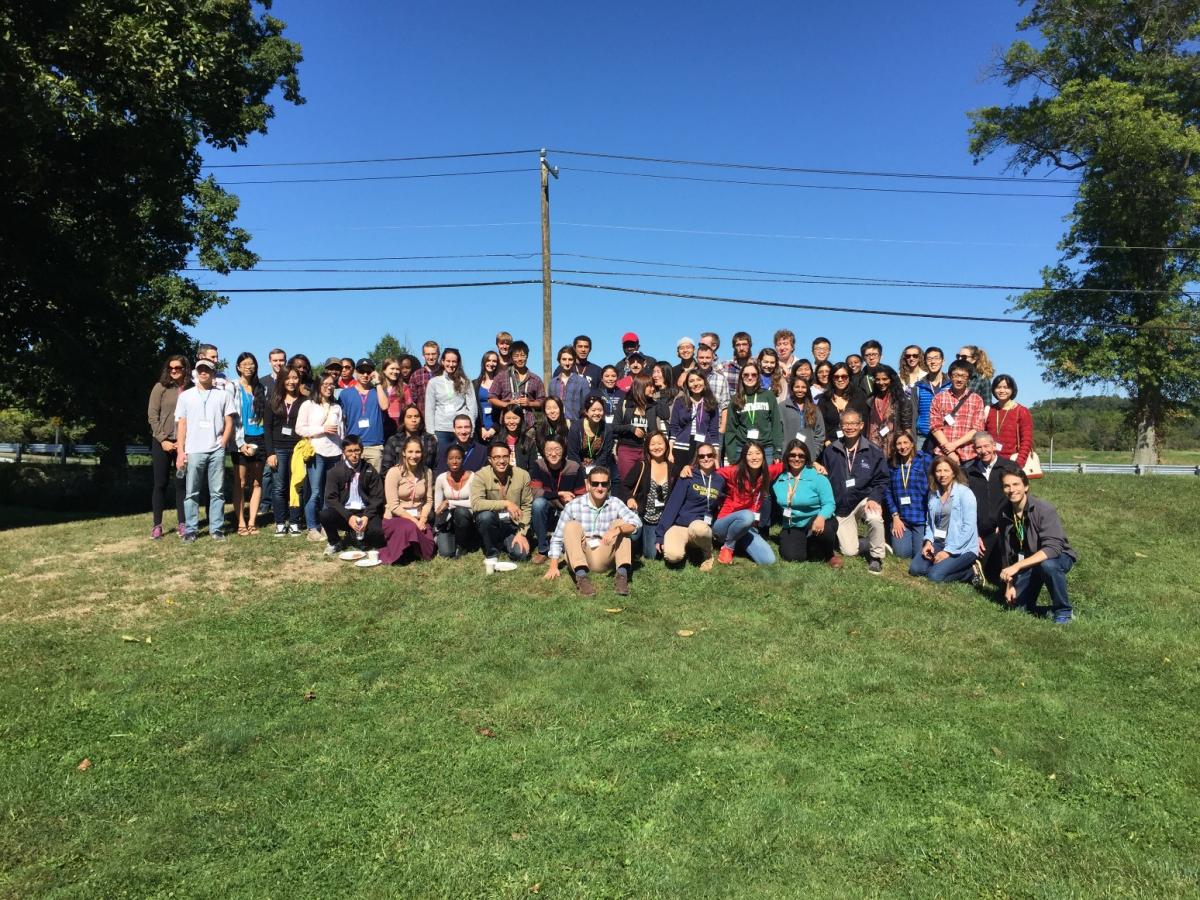 Students from Connecticut's three medical schools met at Lyman Orchards in Middlefield, CT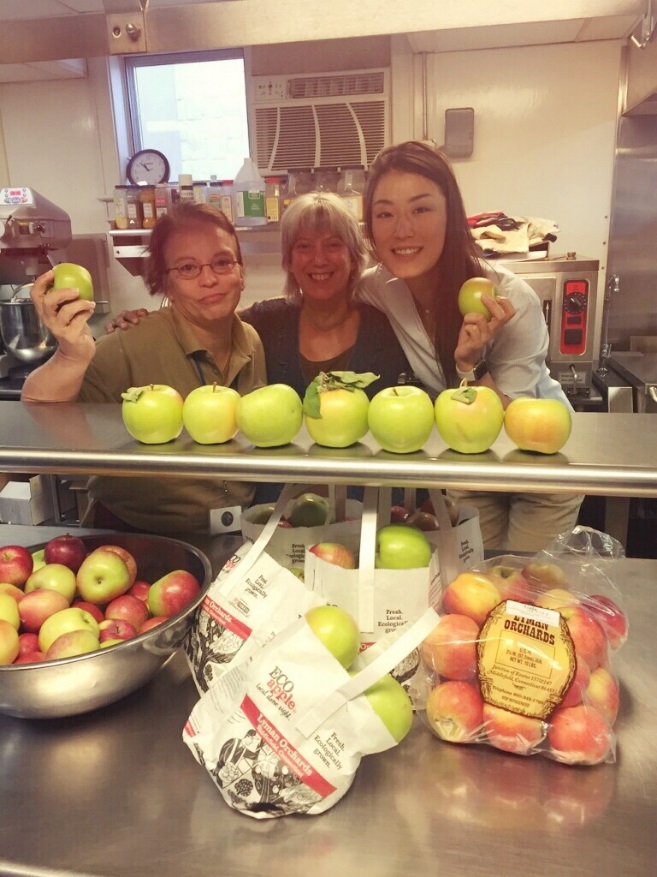 Constance Zou (right) delivers apples picked by the ACP Medical Student members to the Columbus House shelter in New Haven.
---
Medical Student Council Update
By Rachel King (Netter), Erin Gombos (UConn), Constance Zou (Yale)
From the Frank H. Netter MD/Quinnipiac Student Internal Medicine Interest Group: The Internal Medicine Interest Group at the Netter School of Medicine has continued the "Find Out What Internal Medicine Is All About" series, hosting physicians from internal medicine, cardiology, infectious disease, hematology-oncology, nephrology, and gastroenterology so far this academic year. After a successful ACP recruitment campaign when the Class of 2020 arrived in August, we are proud to have 46% of our students in the ACP. With the enthusiasm of the first year class, we expect this number will only continue to grow in the coming years. As Netter prepares for our first Match Day, we are all excited to see where our inaugural class will be continuing their training. Finally, on behalf of all of the Netter students who attended September's ACP event at Lyman Orchards, I would like to thank Constance Zou from Yale for her outstanding effort and a fun, successful event! We look forward to more events with UConn and Yale in the future.
From the UConn Student Internal Medicine Interest Group: UConn students have had a successful start to the new academic year. We have had excellent turnouts at our ACP-sponsored monthly Internal Medicine Interest Group meetings including a Jeopardy-like game night/discussion of a career in primary care as well as nephrology night. Upcoming events include a Lunch & Learn to teach students what membership in ACP has to offer.
From the Yale Student Internal Medicine Interest Group: Under the dedicated guidance of Dr. Stephen Huot, the presidents of Yale's IMIG Constance Zou (MS2) and Aaron Hakim (MS2) have decided that the most important mission for a student interest group is to facilitate connections between students and faculty. Four large events were organized. First, IMIG invited the new director of the Department of Medicine Dr. Gary Desir to speak about his life, career and his work to help build a hospital system in Haiti. Second, pre-clerkship students attended a brown bag lunch Q&A for anything medical school related with program directors and clerkship directors in internal medicine. In the third event, students spent a lovely dinner with current Yale IM residents. It was intended primarily for those who were applying into IM this year. Students received valuable advice, such as "the right number of interviews", or "what to look for in a program". Fourth was our annual large faculty meet and greet. We chose the format of "speed meeting" with the hope that the students can speak with a greater variety of faculty. Students rotated six times among 8 tables, each hosted by 2-4 faculty, who represented every subspecialty within IM. The event received great feedback from both the students and the faculty.
---
ACP Dragon's Lair Competition: Breathing Fire into Health Care Transformation
Are you an innovator in healthcare? Do you have a project idea that improves patient outcomes, cuts unnecessary costs, or allows physicians to collaborate more effectively? If so, ACP wants you to face the heat and enter the lair!
ACP Internal Medicine Meeting 2017, being held March 30-April 1 in San Diego, CA, will be hosting the second "Shark Tank"- themed competition where finalists will present their projects to a distinguished panel of judges in front of a live audience. Project ideas may be submitted by physicians or medical students and should focus on transforming clinical practice. A Grand Prize winner will receive $7,500 in funding for project development and an Audience Choice prize of $2,500 will also be awarded. All finalists are eligible to receive complimentary meeting registration and travel funds to attend ACP Internal Medicine Meeting 2017.
For additional information and to submit an application by the December 30, 2016 deadline, please click here.
---
Congratulations to New Fellows!
Rina Ayepah, MBchB FACP
Frederick A Browne, MD FACP
Marylee H Dilling, MD FACP
Maria Cecilia Franco Vega, MD FACP
Joseph G Garner, MD FACP
Shovendra Gautam, MBBS FACP
Cristina H Hung, MD FACP
Alexander Mbewe, MBchB FACP
Mark L Metersky, MD FACP
Jaimie P Meyer, MD FACP
Debmalya Mukherjee, MBBS FACP
Varidhi Nauriyal, MBBS FACP
Sujata Prasad, MD FACP
Jack W Ross, MD FACP
Louis Scott Sussman, MD FACP
Amy M Tocco, MD FACP
Jitesh K Vachhani, MD FACP
---
Welcome New Members!
Gada Abdelhafiz, MD
Mustafa Azmi Alsaida Alkhreisat, MBBS
Raza Alvi
Vikram Anand, MD
Veronica C Angulo Diaz, MD
Vidhya Y Aroumougame, MD
Sohi Ashraf, MD
Wossen Belachew, MD
Raffaele Mario Bernardo, DO
Niko Broodie-Murray, MD
Rabia Cheema, MD
Xiaoyan Chen, MD
Benjamin M Cherry, MD
Thomas Chin, MBBS
Lilyan Chirayath, DO
Yvonne Chu
Jennifer Clark, MD
Seth L Clohosey, MD
Thomas J Corredine, DO
Lin Corson, DO
Maureen Dana
Xuemei Dong, MD
Anjali Dutta, MD
Rukevwe Ehwarieme, MD
Ifeoma Ekeh, MBBS
Nkiruka Emeagwali, MD
Evangeline I Emesue, MD
Suleyman Felek, MD
Emmet P Ferriter, MD
Degha N Fongod, MD
Joseph Fusco, DO
Lawrence Giove, MD
Vladimir Glinskii, MD
Kavitha Gopalratnam, MBBS
Bonnie E Gould Rothberg, MD,PhD
Katherine E Gross, MD
Kaitlyn M Guardino, MD
Habib Hamoud, MD
Sarah Hashmi, MD
Ruth K Haynes, MBBS
Shriyanka Jain, MD
Issra Jamal, MD
Silda A James, MD
Christopher Jones, MD
Valerie Jorge Cabrera, MD
Vidhu Kariyawasam, MBBS
Zadie Kenkare, MD
Akhil Khosla, MD
Sena Kilic, MD
Dhaval S Kolte, MBBS,PhD
Venkata Praveena Kota, MD
Ryan P Lapointe, MD
Helena C Levy, MD
Mariano Ramirez Librojo, Jr MD
Brian Linde, MD
Anne F Liu, MD
Tao Liu, MD
Tiffany Y Lu, MD
Shaina M Lynch, DO
Divyanshu Malhotra, MD
Ashly Maughan, MD
Stephanie C Mayoral, MD
Mitchell McClure, MD
Maria T Milan, MD
Laxmitejaswi Mittapalli, MBBS
Marie Mortel, MD
Jeffrey M Mufson, MD
Shruti Murali, MD
Sivraj Muralikrishnan, MD
Nathan Nartey, MD
Mirela Nicolescu, MD
Pamela Ohri, DO
Benjamin J Oldfield, MD
Chisom Onuoha, MD
Magna Pastrano Lluberes, MD
Kush S Patel, MD
Julia H Perry, MD
Rebecca Pike, MD
Joseph M Pruner, MD
1ST Saeeda Qadri, MD
Neiman A Ramjattan, DO
Nakul Ravikumar, MBBS
Fauzia Riaz, MD
Sita Roshan, MD
Parifar Rostami, MD
Armand Vincent Russo
Abid Shah, MD
Maria Del Pilar Silva Chuecos, MD
Vasundhara Singh, MD
Germine Soliman, MBChB
Tyler Stewart, MD
Muhammad Ali Syed, MBBS
Felix R Szabo, MD
Tarun S Tandon, MD
Iyerus Tariku, MD
Pavel Teslya, MD
Patrick Twum-Barimah, MD
Juan P Villa Rodriguez, MD
Keisha Ward, MD
Clara Weinstock, DO
Marcene Wilmot, MD
Virginia K Workman, MD
Robby Wu, DO
Wei-Teng Yang, MD
Shamima Yeasmin, MD,PhD
Anna Zielinska, MD