You are here
Colorado Governor's Newsletter May 2017
Colorado Governor's Newsletter May 2017

---
---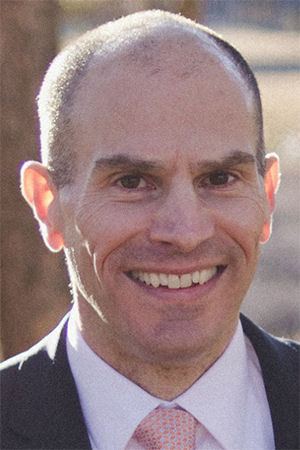 Andy M. Fine, MD, FACP, ACP Governor
---
Governor's Note
What a honor to be your advocate and leader for the next four years! The more exposure I have to ACP's national mission, vision, and strategic plan in action, and the staff behind it, the more excited I become.
Members would be proud to see that the driving force of ACP is directed at improving the lives of patients–thru advocacy work to improve delivery and payment systems, thru policy work to ensure access to care, and thru education to physicians to become better clinicians.
ACP sees our professionalism responsibilities extending both to our patients and to the community; we need to advocate for what's right for both, meaning we now must concern ourselves with being stewards of just distribution of finite resources. We diagnose our patients, while practicing population health and disease prevention.
A lot to be responsible for, and too much to cover in a visit or two. We are in unchartered times, where more than ever we must become leaders in setting policy that values the cognitive services that internists give, cognitive services that help patients get the right value based care in the right setting.
---
Brief updates
ACP's "Patients before Paperwork" initiative is a national commitment to improving our lives so that we can spend more time in front of patients, delegating non-clinical administrative tasks, simplifying EHRs, and increasing the relevance of quality reporting. It has specific, actionable recommendations for policymakers and industry. We as physicians need to participate, to continue to engage in reform efforts to work with legislators, regulators, and health/ healthcare administrators, rather than simply complaining about what is being done to our patients and our profession.
ACP is working with ABIM to improve both board recertification and MOC: less burdensome, less costly, more interactive, more relevant to improving patient care. Progress so far significant: more to come.
Our Governor's Council will meet shortly to establish a set of chapter goals, priorities, timelines, etc.to meet your ongoing educational and advocacy needs. A primary role of a chapter Governor is to bring grassroots concerns from members, with proposed solutions or improvements, to the Board of Governors. If you have ideas, or want to get involved with ACP, please email me
Respectfully,
Andy Fine, MD, FACP
Governor
---
Governor's Farewell
The last four years have been a professional high point for me! My term as the ACP Colorado Chapter Governor was quite eventful, and I would like to share those things that stand out most in my mind:
"Leading Interal Medicine, Improving Lives" was the new ACP slogan in 2013 when I began. Along with that campaign came products with catchy internal medicine phrases (as catchy as IM can be). I still love drinking from my "I think, therefore I.M." coffee mug every morning. It's true, after all.
Each May a group of us went to Washington, DC, learned from Bob Doherty, carefully plotted out our talking points and "asks", and visited our legislators on the Hill. And guess what? Finally the Sustainable Growth Rate was repealed, and we were introduced to MACRA… which is now QPP… and we are still figuring it out. But this is sure a step in the right direction!
Priorities for patient care have been moving from volume to value, and all of the components of the ACP's High Value Care Initiative that have rolled out have been and will be "invaluable" in moving the needle! Good stuff.
Recent policy papers have addressed such huge topics as Reducing Firearms-Related Injuries and Death and Climate Change. I agree with one of your comments at the chapter meeting: I am so proud to be a member of this organization that addresses these issues that matter to our patients.
The Patients Before Paperwork Initiative has taken big steps to call out physician wellness and administrative burdens. It's worth reading the newly published paper if you haven't. This is what is so very important to our each and every day.
ABIM MOC. Period. It's changing thanks to ACP's advocacy. Yay!
In the Colorado Chapter we have had incredibly high quality meetings, advancement of many of you to Fellowship (Congrats again!) and even Mastership. We've recognized Early Career Physicians, talented experienced Laureate Award winners, and a Service-to-the-Chapter Awardee. The Council of Early Career Physicians has new innovative projects ongoing. The Associates events are growing with the addition of new residency programs. And the medical students at both schools are actively engaged in learning about the future of internal medicine. Our chapter is thriving.
All of this and really so much more but, when I reflect on my tenure, I know that I will most value and treasure the relationships I have made with internists around the state, country, and world. In this time when we communicate electronically and work in silos, it is the face-to-face conversations that still matter the most. I have enjoyed sharing stories, debating issues, and overcoming hurdles with all of you, my peers. How lucky we are to have this venue to come together as a profession. Thanks to all of you!
Christie Reimer, MD, FACP
---
2017 ACP Colorado Doctor's Dilemma Update
At the annual state, ACP Doctor's Dilemma competition held at Maggiano's in February, the University of Colorado team beat out the teams from St. Joe's and Parkview to earn the right to represent Colorado at the National ACP meeting in San Diego. Team veterans Denise Hasson MD (Med Peds PGY3) and Will McKleroy MD (PGY2) along with rookie Erin Armenia MD (PGY2) dug deep working on memorizing guidelines, eponyms and triads to boost their chances of success at the national competition in March. Fueled by fish tacos and accompanied by their coaches and Doctor's Dilemma alumni, Tejas Patil MD and Julie Knoeckel MD, the team mounted a comeback in the first round against New York, Maryland, West Virginia and British Columbia to win first place and advanced on to the semi-finals held the following day where they competed against Ontario, U.S. Army, Texas North and Washington. Unfortunately, they were unable to gain enough momentum in the final category of play- ophthalmology- to advance to "The Final Five." The team will all be back next year and is looking forward to the fun annual tradition at Maggiano's!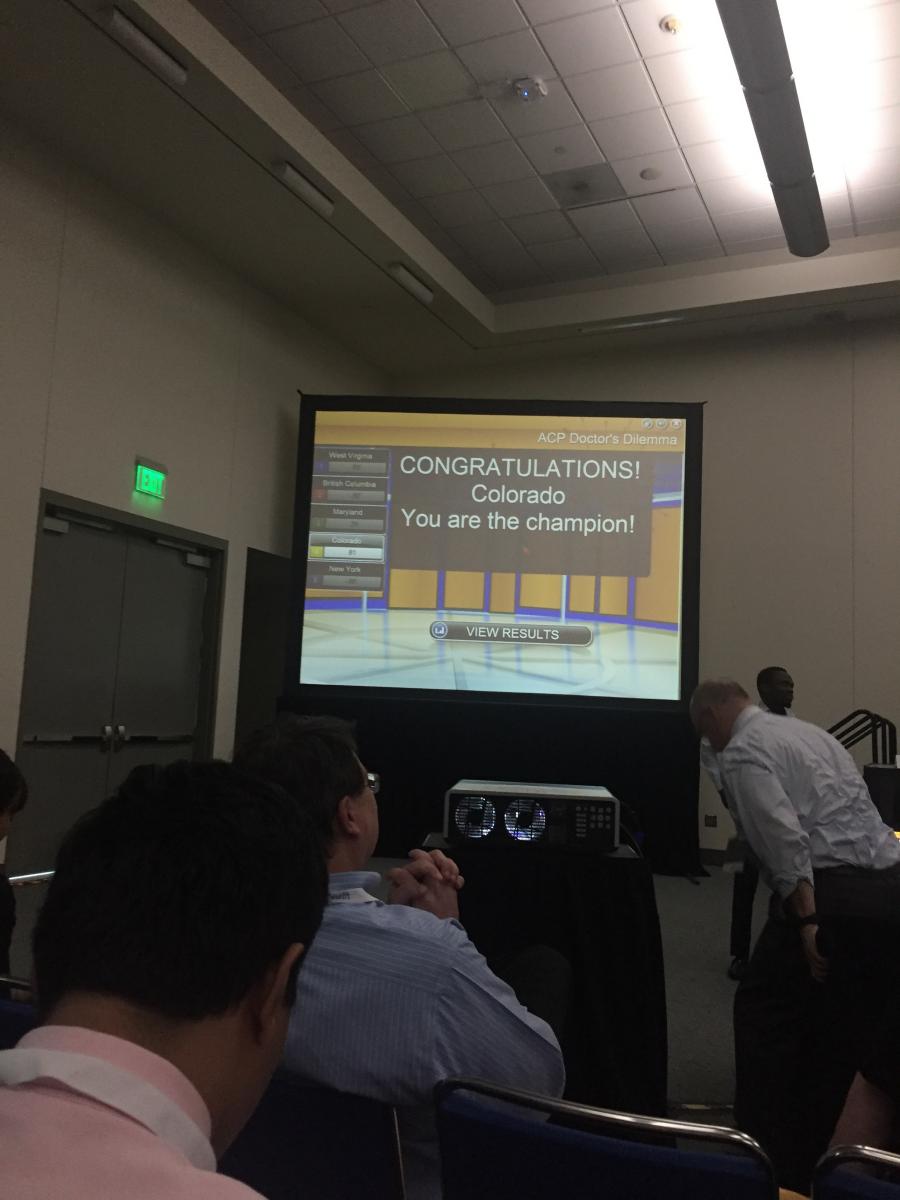 IM 2017 - DD competition: Erin Armenia, Denise Hasson and Will McKleroy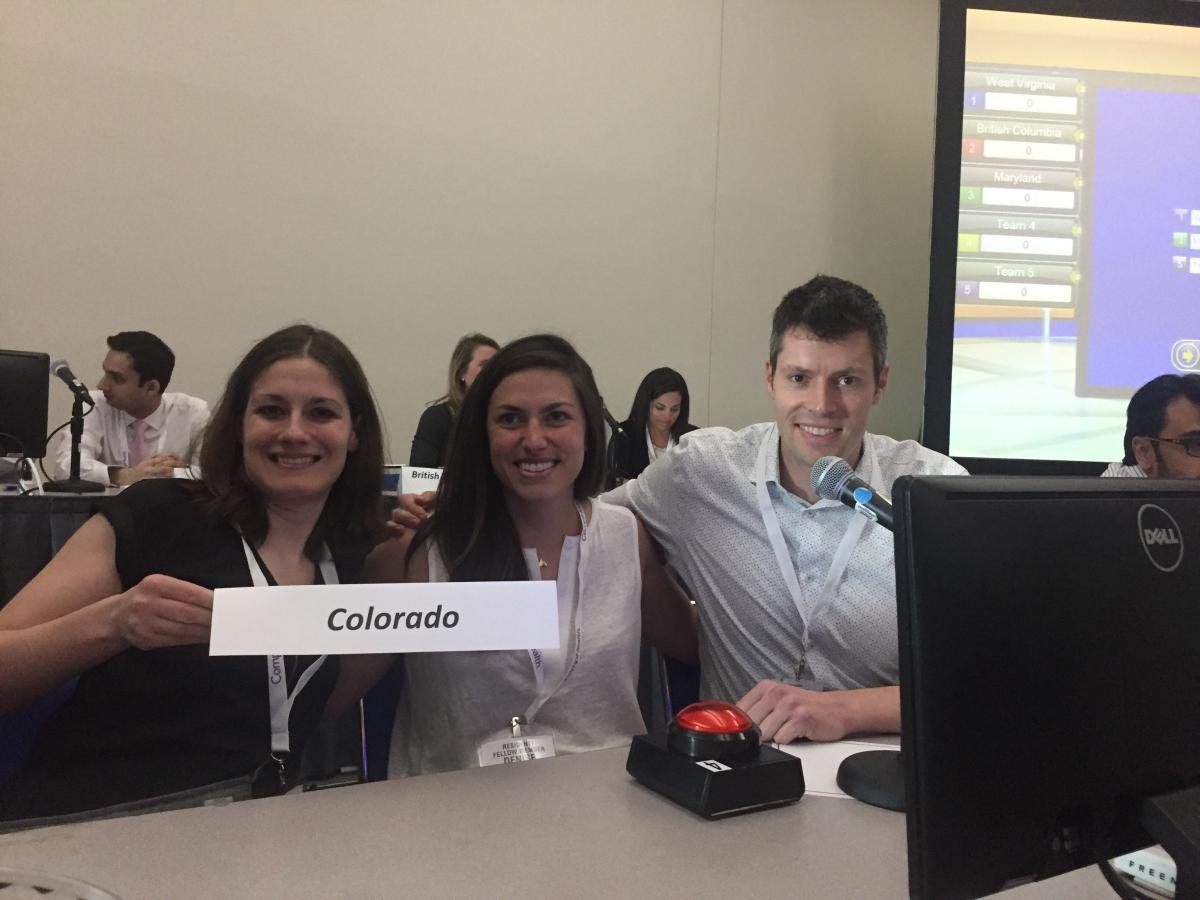 IM 2017 - DD Competition: Erin Armenia, Denise Hasson and Will McKleroy
---
Colorado Early Career Physicians Update
The ACP Colorado Chapter Council for Early Career Physicians is hosting a Salon Dinner on Thursday, May 11, 2017, from 6-9PM. Dr. Cecilia "Ceci" Sorensen will be leading a discussion on climate change and health. Dr. Sorensen is an Emergency Medicine Physician at Denver Health and the 2017 Living Closer Foundation Fellow in Climate and Health Science Policy at the University of Colorado. The event will be held at the home of Dr. Beth Gillespie in the Sloans Lake neighborhood of Denver. For further information, please contact Dr. Beth
The CECP will also be hosting an event at the Colorado Springs Olympic Training Center on Saturday, May 13, 2017, from 1-3PM. The day will feature Julie Miller, Associate Director of Sport Performance at the OTC, who will be speaking about wellness, resilience, and performing "at the top of your game," as well as a VIP tour of the training facilities. To register for the event, please visit here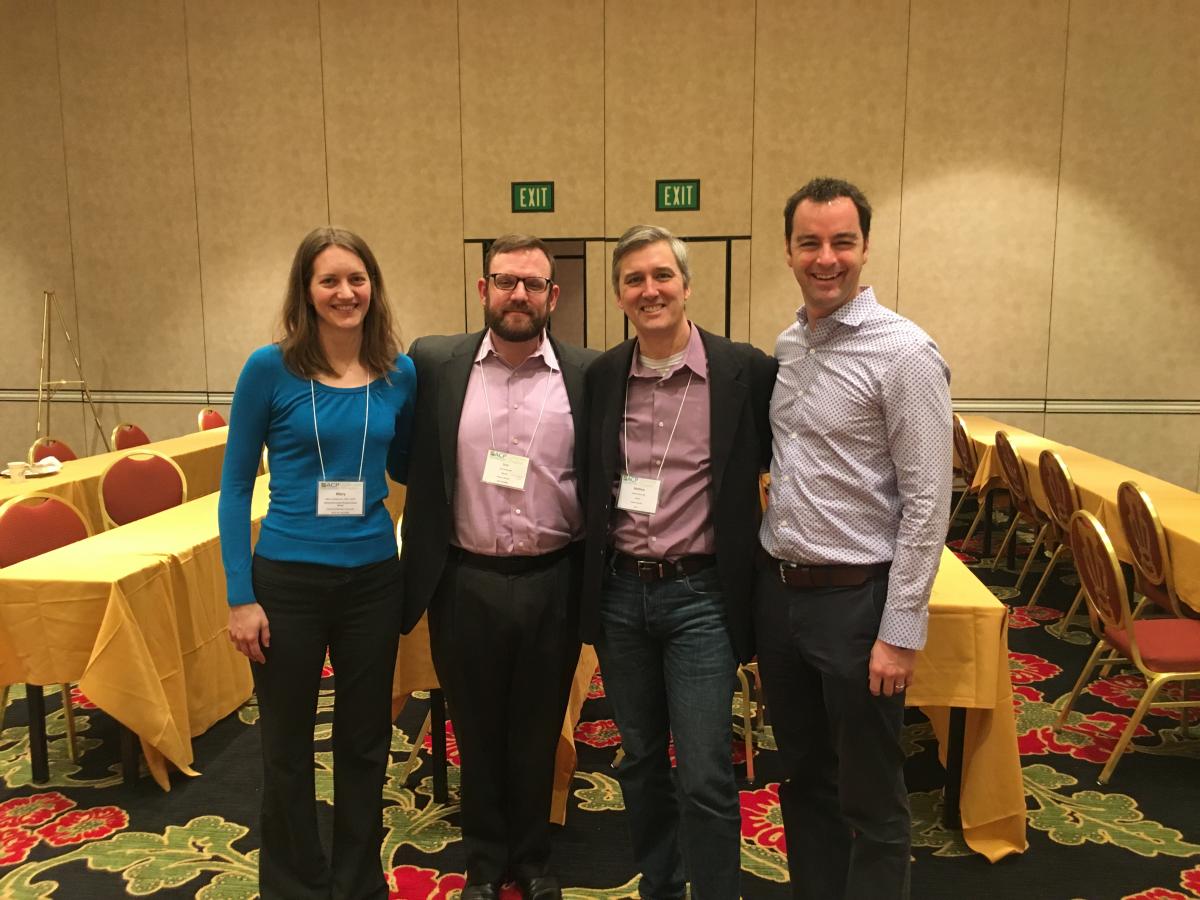 2017 ACP Colorado Chapter Meeting-CECP Breakfast
---
A Call For Physicians
Rocky Vista Osteopathic students are working toward opening a free medical clinic to be open Wednesday evenings weekly. They have organized their schedule, equipment, and a host site which will be at The Church at Parker (located on Pine Drive). They currently have 1 physician who has volunteered some time. They are scheduled to start seeing patients January 4th at 6:00 pm.
Would you be willing to take an evening periodically to see patients with the students? They will vary from first to fourth year, and will have capability and responsibility to provide what is needed from check-in, initial history and exam, as well as check out. Please consider contacting Taylor Reiser to find out more about the program and how you may provide a very valuable service to both the community and the students. If you have COPIC insurance and are currently practicing, it is confirmed you likely have coverage already in place for this volunteer effort.
---
This is from COPIC
Generally speaking, if we insure a physician with their own limit of liability, that limit would extend to any work within the state of Colorado, within their hours and specialty. This is also non-specific to address compensated or uncompensated, to us it doesn't matter (practicing is practicing). With that said, we would want to consider those 'hours' worked on a volunteer basis within their policy, so that may affect premium, depending on their current status and how much they'd be volunteering. However, if they're already 'rated' at full time with COPIC, this additional work would not affect premium.
With that, there are a few exceptions to the policy providing coverage anywhere in the state, within hours and specialty.
If they are named on a group policy at COPIC, sometimes groups restrict their physicians to only work on behalf of the employment or group locations. If they are on a group policy, have them discuss this issue with their group to confirm coverage.
If they are listed on a slot policy, they would not have coverage for outside work. Slot coverage is location specific so it would not extend anywhere in the state and it's a limit shared amongst several physicians.
If they are named on a hospital/facility policy, this coverage is specific only to their employment at that hospital/facility. It would not extend to volunteer work for another facility.
My first suggestion would be to discuss the work with them and then have them verify with their carrier (if not COPIC) or us. If for some reason their coverage does not extend, we do have a volunteer policy at COPIC. This policy is meant to cover physicians in Colorado for volunteer work in a family practice type setting. The policy does not cover OB, surgical procedures, invasive procedures, etc. However, if the situations above (1-3) fit one or some of the physicians, they can be covered for volunteer work under this specific policy to protect them. The volunteer policy is free for physicians, as COPIC pays the premium for this policy, assuming they meet the guidelines of uncompensated work, in a family practice type situation.
---
Health and Public Policy Committee Update
It is a turbulent time for health care policy and it often is a headline news story. During our teleconference on 3/23/17 we discussed the efforts to repeal and replace the Affordable Care Act (ACA) and agreed that "Health Reform is Complicated." It is especially important at this time to reaffirm the ACP's policy positions with our legislators including opposition to the American Health Care Act while advocating for building on the gains made under the ACA. Advancing the advocacy of the national ACP a sizable group of Colorado ACP members will be going to Leadership Day in Washington, DC May 23 and 24: Chris Unrein, Mary Anderson, Erik Wallace, Laura Dingle, Sean Brodie, Al Steinmann, Chris Campos, Jacob Fox, and Mark Matthews.
At the state level Deb Parsons has joined Mark Matthews on the Colorado Medical Societies' (CMS) Council on Legislation representing the CO ACP. We meet every 2 weeks during the legislative session and have the members of the H&PP committee review and comment on the agenda items prior to the meeting. Rich Penaloza is also attending as a nonvoting guest and will likely join the committee next year. Watch for "Code Blues" sent out by the CMS that encourages us to call or email our legislators on high priority bills. This year's code blues included a bill to uncap malpractice damages for patients under 18 years old and a recent attempt by naturopaths to be allowed to prescribe hormones. It is easy to cut and past the CMS talking points and e-mail them to your senator or representative.
We are planning to have another teleconference before and/or after Leadership Day.