You are here
GOVERNOR'S NEWSLETTERJune 2014
GOVERNOR'S NEWSLETTERJune 2014

---
---
Letter From the Governor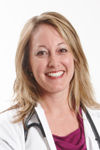 Christina M. Reimer, MD, FACP, ACP Governor
It's Summer in Colorado and we couldn't be luckier to live in such a fantastic place. My family went on a beautiful hike today and, as we had a late lunch on the patio at one of Fort Collins' breweries afterward, I was reflecting on what I should send out for information to our ACP members while realizing that we should be maximizing our time enjoying the outdoors. I recently learned that most of us will only read a very short snippet of information via email, so I will keep things short. We have a lot of updates about our chapter and what is happening nationally, so please read them all. Since the last update we've been busy with the national Internal Medicine 2014 meeting where we were proud to welcome new FACP's and even one MACP, our Colorado Chapter Associates' meeting, Leadership Day for advocacy in Washington, DC, and we are already planning for an inaugural ortho education day this Fall and for next year's Colorado Chapter meeting at the Broadmoor. Please mark your calendars for September 6th, 2014, and February 5th through 7th, 2015 for these top-notch CME events.
---
Colorado Early Career Physicians Update
I am soon to complete my first year of practicing medicine after residency. Parts of my practice have been exactly as I expected but there has also been countless surprises. I am sure everyone's experience in their first 5-10 years of practice has been unique. I am trying to collect short (1-3 paragraphs) perspective articles where you share an experience from your practice. They can be about a patient encounter, the struggles of running a private practice, balancing home and work life, an obstacle to overcome, or just about anything else. These articles will be shared with the ACP members in Colorado by including them in future newsletters. If you are interested in writing an article please email me the article or any questions to david.johansen@gjhosp.org. The article can be sent out anonymously, with a first name or with a first and last name. I look forward to hearing your stories and experiences. Thank you for your help and contribution.
ACP Colorado Council of Early Career Physician is currently organizing an event to watch the Colorado Rockies. Last year we had about 25 people attend and this year we are hoping for even more. We have not yet picked a day but anticipate a Saturday evening game in the middle to end of August. There will be a follow up email with the details.
---
CME/MOC available to ACP Members on the ACP Web Site
ACP offers a variety of ABIM recertification resources to help you earn both ABIM Maintenance of Certification points and CME credits through the same educational program. All ACP MOC modules are free or included in the price of the product/meeting, with the exception of the live courses to complete ABIM modules.
ACP Update about ABIM's MOC Program
Medical Knowledge Points
Online High Value Care Cases
Learn how to eliminate unnecessary healthcare costs while improving patient outcomes with these interactive cases on high value care.
The 30- to 60-minute topics can be completed on your desktop, laptop, tablet, or smartphone. Review the cases, answer the associated multiple-choice questions, and read through the critiques. You can also download the take-home tools to help you incorporate HVC principles into your practice. The cases offer free online CME and may fulfill risk management/patient safety CME required by some states. They have also been approved by ABIM for 13 MOC medical knowledge points and patient safety credit.
NEW! ACP Clinical Shorts
Introducing the latest way to earn continuing medical education credit online from ACP: Clinical Shorts.
Subscribe to ACP Clinical Shorts today and get one full year of unlimited access to 28 educational clinical videos. After you watch a video, answer a three-question quiz and start earning CME credit-.25 credit per Clinical Short.
ACP Smart Medicine New Clinical Decision Support Tool - FREE to ACP members
The only clinical decision support tool developed by a professional society, ACP Smart Medicine provides original content specifically developed for internal medicine.
Targeted content and a powerful internal site search ensure you get relevant answers fast.
Bulleted, streamlined structure provides immediate access to hundreds of evidence-based recommendations on diagnosis, therapy, prevention, screening, and more.
ACP Single Sign-on allows you to log in once and get access to all of your ACP accounts.
Integrates seamlessly with your subscription to Annals, ACP JournalWise and other clinical guidelines.
Optimized for mobile, ACP Smart Medicine automatically adapts to whatever device you're using.
Claim free CME for your activity by documenting what you read and how it impacted your practice. ACP Smart Medicine automatically tracks your usage.
---
Colorado Electronic Death Registration (EDR) system
The Colorado Dept of Public Health & Environment, Office of the State Registrar of Vital Statistics is developing an Electronic Death Registration (EDR) system that will be utilized throughout the state by those who document medical and demographic information on a death certificate or certify (sign) death certificates. This system is expected to be implemented Jan.1, 2015. EDR provides for secure, on-line access so that decedent fact-of-death and cause-of-death information can be registered electronically. The physicians will have the option to either use the EDR system themselves or for them to assign staff (medical records, HIM, nursing staff, etc.) to do so, and then the physician will certify the information using their unique PIN. To find out more about the EDR system, or to keep up-to-date on scheduled training opportunities, you may access the Electronic Death Registration (EDR) website or email the State Vital Statistics office at cdphe.edr@state.co.us.
---
2015 ACP Colorado Chapter Residents' Meeting - May 13, 2015 - Winners!!
Oral Presentations:
1st Place - Weighting for Love - Lauren McLaughlin, DO, Keleigh McLaughlin, Laura Gordon - Exempla St. Joseph Hospital
2nd place - An Orange a Day…Scurvy Masquerading as Reactive Arthritis in an Otherwise Healthy Adult - Kelly Menachof, BS, Karen Christopher, MD, Ramin Fathi, MD - University of Colorado
3rd place - A Late Presentation of Viral Myocarditis - Karen Schmitz, MD and Alyssa Nash, MD - University of Colorado
4th Place - Rare Complication of Hepatocellular Carcinoma Treatment - Muthulakshmi Yegappan, MD, Aaron Calderon, MD, FACP, Thomas Seibert - Exempla Saint Joseph Hospital
Research Posters:
1st Place - Unplanned Extubations Requiring Reintubation in MICU Patients, Daily Evaluations for Liberation Readiness - Colby Simmons, DO - Exempla Saint Joseph Hospital
QI Posters:
1st Place: The "Pas", Present, and Future of Admission Medication Reconciliation - Matthew Hansen, MD, Julia Clemons, MD, Adrienne Mann, MD, Dora Cheung, MD, Ethan Cumbler, MD, FACP, Anunta Virpongse, MD, FACP - University of Colorado
Clinical Vignettes:
1st Place: Perilous Pills: Acute Liver Failure from OTC Supplement Use - Emily Edwards, MD and Christopher Slater, MD - Exempla Saint Joseph Hospital
2nd Place: Nephrotic Syndrome Secondary to Multiple Myeloma - Anna Munoa, MD and Joe Xie, MD - University of Colorado
3rd Place: Occam's Razor for Chest Pain, Epistaxis, and Floppy Ears - Meaghan Hayes, MD and Maria Frank, MD, FACP - University of Colorado
---
September 6, 2014 - ACP Colorado Chapter - Ortho Day
All presentations presented by Edward (Ted) Parks, MD
7:00 am - 8: 30 am Upper Extremity
8:30 am - 10:00 am Knee
10:00 am - 11:30 am Shoulder
11:30 - Noon - Lunch
12:00 p.m. - 1:30 p.m. - Hip
1:30 p.m. - 2:30 p.m. - Back
2:30 pm - 4:00 pm - Models/Questions
Registration Fees: Colorado Chapter - Ortho Day
Check one category that best applies. Registration fee includes breakfast, lunch, and CME documentation.
ACP Categories:
Master, Fellow, Member - $50.00
Resident/Fellow Member and Medical Student Member - $25
Affiliate Member (AHP) - $50.00

Nonmember Categories:
Nonmember Physician - $75.00
Nonmember Resident and Medical Student - $50
Allied Health Professional - $75.00
---
2014 ACP Leadership Day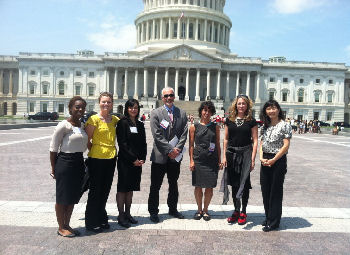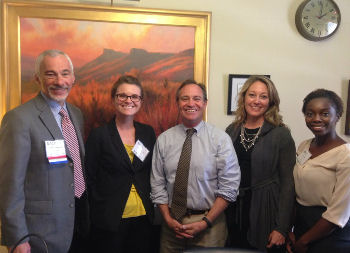 This year's ACP Leadership Day activities took place on May 20-21 in Washington, DC. As usual, the first day involved briefings on current issues in health care and the second day was devoted to visiting our elected representatives and / or their staff. The Colorado contingent included three resident physicians (Stephanie Atencio, Kelly Evans and Mara Terras), Meredith Niess, a general internal medicine fellow at CU focusing on health policy, Christie Reimer and Al Steinmann. We were joined by Sainabou Jobe, from the Alliance for Academic Internal Medicine, who collaborated with ACP on Leadership Day. Together, the group met with staff of the entire Colorado Congressional delegation, and two members of Congress (Rep. Mike Coffman and Rep. Ed Perlmutter). The ACP's priority issues this year included a permanent SGR fix, preserving Medicaid parity for primary care services, GME funding and medical liability reform. The SGR fix in particular, was stressed since for the first time, both the House and Senate agreed upon a legislative mechanism to replace the SGR formula, but efforts stalled over how to pay for it. We lobbied members of Congress to see this process through before the end of the year, when all current bills will become inactive and need to be reintroduced in the next Congress.
---
Join Colorado Practices in Improving Diabetes Care While Meeting Reimbursement and MOC Requirements
A New ACP Quality Connect Initiative
ACP's Center for Quality is launching phase two of its Quality Connect initiatives, with a new program focused on diabetes. Physicians in Colorado are invited to join this program, which includes free submission of practice data to PQRS, ABIM MOC Points for Part IV Self-Evaluation of Practice Assessment, and a link to Bridges to Excellence.
The most exciting part of the program, however, is the opportunity to work with colleagues in Colorado and across the nation. Physicians and their practice teams are invited to a live educational and coaching program in their region, plus enjoy onsite coaching from experts and ongoing support so that they can take practical steps to improve diabetes patient care, such as through implementation of shared decision-making tools and patient-centered medical home and neighborhood strategies.
If you and your practice would like to learn more about this dynamic opportunity to enhance diabetes care and collaborate with colleagues and experts over the next 9 months, or if you want a chance to become a state leader in the program, please contact amsmith@acponline.org.
---
Patient Education Resources Back in Stock!
ACP's Center for Patient Partnership in Healthcare (CPPH) was launched in the summer of 2013, with the mission of promoting mutually beneficial partnerships among clinicians, patients and families that enhance the quality, safety and the experience of care. CPPH has assumed management of the exceptional patient education materials offered by the former ACP Foundation and is happy to announce that two of our most popular self-management guides for patients are back in stock.
Living with Diabetes and Make it Happen! Helpful Ways to Lose Weight have long been praised by both patients and providers alike. The guides feature a patient-centered approach to behavior change, highlighting examples of successful action plans, emphasizing small steps and patient choice. Incorporating health literacy principles, the guides are written at or below a 5th grade reading level and include photographs that depict actual patients in their own living environments, making the Guides relatable and compelling.
Due to the overwhelming demand and popularity of the Living with Diabetes and Make it Happen! Helpful Ways to Lose Weight guides, ACP has made the guides available again and is offering a significant discount for ACP members. The Guides are available in boxes of 40 at $64/box for members and $90/box for non-members. Bulk discounts are available for orders over 10 boxes.
To order these and ACP's other high quality patient education materials contact Member and Customer Service at 800-523-1546 ext. 2600, or visit ACP's Web site
---
Colorado Chapter Wins 2014 John Tooker Evergreen Award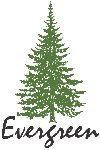 The John Tooker Evergreen Awards Program provides recognition and visibility to chapters that have successfully implemented programs to increase membership, improve communication, increase member involvement, enhance diversity, foster careers in internal medicine and improve management of the chapter. The Colorado Chapter received a 2014 John Tooker Evergreen Award for their initiative, Do No Harm Project.
---
Congratulations, New Fellows!
Fellowship is an honor achieved by those recognized by their peers for personal integrity, superior competence in internal medicine, professional accomplishment, and demonstrated scholarship.
Dawn R. Hutchinson, MD, FACP
Elizabeth Israel, MD, FACP
Gail E. Mizner, MD, FACP
Robert E. Swaney, MD, FACP
James P. Valin, MD, FACP
For anyone interested in applying for ACP Fellowship, please contact me.