You are here
GOVERNOR'S NEWSLETTER October 2014
GOVERNOR'S NEWSLETTER October 2014

---
---
Letter From the Governor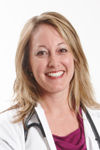 Christina M. Reimer, MD, FACP, ACP Governor
Healthcare is in the headlines today. Ebola. Discussing anything else seems trivial. Our systems, our peers, our staff, and our patients are talking about it. We have now all had a chance to rethink and run through how we might manage a patient with a fever and infectious disease. Some level of anxiety impacts all of us. I have been struck by the compassionate and selfless volunteer efforts of our peers and the medical community worldwide. I read descriptions of Nina Pham describing how giving to others has always been her "calling", how she provided care and comfort to Mr. Duncan when he was so ill, and that she even now expresses only gratefulness for "the best" caregivers. I want to extend a huge "thank you" to my peers, the care providers in Colorado, for your dedication to our patients and our community. As we enter another influenza season, and as we daily care for patients with many anxiety-provoking acute and chronic diseases, know that your care is appreciated!
Please view the links in this newsletter for interesting updates and opportunities.
---
ACP Colorado Chapter - Now Accepting Nominations for the ACP Colorado Early Career Physicians Award
The Colorado ACP Early Career Physician's Award was developed to recognize a Colorado early career physician for outstanding contributions in internal medicine.
The award will be given to an outstanding young physician in internal medicine. The physician must be highly respected by his or her colleagues for outstanding clinical skills and for being a role model in the community. This individual should have distinguished himself or herself in service to patients, the physician community and the community at large. This physician should be an educator to his/her patients or the community. A young physician is someone who is within 16 years of graduating medical school. Ideally the physician would be an ACP member. Repeat nominations of previous non-winners are welcome.
Applications should include the nominee's curriculum vitae and a nomination letter. Up to two additional supporting letters for the candidate may be written by colleagues or patients.
The deadline for applications is December 15th. Please email all information to Dr. Chad Stickrath.
---
Colorado Early Career Physicians Update
I am soon to complete my first year of practicing medicine after residency. Parts of my practice have been exactly as I expected but there has also been countless surprises. I am sure everyone's experience in their first 5-10 years of practice has been unique. I am trying to collect short (1-3 paragraphs) perspective articles where you share an experience from your practice. They can be about a patient encounter, the struggles of running a private practice, balancing home and work life, an obstacle to overcome, or just about anything else. These articles will be shared with the ACP members in Colorado by including them in future newsletters. If you are interested in writing an article please email me the article or any questions to david.johansen@gjhosp.org. The article can be sent out anonymously, with a first name or with a first and last name. I look forward to hearing your stories and experiences. Thank you for your help and contribution.
ACP Colorado Council of Early Career Physician is currently organizing an event to watch the Colorado Rockies. Last year we had about 25 people attend and this year we are hoping for even more. We have not yet picked a day but anticipate a Saturday evening game in the middle to end of August. There will be a follow up email with the details.
---
Report of the Colorado Medical Society's Annual Meeting
9/19/14-9/21/14
Vail, Co
The recent Colorado Medical Society (CMS) annual meeting covered many topics that are germane to internists including:
Physician Wellbeing
Healthy physicians live longer and lead more satisfying lives and are safer practitioners. Yet, physician burnout is common with 50% of us showing some signs of burnout. Burnout is a response to our job stress and leads to prolonged emotional exhaustion. A Physician Wellness Toolkit has been developed and is available for download on the CMS website. You do not have to be a member of CMS to download the toolkit, but I do recommend that you consider membership in order to support programs such as this one.
Medicaid
Medicaid's primary care parity with Medicare will likely continue in CO even if it is not extended at the Federal level. The Medicaid Accountable Care Collaborative is now enrolling 1/2 of the Medicaid patients and realized an estimated 50 million dollars in savings in its second year. This savings resulted from decreased ER visits, hospitalizations, and imaging. Medicaid is working to improve access to speciality care. A broad range of specialist were surveyed and they identified areas that Medicaid needs to work on in order to improve access. These include linking patients with PCP's as well as care coordinators who can help support the medically and socially complex patients.
Scope of Practice
Historically the CMS has vigorously opposed all efforts to expand the scope of practice of allied health professionals. This has lead legislators to see us a "turf and income" protectors rather than patient safety advocates and they hate scope battles. It is recognized that the CMS needs to amend its approach to scope issues with a focus on collaboration, patient access, patient preference, and patient safety.
Telemedicine
The current CO law concerning telemedicine is outdated and allows for reimbursement only in communities of 150,000 or less. A resolution passed that encourages the CMS to look into passing legislation that would allow for reimbursement for telemedicine throughout the state when appropriate.
Maintenance of Licensure (MOL)
CME requirements to maintain one's license will be coming from the state. The CMS will recommend that physicians who are fulfilling Maintenance of Certification in their specialty will also fulfill all MOL requirements. All other physicians will engage in 50 category 1 credit hours over 2 years of relevant CME. Other requirements for those who do not participate in MOC will be forthcoming including 1. assessment of knowledge and skills and 2. demonstration of practice performance/quality improvement efforts.
State Innovation Model II
This is a federally funded project with the goal of improving the health of Coloradans by providing access to integrated primary care and behavioral health services with a value based payment structure. If your practice is interested in participating in this project please contact; Vatsala Pathy, the SIM director, 303-512-3330.
Provider Networks
A resolution was passed for the CMS to oppose the disruption of any exciting physician/patient relationship caused by an insurance company's plan to change its provider network in the middle of a plan year.
Mark K. Matthews, MD, FACP
---
Annals Personae Photographs for ACP's Centennial
In recognition of the American College of Physicians' 100th anniversary, Annals of Internal Medicine is seeking photographs of internal medicine physicians to feature on each issue of the journal during 2015, the ACP's centennial year. In choosing from among submitted photographs, we will seek photos that capture personality and celebrate the diversity of individuals who devote their professional lives to the practice of internal medicine. Readers and others are encouraged to submit photographs of internal medicine physicians for consideration. In an effort to bring people to the pages of the Annals of Internal Medicine, the editors began publishing photographs of people in 1999. Annals published photographs in a section of the journal called "Personae" from 1999 to 2000, and photographs have appeared on the cover since 2000.
Written permission to publish the photograph from the subject (or subjects) of the photograph or the subject's guardian or next of kin must accompany submissions. The subject must understand that, if selected for publication, the photograph will not only appear on the cover of the journal but also in digital versions of the journal and associated publications. Photographs can be published without the subject's permission only under the following circumstances: 1) the subject is unidentifiable in the photograph or 2) the photograph was taken in a public venue, is not potentially damaging to the subject, and is accompanied by a written statement from the photographer vouching that the photograph was taken in a public venue with the subject's consent. A cover letter ensuring no prior publication of the photograph and providing permission from the photographer for Annals to publish the image should accompany all submissions. In addition, the letter should indicate the name and specialty of the internist depicted and the photographer's name, academic degrees, institutional affiliation, mailing address, telephone number, and e-mail address. Photographers must relinquish copyright to the American College of Physicians before publication. Pictures from photographers unwilling to do so will not be considered.
Please submit high-resolution, digital copies of photographs to Nicole Briglia for consideration in our special 100th-anniversary issues. Please mention this special venue when submitting your work. We look forward to receiving your photographs.
---
ACP course helps prescribers safely prescribe opioids, meeting FDA requirements
In April 2011, the U.S. Food & Drug Administration's (FDA) Risk Evaluation and Mitigation Strategy (REMS) issued a mandate to ensure that the benefits of a drug outweigh its risks (in patients whose clinicians have determined ER/LA opioid analgesics to be an appropriate treatment option).
The FDA has determined that a single, shared REMS is required for all brand and generic extended-release (ER) and long-acting (LA) opioid (narcotic) pain medicines. Under this REMS, the companies producing ER/LA opioid analgesics are required to make independent, accredited education/training available to all ER/LA opioid analgesic prescribers. The FDA required manufacturers of ER/LA opioid analgesics, known as the REMS Program Companies (RPC), comprised of 11 pharmaceutical companies, to support education for prescribers of these medications. RPC-supported REMS education is to be provided through accredited continuing education (CE) activities supported by independent educational grants from these ER/LA opioid analgesic companies.
To assist in this effort, the FDA has developed a Blueprint for Prescriber Education for Extended-Release and Long-Acting Opioid Analgesics ("FDA Blueprint") that is posted on the website. More than 30 CME and CE providers-including ACP and its curriculum partner Pri-Med-have been approved by the RPC to deliver the FDA's REMS-compliant curriculum.
ACP and other CME and CE providers are required to deliver the curriculum as provided by the FDA and created by their experts with no deviation, including the use of brand names. The FDA's intent was to standardize the curriculum and have the exact same message and content delivered regardless of the CME or CE provider. It is the provider's responsibility to ensure that their program maintains compliance with Blueprint requirements. The ACP course launched on June 15, 2013. It offers CME credit and is available through ACPOnline and PRI-MED website.
---
ACP's Special Interest Groups
ACP's Special Interest Groups provide members with opportunities to engage in discussions online, share ideas, and support one another professionally and personally.
Participate by joining as many groups as you would like, then connect with ACP members from all over the world with similar interests. Groups include:
ACOs/New Practice Models | African American Members | Caring for Adults with Developmental Disability | Clinical Problem-Solving | Clinical Research | Emerging Technologies | High Value Care | Hospital Medicine | LGBT Health | Maintenance of Certification | Medical Students | MKSAP | Perioperative Medicine | Physician Educators |Re-entry Physicians | Sex- and Gender-Specific Medicine | Small Practices | Volunteerism | Women in Medicine | Work/Life Balance | Working Abroad
Join today
.
Interested in a topic not listed? Contact ACP to ask about forming a new group.
---
Letter from Ripley Hollister, MD
Ripley Hollister, MD
4190 E. Woodmen Rd., Ste. 200
Colorado Springs, CO 80920
719.265.6464
9/15/2014
To: Medical and Specialty Society leadership
From: Rip Hollister, MD, FAAFP for the Colorado Academy of Family Physicians
Re: Technology Supported Health Confidence - Colorado Project - 2014 - a grant supported by the Physicians Foundation
When communicating we are admonished to know our audience. As a Family Physician living and working in Colorado Springs for 25 years, as a past president of my county society, as a past CMS Board member for nearly 10 years, as the sole practicing Family Physician on the Board of the Physicians Foundation for over 10 years - I think I can say, I know this audience. So … my message with be succinct.
The Physicians' Foundation has tasked me with running a "Proof of Concept" grant in our state. CAFP has graciously volunteered to house and administer this grant. This project seeks to assist smaller primary care practices in 3 ways.
Introduction and familiarization with "Health Confidence." Health Confidence is a simple global assessment of a patient's medical wellbeing. This concept is so significant to practices that it is now the topic of the lead article in this month's Family Practice Management. AAFP is so impressed with our current effort that they have made this article available to the public, outside their firewall - this is a BIG win for us - http://www.aafp.org/fpm/healthconfidence . Health confidence serves as a surrogate for numerous quality metrics, and encourages patient and practices to improve health quality with meaningful online tools and resources. Health Confidence has been shown in studies to have a direct correlation with significant health risks and healthcare costs.
Introduction of a simple, tested and proven web based technology www.howsyourhealth.org which allows patients to complete an online interview tailored to their own personal health risks. The resulting "action report" allows self- directed and practice-encouraged patient engagement around meaningful goals. This online interview takes place outside of the practice, it does NOT use any practice time or resources.
Introduction of a BRAND NEW innovation to complement the human resources available within the practice, the "Physician Practice Ally." The Ally is a trusted patient, recruited from within the practice to assist in the process of practice quality improvement and evolution. Just for clarity, in our disrupted / over- burdened practice environment, it is tough to think about ANY change, not because we couldn't use some new, useful tools, it's just that practices just don't have ANY capacity to adopt --- at least that's what we all feel like. All this project requires is for a practice to "want" this tool. The practice simply selects and engages a Practice Ally(s) from their practice. The project takes over. We train the trainer (Ally). The Ally then engages and trains the practice in the use of How's Your Health (amazingly simple technology).
Patients then do the work of taking the online survey in privacy, outside of the practice. A practice registry is AUTOMATICALLY created from patient reported measurements, which the physician practice can then utilize according to their own needs to fulfill many otherwise cumbersome quality measurement requirements for many programs which actually give resources back to the practice (e.g. real dollars).
This project will provide the following resources for you to use in engagement of your primary care based adult practices (the physician practice population we are seeking to assist).
A free (yes, I said free) proven, tested, studied, updated, working technology tool. www.HowsYourHealth.org (also known as HealthConfidence.org) is a family of online tools designed to engage patients and help busy practices accomplish many otherwise labor intensive tasks: i) fulfill patient assessment requirements for reimbursement (e.g. Medicare Annual Wellness Visit); ii) produce summary patient experience measures to inform payers about care quality; automatically offer motivational interviewing to patients; iii), create patient care plans; iv) provide shared decision-making, problem solving, and end-of-life care assessments for attaining requirements for "meaningful use"; v) use a registry to manage groups of patients; and vi) document practice improvement for Maintenance of Certification.
Grants available to assist individual practices: $200 for practices to just register and recruit their ally - available for up to 50 physician practices, then another $400 for the first 25 practices who engage just 60 patients (I'm telling you this is easy) and fulfill the simple grant requirements. Yes, it is a race - and there will be a GRAND PRIZE winner ($1,000 to the top dog and $500 to the next 2 practices). As crazy as it sounds, there is no limit to practice enrollment and utilization of on line resources, all of your member physicians can benefit at no cost to the practice. (I know this may sound bizarre in the dog eat dog world we live in, but these tools have been developed over 2 decades and while not in the "public domain" they are philanthropic and not for sale).
Resources for societies to communicate with their members about this opportunity. "Memo to practices."
4. Resources for practices to recruit and train the Physician Practice Ally. The Practice Ally training manual will be available for practices and Allies to download - practices, however, are NOT required to take the time to review this information, that is the Ally's job.
I look forward to working with each of you as we prove this project in Colorado, with the hope extending this important innovation to the larger audience of all 50 states.
I will be hoping for testimonials from each of you.
This is a proof of concept project. It will require your support to make it a success. If you can help primary care practices grasp the concept, they should latch onto it and learn about its potential to assist in many practice efficiencies as they continue to use the behaviorally sophisticated approach and new technologies to improve care. Please review the attached "Memo to Practices" for additional information, and if you want a good chuckle, check out my brief YouTube for the Colorado project at http://youtu.be/OBX9XefRBCU . I'd also encourage you to go to howsyourhealth.org and just take the online survey yourself, the info you put into the survey is completely confidential and the feedback you get is yours to use as you like.
Thanks in advance!
Sincerely,
Ripley Hollister, MD, FAAFP
---
Colorado TSHC Project Principle Investigator and Board Member for the Physicians Foundation
The Physicians Foundation is a nonprofit 501(c)(3) organization that seeks to advance the work of practicing physicians and help facilitate the delivery of healthcare to patients. As the U.S. healthcare system continues to evolve, The Physicians Foundation is steadfast in its determination to strengthen the physician-patient relationship, support physicians in sustaining their medical practices and help practicing physicians navigate healthcare reform. The Physicians Foundation pursues its mission through a variety of activities including grant making, research and policy studies.
---
Save the Date!!
Dear Colorado ACP Young Physician,
It is time again for the Colorado Chapter ACP Young Physician dinner meeting. Please join us to meet and learn from your fellow young physicians. Join us for an evening of education, networking and fun!
Cost is hard to beat (free) and we have a great speaker lined up. Hospitalists, Primary Care Docs, Subspecialists, Academic Docs, Unemployed, and Non-member Young Physicians - all are welcome...
Date: Wednesday, October 29, 2014
Time: 6:00 p.m. to 8:30 p.m. (OK to come for all or part, as time permits)
Place: Exempla Saint Joseph Hospital - Sterne Elder Conference Room
The speaker is: Jason Persoff, MD, SFHM, Assistant Professor of Medicine, University of Colorado Hospital Medical Group, Topic: "An Internist's Guide to Disaster Medicine."
Dinner will be served.
Please register
.
Thank you and hope to see you there!
Save the Date!!
2015 ACP Colorado Chapter Meeting
Date: February 5, 2015 thru February 7, 2015
Location: Broadmoor Hotel
Watch for more information in the next newsletter.