You are here
GOVERNOR'S NEWSLETTER January 2016
GOVERNOR'S NEWSLETTER January 2016

---
---
Letter From the Governor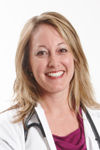 Christina Reimer, MD, FACP, ACP Governor
First of all, I want to wish all of my fellow internists a healthy and productive start to 2016! Time flies, we must be having fun.
I am happy to announce that you have chosen Dr. Andy Fine to serve as the next ACP Colorado Governor. Dr. Fine is a well-known dedicated general internist who practices in Denver, and he will be a great leader for us. Here is his bio in case you haven't met him. He will begin his Governor-Elect year in April and will take over as the chapter leader next year. Please congratulate Andy in his new role.
As we transition leadership in the College, I would like to take this opportunity to invite you to re-evaluate your involvement. Working on an ACP committee is an enjoyable way to network with colleagues in the state and impact the "big picture" on behalf of your patients and peers. The Health and Public Policy Committee works on advocacy efforts, and they would love your participation especially as the state legislative season heats up. The Membership Committee would be happy to have you participate in projects aimed at meeting the needs of our peers. The Council for Early Career Physicians is working on several fun new projects for those who have recently finished training. The Scientific Planning Committee will soon be gearing up to plan next year's meeting at the Broadmoor. Please email me if I can connect you with any of those groups, or if you have other interests.
There are so many opportunities upcoming for education and networking:
The Colorado ACP Chapter meeting will be held February 4-6 at the Broadmoor, please register. It is always a truly fantastic meeting and looks to be this year too.
The annual Internal Medicine meeting will be held in Washington, DC May 5-7. We would love to see you at there at the Colorado reception. This year Leadership Day (our advocacy day on the hill) will be May 3-4, so maybe you could join that contingency, learn about ACP's advocacy efforts, and meet some of our legislators and their staff.
Lastly, please see the high-quality medical education opportunities below. I would like to particularly highlight the Dynamed Plus story. Access is free to us for the next two years. I think it's great. Consider giving it a try for point-of-care access to evidence-based clinical information.
Looking forward to seeing many of you in Colorado Springs!
---
Free Access to DynaMed Plus™ for ACP Members
Beginning August 3, 2015, ACP members will have free access to DynaMed Plus™, a new evidence-based point-of-care clinical reference tool that provides answers to clinical questions quickly and easily.
---
ACP Workshop - Teach and Assess High Value Care and Quality Improvement Activities
Faculty: Learn to Teach and Assess High Value Care and Quality Improvement Milestones
Today, clinical educators are expected to practice and demonstrate high-value care while simultaneously training future physicians to do so. However, many educators lack the knowledge and experience required to mentor trainees in this new skill.
ACP will host an opportunity to gain new strategies to teach, implement, and supervise value-based quality improvement activities in a rigorous way. Participants will be able to earn CME credits.
This course is designed for internal medicine educators at any level with an interest in high-value care and quality improvement. Institutions are encouraged to send more than one individual to this program to gain maximal benefit for curriculum planning and so that teams can return to their institution ready to engage in this work together. Individuals who should attend include, but are not limited to, educational administrators (program director, associate program director, clerkship director, fellowship director), faculty with an interest in HVC and/or QI, and hospital quality leaders (e.g., CMO, CQO). Residents, chief residents, and nonphysician health care providers are also invited to attend as part of a team.
Please share this with your colleagues and consider attending this uniquely educational high-value care opportunity.
When
Wednesday, March 16, 2016
9:00 a.m. - 4:00 p.m.
Where
190 N. Independence Mall West
Philadelphia, PA 19106
ACP Headquarters
Register now
.
This event is presented in partnership between the American College of Physicians and the Alliance for Academic Internal Medicine (AAIM).
---
New Online Opioid Education Modules, Video Now Available
ACP developed online training modules, with Pri-Med, to educate clinicians about best practices when prescribing opioids to patients and to help prescribers manage risk for abuse and inappropriate use. With approximately 100 million adults in the U.S. suffering from chronic pain, the nonmedical use of prescription opioids has become a public health issue, and prompted the U.S. Food and Drug Administration to establish the Risk Evaluation and Mitigation Strategy (REMS) mandate. A total of 26 Continuing Medical Education (CME) and Continuing Education providers, including ACP, have created educational initiatives to help prescribers ensures that the benefits of a drug outweigh the risks for patients receiving extended release and long acting opioids.
The REMS training modules provide comprehensive educational information for primary care clinicians, and can be completed for CME credit. Access the online modules for additional information.
A brief video from Steven Weinberger, MD, FACP, Executive Vice President and CEO of ACP, highlights the initiative's goal of reducing misuse, abuse and overdose deaths associated with prescription opioids.
---
"Evaluation of Patients With Suspected Acute Pulmonary Embolism" Published
When evaluating patients with suspected acute pulmonary embolism (PE), physicians should stratify patients into groups for whom different diagnostic strategies are appropriate, the American College of Physicians (ACP) advises in a new clinical guidelines paper published in the Annals of Internal Medicine.