You are here
Governor's Letter
Governor's Letter

| | |
| --- | --- |
| November 2013 | Christina M. Reimer, MD, FACP, ACP Governor |
---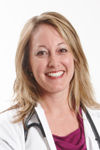 "Will you still be my doctor?" "I am so happy that my 25-year-old daughter is still on my plan. There is no way we could have afforded her MS treatment." "That Obamacare!" I have heard each of these things (and more) from patients in the past couple of days. I am sure you have too. How we provide healthcare is changing and it evokes emotions in patients and providers, from anger and frustration to relief and optimism. We know that the root cause of such now common exam-room topics of discussion is the skyrocketing cost of healthcare in this country. This is not new news: healthcare costs are rising at an unsustainable rate as they approach 20% of the GDP. Increases in patient premiums and copays are far outpacing wage increases. And it has been reported that up to 30% of healthcare costs in the United States may be attributed to wasteful unnecessary care.
If you have not already done so, please connect to Brandon Combs' and Tanner Caverly's "Do No Harm" project at the University of Colorado. Our ACP Chapter is proud to support this project that helps trainees and practicing physicians learn from case studies. We all see patients who have been harmed by too much healthcare.
You have also probably heard about the "Choosing Wisely" Campaign. The American Board of Internal Medicine has collaborated with specialty societies to address the issue of wasteful care. Participating specialty and subspecialty societies have each developed five specific evidence-based recommendations that deserve further discussion between us doctors and our patients. The link to the full list, and each specific society's recommendations can be found at: www.choosingwisely.org. The Colorado Medical Society has chosen five areas to begin to focus on in our state; these priorities were chosen from recommendations from several specialties and, since they all apply to internal medicine, I want to take this opportunity to highlight their efforts for improving value in healthcare in Colorado:
Do not perform routine annual Pap tests in low risk women 30-65 years of age. Don't perform Pap tests in women younger than 21 or in those who have had a hysterectomy for non-cancer disease, or those who are low risk and over 65.
Do not order DXA screening tests in low risk women younger than 65 years and men younger than 70 years and don't repeat DXA scans more frequently than every two years.
Do not indiscriminately prescribe antibiotics for acute rhinosinusitis; specifically do not prescribe antibiotics for acute mild-to-moderate sinusitis unless symptoms.
Do not do imaging for low back pain within the first six weeks unless red flags are present.
Do not perform population-based screening for 25-OH-D deficiency.
Doctors can affect the cost of healthcare. The ACP has been a leader in this area, and I am proud to be part of an organization that has developed and supported the High Value Care Initiative. I encourage you to read and consider all of the Choosing Wisely recommendations, and read and consider the specific recommendations made by the American College of Physicians. Discuss them with your peers and your trainees. Discuss them with your patients. And, while you're at it, plan on attending the chapter meeting since we will have the opportunity to continue to review and discuss evidence-based recommendations with each other. It is important that, in addition to making systematic changes in how we deliver healthcare, that we also make changes in how we interact with and educate our patients. We internists are making a difference.
---
Feedback Needed
The Colorado Chapter of the American College of Physicians would like your feedback to help define priorities for the near future. If you have not yet completed the survey, please fill out this survey. It should take you 2-5 minutes.
---
Free Learning Opportunity
The number of prescriptions filled for opioid pain relievers has increased dramatically, leading the CDC to identify prescription drug abuse a problem of "epidemic" proportions. To better equip physicians and other health professionals against this crisis, the National Institute on Drug Abuse offers two free online CMEs/CEs:
Safe Prescribing for Pain (1.25 credits) teaches the prevalence of prescription opioid abuse and explores ways to effectively screen for and prevent abuse in patients with pain.
Managing Pain Patients Who Abuse Rx Drugs (1.75 credits) identifies the prevalence of opioid addiction and dependence in patients with chronic pain, and assists health care providers in identifying emerging abuse behaviors.
---
Help Your Patients Enroll in Health Insurance Marketplaces - Information
ACP has launched a new campaign - the "Help Your Patients Enroll in Health Insurance Marketplaces" campaign. Enacted as part of the Affordable Care Act (ACA), health insurance marketplaces (exchanges) are launching this fall and patients who need coverage will be able to begin using them in October. To help you help your patients determine health insurance choices, as well as to answer questions that you might have, the American College of Physicians has put together a series of documents to address questions about the changes in healthcare coverage brought about by the new marketplaces, including state-specific resources.
The Department of Health Care Policy and Financing has developed a new Affordable Care Act (ACA) resource page for health care providers. The Department's ACA Resources for Health Care Providers page is designed to deliver key information about health care reform, the Medicaid expansion and the Connect for Health Colorado marketplace. The resource page will be updated as new information becomes available and additional resources are developed for health care providers.
We also invite all nurses to view a recorded webinar hosted by the Department's Executive Director Susan Birch, MBA, BSN, RN regarding the ACA. The webinar can be viewed on the ACA Resources for Health Care Providers page.
Additionally, we encourage all partners to review the frequently asked questions section on Colorado.gov/Health. We are adding new FAQs to this page regularly-so check back often!
For the latest information on Colorado's efforts to implement the health reform law, check out the Department's ACA Implementation News. The newsletter also often features content from Connect for Health Colorado, PEAK and other agency partners.
Sign up for ACA Implementation News or ACA Communication Updates.
Colleen B. Daywalt, MPP
Communications Coordinator
Office of Policy, Communications and Operations
Department of Health Care Policy and Financing
1570 Grant Street
Denver, CO 80203-1818
Colleen.Daywalt@state.co.us
Phone: 303-866-6507
---
Health and Public Policy Update
ACP Helps You and Your Patients Understand ACA Enrollment
The national ACP has posted a very useful, state-specific resource to help physicians and their patients understand the Affordable Care Act and how to enroll in an insurance program. It includes resources for patient in English and Spanish. You may visit http://www.acponline.org/advocacy/ and click on "learn more" under "ACA Enrollment".
---
Introducing ACP Smart Medicine
The American College of Physicians has released ACP Smart Medicine, a Web-based clinical decision support tool developed specifically for internal medicine physicians containing 500 modules that provide guidance and information on a broad range of diseases and conditions.
Integrated with content from Annals of Internal Medicine, ACP JournalWise, and ACP's clinical practice guidelines with a display that automatically adjusts to desktops, smartphones, and tablets, the clinical recommendations in ACP Smart Medicine are evidence-based and rated based on the quality of the underlying evidence. Information is continually updated through triggered updates with new, relevant content and guidelines. Additionally, ACP High Value Care recommendations identify care activities that offer little benefit to patients.
ACP Smart Medicine also offers easy access to submit for CME credit. Physicians can select modules from the list of content areas they have reviewed, answer a question, and submit for CME credit.
ACP Smart Medicine is available as a free benefit to ACP members and can be purchased by non-members.
---
2013 Chapter Excellence Award
I am pleased to announce that our chapter is in receipt of the 2013 Chapter Excellence Award! The award recognizes chapters which successfully meet the standards for managing a chapter. In order to achieve the Chapter Excellence Award, chapters must meet all basic criteria and seven optional criteria. Criteria include such activities as formulating an effective Governor's Council and committees, communicating frequently with membership, providing educational opportunities, recruiting and advancing members and celebrating membership through local awards. I would like to extend a special thanks to those chapter members who assisted me in all of these endeavors! For their hard work and dedication, we received this award.
---
Colorado Early Career Physicians Update
ACP Colorado Council of Early Career Physician (CECP) has already hosted two fun filled activities this year. On August 28th, we watched the Colorado Rockies beat the San Francisco Giants. This event was a special outreach to the house staff with about 25 attending. On September 26th, we reached out to medical students in Denver and hosted a well-attended happy hour at Great Northern Brewery. Thank you for your support of the Council of Early Career Physician reaching out to new and potential ACP members.
Do not worry if you were unable to attend one of our earlier events this year. There will be many more opportunities for you to join us.
Please join us for breakfast on Saturday, February 1st at the Broadmoor in Colorado Springs. This is the CECP breakfast held every year in conjunction with the ACP Colorado Chapter Scientific Meeting. Earlier this year we discussed the generational differences of physician between the Baby Boomers, Gen X and the Millennials. The prior year we discussed how to balance a busy family and work life. The topic for 2014 has not yet been determined but as always it will be entertaining and thought provoking.
We are hoping to organize a spring service project. More details to come.
The ACP Council of Early Career Physicians would like to thank everyone for your support and encourage you to attend one of our upcoming events.
---
CECP Committee Call for Nominations
The Colorado ACP Young Physician's Award was developed to recognize a young physician for outstanding contributions in internal medicine. The award will be given to an outstanding young physician in internal medicine.
The physician must be highly respected by his or her colleagues for outstanding clinical skills and for being a role model in the community. This individual should have distinguished himself or herself in service to patients, the physician community and the community at large. This physician should be an educator to his/her patients or the community. A young physician is someone who is within 16 years of graduating medical school. Ideally the physician would be an ACP member.
Applications should include the nominee's curriculum vitae and a nomination letter. Up to two additional supporting letters for the candidate may be written by colleagues or patients.
The deadline for applications is December 15th.