You are here
From the Governor
From the Governor

| | |
| --- | --- |
| August 2013 | Christina M. Reimer, MD, FACP, ACP Governor |
---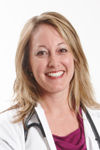 What a great weekend! My husband and I picked up our kids after busy Friday clinics, drove a short while, and then spent a couple of days hiking and camping in the beautiful Rocky Mountains. Since recently talking to an ACP colleague who is considering relocating to Colorado, I have been reflecting on how lucky we are. I am thankful for the nature around us. And I'm also thankful for a career that I truly enjoy. When I moved to Fort Collins I joined an amazing group of primary care internists; my partners are still role models to me as they provide outstanding care to our patients, create a positive supportive practice environment, and work as a team so that we can enjoy our lives outside of medicine. For me this also means that I can spend some extra time focusing on the ACP. Interestingly many of you internists in Colorado seem to share these remarkable characteristics with my partners, and I am looking forward to working with you too. Thank you for the opportunity.
Colorado has been well represented by Larry Feinberg, MD, FACP over the past four years in his position as Governor of the Colorado Chapter. I hope that you will join me in thanking him for his service. In addition to being a mentor to me Larry has been a tireless advocate especially for us younger physicians, fellows, residents, and students. He has, importantly, been a primary contributor to the High Value Care Initiative - now a national program to help us learn to provide the highest quality and lowest cost care to our patients. This is so important for the future of healthcare in this country. Thank you, Larry, for your continued work!
As we lay out plans for my term over the next four years, I am going to be asking you to help set priorities. You will be getting a very short member survey in the next couple of weeks asking how you think we should best prioritize our resources. Please fill it out. This information will be invaluable as we are faced with choices about how to represent you. We also plan to keep you updated about college activities with newsletters such as this. They will link you to information we think you may find useful. We can only anticipate that there will be a lot to learn and there will be many opportunities for involvement in the next few years. It is an exciting time; medicine is changing.
What Internal Medicine Means to Me
Frequently people ask me, "What kind of doctor are you?" It becomes readily apparent that it takes more than a simple, "I am an internist" to explain what kind of doctor I am. Join the ACP as we roll out a new definition of what we do: "Internal medicine physicians are specialists who apply scientific knowledge and clinical expertise to the diagnosis, treatment, and compassionate care of adults across the spectrum from health to complex illness." A new video, What Internal Medicine Means to Me, features ACP members talking about the breadth and depth of internal medicine. Check out the new T-shirts, etc. with the "I think, therefore I.M." I have to admit that they're pretty cute.
What is the ACP doing?
This annual report video from Dr. Weinberger is worth the two minutes and twenty-six seconds to remind us what the college is doing for us. The big picture is quite impressive!
---
Colorado Chapter Participates in ACP Leadership Day
Several members of the Colorado Chapter participated in ACP Leadership Day in Washington, DC this year. The event was held on May 21st and 22nd, with Congressional visits taking place on the second day. This year's contingent included Shai Feingold (resident at Exempla Saint Joseph Hospital), Joseph Johnson (resident at CU), Mark Matthews, Al Steinmann and Adam Tsai.
The group visited with members and staff of the Colorado Congressional delegation, including both of Colorado's U.S. Senators. Priority issues discussed included system and payment reform / SGR fix and physician workforce / GME. Although paying for these items remains an important issue to be resolved, we received a generally supportive reception from both sides of the aisle. Members of the Colorado Health and Public Policy Committee hope to follow up with summer recess visits with many of our representatives while they are in their home districts.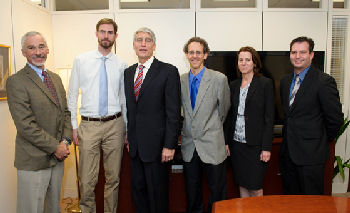 CO ACP Chapter members meet with Sen. Mark Udall
L to R: Al Steinmann, Joe Johnson, Sen. Mark Udall, Adam Tsai, Margie Brieda (AAIM*), Mike Mierovitz (AAIM*) *Alliance for Academic Internal Medicine staff who were observers.
---
Save The Date
September 26, 2013 - IMIG Student Happy Hour - Great Northern Tavern - 5:00p.m. to 7:00 p.m.
November 6, 2013 - Colorado Early Career Physicians' Meeting - Exempla Saint Joseph Hospital, Stern Elder Conference Room, 6:00 p.m. to 9:00 p.m.
---
Are You Using this Free ACP Member Benefit?
JournalWise, a free, time-saving, ACP Member benefit, is a mobile-optimized service that screens over 120 internal medicine journals for the highest-quality, clinically relevant and newsworthy articles with custom criteria that you determine so that only the articles (and e-tocs) you want are delivered when and how you want them.
This short, 2-minute video shows you how set-up is quick, easy and free!
For more information and to sign-up, log in.
If you have any questions, please contact Tony Felicetti.
---
ACP Knowledge Resources for ABIM Recertification Modules
As a benefit of membership, ACP is pleased to provide direct access to the knowledge resources you trust most to assist you in the completion of the General Internal Medicine ABIM Recertification Modules.
We have compiled a specific collection of ACP knowledge resources for ABIM Recertification Modules. Simply select a module, then a section within that module, and you'll be connected instantly to ACP knowledge that will directly help you answer the question.
If you are a member of ACP, get started now. Please note that you will need to log in with your ACP username/password. If you are not currently an ACP member, please consider joining ACP.
---
Congratulations to Our New Fellows!
Irene Aguilar, MD, FACP
Sheila L. T. Ling, MD, FACP
Amanda J. Luchsinger, MD, FACP
Edward A. Norman, MD, FACP
Umberto N. Orazi, MD, FACP
Cathy L. Ow, MD, FACP
Brent T. Peters, MD, FACP
Michael T. Randle, MD, FACP
Peter C. Smith, MD, FACP
---
CECP
ACP Colorado Council of Early Career Physician is proud to have the following upcoming event.
On Wednesday, November 6th join us at St. Joseph Hospital as Dr. Barbara Blok the Associate Program Director for Denver Health's Residency Program in Emergency Medicine, presents a talk on what every Internist should know about Wilderness Medicine.
Call for nominations: CECP 2014 Award
Dear Member,
The Colorado ACP Young Physician's Award was developed to recognize a young physician for outstanding contributions in internal medicine.
The award will be given to an outstanding young physician in internal medicine. The physician must be highly respected by his or her colleagues for outstanding clinical skills and for being a role model in the community. This individual should have distinguished himself or herself in service to patients, the physician community and the community at large. This physician should be an educator to his/her patients or the community. A young physician is someone who is within 16 years of graduating medical school. Ideally the physician would be an ACP member.
Applications should include the nominee's curriculum vitae and a nomination letter. Up to two additional supporting letters for the candidate may be written by colleagues or patients. The deadline for applications is November 1st.
Please email application and documentation.
Chad R. Stickrath, MD
CECP Chairperson
---
Why 2013 Is a Critical Year for Healthcare Providers: Information from CFMC
PQRS Reporting is required this year (2013) by all MDs, DOs, Doctors of Podiatric Medicine, Doctors of Optometry, Doctors of Dental Surgery, Doctors of Dental Medicine, and Doctors of Chiropractic to avoid the Medicare Part B Payment reductions in 2015.
1.5% adjustment in 2015
2.0% adjustment in 2016 and subsequent years
Free Webinar
Avoiding the Payment Adjustment - Physician Quality Reporting System (PQRS)
Wednesday, August 21, 2013 12:30 - 1:30 pm
This One-hour presentation for office managers or providers to discuss how practices can get started with PQRS. Learn more.
If you are interested in learning how CFMC can help, please contact Devin Detwiler.
Thank you,
Christie Reimer, MD, FACP
Governor