You are here
Colorado Governor's Newsletter June 2016
Colorado Governor's Newsletter June 2016

---
In this Issue:
---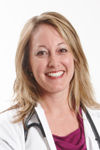 Christina Reimer, MD, FACP, ACP Governor
---
Governor's Letter
The annual meeting is always so reinvigorating! Many of us returned from another enlightening week in Washington, DC and are eager to apply our new knowledge to patient care. I always like to share my top three practice changing pearls: Give vitamin D for statin myalgias, give vitamin E for nonalcoholic fatty liver disease, and use shouldiscreen.com to help with shared decision-making for lung cancer screening.
Our chapter should make us proud: Our chapter exec, Christine Westbrook, led a workshop for other chapter staff and had fantastic feedback!
Four of us spent the day on Capitol Hill advancing discussions about healthcare on behalf our patients and peers (see Dr. Matthew's summary of the issues):
Mark Matthews, MD, FACP, Gail Mizner, MD, Christie Reimer, MD, FACP, and Alwin Steinmann, MD, FACP.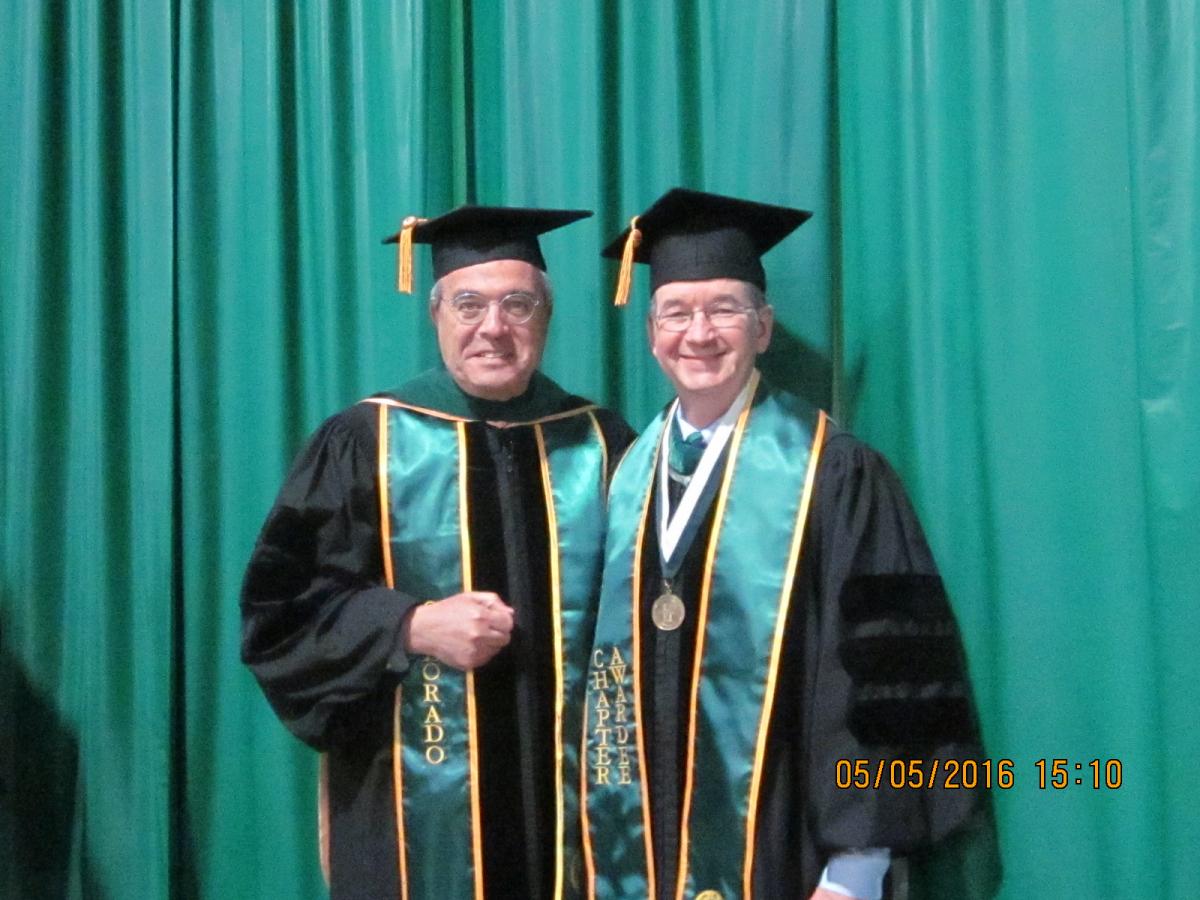 IM 2016 Convocation: Larry Feinberg, MD, MACP with 2015 Colorado Chapter Laureate Award Winner Mark Matthews, MD, FACP.
New Fellows: Dan Matlock, MD, FACP, Richard Penaloza, MD,FACP, Douglas Webset, MD, FACP, and Dennis Kinder, MD, FACP, with Larry Feinberg, MD, MACP and Mark Matthews, MD, FACP.
The ACP has published several new policy papers and guidelines that are relevant and think these are worth reviewing:
Dr. Andy Fine has picked up the reins as Governor-elect for our chapter. Please help me welcome him as he transitions over the next year. And let us know how we can help you get more involved in our Chapter!
We would like to thank the following sponsors/Exhibitors for supporting the 2016 ACP Colorado Chapter Meeting:
AstraZenica
Banner Health
Boehringer Ingleheim
Colorado Health Extension Systems
Colorado Springs Health Partners
Colorado Springs Hospital Liaison Committee for Jehovah's Witness
Colorado Permanente Medical Group/ Kaiser Permanente
COPIC Insurance Company
Saint Joseph Hospital
University of Colorado Health
---
Save the Date: 2016 ACP Colorado Chapter Ortho Day!
September 10, 2016 at Saint Joseph Hospital. Registration available coming soon!
---
Leadership Day Update: Coloradans Go to Washington
The SGR has been replaced with MACRA and it is an election year so no controversial legislation will be considered until next year or beyond. Nonetheless, a group of ACP Coloradans (Christie Reimer, Al Steinmann, Gail Mizner, and Mark Matthews) went to our nation's capital to attend Leadership Day. It was again a wonderful experience as we learned more about the political landscape and then walked the halls of the Congressional office buildings. Because Congress was not in season the legislative aides were unhurried, relaxed,and receptive to our messages.
The unifying theme this year was "Better Care for Patients, " which is highly personal, as opposed to the treatment of disease, that is often impersonal. In this context we encouraged members of Congress to:
Work to improve the care of patients with chronic disease by eliminating the beneficiary co-pay for chronic care management and to direct HHS to authorize payment codes that will allow physicians to spend up to 40-60 minutes for a patient with multiple chronic illnesses.
Support the ongoing efforts to develop and advance comprehensive health IT reforms. These measure include redesigning the Meaningful Use program by integrating it into MACRA's new Merit-based Incentive Payment System, require national standards for EHR interoperability with direct input for practicing clinicians, and require that CMS also seek input from practicing clinicians to reform or replace the existing burdensome documentation guidelines for payment of E&M services.
Develop legislation to eliminate payment and regulatory barriers to effective telemedicine.
Include in legislation measures to strengthen insurance companies compliance with existing mental health parity laws as well as supporting the movement to integrate behavioral health into the primary care setting.
Provide grant funding for efforts to mitigate and stem the growing problem of opioid and substance abuse disorders. Specifically we encourage passage of the Comprehensive Addiction and Recovery Act.
Introduce legislation or address the rising cost of prescription drugs that would include increased transparency in drug pricing, increase funding to the FDA to help address the back-log of pending generic drug applications, and grant authority to the Secretary of HHS to negotiate prescription drug prices for drugs covered under Medicare Part D. and
Encourage the reform of Graduate Medical Education with a priority to fund physician specialties facing shortages including primary care internal medicine. Members of Congress should introduce legislation to increase the number of GME slots by 3000 per year over 5 years, create a more functional payment program, and broaden the GME financing structure to include all payers.
Next year we will revisit the above issues and hope you will consider joining us. The Lincoln Memorial is waiting to inspire you.
---
Awards
Each year at the ACP Colorado Chapter Meeting, the chapter gives awards to members who have provided the chapter with exceptional service. At the 2016 ACP Colorado Chapter Meeting the Laureate Awards were given to Karla Demby, MD, FACP and Ted Palen, MD, FACP. The Early Career Physicians Awards was given to Dan Matlock, MD, FACP, with the Service to the Chapter Award given to Edward (Ted) Parks, MD. We will ask for nominations for the 2017 awards in September/October 2016.
Four new Fellows and our Laureate Award winner participated in convocation along with a past Governor: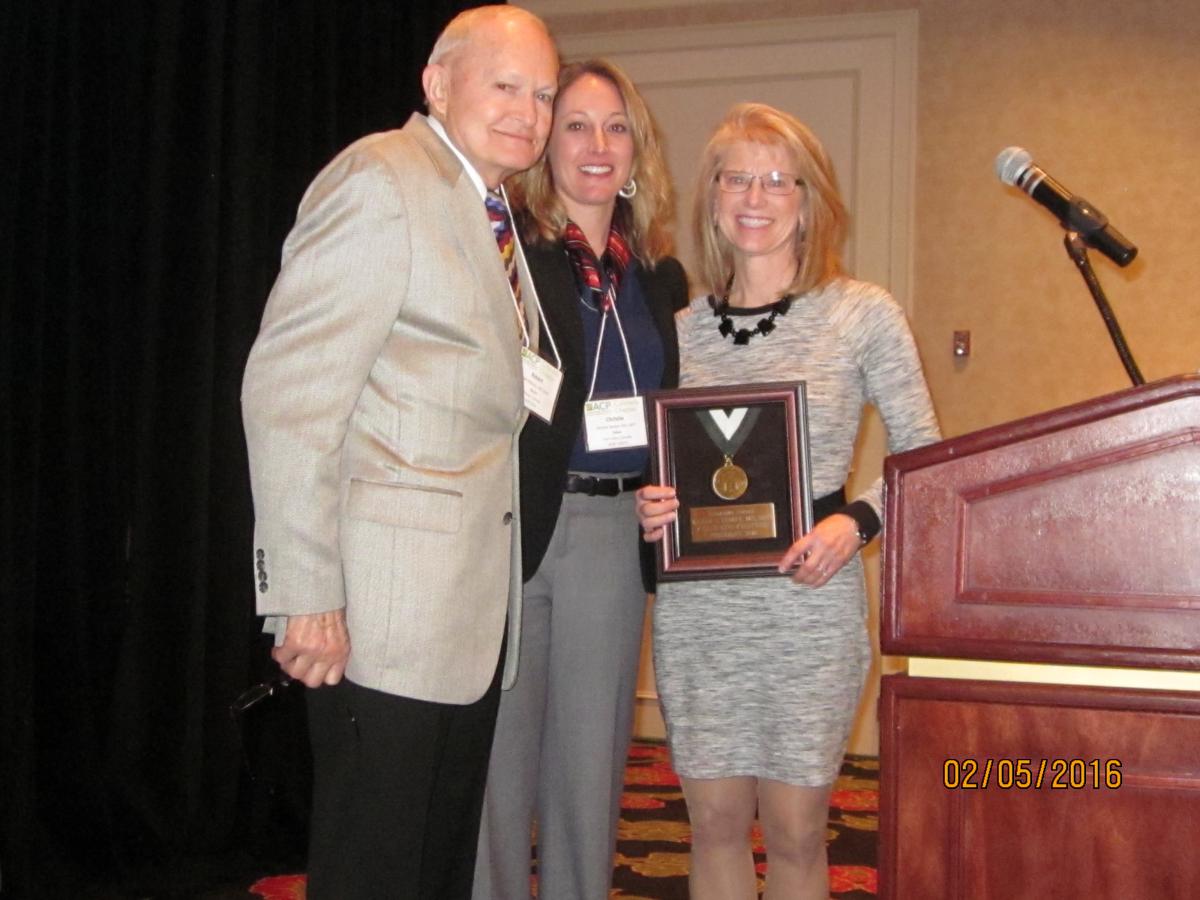 Robert Gibbons, MD, MACP, Christie Reimer, MD, FACP, and Laureate Award Winner, Karla Demby, MD, FACP.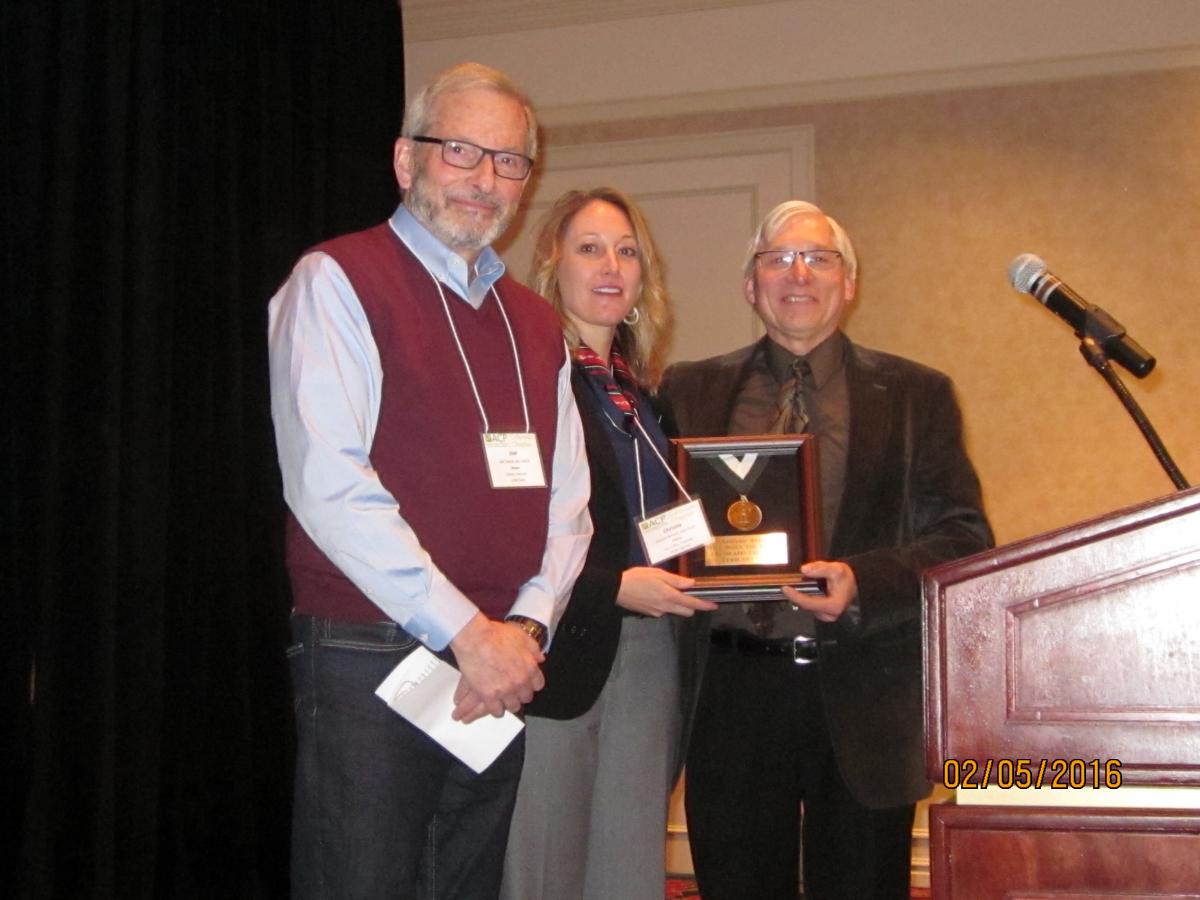 Ted Palen, MD, FACP, Christie Reimer, MD, FACP, and Joel Levine, MD, MACP.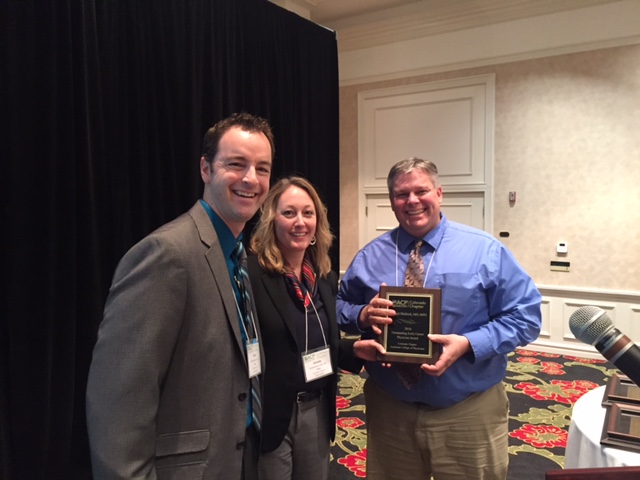 Colorado Chapter Meeting: Chad Stickrath and Christie Reimer, MD, FACP, with CECP Award winner Dan Matlock, MD, FACP.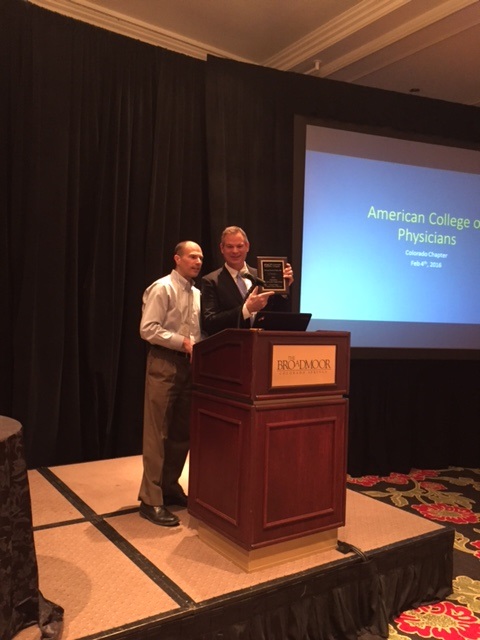 Colorado Chapter Meeting: Andy Fine with Service to the Chapter Award winner Ted Parks, MD.
---
Transforming Clinical Practice Initiative
The Transforming Clinical Practice Initiative (TCPi) is one of the largest federal investments uniquely designed to support clinician practices through nationwide, collaborative, and peer-based learning networks that facilitate practice transformation. On September 29, 2015, the Centers for Medicare & Medicaid Services (CMS) awarded $11 million to Colorado's Practice Transformation Network (PTN) to provide technical assistance support to help equip clinicians with tools and support needed to improve quality of care, increase patients' access to information, and spend dollars more wisely. This funding opportunity is the latest in a robust list of provider and practice support initiatives in Colorado. Learn more.
Could Your Practice Benefit from FREE Tools and Tailored Guidance for Practice Transformation? Here is more information.
Practice Redesign to Prepare for Changes in the Health Care System
Have you thought about what changes your practice will need to make to adopt advanced primary care approaches and new payment structures? Have you thought that perhaps your practice could do more to prevent cardiovascular disease? Making transformative changes takes time – and practices benefit from outside support in order to be successful. Fortunately, funding is now available to support these changes in small practices such as yours.
A new program called EvidenceNOW Southwest is bringing trained practice facilitators and clinical HIT advisors into primary care offices to help them become examples of excellence in advanced patient-centered care. This program is part of a national effort funded by the Agency for Healthcare Quality and Research that will assist primary care practices to rapidly deploy evidence-based interventions with an initial focus on reducing cardiovascular risk, prepare primary care practices for value based compensation (MACRA), begin work on patient centered medical home, and for participation in the State Innovation Model (SIM).
EvidenceNOW Southwest is now recruiting small primary care practices (15 providers or fewer) in Colorado and New Mexico. Practices will receive onsite practice coaching, expert consultation, and HIT support. Through shared learning collaboratives, practices will have the opportunity to learn from and share with other practices doing this work. This program will help them improve, change, redesign—transform—to the next level of patient-centered care. There is no fee for primary care practices in Colorado and New Mexico.
For more information contact EvidenceNOW.
To join now, fill out the Practice Application online.
---
MACRA
Colorado may be one of the 20 regions available for CPC+; we should know soon! Keep your eyes open for this opportunity as applications will be accepted starting in July. The college has put together some fantastic resources to help with the transition to MACRA and new payment systems. Click to learn more.
---
CECP
The Colorado Council for Early Career Physicians (CECP) is actively working on setting its agenda for the upcoming academic year, to include social, educational, and service events. For anyone interested in becoming more involved with the CECP, please contact Chad Stickrath and Mary Anderson.
---
New Members
Amy K. Cook, MD
Nancy N. Foley, MD
Rachel J. Groff, MD
Nicole Joseph, MD
Stephanie R. Knudson, MD
Brita Krabacher, DO
Jelena A. Licina, MD
Michael D. Lintner, MD
Jennifer R. Montague, MD
Jaime M. Moore, MD
Anna M. Munoa, MD
David Otto, MD
Leigh Perreault, MD
Brittany Leila Perry, MD
Matthew Remakus, MD
Samuel D. Richesin, MD
Lorenzo Rodriguez, MD
Michael Schlepp, MD
Simon L. Schrick-Senasac, DO
Meghan M. Timmerman, DO
Elias David R. Valdez, MD
---
New Fellows
Mary Elizabeth Anderson, MD, FACP
Teresa K. Braden, DO, FACP
Charles S. Harrod, MD, FACP
Kathleen Anne Heist, MD, FACP
Dennis R. Kinder, MD, FACP
Dan D. Matlock, MD, FACP
David J. Mohlman, DO, FACP
Paul G. Saleeb, MD, FACP
Douglas S. Webster, MD, FACP
---
Chapter Contact Information
Christina M Reimer, MD, FACP
Governor, ACP Colorado Chapter
Chapter staff:
Christine Westbrook
Phone: (720) 301-3184
Email: cochapteracp@msn.com