You are here
Letter from the Governor Southern California I September 2013
Letter from the Governor Southern California I September 2013

| | |
| --- | --- |
| September 2013 | Soma Wali, MD, FACP, ACP Governor |
---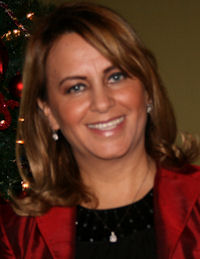 I am delighted to share some updates from ACP with you. Our Region has been working closely with National ACP in trying to meet the needs of our members. We have been active in the areas of advocacy and had a strong presence in the Sacramento & Washington D.C. leadership day events this year. We have also been working to offer more educational programs for our students, residents and early career physicians in the form of organized Board Reviews. We will be soon launching the Maintenance of Certificate programs which will be offered multiple times per year and sponsored by our ACP Chapter to help meet the needs of our members.
We have been working hard on planning an outstanding annual regional meeting for you. This year, the ACP Southern California Chapters I, II & III Meeting will take place at the Marriott Hotel in Marina del Rey November 2-3. The keynote speaker will be Dr. Mitchell Katz, Director for the Los Angeles County Department of Health Services, who will give us an update on the impact of the ACA (Affordable Care Act) in California. I look forward to seeing all of you at this year's annual meeting!
---
Meet the ACP S. California Region I Advisory Council

ACP S. California Region I Advisory Council (From Left to Right) Michael Pfeffer, MD, Michael Lazarus, MD, Andrew Gersoff, MD, Dennis W. Cope, Ron Ben-Ari, MD, Mark Munekata, Mark Richman, MD, Soma Wali, Maureen Spell, MD, Chester Choi, MD, Carole Warde, MD, Kouichi "Corky" Tanaka, MD Daniel Kang, MD, Azhar Majeed, MD, and Mark Noah, MD. Members not present: Andrea Cedeno, Brittany Demco, MD, Ronald Oudiz, MD, Neil Paige, MD, Susan Sprau, MD, and Rick Tennant, MD
---
New Fellows of the American College of Physicians
We are happy to announce and congratulate the following people in our region who have advanced to Fellow of the American College of Physicians (FACP) within the last six months.
Michael H. Bien, MD FACP
Robert L. Blum, MD, FACP
Sorin Buga, MD, FACP
Robert H. Chow, MD, FACP
Amar A. Desai, MD, FACP
Anish B. Desai, MD, FACP
Pamela D. DeSilva, MD, FACP
Junaid D. Fitter, MBBS, FACP
Rati V. Godrej, MD, FACP
Leila Hashemi, MD, FACP
Cynthia H. Ho, MD, FACP
Steven Jacobs, MD, FACP
Mark J. Kang, MD, FACP
Scott P. Layne, MD, FACP
Mojgan Makhsoosi, MD, FACP
Teresita S. Maqueda, MD, FACP
Phuong Khanh H. Morrow, MD, FACP
Gan Xon Ng, MD, FACP
Joseph J. Pinzone, MD, FACP
Allegra M. Rich, MD, FACP
Chrisandra L. Shufelt, MD, FACP
Nicole G. Stern, MD, FACP
Mark Talavera, MD, FACP
Aeree Yoon, MD, FACP
Adrienne Youdim, MD, FACP
Chester D. Zahn, MD, FACP
---
2013 ACP Sacramento Leadership Day
By Rick Tennant, MD
Sacramento Leadership Day on February 27th 2013 was another exciting, educational and fruitful day of lobbying for the American College of Physicians. The event began on February 26th with an insightful talk over dinner from Sacramento Bee Columnist Dan Walters on the state of health care in California and the country. The 27th started by meeting with the Undersecretary of Health and Human Services Michael Wilkening and was followed by meetings with Vince Marchand from the Senate Committee on Health and Rosielyn Pulmono from the Assembly Committee on Health. In the afternoon we broke into small groups to lobby with individual Senators, Assemblymen and their representatives. Among the issues for which ACP vocalized its support were patient access to primary care with emphasis on the patient centered medical home, funding for the CURES database to monitor scheduled prescriptions and MICRA to prevent the higher costs of care that would result from raising the limit on non-economic damages. Despite the conservative fiscal tone brought about by the pending national sequester, it was a productive and successful day for the American College of Physicians.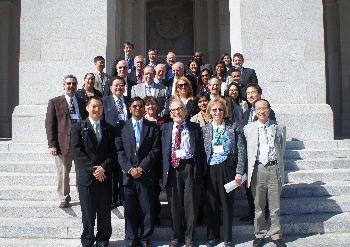 ACP California delegation at 2013 Sacramento Leadership Day
---
USMLE Step 1 Board Review
By: Andrea Cedeno
This year's USMLE Step 1 Board Review was a great success! The event was sponsored by the ACP and organized by the UCLA and USC Keck Internal Medicine Student Interest Groups. Professors from both schools gave fantastic lectures on various high yields topics for the upcoming exam. Nearly 180 students filled the lecture hall for a day of review from their most beloved professors. A big thanks to all the student volunteers and speakers who made this event a major success.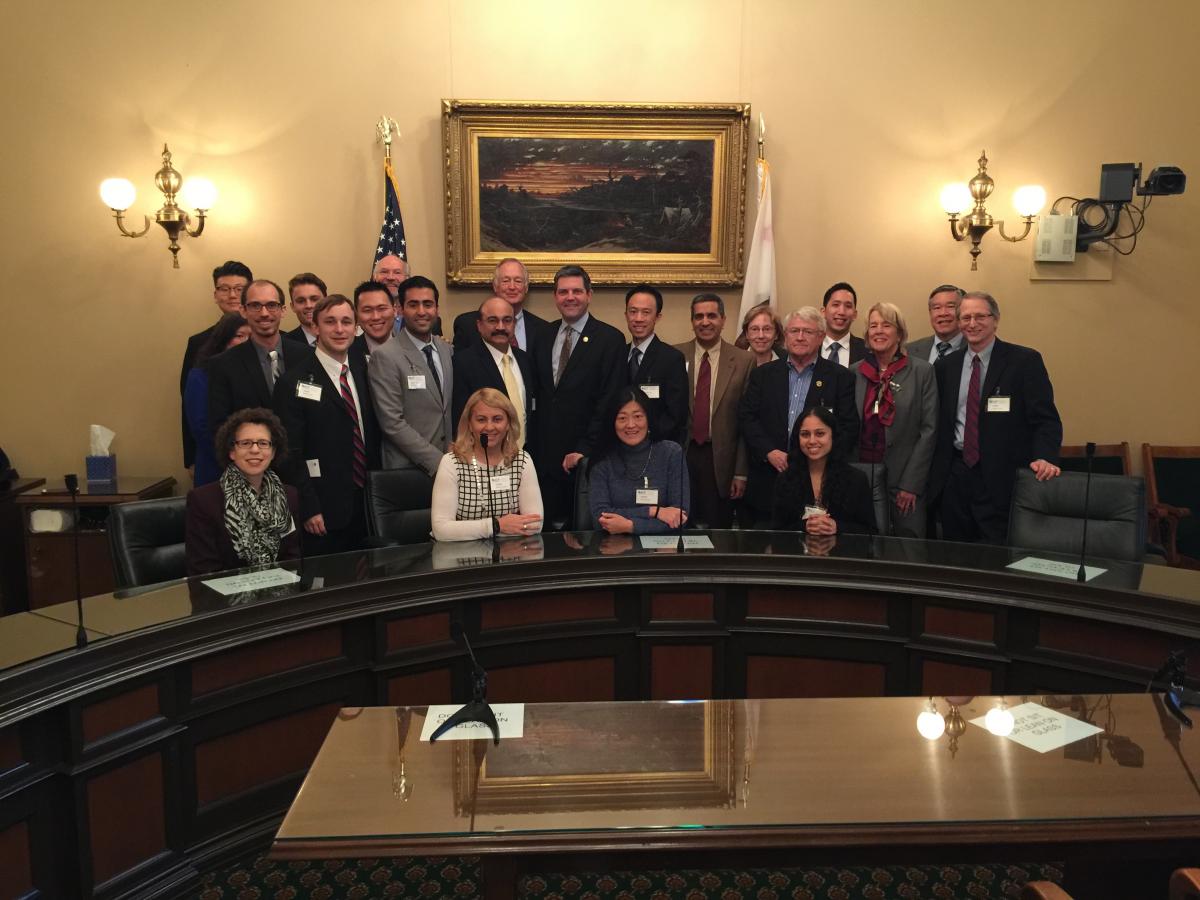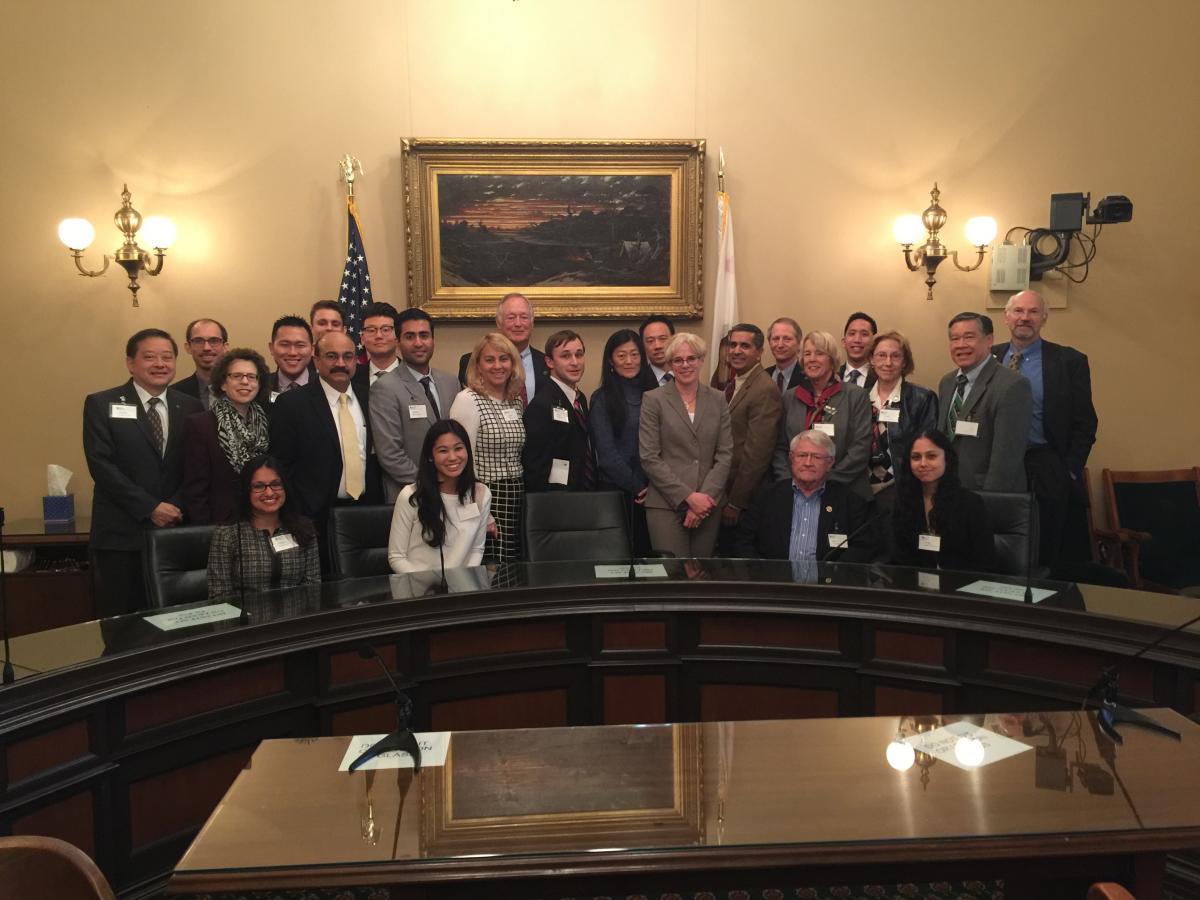 ---
2013 ACP Leadership Day on Capitol Hill
By: Maita Kuvhenguhwa, MD, PGY-1, Internal Medicine, UCLA-Olive View Program
Attending ACP Leadership Day is easily one of my most memorable and rewarding medical school experiences. For years, I heard about various groups "lobbying on Capitol Hill," but had never paid much attention to it. At the time, I was a fourth year medical student, scheduled to start my Internal Medicine residency in one month. So, issues like maintaining funding for Graduate Medical Education were obviously of great importance to me. Through my interactions with our assigned Congress people and local representatives, I felt like I was actually doing something to alleviate the problem just by speaking up and telling my side of the story. I also had the opportunity to hear stories of senior residents and other physicians, who are already on the front lines and facing these issues on a daily basis. As we traveled between meetings, I witnessed firsthand just how busy these officials are, and how rare it is to get a chance to meet with them. Prior to attending ACP Leadership Day, changes in governmental policies and budget cuts were abstract concepts: I knew that they would affect me and the practice of Medicine in some way, but there was nothing I could do about them. Now, I know that it is possible to be heard and affect change; you just have to take the initiative to advocate for what you believe in.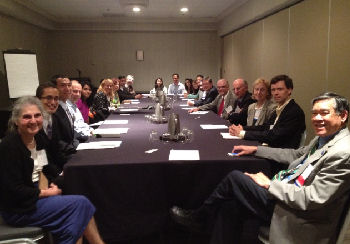 Delegates from ACP S. California at Leadership Day. Photos courtesy of Maher Roman, MD FACP
---
2013 Leadership Day on Capitol Hill
By: Vinhfield X. Ta, MD
The convergence of ACP members on Capitol Hill for ACP Leadership Day 2013 came at a critical time when Congress faces a challenging national fiscal and health care environment. With automatic across-the-board budget cuts going into effect under sequestration this past March, we advocated for maintaining funding for national health services while also introducing proposals to control long-term health care costs.
Southern California Region I was well represented among the 339 participants at the May 21-22 event. We met with congressional members or their staffs, including the offices of Representatives Lois Capps, Adam Schiff, Brad Sherman, Henry Waxman, Buck McKeon, and David Valadao among others.
The focus of these bipartisan meetings included:
halting sequester cuts to vital national health-related programs and services, including the National Health Services Corps (NHSC), Centers for Disease Control and Prevention (CDC), and National Institute of Health (NIH);
preserving and expanding funding for Graduate Medical Education (GME) with an emphasis on primary care training, to help address physician shortage and need for primary care under the Affordable Care Act (ACA);
endorsement of the Medicare Physician Payment Innovation Act of 2013 to eliminate the Sustainable Growth Rate (SGR) and transition to a better payment and delivery system;
endorsement of a national pilot of health courts, a proposed "no-fault" system to handle medical malpractice cases by experienced judges with guidance by independent experts rather than by lay juries.
The event is just one step in the ACP's ongoing effort to make legislative change, and it gives an opportunity of ACP members to be part of this effort, whether experienced or inexperienced. For participants, Leadership Day continues be an exciting learning experience about the workings of Capitol Hill.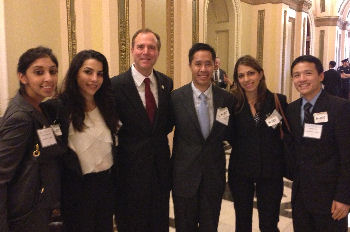 Shilpa Kumar, MD, Sara Samie, MD, Congressman Adam Schiff (D), Timothy Almazan, MD, Roya Tabatabai, MD, and Vinhfield X. Ta, MD meeting outside of the House Chamber at the U.S. Capitol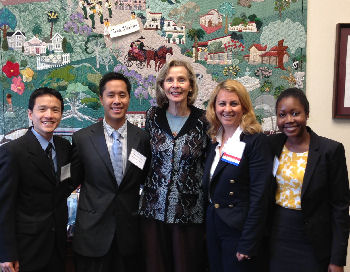 Vinhfield Ta, MD, Timothy Almazan, MD, Congresswoman Lois Capps, Soma Wali, MD, FACP and Maita Kuvhenguhwa, MD
---
2013 ACP National Meeting in San Francisco
This year's ACP 2013 Annual Meeting took place in San Francisco. Southern California Region I was well represented with over 275 registered attendees. In addition, numerous abstracts were submitted. We would like to congratulate the UCLA team, which represented the Chapter at this year's Doctor's Dilemma competition. The team consisted of Drs. Shipra Hingorany, Annie Zhang and Alex Zider. Next year's meeting will be held April 10-12, 2014 in Orlando, Florida. We hope to see you there!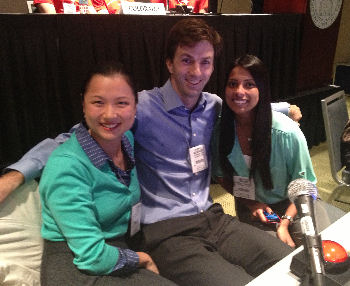 ACP S. California Region I Doctors Dilemma Team - (L-R) Annie Zhang, MD, Alex Zider, MD & Shipra Hingorany, MD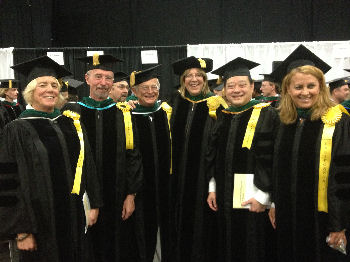 ACP California Governors (Left to Right) Carla Fox, MD, FACP, Howard Williams, MD, FACP, George Meyer, MD FACP MACG, Debra L. Stottlemyer, MD, MBA, FACP, Gordon L. Fung, MD, FACP, & Soma Wali, MD, FACP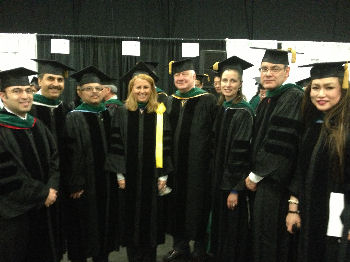 Dr. Soma Wali, ACP Governor for S. California Region I, with newly elected ACP Fellows
---
Awards
This year our Chapter recognized two outstanding medical students who are pursuing careers in Internal Medicine: Michael Patrick Directo, MD, from the Keck School of Medicine at USC, and Jeremy M. DeMartini, MD from the David Geffen School of Medicine at UCLA. Dr. Directo is headed to Cedars Sinai Medical Center for his residency training, while Dr. DeMartini will be going to UC Davis. On behalf of ACP Southern California Region I, we congratulate them both and wish them the best.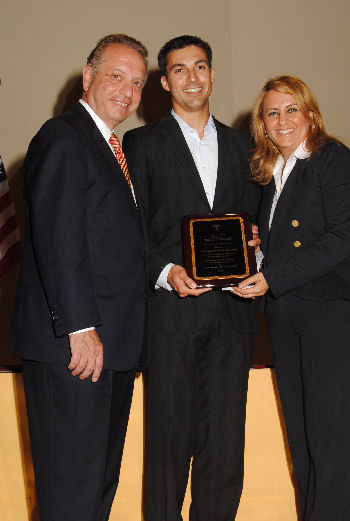 ACP Governor, Dr. Soma Wali (Right) and Keck School of Medicine of USC Dean Carmen A. Puliafito, MD, MBA (Left) present ACP Student Internist Award to Dr. Michael Patrick Directo (Center)
David Geffen School of Medicine at UCLA graduate, Dr. Jeremy DiMartini, recipient of the ACP Student Internist Award
---
Are you using this free ACP Member Benefit?
JournalWise, a free, time-saving, ACP Member benefit, is a mobile-optimized service that screens over 120 internal medicine journals for the highest-quality, clinically relevant and newsworthy articles with custom criteria that you determine so that only the articles (and e-tocs) you want are delivered when and how you want them.
This short, 2-minute video shows you how set-up is quick, easy and free!
For more information and to sign-up, log in.
If you have any questions, please contact Tony Felicetti.
---
Mark Your Calendars!: Southern California Regions I, II & III Scientific Meeting
We are happy to announce that this year's ACP Regions I, II and III Scientific Meeting will take place on November 2-3, 2013 at the Marina del Rey Marriott in Marina del Rey, California. We have an outstanding program that includes experts from throughout the region speaking on topics including Women's Health Update, Colorectal Cancer Screening, Ophthalmology for the Internist, Update on HTN, Affordable Care Act in California 2014, Chronic Kidney Disease Update, Update on Hospitalist Medicine, Finding Meaning in the HER Meaningful Use Incentive Program and Dermatology for the Internist. In addition, the meeting will include a poster competition and a medical jeopardy competition.
We hope to see you there!