You are here
GOVERNOR'S NEWSLETTER March 2015
GOVERNOR'S NEWSLETTER March 2015

---
Letter from the Governor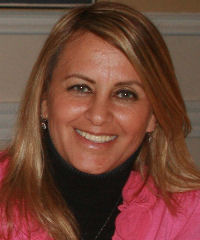 Dear ACP Members,
As you know, there has been a lot of discussion about ABIM and MOC. Based on the request from our members, ACP has taken a leading role in communicating with ABIM on behalf of our members and advocating for reform. We are delighted about the progress we have made and will continue to work closely with ABIM in facilitating the reform. At this time ABIM is exploring possible changes in the nature and content of the examination. We will keep you informed on the progress of the upcoming reforms.
We have had another successful year in our region. Our last Southern California meeting had a record number of attendees. We had over 504 attendees and over 315 posters presented by the housestaff and Medical Students at the meeting. We also had participation from all residency programs in our Annual Resident Medical Jeopardy competition. I would like to congratulate UCLA for winning the medical jeopardy competition. They will represent Southern California at the National meeting in Boston this year. I would also like to thank all the residents and medical students for presenting their posters at our meeting.
Congratulations to Dr. Mark Noah, Designated Institutional Official ( DIO) and Program Director at Cedars Sinai Medical Center who was elected as the Governor Designee for our region. Dr. Noah will formally start serving as the ACP Governor for our region starting April of 2016. Dr. Noah has been an active and valued member of the ACP Advisory council in our chapter for over a decade and has contributed significantly to ACP. Please join me in congratulating Dr. Noah for his upcoming assignment. I look forward to working with him.
We planned a successful Board Review Course for Medical Students as well as one for residents in our region last year. We also offered MOC sessions in the evenings to our members. We look forward to offering similar programs this year.
This year, my goal is to promote High Value Care Curriculum in every residency program in our region. If you are interested in being involved, please feel free to reach out to us.
We continue to advocate for our members through ACP at the state as well as the national level. We recently visited Sacramento during ACP Leadership Day and met with members of Congress and Senate to discuss issues that affect all internists in California. We also met with the American Medical Associate (AMA) in supporting their efforts in Sacramento. We would like to hear from members about issues you would like us to take to Capitol Hill on behalf of all internists during our upcoming Capitol Hill visit in May.
In 2015, we are in the process of planning an all California Meeting on October 31st and November 1st in Monterey California. This would be a joint meeting for all Southern California chapters as well as our Northern California chapter. I invite all of you to mark your calendar and join us for this upcoming meeting. In addition to this meeting, we are working on scheduling an Associate/Hospitalist Day for members in our region in Marina del Rey. The date will be announced soon. I like to remind all members to join us for our Annual meeting in Boston. This is a special year for ACP which marks our 100 year anniversary. We look forward to seeing you at this meeting!
Thank you for being a valued member of ACP. We appreciate your membership and look forward to working with you in coming up with different programs to meet your professional needs. We would like to continue our collaboration with our members and look forward to introducing new programs in 2015. Please let us know what ACP can do for you.
Soma Wali, MD, FACP
Governor, ACP Southern California Region I
---
ACP IM 2014 Regional Meeting in Orange, California
This year's ACP 2014 Chapters I, II & III regional meeting took place on October 18-19, 2014 in Orange, California. The meeting featured a great selection of speakers on a variety of interesting topics, including the latest update on Ebola.
The meeting attracted over 500 people, easily surpassing last year's figures. In addition, over 315 posters were submitted by medical students and residents from throughout Southern California and the Navy.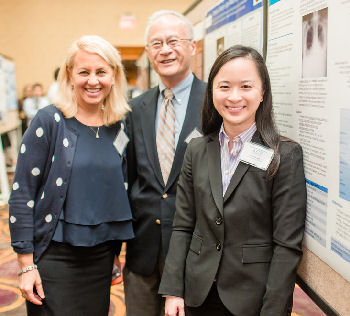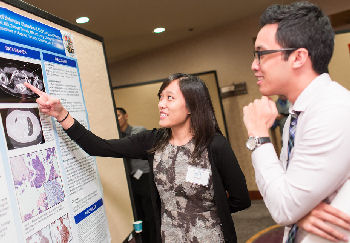 The following residents and medical students had winning posters from ACP S. California Region I:
1st Place Winners - Residents
Clinical Vignettes:
Chin Lee, MD (Cedars-Sinai)
Research:
Ray Pillai, MD (USC)
Innovation: Linnaea Schuttner, MD (UCLA
1st Place Winners - Medical Students
Clinical Vignettes:
Grant Meyer (USC)
2nd Place Winners -Residents
Clinical Vignettes:
Idoroenyi Amanam, MD (St. Mary's)
Research:
Antoney Ferrey, MD (USC)
Innovation:
Sajan Patel, MD (UCLA)
2nd Place Winners - Medical Students
Clinical Vignettes:
Sarah Park (UCLA)
Innovation:
Stephanie Cham (UCLA)
3rd Place Winners - Residents
Clinical Vignettes:
Sonia Lin, MD (USC)
Research:
Veronica Ramirez, MD (USC)
3rd Place Winners - Medical Students
Clinical Vignettes:
Anjali Hari (UCI)
Residents who won first place in the Clinical Vignette and Research categories will be sent to this year's ACP national meeting to compete. Second and third place winners will receive cash awards.
Congratulations to the UCLA team for winning this year's Doctors Dilemma ("Jeopardy") competition. The team consisted of Drs. Brenton Bauer, Faysal Saab and William Finch. They will receive funding to compete at the national ACP meeting in Boston this year. We congratulate them and wish them well. In addition, a special thank you goes out to Drs. Magdalena Ptaszny, Susan Trompeter and Howard Williams for all their hard work in organizing this year's competition.
Dr. Magdalena "Maggie" Ptaszny was the recipient of this year's ACP Laureate Award. This prestigious award is awarded to ACP members who have demonstrated by their example and conduct an abiding commitment to excellence in medical care, education, or research, and in service to their community.
A special thank you to Dr. Alpesh Amin for his work and all the judges who took time off from their busy schedules to assist in this year's poster competition.
Photo Gallery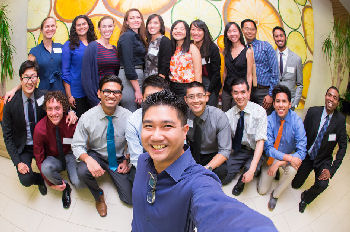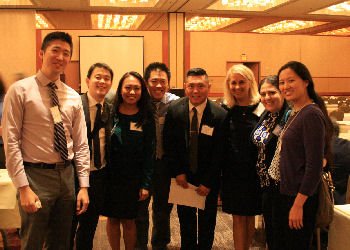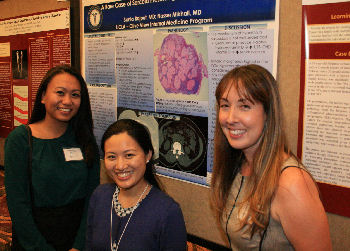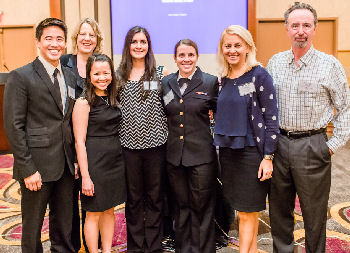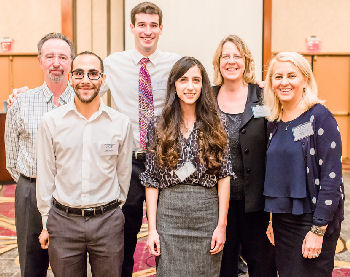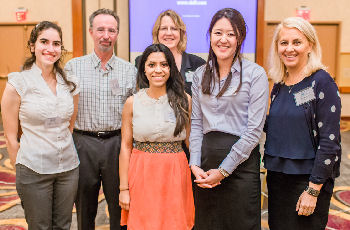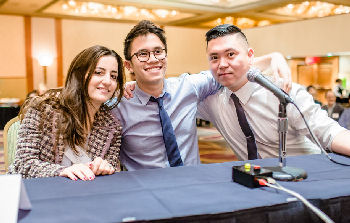 ---
2015 ACP Sacramento Leadership Day - 3 Resident's Perspective
By: Nayiri Gharibian, MD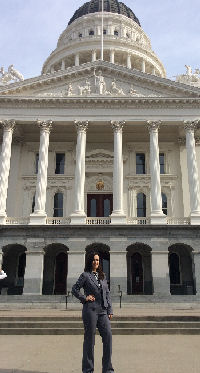 The world of medicine is incredible. On a daily basis, we as medical students, interns, residents and physicians, passionately advocate for the health of our patients. We educate them about diabetes and the importance of diet and exercise. We listen to them as they tell us their stories of depression. We prescribe the correct antibiotics to treat their infections. We do all of this, and so much more, on a daily basis. Do we know, however, how to advocate for our patients when it comes to health care access? I'll be the first to admit I did not know much about the world of politics, until I was asked to participate in ACP Leadership day in Sacramento, CA.
Given the changes in healthcare brought forth by the Affordable Care Act, we now have more than 65 million Americans enrolled in Medicaid (or Medical as it is called in California) and that number continues to grow. Unfortunately; however, with the expiration of the Pay Parity program last year, we have less and less primary care providers to help care for our growing number of Medicaid patients. Medicaid reimbursement rates in California are some of the lowest in the entire nation when compared to Medicare reimbursements, which has dissuaded many primary care physicians from caring for Medicaid patients. During ACP Leadership day, I was fortunate enough to meet many hard-working physicians who have taken patient advocacy to a new level. I was exposed to a whole new world of hope and change, a whole different kind of "hustle and bustle" outside of the hospital.
I learned about the current hot topics in health care. I learned about the several bills soon to be introduced involving Medical reimbursements, ensuring adequate networks for patients in Covered California plans, eliminating "personal exemptions" to help control measles, and so much more. I also learned the immense amount of work entailed in writing bills, introducing bills, and educating members of legislature about the issues at hand. At first, I was overwhelmed but as the day went on I grew increasingly comfortable in my surroundings. With each receptive meeting with legislative staff, it seemed my colleagues and I realized just how important it was to be at the Capital that day, representing ACP, our respective hospitals and residency programs and perhaps most importantly, our patients.
The following day, we all returned home and resumed our day to day activities and jobs. I've realized, however, that during our careers, we could prescribe all the right drugs, order all the right tests and make all the right diagnoses, but I do not believe we are doing our patient's justice, if we do not make an effort to stay educated about healthcare in politics and commit to a role in the world of political lobbying, no matter how large or small. Then, we can truly call ourselves advocates of health, and the world of medicine truly becomes incredible.
By: Diana Sarkisyan, MD
Sacramento Leadership Day 2015 was a successful opportunity provided by ACP to advocate for patients' access to healthcare on a state level. Instead of the daily struggle to advocate for improved A1cs and LDLs, I found myself speaking a different language, promoting SB 243 and AB 366. With the help of speakers including Peter Lee, Executive Director for Covered California and Ed Hernandez, Chair of Senate Committee on Health, I was able to navigate through the current proposed legislation including the aforementioned bills which emphasized increasing reimbursement for the care of Medical patients and providing adequate networks for patients in Covered California plans. Understanding the impact of such legislation as well as being able to promote them in dialogue with assembly and council members was an enjoyable and eye opening experience. While the leadership event was only a two day event, it sparked a desire to be involved in ongoing efforts to change legislation affecting physician practice.
By: Rohit Godbole, MD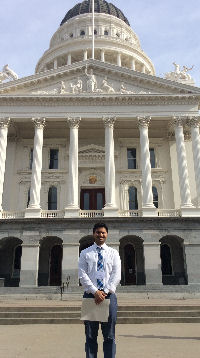 ACP Sacramento Leadership Day is an important opportunity for those of us in training to experience the public discourse on healthcare in the state of California. The event also provides a great opportunity for networking and bonding. On the day of our flight to Sacramento, Dr. Michael Ben-Aderet (PGY3 from Olive View - UCLA Medical Center) and I sat at the airport terminal over a steaming cup of Pete's coffee, rubbing the sleep from our eyes and straining to read over the briefing material. So what is this or that about, we would ask each other, pointing to different areas of the briefing. We both pulled out our phones and searched for news articles and bills to help us understand the issues, especially in the context of how they applied to our patients (who mostly have MediCal or are uninsured). This knowledge really made us place what we do every day and the struggles of our patients in a broader context. We recognized the imperfections of the process and the efforts it takes to get something positive done. I appreciated walking into an Assembly member's office, shaking hands with them, getting to know them, and telling them stories of what we see every day. It reassured me that despite its imperfections, our voice is valuable to the process and one day our patients will benefit from the efforts we put in today.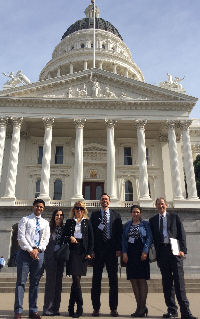 Rohit Godbole, MD, Nayiri Gharibian, MD, Chapter Governor Soma Wali, MD, FACP, Michael Ben-Aderet, MD, Diana Sarkisyan, MD, and Chapter Governor-Elect Mark Noah, MD, FACP.
---
USMLE Step I Boards Review Day
Taking USMLE Step 1 soon? Second year medical student from USC, UCLA, and UC Riverside are invited to attend "Pearls for the USMLE Step 1 Boards Review Day" on Sunday, April 19th from 9 AM to 5 PM at the USC Keck School of Medicine. This well-attended event is organized by the Internal Medicine Interest Group leaders from USC Keck School of Medicine, UCLA David Geffen School of Medicine, and UC Riverside School of Medicine. The program offers a great learning and networking opportunity.
This year's topics, with speakers from USC and UCLA, include:
Hematology
Neurology
Endocrinology
Gross Anatomy
Nephrology
All attendees must be ACP members. Membership is free to medical students. Those who arrive and are not members can sign up for free membership on-the-spot. For additional information, please contact Pooja Jaeel.
---
New ACP Fellows
We are happy to announce that the following people have been advanced to ACP Fellow in our region within the last 6 months.
Mya Myo Aye, MBBS, FACP
Richard A. Belkin, MD, FACP
Jaime Betancourt, MD, FACP
Sanjeet S. Dadwal, MD, FACP
Ram C. Dandillaya, MD, FACP
Ghassan E. Hadi, MD, FACP
Tanaz A. Kermani, MD, FACP
Joe B. Kim, MD, FACP
Rita Nkem Ogbo, MBBS, FACP
Magdalena E. Ptaszny, MD, FACP
Timothy C. Reynolds, MD, FACP
Jeffrey K. Shimoyama, MD, FACP
Kamoltip Sinthawanarong, MD, FACP
Anilrudh A. Venugopal, MD, FACP
Benjamin Yasharel, MD, FACP
Katherine K. Yu, MD, FACP
---
Mark Your Calendars! 2015 ACP IM Meeting in Boston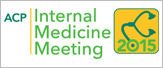 The Internal Medicine Meeting will be held April 30 - May 2 in Boston, MA. Choose from more than 200 CME courses in internal medicine and the subspecialties presented by faculty unsurpassed in their fields.