You are here
GOVERNOR'S NEWSLETTER December 2015
GOVERNOR'S NEWSLETTER December 2015

---
---
Letter from the Governor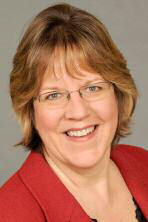 Debra L. Stottlemyer, MD, MBA, FACP
Governor, ACP Southern California Region II
Dear Colleagues,
Happy Fall! It's been six months since our last newsletter, and it has been a busy time for SoCal2. Hope these six months have been happy and productive for you as well.
---
Internal Medicine Week 2015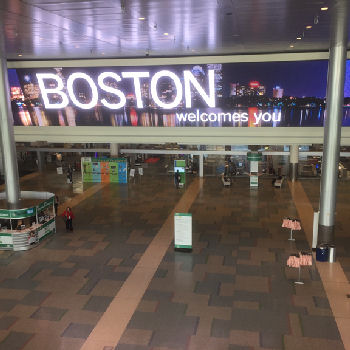 Boston Convention Center
Boston, MA was a wonderful place for the ACP to begin its year-long Centennial Celebration-a celebration which will culminate at Internal Medicine Week 2016 in Washington DC on May 5-7, 2016. Pre-courses will be held May 3-4. And since we will already be gathering in Washington, 2016 Leadership Day will also be happening on May 3-4. It promises to be an intense and delightful week!
A number of our poster winners from the October 2014 Southern California Chapter meeting traveled to Boston to compete in the national poster competition. We are proud of them!
Heather Hoffmann, MD (UCI) [co-poster with Anh Tuan Pham, MD (LL)]
Rola Khedraki, MD (UCI)
Neesha Mody, MS (UCI)
David Tehrani, MS (UCI)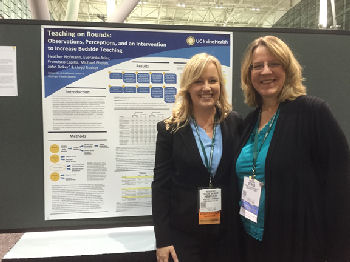 Heather Hoffmann, MD presenting at National ACP with her ACP Governor
---
2015 Resident & Student Fair
As reported in our last newsletter, our chapter held the annual poster session for SoCal2 residents and students in Loma Linda, CA on September 20, 2015. It was an excellent event. We had 83 posters on display including 4 posters within a new category: "Early Career Physicians." ACP defines early career physicians as those out of training but less than 16 years from medical school graduation. Dr. Amin and I are planning to expand this category and invite all early career physicians to submit posters for future meetings-so if you are eligible, plan on submitting an abstract next fall.
Dr. Larry Loo, MD, MACP was the Chair of our Poster Competition that was beautifully organized. My thanks to him and the 30 + volunteer judges who showed up on Sunday to engage with our residents and students!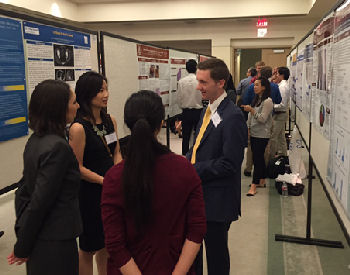 Poster Competition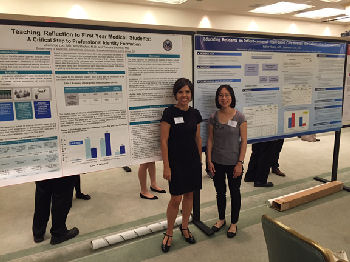 Two early career physicians with their posters: Amy Hayton, MD and Kathie Huang, MD, FACP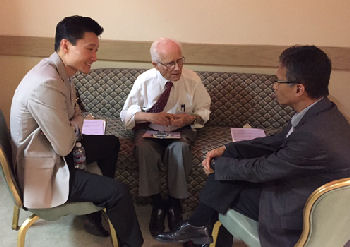 Three judges hard at work: Steve Lee, DO, Chair of Clinical Competency Committee at Kaiser Fontana; Steward Shankel, MD, MACP, Past Chair Department of Medicine, UCR; Bryant Nguyen, MD, Chief, Division of Pulmonary & Critical Care, LLU.
The SoCal2 Chapter Officers voted to give up to a $300 travel stipend to each of the 18 poster winners to offset travel costs to Monterey for the All-California Chapter Meeting on Oct 30-Nov 1. We are appreciative that 13 of them were able to attend.
Our 2015 ACP SoCal2 Poster Winners (listed in 1st, 2nd and 3rd place order) are:
Student Research
- Lisa Dao*
- Jesse Keeler
- Brian Kahn*
Student QI
- Michelle Dilley*
- Hurnan Vongsachang*
- Reema Ghatnekar*
Student Clinical Vignette
- Subir Bhatia
- Jennifer Salame*
- Danielle Wang*
Resident Research
- Lakshmi Ganesan
- Christine Akamine*
- Yong Ji*
Resident QI
- Chung Cuiffo
- Kimberly Truong*
- Kristen Nguyen*
Resident Clinical Vignette
- Cory Taylor
- Amy Belinghausen-Stewart*
- Danish Abbas*
Please join me in congratulating each one of them!
*Also presented at the All California Chapter Meeting on October 21, 2015.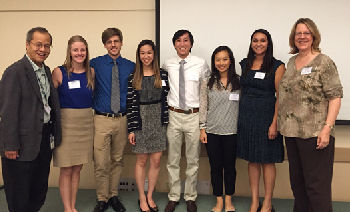 Some of our poster winners with Dr. Loo and Dr. Stottlemyer
In addition to the poster competition, we sponsored our regional Doctors Dilemma™ Competition. Four residency programs sent a team to the jeopardy event: Kaiser Fontana, Loma Linda, UCI, and UCR. UCI's team took home the winning title.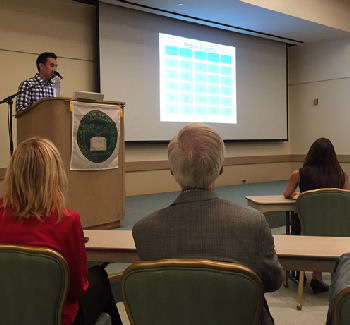 Doctors Dilemma(TM) with Moderator Dan Owyang, Chief Resident, Riverside County Regional Medical Center. Our keynote speaker, Dustin Corcoran, CMA CEO gave a great talk to our trainees on the future landscape of medicine. It was a spot-on summary of what our residents and students can expect on the business and regulatory side of medicine as they begin their careers. Thank-you, Mr. Corcoran!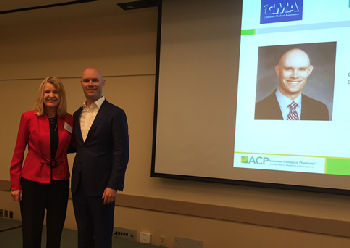 Planning Committee Chair Pam Yamanishi, MD, FACP with Keynote Speaker Dustin Corcoran, CEO CMA
Finally, a shout-out to the following individuals who manned the Fair Booths and were available to answer questions from our attendees on such topics as Getting into Residency, How to Interview, Maternal Issues in Training, Managing Debt during Training, What happens After The Match, CVs, and the Governor's Table
Maggie Fasbender
Dottie Acosta
Dennis Shogren
David Whitford
Debby Craig, MD, FACP
Daniel Kim. MD, FACP
Amy Hayton MD
Bindu Swaroop MD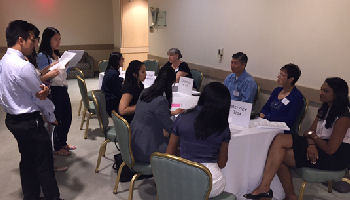 Program Directors Daniel Kim, MD, FACP, Debby Craig, MD, FACP and Bindo Swaroop, MD giving interview tips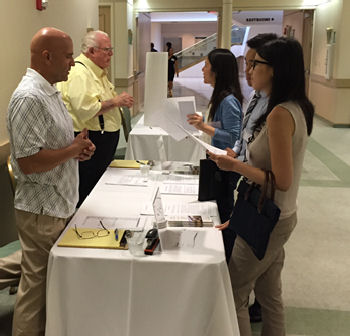 Dennis Shogren CPA and David Whitford CPA discussing debt management with attendees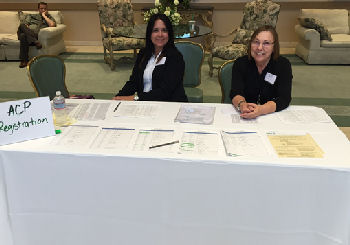 Our thanks to Mercedes Weston and Linda Carter, present and past Executive Directors of SoCal2. Without you, no meeting would be successful!
---
2015 Fall Board of Governor's Meeting
In a rare event, the ACP Board of Governors came to SoCal2 on October 1-3, 2015. As the hosting region, we sent Mae West (aka Deb Stottlemyer) and Cary Grant (aka Alpesh Amin) to welcome the BOG and the ACP leadership to Palm Springs. The Board was delighted to be personally welcomed by such famous folks from yesteryear.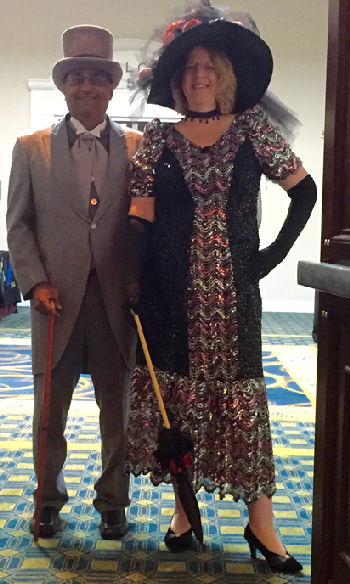 Cary Grant and Mae West preparing to welcome the ACP BOG to Palm Springs
---
ACP All California Scientific Meeting
We had a marvelous meeting in Monterey on Oct 30-November 1, 2015. The venue and weather were both stunning, and the content of the meeting was outstanding.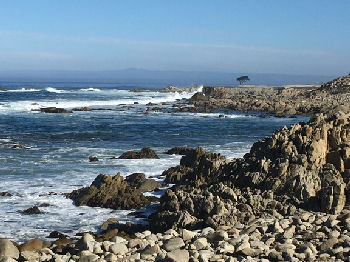 Monterey Bay, 2015
Highlights included our keynote speaker, Steve Weinberger, MD, Executive Vice-President and CEO of ACP. He gave us an in-depth update on MOC. We appreciate his transparence with emails to the entire ACP membership on the journey ACP is having with ABIM. All of us remain eager for additional change in the MOC process. Dr. Weinberger made it very clear that change in MOC is a top priority of the College; the persistent intense discussions with ABIM have resulted in relatively rapid change. I have great respect for the work that the leadership of ACP has and is continuing to accomplish by influencing change at the ABIM.
We were also graced by Bob Doherty's personal update on the advocacy front with his talk entitled "Health care Policy at a Crossroads: Which fork in the road will we take?"
The lectures and workshop and two ABIM SEP modules were all terrific! My thanks to all those who worked hard to bring us great updates on topics that matter in our daily practices!
I am pleased that the UCI jeopardy team was able to attend the State-wide meeting and will also be traveling to Washington DC next May to compete in the National Doctor's Dilemma™. Given that it was Halloween, they were decked out in costume-fun!! Please give your congratulations to our ACP SoCal2 Regional Doctors Dilemma™ Champions:
-Jeffrey Hughes
- Kimberly Truong
- Steven Zhao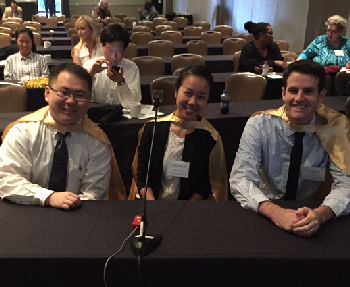 Steven Zhao, Kimberly Truong, Jeffrey Hughes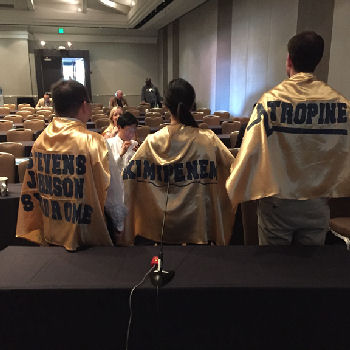 Doctors Dilemma Costumes on October 31, 2015!s
Our region had the privilege of bestowing awards on a number of outstanding individuals.
Master Teacher Awards (One from each Medical School in Region 2):
Rajagopal Krishnan, MD, FACP, Loma Linda University
Amish Dangodara, MD, FACP, University of California Irvin
Stewart Shankel, MD, MACP, University of California Riverside
Pramod Multani, MD, FACP, Western University
Volunteerism and Community Service Award
Sergio Infante, MD, FACP
Laureate Award
Pamela Anderson Yamanishi, MD, FACP
Each one of the awardees has made significant contributions to Internal Medicine. Please join me in congratulating them!
---
Membership Update
ACP is only as strong as its membership, and I am grateful you choose to continue choosing ACP as your professional home. As of October, we officially have 2019 members in our chapter-which is up by over 200 since I took office 4 years ago. Thank-you!
---
CMA House of Delegates Meeting
I am delighted to include a report from our newest CMA delegate regarding the recent House of Delegates meeting. Thank-you for your service to our chapter, Dr. Fidler.
The California Medical Association 144th Annual Session of the House of Delegates met on October 16, 2015 through October 18, 2015 in Anaheim, California at the Disneyland Hotel. Delegates debated key issues and voted on more than 80 resolutions and recommendations. Their contribution facilitated policy and provided guidance for CMA's advocacy on behalf of patients and physicians. Ruth Haskins, MD was voted as CMA President-Elect. Theodore Mazer, M.D. was re-elected as the CMA Speaker of the House and Lee Snook, Jr., MD, FACP was re-elected as CMA Vice-Speaker of the House. Members of the California Medical Association may access the Final Actions of the 2015 House of Delegates on the CMA website.
Suzanne A. Fidler, MD, JD, FACP
ACP Southern California Region II
---
New ACP Fellows
We have new Fellows to celebrate. Between the July 1st and September 1st elections, we have seven new Fellows in our region:
Geoffrey D. Block, MD, FACP
Andrew P. Corr, MD, FACP
Christine A. Doung, MD, FACP
Lalima A. Hog, MD, FACP
Kathie Huang, MD, FACP
Ilho Kang, MD, FACP
Wilfredo M. Tupas, MD, FACP
As new Fellows, you are invited to attend Internal Medicine week and march in the Convocation Ceremony. I personally invite you to make every effort to attend and participate-it will be one of the highlights of your career and my last Convocation as Governor. I hope to see each one of you in Washington, DC.
Please congratulate all of our new Fellows!
---

Sacramento Leadership Day, Feb 23-23, 2015
Washington Leadership Day, May 3-4, 2016
Future Internal Medicine Weeks
Please put the dates for the next four years of Internal Medicine Week meetings on your calendar:
Internal Medicine Meeting 2016
May 5 - 7, 2016
Washington, DC
Internal Medicine Meeting 2017
March 30 - April 1, 2017
San Diego, CA
Internal Medicine Meeting 2018
April 19-21
New Orleans, LA
Internal Medicine Meeting 2019
April 11-13, 2019
Philadelphia, PA
With gratitude to each and every one of you for the ongoing work you do day in and day out to provide excellent care to our patients and teaching to the next generation of physicians,
Deb Stottlemyer, MD, FACP
Governor, ACP So Cal Region II