You are here
GOVERNOR'S NEWSLETTER December 2014
GOVERNOR'S NEWSLETTER December 2014

---
Letter from the Governor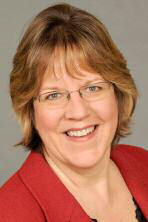 Debra L. Stottlemyer, MD, MBA, FACP
Governor, ACP Southern California Region II
Dear Colleagues,
Over Thanksgiving this past weekend, I was reflecting on how much I have to be thankful for with our ACP Chapter. We had a highly successful Scientific Meeting in October with nearly 600 attendees-more than any meeting in our history.
The speakers were excellent, especially our keynote speaker, Dr. Suzanne Donovan who arrived at the conference directly from Nairobi where she had been attending the African Union Ebola Conference. Her report from the front lines of the Ebola fight was fascinating and timely.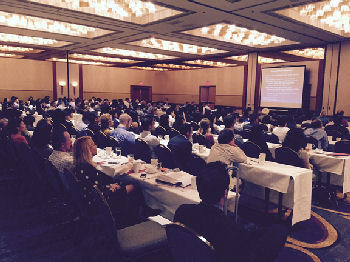 Plenary Session
The workshops were well attended as members learned practical tips on ophthalmology and office spirometry as well as splinting and fractures.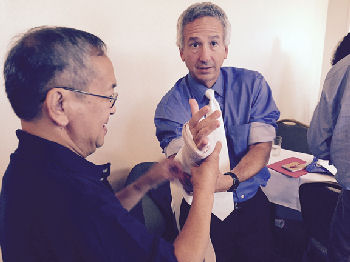 Splinting and Fracture Workshop
Additionally, MOC points were earned at our four SEP module work-outs.
SEP Module in progress
We had a record-breaking poster competition with over 300 student, resident and fellow submissions from all three regions plus the Navy.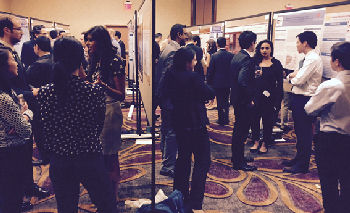 Vibrant Poster Competition!
For the traditional categories of "Research" and "Clinical Vignette", each region had it's own individual competition. But for the new category of "Innovation" all four regions were combined-and Region II carried away 3 of the 6 awards! I am pleased to announce our winners:
Research:
Resident
Heather Hofmann, MD (UCI)-First Place
Varaz Bozoghlanian, MD (UCI)-Second Place
Jennifer Kumar, MD (UCI)-Third Place
Med Student
David Tehrani (UCI)-First Place
Bryan Yeh (UCR)-Second Place
Srikanth Krisnath (UCI)-Third Place
Clinical Vignette:
Resident
Rola Khedraki, MD (UCI)-First Place
Yung Lyou, MD (UCI)-Second Place
Sarah Thomas, MD (UCR)-Third Place
Med Student
Tanya Doctorian (Loma Linda)-First Place
Kirti Malhotra (UCI)-Second Place
Majid Husain-Third Place
Innovation:
Resident
Heather Hofmann (UCI) & Anh Tuan Pham (Loma Linda)-Third Place
Medical Student
Neesha Mody (UCI)-First Place
Eric Ton (UCI)-Third Place
In addition to our poster winners, Region II's Award's Committee, chaired by Philip Gold, MD, MACP (Thank-you, Phil!), awarded two Laureate and four Master Teacher awards (one from each medical school in our region). The Laureate Award is the most prestigious award given at the local level. It honors Fellows or Masters of the ACP who have demonstrated by their example and conduct an abiding commitment to excellence in medical care, education, or research, and in service to their community, their chapter, and the American College of Physicians. Master Teachers are recognized by their colleagues as being superlative educators.
Those awardees are as follows:
Daniel Kim, MD-Laureate Award
Paul Selecky, MD-Laureate Award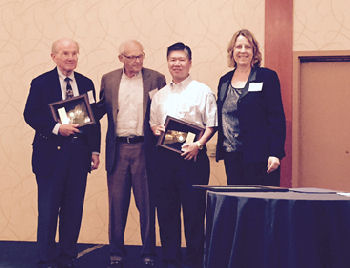 (L-->R): Paul Selecky, Phil Gold, Dan Kim, Deb Stottlemyer
Ingrid Blomquist, MD-Master Teacher, Loma Linda
George V Lawry, II MD-Master Teacher, UCI
Larry Loo, MD-Master Teacher, UCR
Edward Barnes, MD-Master Teacher, Western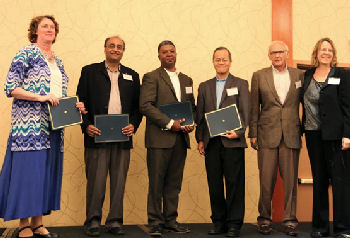 (L-->R) Ingrid Blomquist, Alpesh Amin (accepting for George Lawry), Edward Barnes, Larry Loo, Phil Gold, Deb Stottlemyer
If you know any of the winners and/or awardees, please join me in personally congratulating them on their achievements!
I want to thank my fellow Governors, Howard Williams (Region III) and Soma Wali (Region I) who were my fellow Planning Committee Members for their hard work, along with our Executive Director, Gus Chavez! Without them, the meeting would not have been possible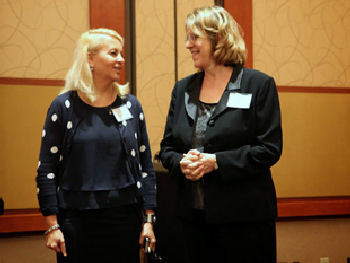 Dr. Soma Wali, Governor Region I with Deb Stottlemyer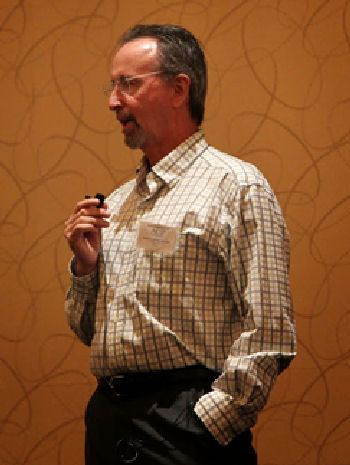 Dr. Howard Williams, Governor Region III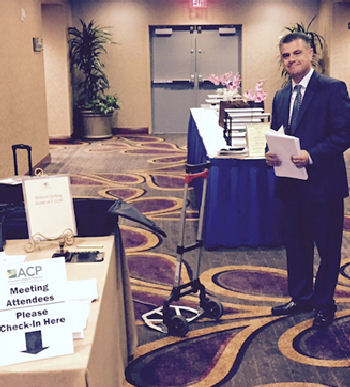 Executive Director, Gus Chavez
Next we have a bit of news about new and future leaders of the chapter. Dr. Edward Barnes who served us well as Treasurer this past year is stepping down. Dr. Pam Anderson Yamanishi graciously agreed to take his place, and she was unanimously elected at our business meeting in Orange on October 18. I want to thank Ed for his work and welcome Pam to the leadership team.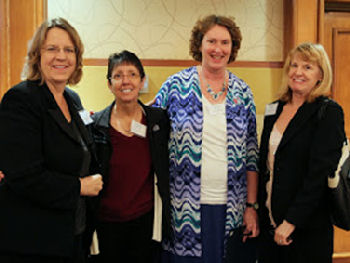 (L-->R): Deb Stottlemyer, Debra Craig, Ingrid Blomquist, Pam Anderson Yamanishi (our new treasurer)
Speaking of the team, I am very excited to announce that the election results are in, and your next Governor will be Dr. Alpesh Amin. Dr. Amin, Chair of Internal Medicine at UCI, is already a Master of the College and will serve you admirably during his term. He will officially become Governor-Elect during Internal Medicine week in Boston next spring and a year later begin his four-year term as the Governor of Southern California Region II of the American College of Physicians. For more information, please find his bio on the ACP website:
Congratulations, Alpesh!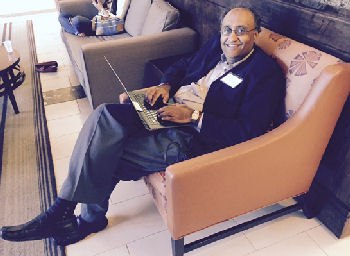 Dr. Amin working hard as the Chair of the Poster Competition Subcommittee
Moving to an update on our membership, the ACP Credentials Committee has worked hard and with the approval of the Board of Regents, elected several of our members to ACP Fellowship. I have the pleasure of announcing our newest Fellows:
Michael Allen Wilson, MD, FACP
Dariush Lavi, MD, FACP
Sarah Strube, DO, FACP
Mohamad Albouidani, MD, FACP
Tarek T Moqattash, MD, FACP
For those of you who know the above physicians, please join me in congratulating them on their election to Fellowship.
Last but not least, the ACP Award Committee has announced that the Board of Regents has approved one of our own to receive a Mastership at Internal Medicine 2015. Dr. Lawrence Loo, MD is exemplary of the type of physicianship the College recognizes with this remarkable honor.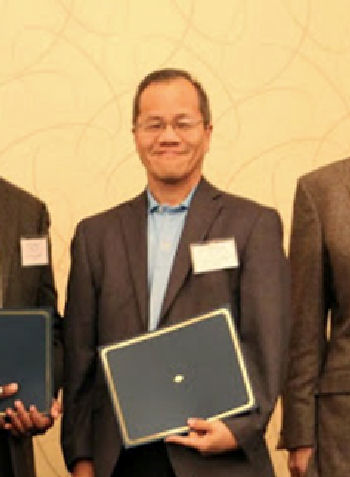 Dr. Larry Loo, accepting his UCR Master Teacher Award
As a clinician, teacher, scholar, and mentor, he has forwarded the field of medicine in multiple dimensions, and will join 64 other ACP Fellows in receiving the rank of Master in Boston. Congratulations, Larry! I am sure your colleagues will congratulate you as well.
As you can see, we have much to be thankful for in our ACP Chapter. I want to personally thank each of you for your continued commitment to excellence in your career. As a physician, you make a difference in the lives of your patients, students, colleagues and family every day.
Blessings,
Deb Stottlemyer