You are here
GOVERNOR'S NEWSLETTER California Southern I July 2014
GOVERNOR'S NEWSLETTER California Southern I July 2014

---
---
Letter from the Governor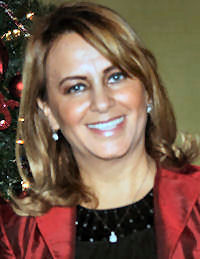 Soma Wali, MD, FACP, ACP Governor
Dear Colleagues,
I am delighted to share some updates regarding recent activities sponsored by ACP in our region.
In the area of advocacy, we share some updates on this year's successful ACP Sacramento Leadership Day in February and ACP Leadership Day on Capitol Hill in May. Members from our region did an outstanding job in representing the interests of our members and advocating on issues affecting Internal Medicine and physicians in general.
In April, ACP Southern California Region I sponsored another successful Board Review for medical students in our region. The event brought together students from UCLA and USC to network and prepare for their exams. The event was very well attended and highly rated.
Based on feedback from our members, this year we started a new Maintenance of Certification (MOC) program to aid our members with their recertification requirements. These highly rated dinner sessions were offered at multiple locations throughout the region. My goal is to give back to our members and offer programs that meet their educational needs. I am always interested in hearing more from you about what ACP can do for you.
ACP members recently received an email from our ACP national leadership in regards to the new American Board of Internal Medicine (ABIM) MOC requirements. We have certainly heard your voice and concerns, and would like to take this opportunity to let our members know that ACP has made this a top priority. There is active communication going on between ACP and ABIM on a daily basis. I can report that already some progress is being made in the area of patient survey requirements. We expect to have more news from ACP and ABIM about some of these modifications as they are being finalized by ABIM. We will make every effort to keep you updated with any developments in this area.
I would like to update you on a few upcoming events. The Chapter will be sponsoring a board review course for residents on July 12th and 13th in our region. In addition, this year's regional meeting will take place in Orange County on October 18-19th at the DoubleTree by Hilton Anaheim-Orange County. We look forward to seeing you at the meeting. I welcome your suggestions and/or recommendations on how we can offer more educational opportunities for our members at every level.
Finally, I am hoping most of our members will join us at next year's 2015 ACP National Internal Medicine Meeting, which will take place on April 30 - May 2, 2015 in Boston. Next year marks ACP's 100 year anniversary. ACP is working on a special program to mark this milestone. I encourage members who may be interesting in advancing to Fellow of ACP to contact us so that they may have an opportunity to be honored at next year's convocation at the ACP National Meeting during the 100th year celebration.
If you have any questions or need more information, please contact us.
Soma Wali, MD, FACP
Governor, ACP Southern California Region I
---
ACP Leadership Day 2014 - Sacramento Feb 25-26th, 2014
By: Kelvin Chan, M.D.
February 26, 2015 was an exciting day in our state capital as physicians representing all ACP chapters converged for ACP Sacramento Leadership Day. This year's Leadership Day could not have occurred at a more pivotal time, as medical care nationwide was significantly overhauled with the passage of the Patient Protection and Affordable Care Act (PPACA). ACP representatives met with California legislators to discuss a number of key topics, including:
Support of legislation that would preserve the Medical Injury Compensation Reform Act (MICRA), which would allow physicians to practice cost-effective medicine
Expanding residency training positions for primary care physicians
Increasing tax on tobacco to inhibit younger smokers as well as help fund medical research and health programs on the dangers of smoking
Sponsor legislation that would ease the participation of volunteer physicians
Increasing funding for the California Alzheimer's project
In addition to meeting with legislators, attendees also met with California assemblymember Richard Pan, M.D., who also serves as the Chair of the Assembly Committee on Health, as well as State Senator Ed Hernandez, O.D., the Chair of the Senate Committee on Health to discuss the current state of healthcare in California. It was a successful day for all those involved, and provided a unique experience for participants to hold meaningful dialogue with our lawmakers.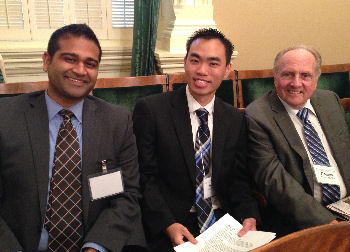 Regent of ACP Dennis W. Cope, MD, FACP (R), Kelvin Chan, MD (C), and Jaimin Amin, MD]
---
ACP Leadership Day 2014 - Sacramento Feb 25-26th, 2014
By: Jaimin Amin M.D.
Apparently "big money begets big politics". As a third year resident representing ACP Southern California Region 1, I haven't had much experience with either. Head deep in loans, face down in books, and staying up all night taking care of patients has hardly left time for me to balance my checkbook, let alone follow the national news. When I was asked to represent my program and local chapter at the California ACP Leadership Day this year, I had absolutely no idea what I volunteered for. All I knew was I had an opportunity to step away from the hospital and be a part of something different. After taking a quick flight from Los Angeles to the historic capital of Sacramento, I immediately felt the excitement in the air. Scrubs and stethoscopes were replaced with suits and briefcases. As I walked through Capitol Park, I wondered about the hierarchy of the people around me and what they actually did on a daily basis. What did it mean to be a part of "politics"?
Fortunately ACP knew I had no idea what I was doing. As we gathered for the introduction dinner, I had the pleasure of meeting other residents and medical students who were also representing their local chapters. They too were eager to participate but did not exactly know what was expected of them. As we mingled with the leaders of ACP California, we quickly understood the purpose of our trip. We were at the capitol to learn about new legislation that was being proposed within the state government, understand the impact these laws would have on physicians, and get an opportunity to meet with members of our congress.
We closed out the evening with a guest speech from a journalist from the Sacramento Bee. With his well-spoken and witty words, he put into context why our representation and presence at the capitol was so important. He reminded us all that as physicians we were used to very linear logic and that our visit to the capitol involving politics was anything but that. He explained the faults of our government and explained how it was a reactive process. Instead of passing laws to prevent problems, he emphasized how they are often passed once a problem already exists. Using the Affordable Care Act as the perfect example, he went into the financial significance this law would have on our nation and how healthcare reform has now become a major topic within government. "Big money begets big politics," he said. There is major change ahead in healthcare and we are a part of this process. This was an opportunity to express where physicians stand on this change. This was a chance to voice opinion onto open ears of those who make the laws. This was politics.
The next day, we started off with breakfast and a lecture on "Politics 101." They informed us that we would each have fifteen-minute meetings with various members of congress. Much like an appointment at a doctor's office, we had a set block of time allocated to discuss important issues with senators and congressmen before they had to move on to their next scheduled meeting. We were given a list of important pending legislation and their significance, so we could further explain how it would impact us as physicians. Although nerve-racking at first, I quickly found these meetings with such important people of our government were nothing more than a conversation. Having a dialogue with people from their very own district really helped drive the message home.
That evening as I laid down in bed to rest before getting back to the trenches of the hospital, I thought back to how much the trip opened my eyes to what was going on around me. Although I was used to making a difference in the lives of my patients, it was refreshing to make a difference on a much different yet larger scale. I thought about how much voice the ACP organization already has and how having more young physician involvement would only make it stronger. It truly is an exciting time to be in medicine right now and it's great to know that our generation can make an impact on the healthcare of our future. I can't wait to be more involved, but first I should probably finish balancing my checkbook.
---
ACP International Fellowship Exchange Program
By: Muhammad Ahmed Saeed, MBBS, FCPS, FACR
Assistant Professor of Rheumatology and Consultant Rheumatologist
FMH Division of Rheumatology, Fatima Memorial College of Medicine Lahore, Pakistan
It was a great pleasure and an honor for me to have been an awardee of the ACP International Fellowship Exchange Program (IFEP). It provided me an opportunity to get firsthand experience of the USA's medical training and healthcare system. I am grateful to Professor Sara E. Walker for introducing me to ACP during one of her visits to Pakistan as a speaker at our national annual rheumatology meeting, and later for encouraging me to apply for the IFEP award. I was also fortunate to have as a mentor Dr. Soma Wali, Chair of the Department of Medicine at Olive View-UCLA Medical Center and Program Director of the Internal Medicine Residency Program. She is not only an astute physician but also possesses a remarkable vision and works hard for the improvement of health standards globally.
After being nominated for this award, being a rheumatologist, I requested to be placed in an academic rheumatology setting in the United States in order to enhance my expertise in the management of autoimmune rheumatic diseases. I have always had an interest on devastating multi-system autoimmune diseases such as Lupus. Olive View-UCLA-UCLA Medical Center is a County health center in the San Fernando Valley that cares for an ethnically diverse and medically indigent population. I was amazed to learn during my outpatient and inpatient rotations there that most patients seemed to have the same pattern of organ involvement and severity of lupus as the patients we see in Pakistan. It was so striking that I plan to pursue a future collaborative research project with our FMH division of rheumatology and the division of rheumatology at Olive View-UCLA Medical Center. It is my opinion that due to better healthcare infrastructure and, especially ICU care, I strongly felt that patient care outcome for patients with life threatening complications of Lupus, such as diffuse pulmonary hemorrhage and severe infections, is better in the United States. Moreover, access to biologics and expensive treatments such as TNFa inhibitors and IV IgG and/or as a result of health coverage in most of these patients is a major factor for improved clinical outcome/prognosis. Unfortunately, in Pakistan, a country of 190 million, there are only a handful of rheumatologists and due to severely limited funds most of the Pakistani patients with severe autoimmune or rheumatologic diseases cannot afford such expensive treatments.
Fatima Memorial Hospital (FMH), where I was trained and work as a consultant rheumatologist, in Lahore, Pakistan is a trust hospital and has a Rheumatology division headed by Professor Nighat Mir Ahmad MD, an American board-certified rheumatologist, who was one of the pioneers in establishing the rheumatology training program in Pakistan. In 2010, Dr. Ahmad, along with another senior colleague, Dr. Sumaira Farman, founded the Arthritis Care Foundation (ACF) - a trust aimed at providing free care to indigent arthritis patients in Pakistan. It is our desire and dream to establish the first ever Institute of Rheumatic Disease with a state of the art Lupus Center at FMH. I hope that my experience in the United States will go a long way in improving the health system and care of my patients back home.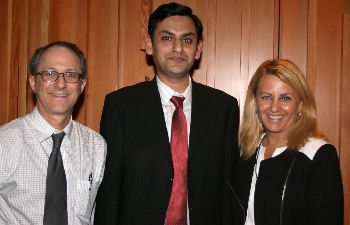 Left to Right: Dr. Michael Rotblatt, Dr. Muhammad Ahmed Saeed and Dr. Soma Wali, ACP Governor for S. California Region I
---
2014 ACP National Meeting in Orlando, Florida
This year's ACP 2014 Annual Meeting took place in Orlando, Florida. Southern California Region I was well represented with over 120 registered attendees. In addition, numerous abstracts were submitted.
ACP Southern California Region I was a winner of a 2014 John Tooker Evergreen Award (Collaboration Category) in recognition of the Chapter's ACP Japanese Exchange Program - a partnership between the California Region I and the ACP Japanese Chapter, which aims to increase awareness of ACP, promote collaboration, and increase membership at the international level. The program, which consists of Japanese internal medicine Residents/Faculty undergoing a one-month long rotation in a U.S. medical residency program, promotes academic and cross-cultural learning through team-based learning, didactic teaching, rounding, and cultural and language immersion. The John Tooker Evergreen Award seeks to recognize chapters that have successfully implemented programs to either increase membership, improve communication, increase member involvement, enhance diversity, foster careers in internal medicine and improve management of the chapter.
Dr. Soma Wali (Left), ACP Governor for S. California Region I, with newly elected ACP Fellows
Finally, we would like to congratulate the UCLA team, which represented the Chapter at this year's Doctor's Dilemma competition. The team consisted of Drs. Brian Lichtenstein, Nimesh Patel and Kali Zhou. Next year's meeting will be held April 30 May 2, 2015 in Boston. We hope to see you there!
---
New ACP Fellows
We are happy to announce that the following people have been advanced to ACP Fellow in our region within the last 6 months.
Region I
Nasim Afsar-manesh, MD FACP
Steven A. Barr, MD, FACP
Sylvia G. Carlisle, MD, FACP
Kaikei Cho, MBBS, FACP
Charles E. Coffey, MD, FACP
Conrad A. Cox, MD, FACP
Ujjwala S. Dheeriya, MD, FACP
Neveen S. El-Farra, MD, FACP
James R. Evans, MD, FACP
Mark E. Feinerman, MD, FACP
Indu Gupta, MD, FACP
Mitchell H. Katz, MD, FACP
David L. Keller, MD, FACP
Roger I. Lane, MD, FACP
Peter M. Lefevre, MD, FACP
Pramod Multani, MD, FACP
Dieu-Thu Nguyen, MD, FACP
Robert A. Shankerman, MD, FACP
Susan J. Stein, MD, FACP
Lawrence B. Taw, MD, FACP
Amy K. Weimer, MD, FACP
Martin M. Weiss, MD, FACP
James M. Wilson, MD, FACP
---
2014 Chapter Excellence Award
By: Soma Wali
I am pleased to announce that our chapter is in receipt of the 2014 Chapter Excellence Award! The award recognizes chapters which successfully meet the standards for managing a chapter. In order to achieve the Chapter Excellence Award, chapters must meet all basic criteria and seven optional criteria. Criteria include such activities as formulating an effective Governor's Council and committees, communicating frequently with membership, providing educational opportunities, recruiting and advancing members and celebrating membership through local awards. I would like to extend a special thanks to those chapter members who assisted me in all of these endeavors! For their hard work and dedication, we received this award.
---
USC/UCLA USMLE Board Review Session

Congratulations to USC and UCLA IMIG student leaders on their successful USC/UCLA USMLE Clinical Pearls for the Boards review session. As with prior years', the recent Saturday ACP-sponsored USC/UCLA USMLE Clinical Pearls for the Boards review session was a major success. Over 120 students attended. A special thanks to the student IMIG leaders for their excellent work organizing the session, and the speakers for their thoughtful preparation and lecture time.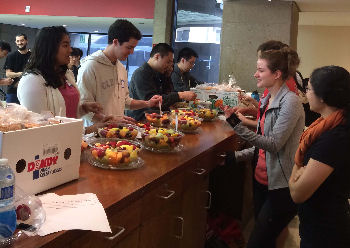 By: Nathan R Cox, MD
Assistant Clinical Professor - UCLA Hospitalist Service
Department of Internal Medicine
Santa Monica UCLA Medical Center
The new year brought significant changes to the ABIM Maintenance of Certification program, requiring both increased frequency and amount of participation from board certified physicians. ACP Southern California Region I is committed to assisting its members in making this a seamless transition. To this end, frequent learning sessions will be offered regularly throughout the entire region to help members accumulate MOC credits with maximal educational value and minimal difficulty. These sessions will cover a multitude of clinical topics, and will be led by experts in each respective field.
The program kicked off April 2 in West Los Angeles at the Westside Tavern with the 2012 Update in Hospital Medicine module, followed by two sessions in May on the 2013 Update in Pulmonary Medicine in Pasadena and El Segundo. Led by local hospitalists Afshan Baraghoush and Nathan Cox with the help of their colleagues Magdalena Ptaszny and Rob Goodman, the events have been well-attended and well-received. More sessions are planned throughout the year. Locations and frequency will vary to meet demand and we are happy to help organize a learning session for your group. Do not hesitate to contact us with requests, questions, or comments about the program.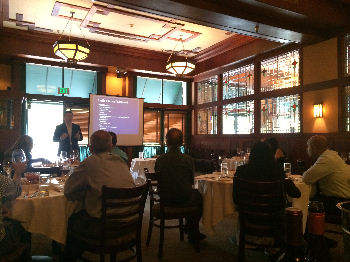 ---
ACP Leadership Day on Capitol Hill - May 21, 2014
By: Amy Clouse, MD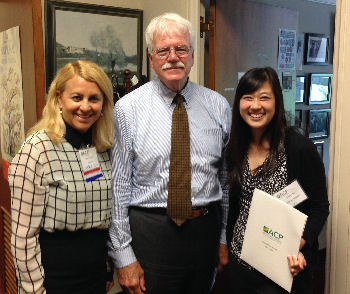 Drs. Soma Wali and Kristina Lee with Congressman George Miller
May 22nd 2014 marked another successful ACP Leadership Day in Washington DC despite a deeply polarized political climate surrounding the Affordable Care Act and the implementation of the health care exchanges. The event kicked off with several informative sessions. ACP Senior Vice President Bob Doherty delivered a dynamic talk on lobbying strategy and navigating a visit with a congressional office. Medical students, residents and attendings left the kick-off informed and inspired to speak with their members of Congress.
Southern California Region I was well represented among the 332 attendees. We met with congress members and staffers, including the offices of Barbara Boxer, Henry Waxman, and George Miller.
ACP members advocated for a number of important, bipartisan issues including:
Creating a bipartisan replacement for the Medicare Sustainable Growth Rate (SGR). For many years, ACP has advocated for SGR repeal. This year brings us as close as ever to reforming SGR rather than the traditional and more expensive "patch" also known as the "doc fix."
Continuing the expiring Medicaid reimbursement rates for primary care to maintain access for vulnerable populations.
Extending GME funding and adding residency positions to meet the growing need for physicians under the ACA, especially in primary care.
Initiating a national pilot of health courts so cases can be evaluated by experts using evidence-based medicine, instead of by a traditional jury.
Leadership Day gives medical students, residents and attendings a unique opportunity to advocate for critical issues in healthcare. The event also continues to be an outstanding learning experience in political advocacy for ACP members.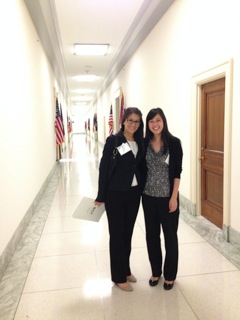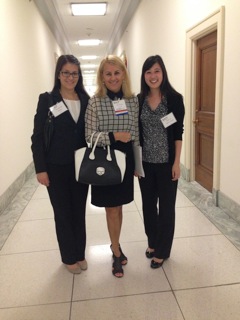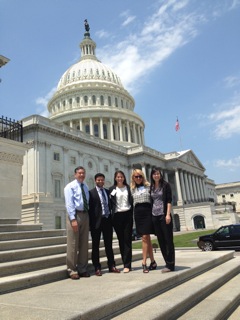 Dr. Soma Wali with S. California Region I attendees - Drs. Amy Clouse, Kristina Lee and Rohit Godbole
---
Mark Your Calendars!: Southern California Regions I, II & III Scientific Meeting
We are happy to announce that this year's ACP Regions I, II and III, Scientific Meeting will take place on October 18-19, 2014 at the DoubleTree by Hilton Anaheim-Orange County in Orange, California. We have an outstanding program that includes experts from throughout the region speaking on topics including Update on GIM, Managing Medicare in 2014, Improved Patient Care through Lawsuit Protection & Prevention, Office Spirometry for the Internist, Update on HRT/Testosterone, and Improving Hospital Survival from an Endocrinogist's Perspective. In addition, the meeting will include a poster competition and a medical jeopardy competition among other things.
Registration and lodging information will be forthcoming in the next few weeks. We hope to see you there!