You are here
GOVERNOR'S NEWSLETTER April 2015
GOVERNOR'S NEWSLETTER April 2015

---
---
Letter from the Governor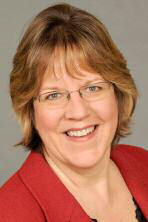 Debra L. Stottlemyer, MD, MBA, FACP
Governor, ACP Southern California Region II
Dear Colleagues,
It's been four months since I last wrote and it seems like 2015 is flying by!
---
Sacramento Leadership Day
Our annual trip to the state capital came and went in February. I am glad to report we had excellent representation from Region II in Sacramento this year with 9 attendees, including one student, a resident, a chief resident and 6 attending physicians:
Rasha Amed, MS3
Van Geslani, MD
Young Han, MD
Michael Matus, MD
Sudipta Mohanty, MD
Mel Steriling, MD, MACP
Debra Stottlemyer, MD, FACP
Jeremiah Tilles, MD, MACP
Pamela Anderson Yamanishi, MD, FACP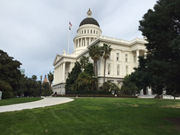 California Capitol
On Tuesday afternoon, Feb 24, we met with leadership at CMA and then had an evening lecture over dinner briefing us for the next day at the capital. One startling fact we learned that evening: 1 in 3 Californians has MediCal for their health insurance.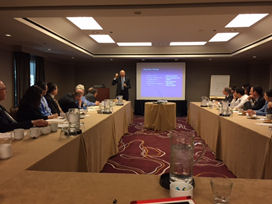 Dinner Briefing at the Hyatt
Wednesday, Feb 25 we walked over to the capital to discover it was Camellia Day! Volunteers, dressed in costume, gave out flowers to capital visitors.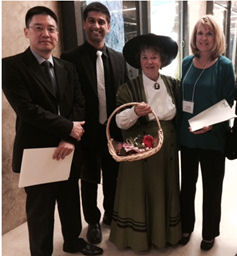 Camellia Day!
We were able to meet with a number of our representatives and senators and speak to them about the issues that we face as physicians in California. The number one issue on which we asked for their support was MediCal parity. California only pays 40% of Medicare rates since the MediCal parity law sunsetted last year, making it impossible for anyone to see a large number of MediCal patients and remain solvent.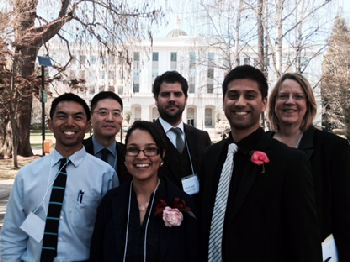 (L-->R): Van Geslani, Young Han, Rasha Amed, Michael Matus, Sudipta Mohanty, Deb Stottlemyer, Pam Yamanishi. Not pictured: Mel Stirling, Jerry Tilles
Please give your personal thanks to any and all of the folks who travelled up to Sacramento on your behalf. And a hearty "Thanks!" to Jerry Tilles, MD, MACP who coordinated the event for all four California regions. Your work is appreciated, Jerry!
---
Internal Medicine Week 2015
Speaking of flying, many of us will be heading to the East Coast to attend Internal Medicine Week 2015 (April 30 - May 2). From what I've seen of the agenda, it looks to be another outstanding event. We will be co-hosting a reception for all California and Hawaii attendees on Friday evening, May 1st. Alpesh Amin, MD, our Governor-Elect will be the Region II host in my place, as I have to regretfully fly back earlier that day. (My thanks in advance Alpesh!) If you are in Boston, please come to the reception. This will be a great opportunity for those of you who haven't met Dr. Amin to speak with him.
---
New ACP Fellows
We have new fellows to celebrate! The March 1st election of Fellows included seven from our region.
Etsegenet Ayele, MD
Zebayel A. Baye, MD
Iheanacho Emeruwa, MD
Donald J. Pratt, MD
Kamran A. Qureshi, MD
Chalat P. Rajaram, MD
Chad A. Wadell, MD
As new Fellows, you are invited to attend Internal Medicine week and march in the Convocation Ceremony. I personally invite you to make every effort to attend and participate-it will be one of the highlights of your career.
Please congratulate all of our new Fellows!
---
ACP California Fall Meetings

I'm excited about our upcoming all-California Scientific Meeting this fall in Monterey, California. Please mark your calendars for what is shaping up to be a great event on Oct 30-Nov 1, 2015 at the Hyatt Regency. We have been able to secure Dr. Steven Weinberger, Executive Vice-President and CEO of ACP as our keynote speaker. In addition, we have an excellent slate of speakers, MOC modules, hands-on workshop as well as some free time to enjoy the beautiful Monterey Peninsula.

Because the fall meeting is at a bit of a distance, we anticipate that some of our students and residents would have challenges in presenting a poster at the Scientific Program. We want as many qualified posters as possible to be presented this year, so we are planning a Student/Associate Day for our region on Sunday, September 20, 2015. Former Governor, Doug Hegstad, MD, MACP and Chair of Internal Medicine at Loma Linda is helping to sponsor the event which will be held at the Wong-Kerlee Pavilion on the Loma Linda Campus.
Our chapter treasurer, Pam Yamanishi, MD has graciously agreed to chair the Planning Committee, and Larry Loo, MD, MACP is chairing the Poster Competition Subcommittee for that day. He will be sending out an email with the details-including the deadline for abstract submission-in the near future. All students and residents: start preparing so you can come present a poster and participate in the other activities planned for you that day!
All winners of the 2015 Region II Poster Competition will be invited to present their posters again in Monterey along with the winners from the three other California regions. First place winners will receive a stipend to attend Internal Medicine Week 2016 and present their poster during the ACP 100th Anniversary Celebration.
---
Future Internal Medicine Weeks
As I said at the beginning, time seems to be flying by. If you have the same experience and realize it's too late for you to go to Internal Medicine Week this year, consider putting it on your calendar for the future:
Internal Medicine Meeting 2016
May 5 - 7, 2016
Washington, DC
Internal Medicine Meeting 2017
March 30 - April 1, 2017
San Diego, CA
Internal Medicine Meeting 2018
April 19-21
New Orleans, LA
---
My deepest thanks to each and every one of you for the ongoing work you do day in and day out to provide excellent care to our patients.
Regards,
Deb Stottlemyer
Governor, ACP So Cal Region II