You are here
California Southern I Governor's Newsletter June 2017
California Southern I Governor's Newsletter June 2017

---
---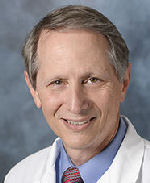 ---
Message from the Governor
Dear Colleagues,
The last six months of my first year as your Governor have been very busy, particularly with the unsettled state of our country's health care system, and the challenges presented to ensure we can provide high quality care to our patients at an affordable cost.
In February, representatives from the California ACP went to Sacramento to meet with the California Medical Association and review possible health care legislation that will affect our patients and ACP members. This was followed by visits to the offices of our state's legislators where we expressed our concerns regarding the significant decrease access to health care that would result should the American Health Care Act become law. Additionally, our visit to Sacramento was a tremendous educational experience for several local internal medicine residents, and students who gained a better understanding of the workings of the legislative process, and the importance of physician input in the creation of laws that influence the practice of medicine in our State.
In mid-March, our regional Governor's Council met and reviewed multiple topics including new state-wide legislative efforts, ACP Board of Governors resolutions, chapter finances, our regional meeting this fall, and efforts to identify concerns of our members and recruit more internists into our group.
In early April, many of you participated in our national ACP meeting in San Diego. As we have come to expect, the educational content of the meeting was exceptional, as was the opening address by Dr. Anthony Fauci, the Director of the National Institute of Allergy and Infectious Diseases. At the meeting's end, we had a wonderful reception for ACP members from California, Hawaii, and Arizona, that provided a wonderful chance to meet friends and establish new relationships with colleagues from our regions.
On the medical student education front, our local medical student ACP representative, Pooja Jaeel has worked diligently to help create an all California ACP Council of Student Members. This group was instrumental in choosing medical student participants in our statewide and national advocacy efforts. The group also helped identify opportunities for our region to educate students about internal medicine and about ACP. Additionally, the group helped organize the UCLA/USC Medical school class review for the USMLE 1 examine that was sponsored by our ACP region.
At the end of May, a large contingent from the California ACP went to Washington to represent the College in meeting with Congress. There was a tremendous educational session on the best techniques we can use when meeting with our elected officials to help advocate for our membership and patients with our elected officials. This was followed by several presentations on the ACP policy stance regarding many of the healthcare issues currently facing our country and state. These sessions were particularly informative to our medical residents and students who were receiving their first experience with health care advocacy. The next day was spent visiting all our congressional representatives' offices and asking for support of the ACP's health care agenda.
Finally, you all should soon receive an announcement and full agenda for our ACP Southern California Regional Educational Meeting which will be held on September 16-17, 2017 at the Marina Del Rey Marriot near Santa Monica, California.
I hope all of you have a phenomenal summer and hope to see you at our meeting in September.
Mark S. Noah, MD, FACP
Governor, ACP Southern California Region 1
---
Advocacy
2017 Sacramento Leadership Day
ACP Southern California Region 1 was very well represented in Sacramento with 8 physicians and 1 medical student meeting with our state legislators. After expressing our concerns regarding the possible impact on patient care of the proposed American Health Care Act, the focus of our sessions was on preserving the additional funding provided to increase the number of Primary Care residency positions through the State's Song-Brown Program. We also expressed our opposition to the Governor's decision to ignore the recently passed increase in cigarette taxes that was explicitly intended to increase Medi-Cal physician payments and move those funds away from physicians to a general health care support pool.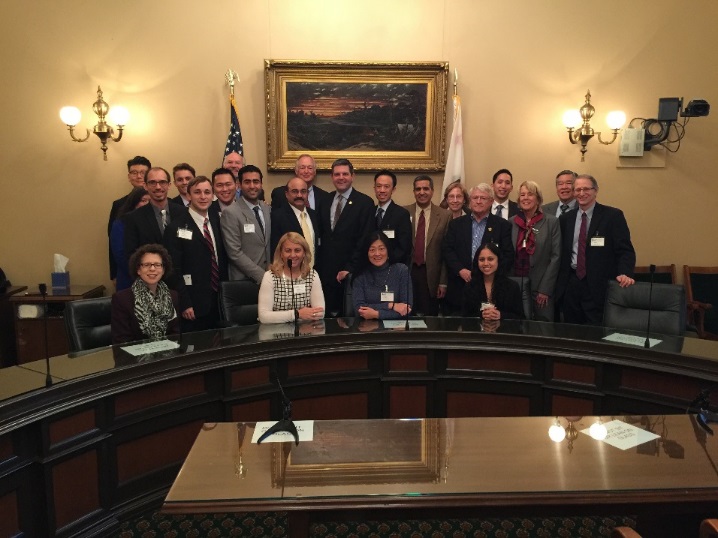 [California ACP Representatives in Sacramento, CA]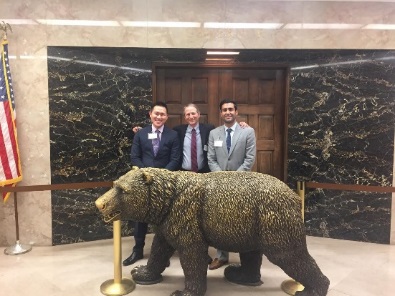 [Left to Right: Michael Liu, MD, Governor Mark Noah, MD, FACP, and Samir Berry, MD]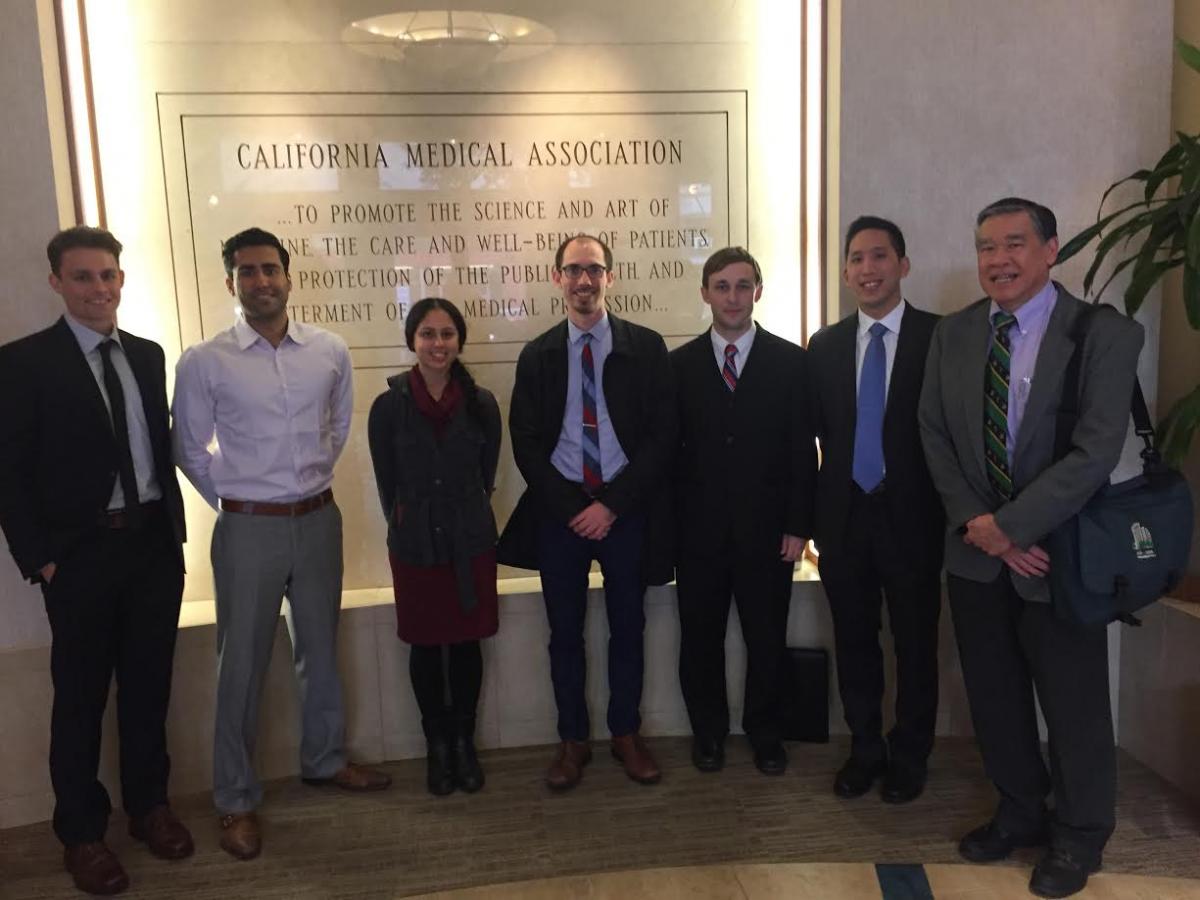 [Left to Right: Kyle Joyner, Samir Berry, MD, Pooja Jaeel, Jarod DuVall, MD, David Hamilton, MD, Frank Chen, MD and Dr. Chester Choi, MD, MACP]
2017 Washington Leadership Day
Over 20 representatives from ACP California filled the offices of both our State's senators, and then broke in to small groups of about 2-4 members to visit the offices of most all of the State's 53 representatives. Issues of affordable access to quality care for the most vulnerable individuals in our state was the underlying message we delivered. We also advocated for decreasing the administrative burden of physicians, improving the tools available to battle the opioid epidemic, increasing funding to address the predicted physician shortage crisis (particularly for primary care physicians), and maintaining funding for NIH and CDC research.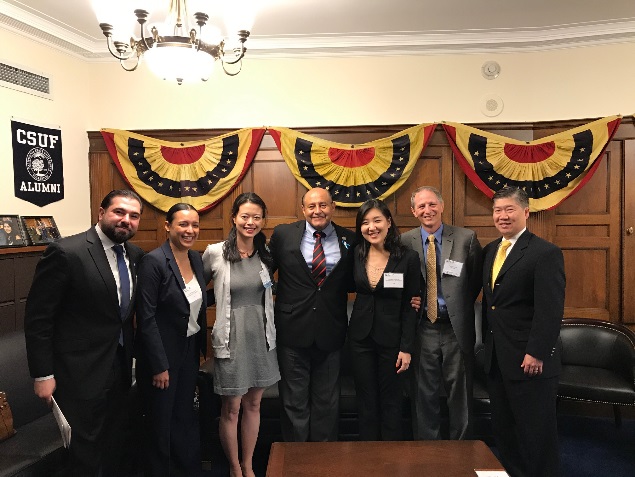 [Left to Right: Arsen Osipov, MD; Johana Rodriquez, MD; Lili Shek, MD; Congressman Lou Correa; Rachel Kyung, MD; ACP Governor Mark Noah, MD, FACP; Daniel Kim, MD, FACP]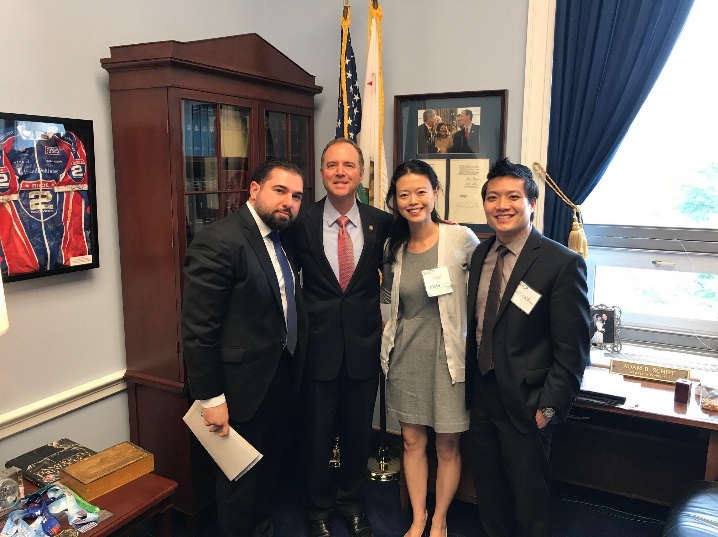 [Left to Right: Arsen Osipov, MD; Congressman Adam Schiff; Lili Shek, MD; Derek Leong, MD]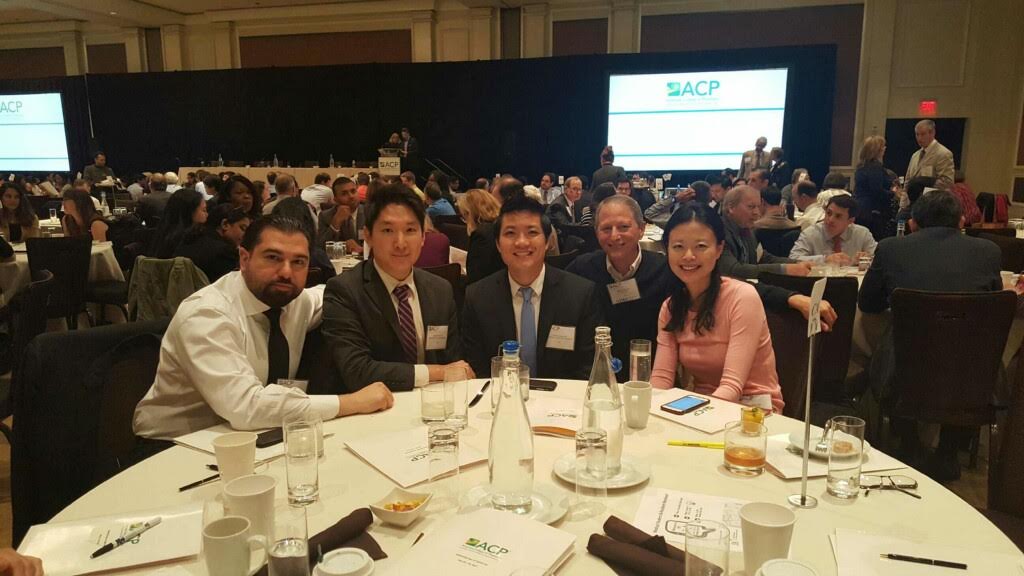 [Left to Right: Arsen Osipov, MD; Joseph Ahn, MD; Derek Leong, MD; Governor Mark Noah, MD, FACP; Lili Shek, MD at Leadership Day Orientation]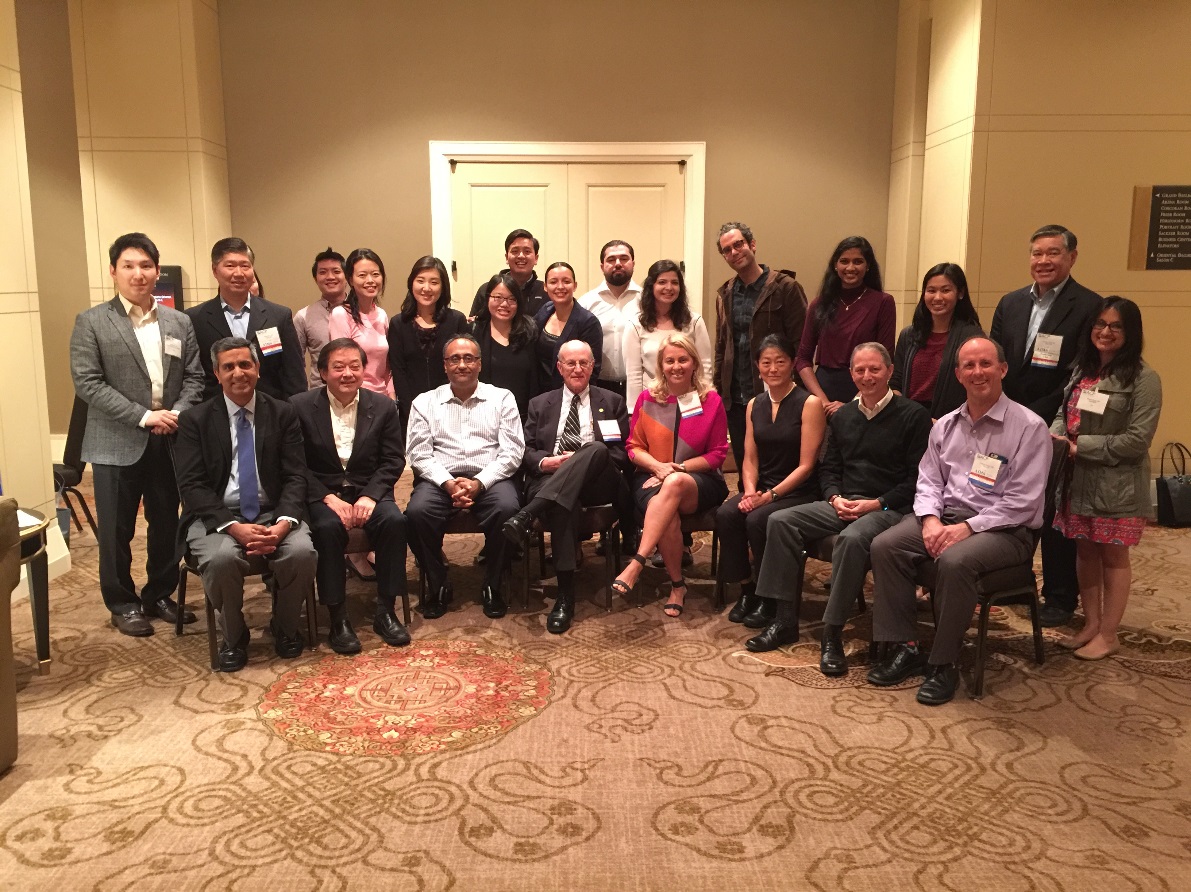 [California Delegation at 2017 ACP Leadership Day on Capitol Hill]
ACP Leadership Day on Capitol Hill – A Resident Perspective
Betty Lai, MD:
When the California budget proposal threatened to cut Medicaid while I was still a pre-med, I collected patient stories on barriers to health care in order to voice their concerns at a local town hall in the Bay Area. Now, as a third year resident in a safety net hospital, I feel fortunate to work in a profession that not only allows me to provide patient care to an underserved population but also impact my patients' lives through advocacy.
After the expansion of Medicaid, I witnessed increasing numbers of patients seeking preventive services and more promptly being able to address their medical needs. I feel honored to have participated in ACP Leadership Day during this critical period when physicians can play a vital role in urging congress to take a bipartisan approach towards health care coverage. It was an empowering experience to go door to door at Capitol Hill alongside my colleagues to advocate for the preservation of Medicaid coverage. We discussed the need to expand GME slots to mitigate the shortage of physicians in primary care along with the importance of supporting funding for the NIH, AHRQ, and CDC to ensure evidence-based research that will improve health care quality and outcome for our patients. I am grateful to Dr. Wali and ACP for this opportunity to further develop my advocacy skills and understanding of how political factors deeply shape the lives of our patients and fellow physicians.
Sungwon Kyung, MD:
Prior to ACP leadership day, I had very limited knowledge of healthcare advocacy and how physicians could make an impact on healthcare legislation. Until this past Leadership Day I had known only in theory how healthcare policy and budget cuts would trickle down to affect my daily practice with patients, but I never realized that I could weigh in on the process of legislation to affect change. ACP leadership day was an eye-opening experience for me and it was a privilege to participate in directly advocating for the patients I take care of while on Capitol Hill. Being able to speak with congressmen on issues I genuinely believed in and having the chance to be a voice for my patients and fellow physicians was tremendously empowering. Lobbying on Capitol Hill has been one of my most rewarding and exciting experiences in residency, and has equipped me with tools to know how to advocate for my patients, patients, and the future of medicine as I go forth with practice.
Thank you again for such a wonderful opportunity and experience!
Peter Nguyen, MD:
As I attended my first ACP Leadership Day, I was amazed by the process of advocacy and was humbled by the dedication of the many physicians who advocated for all of our patients. As our healthcare system is shifting towards major changes this year, I realize how important it is to advocate for our patients' right to healthcare. This experience showed me how powerful and important our voices are as physicians and how we should use this to share our experiences with our lawmakers. Regardless of their political affiliations and how they feel about the healthcare system, I found that every lawmaker was willing to spend time to hear us speak about how important access to healthcare is to our patients. After this day, I believe that as physicians, we should be leading the charge towards protecting our patients not only in the clinics, but also in our lawmakers' office. I would always remember this experience as the beginning of my journey in healthcare advocacy!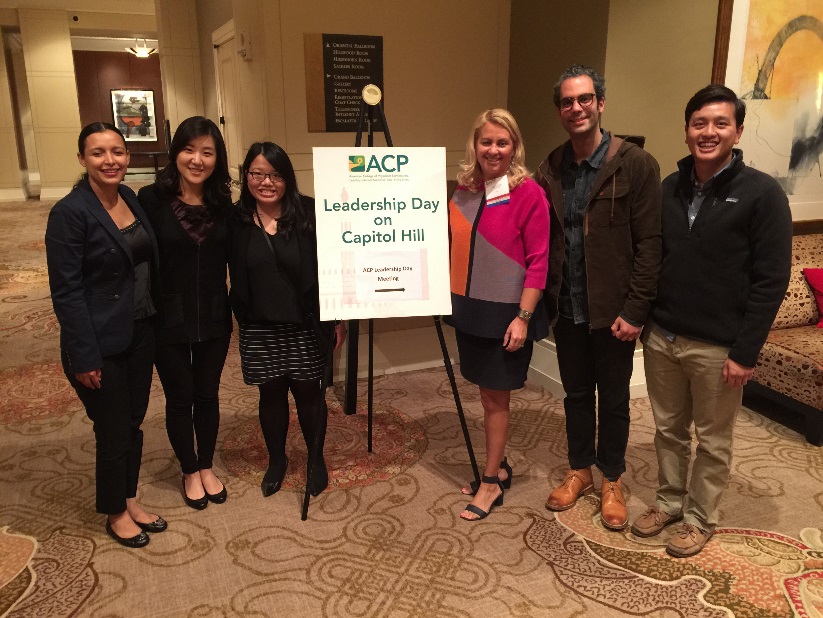 [Left to Right: Johana Rodriguez, MD; Rachel Kyung, MD; Betty Lai, MD; Soma Wali, MD; FACP; Ara Rostomian, MD; and Peter Nguyen, MD]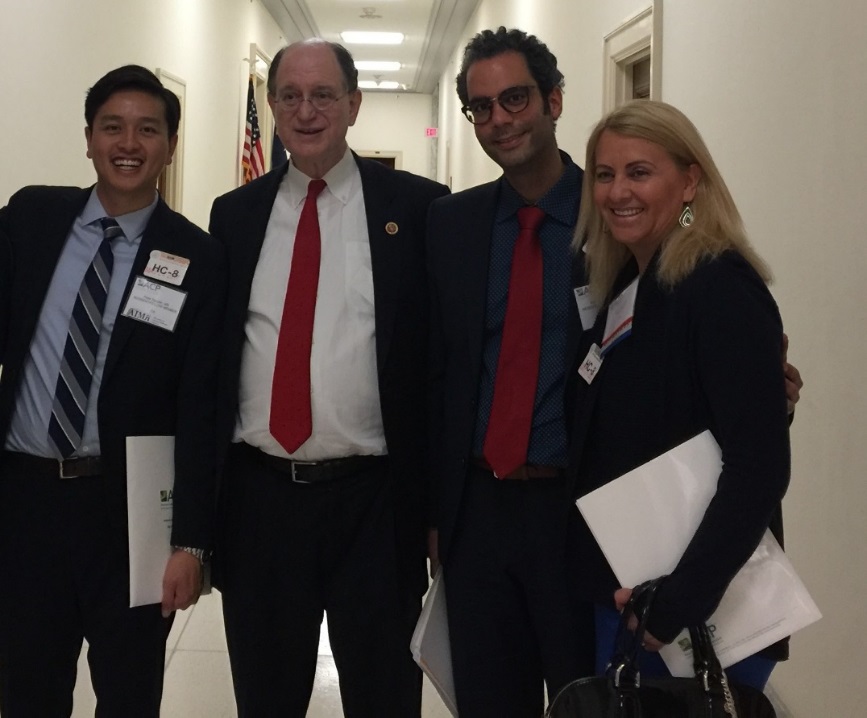 [Left to Right: Peter Nguyen, MD; Congressman Brad Sherman; Ara Rostomian, MD; and Soma Wali, MD, FACP]
---
Scientific Meetings
National ACP Internal Medicine Meeting in San Diego
The great state of California was the host of the ACP Internal Medicine Meeting this year. In addition to the superb educational sessions covering the broad field of internal medicine, the national meeting also provided many of our local internal medicine residents and medical students opportunities to present at the clinical vignette and research poster sessions. The winner of the Southern California ACP Doctor's Dilemma competition, USC Internal Medicine residency team, represented us well at the national competition. Our region had 23 new ACP members attend the Convocation ceremonies, which was by far the greatest number of new ACP fellows compared with any other chapter in the nation. There was an additional 13 members who were advanced to fellowship in the College in the last 6 month that were not able to attend the convocation this year. Finally, on Friday night of the meeting we had a tremendous ACP reception for members of the California, Hawaii, and Arizona ACP chapters which attracted close to 250 physicians.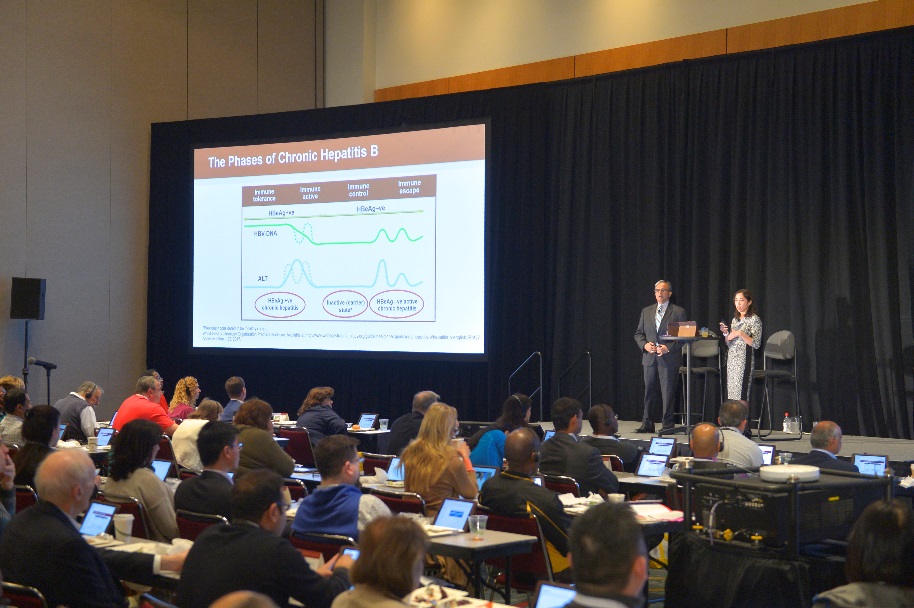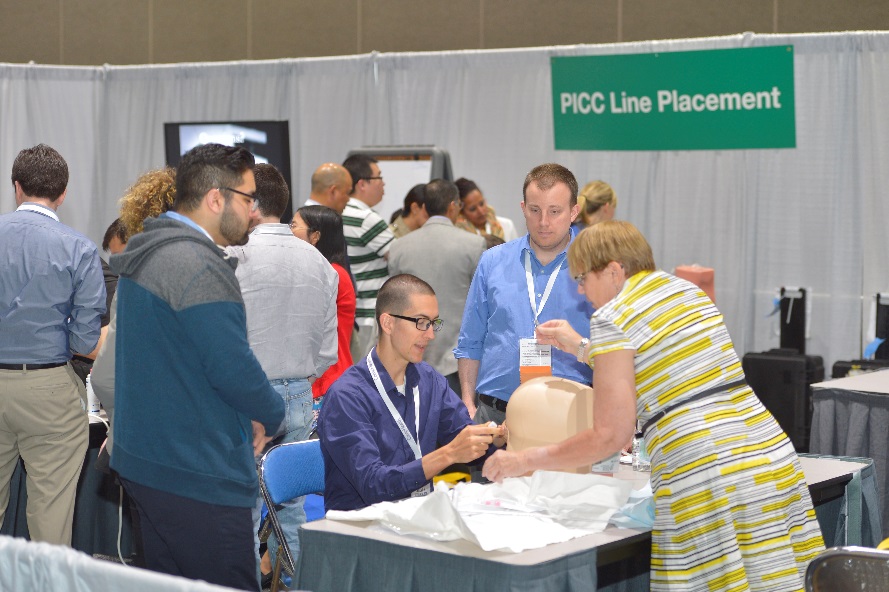 National Scientific Meeting Educational Sessions
Convocation Ceremonies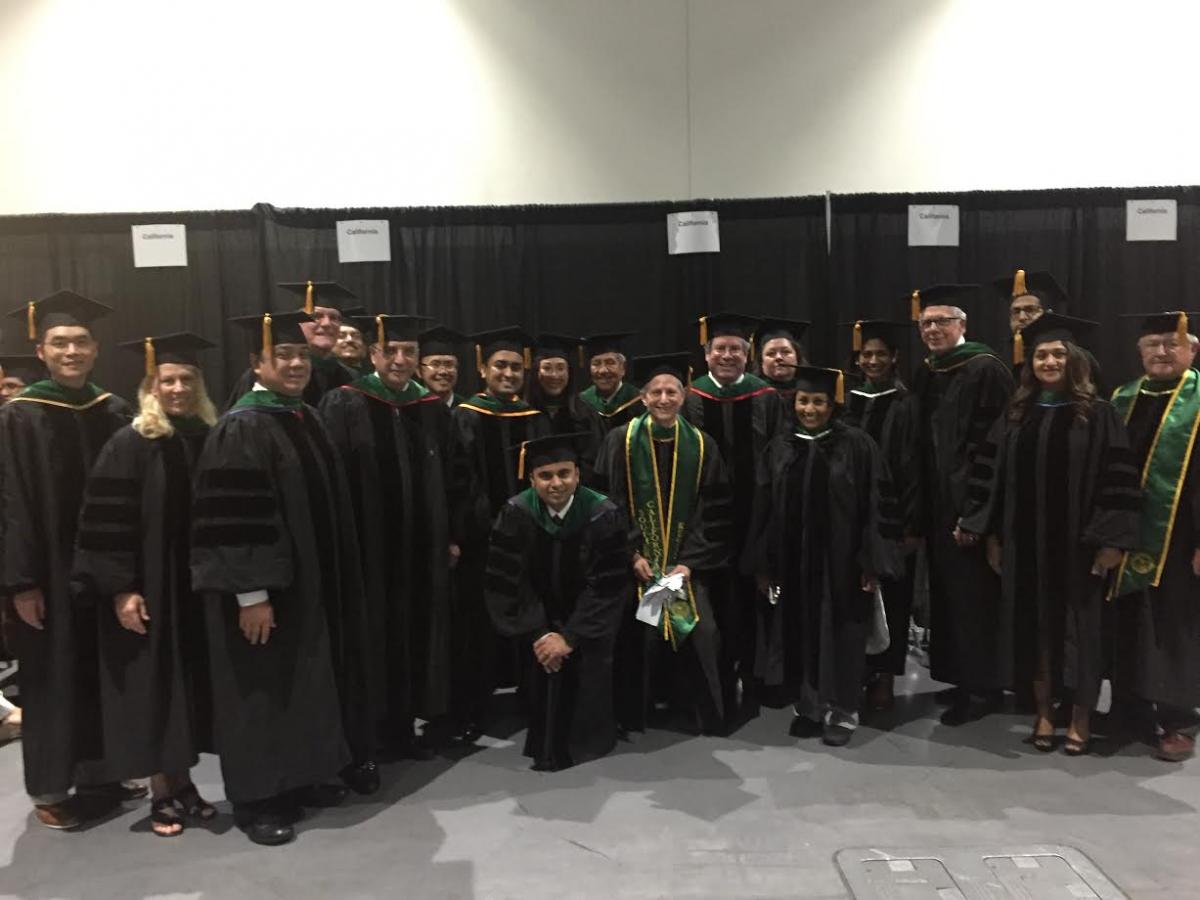 [Governor Mark Noah, MD, FACP with New Fellows of ACP]
New ACP Southern California Region 1 Fellows at the Convocation
Bala K. Bhat, MD, FACP
Arroyo Grande
Kenneth D. Burns, MD, FACP
Los Angeles
Sue Y. Chung, MD, FACP
Porter Ranch
Phillip O. Coffin, MD, FACP
City of Industry
Robert W. Decker, MD, FACP
Beverly Hills
Alice R. Dick, MD, FACP
Beverly Hills
Farid F. Farid, MBBch, FACP
Westchester
Bassel Hadaya, MD, FACP
Lancaster
Patricia P. Ibarra, MD, FACP
Claremont
Shelia Kar, MD, FACP
Beverly Hills
David L. Keller, MD, FACP
Lomita
Elizabeth Ko, MD, FACP
Los Angeles
Roger I. Lane, MD, FACP
Solvang
Susan K. Mayo, MD, FACP
Thousand Oaks
Win Naing, MD, MBBS, FACP
Temple City
Wilbur D. Peralta, MD, FACP
Rancho Palos Verdes
Niti V. Peruvemba, DO, FACP
Westlake Village
Bernard F. Ramos, MD, FACP
Bakersfield
Harshit R. Shah, MD, FACP
Bakersfield
Vinay Sundaram, MD, FACP
Pasadena
Lawrence B. Taw, MD, FACP
Torrance
Charles G. Ukpong, MD, FACP
Beaumont
Richard A. Williams, MD, FACP
Encino
Soe Win, MD, FACP
Bakersfield
Kareem Z. Yahya, MD, FACP
Claremont
New ACP Southern California Region 1 Fellows in the Last Six Months (Did Not Attend Convocation)
| | |
| --- | --- |
| Huy Duong Au, MD, FACP | El Monte |
| Raul B. Easton-Carr, MD, FACP | San Luis Obispo |
| Edward L. Ha, MD, FACP | Los Angeles |
| Nida Hamiduzzaman, MD, FACP | Los Angeles |
| Leon B. Henderson, MD, FACP | Westlake Village |
| Robert J. Kershaw, MD, FACP | Santa Barbara |
| Thin T. Maw, MBBS, FACP | Walnut |
| Mohammad R. Nahed, MD, FACP | Los Angeles |
| Casey L. O'Connell, MD, FACP | Los Angeles |
| Alexis M. Peraino, MD, FACP | Westlake Village |
| Neill D. Ramos, MD, FACP | Long Beach |
| Mohammad Rezvani, MD, FACP | Encino |
| Jennifer N. Sayles, MD, FACP | Claremont |
| William P. Stanford, MD, FACP | Beverly Hills |
| Laxmi A. Suthar, MD, FACP | Pasadena |
| Clement Yang, MD, FACP | Beverly Hills |
Medical Student Programs
The ACP medical student representatives from both UCLA and USC continued the highly successful USMLE board review course with the support of our local ACP Chapter. Over 150 students attended from USC, UCLA and UC Riverside. A special thanks to those student leaders who help organize these session, and to the course faculty for their wonderful teaching sessions and dedication to the education of all of our students.
ACP Medical Student Award Winners
Each year the ACP honors a medical student from the DGSOM at UCLA and one from Keck SOM at USC with an award as the top student going into Internal Medicine residency training.
This year the recipient from UCLA was Amelia Marie Goodfellow, MD and from USC was Sarah Elizabeth Wheeler, MD. These two students demonstrate the skills both clinical and interpersonal to let us know the future of internal medicine is in good hands.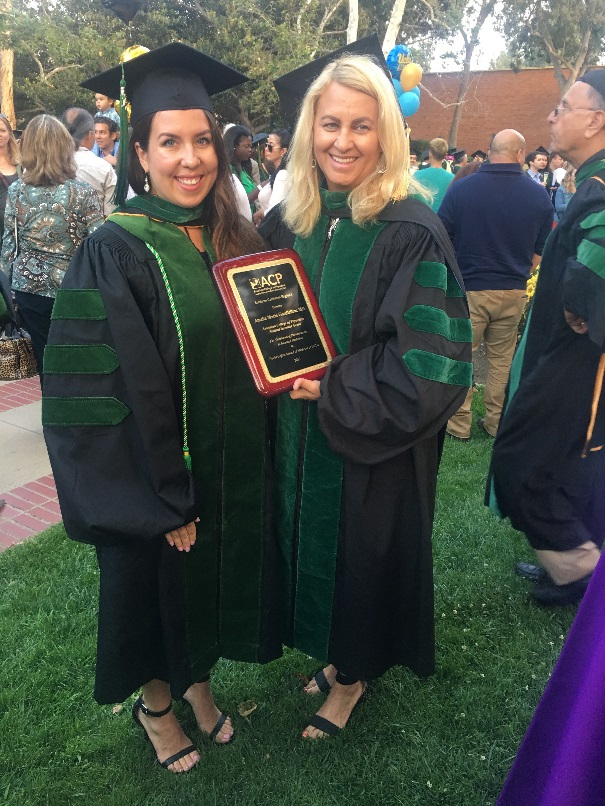 [Soma Wali, MD, FACP presenting Amelia Goodfellow, MD the ACP Student Internist of the Year Award at UCLA]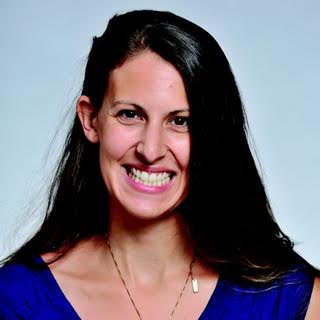 [Sarah Elizabeth Wheeler, MD, recipient of the 2017 ACP Student Internist of the Year Award at USC]
Mark Your Calendars! The Southern California ACP Scientific Meeting Arrives in Marina Del Rey this September
You should all soon be getting an announcement on the full agenda of our ACP Southern California Scientific meeting that will be held on Saturday and Sunday, September 16-17, 2017 at the Marina del Rey Marriott near Santa Monica, CA. We have an outstanding program, that will include talks on the epidemic of NASH cirrhosis, gender differences in diagnosis and treatment of ischemic heart disease, safe opioid prescribing, the appropriate and inappropriate use of practice guidelines, Updates in Cardiology and General Internal Medicine, understanding MACRA/ MIPs and APMs. Workshops will be offered in Joint injections and Bedside ultrasound use. There will be Maintenance of Certification educational sessions in Ambulatory Internal Medicine, Hospital Medicine, Hospice and Palliative Care Medicine, and Endocrinology. We will also have special sessions for residents and students, and our Scientific poster sessions, as well as the friendly "Doctor's Dilemma" competition between our Southern Californian residency programs.
Registration and lodging information will be forthcoming in the next few weeks. We hope to see you there!