You are here
California Southern I Governor's Newsletter July 2016
California Southern I Governor's Newsletter July 2016

---
---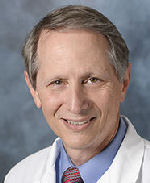 Mark S. Noah, MD, FACP, ACP Governor
---
A Message from the Outgoing Governor
Dear ACP Members,
It has been and honor and privilege to serve as the ACP Governor for Southern California Region I for the past four years (2012-2016). We have had a great four years and managed to meet every goal we set for ourselves. Some of the highlights of our accomplishments include increasing our membership in every membership category, specially our medical students, fellows, and hospitalists. We have been able to continue some of the established programs that were highly rated and introduce a number of new programs for medical students, residents, fellows, early career physicians and all other members. We have been able to continue to increase attendance at our regional meetings with total number of attendees reaching as high as 500 and total number of posters exceeding 300 per session.
Our educational conferences and meetings received the highest ratings. We have also been very active in the area of advocacy representing all internists and advocating for them in Sacramento as well as in Washington DC at the Capitol Hill for the past four years. We are proud of finally putting an end to SGR, improving incentives for Primary Care to help meet the need of the underserved areas.
In the last four years, ACP Southern California Region I has helped promote Internal Medicine amongst medical students. We have recognized the best medical students at UCLA and at USC, offered board review courses for medical students and helped the Internal Medicine interest groups as well as the LGBTQ groups. We are proud to report that our student membership increased by 30% in the last four years.
The list of programs we put together in the last four years are too many to list, but obviously this work could not be done by the Governor alone. I like to take this opportunity to thank the ACP Region I Advisory Board members who helped me achieve these goals in the last four years. I could not have done it with their help, leadership and partnership. Many thanks to Mr. Gus Chavez, the Executive Director of ACP for Region I for his dedication and hard work in helping us succeed.
I am delighted to introduce the members in our region to our new ACP Governor, Dr. Mark Noah, who formally took over as of April of this year. Dr. Noah is a known leader in the Los Angeles and has been an active member of the Advisory board for over 8 years. He is very dedicated and committed to ACP and to ACP members and I am confident he will do a fantastic job as your new Governor. Please continue to reach out to your new ACP Governor and let him know what he can do to help you.
Best wishes!!!
Soma Wali, MD, FACP
Governor, ACP Southern California Region I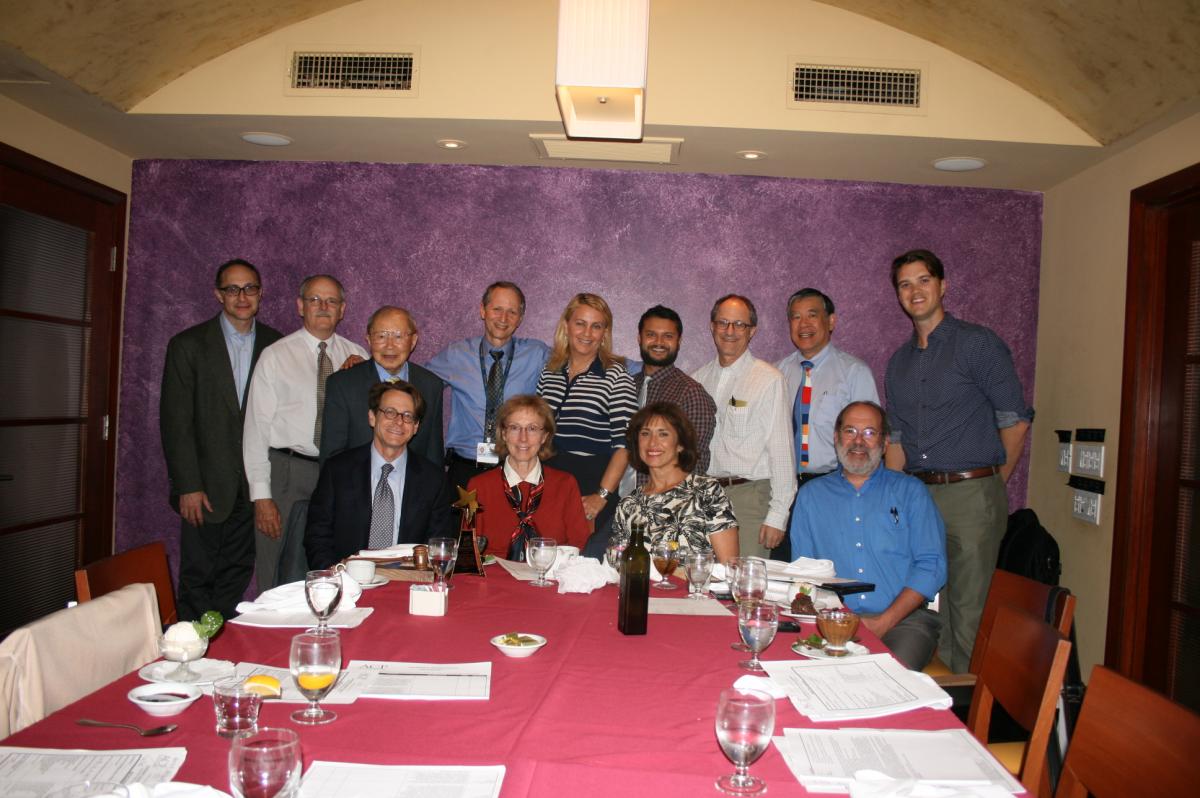 Back Row: Michael Lazarus, MD, Fredrick Russo, MD, Kouichi Tanaka, MD, Governor Mark Noah, MD, Outgoing Governor Soma Wali, MD, Rohit Godbole, MD, Michael Rotblatt, MD, Chester Choi, MD, and John Hollowed, MD. Seated: Ron Ben-Ari, MD, Susan Sprau, MD, Carole Warde, MD & Andrew Gersoff, MD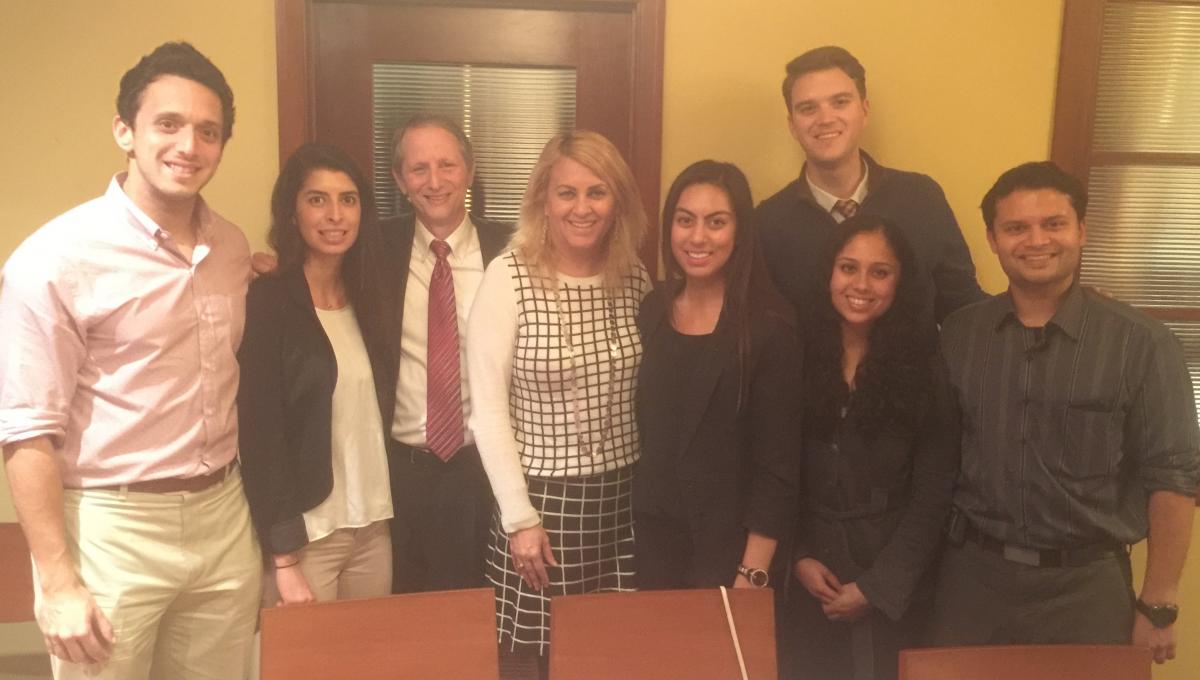 Left to Right: Brian Horwich, Azadeh Nazemi, Governor Mark Noah, MD, FACP, Outgoing Governor Soma Wali, MD, FACP, Nadia Faiq, John Hollowed, MD, Pooja Jaeel and Rohit Godbole, MD.
---
USC/UCLA USMLE Board Review Session
By Brian Horwich
The USC (Keck), UCLA (DGSOM) and UCR Internal Medicine Interest Groups held its annual "Pearls for the Board" Step 1 review day on Saturday, April 9th. Hosted at the Keck School of Medicine of USC, the event featured high-yield review material from some of the schools' favorite lecturers. Topics covered included gross anatomy, neurology, endocrinology, nephrology and hematology. The event also gave the 110+ attendees the opportunity to discuss study strategies and chow down together on banh mi and boba, generously provided by the ACP.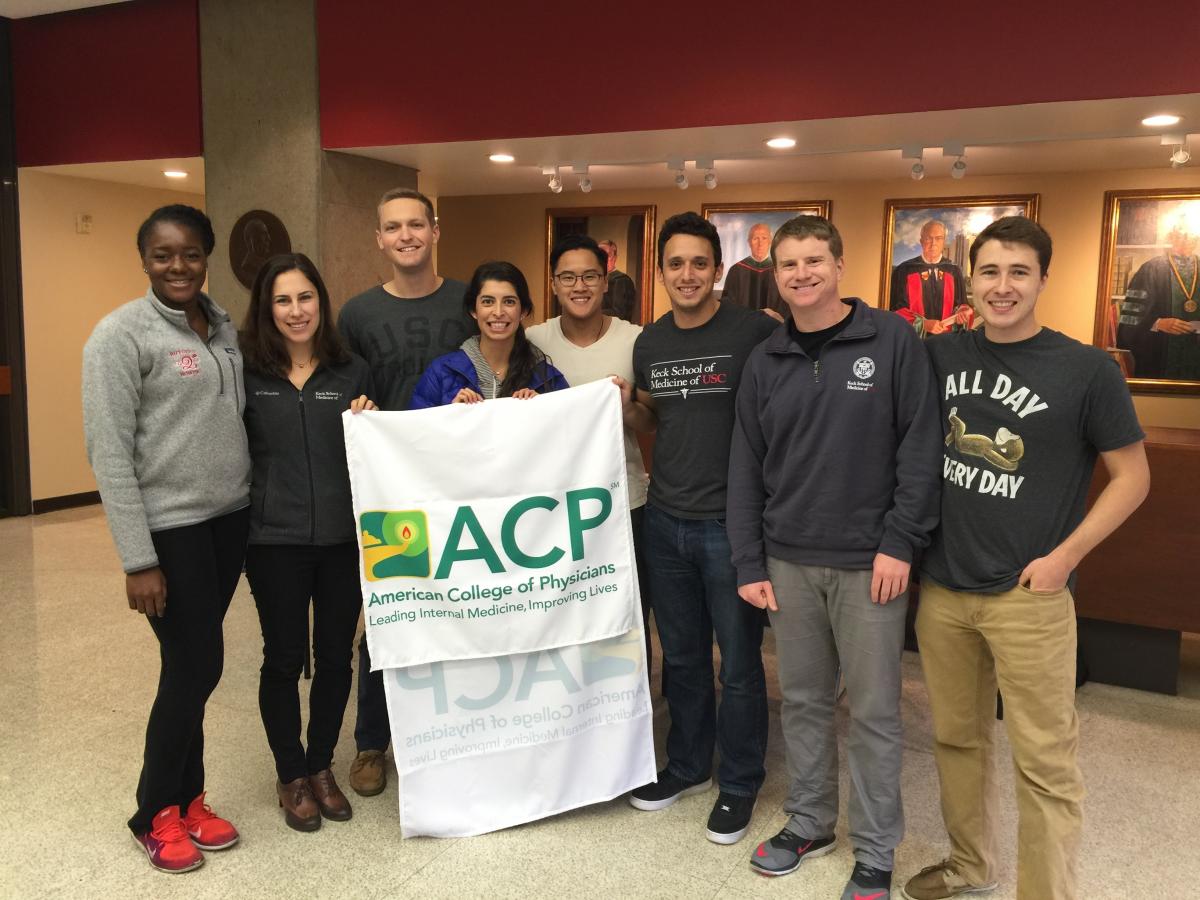 ---
ACP Medical Student, Resident/Fellow and Early Career Physician Meeting
Last September over 275 people attended the ACP Southern California Region I Medical Student, Resident/Fellow and Early Career Meeting in Marina del Rey. This one day meeting included an array of speakers on various topics of interest to our members. The abstract competition featured 176 posters from medical students, residents/fellows and early career physicians. The following posters were recognized by judges.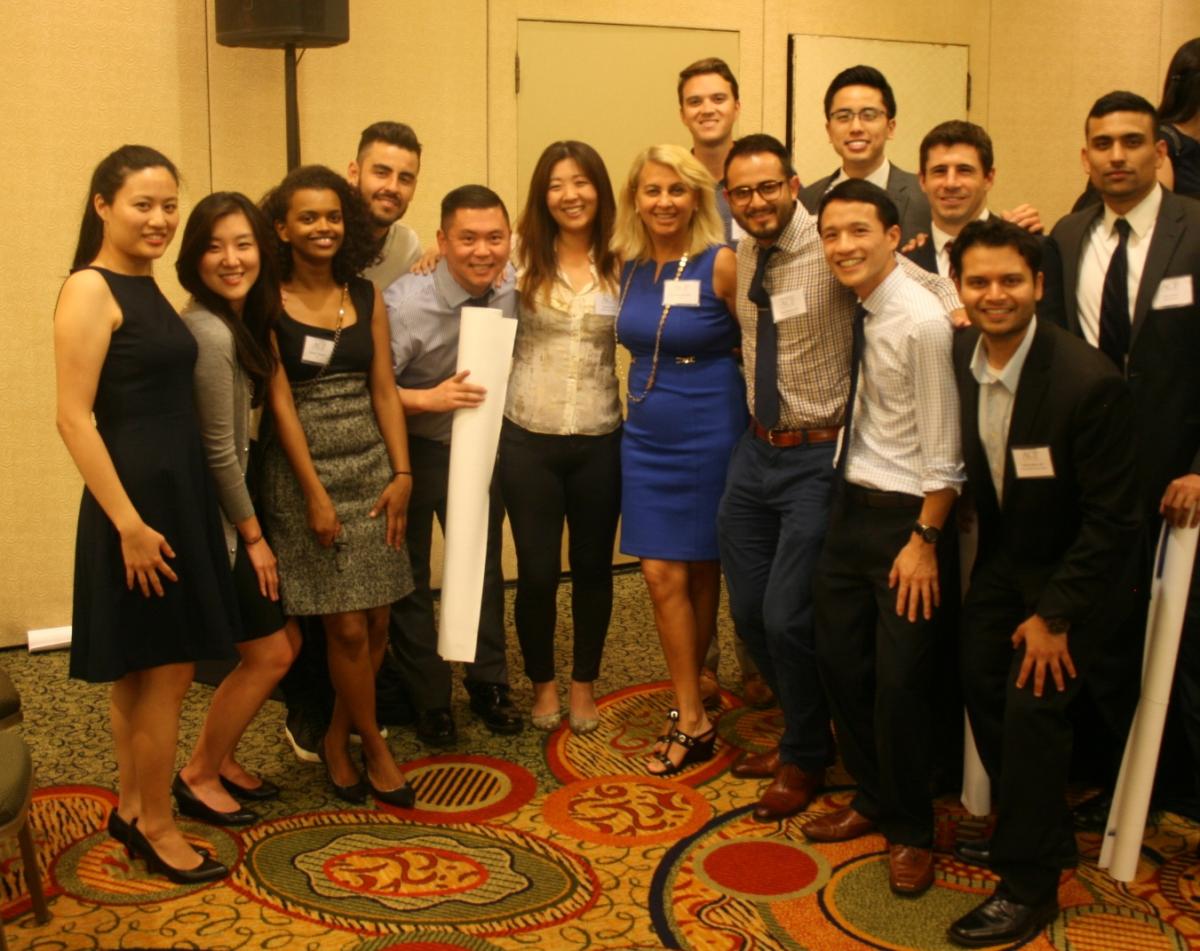 Governor Soma Wali, MD, FACP and attendees.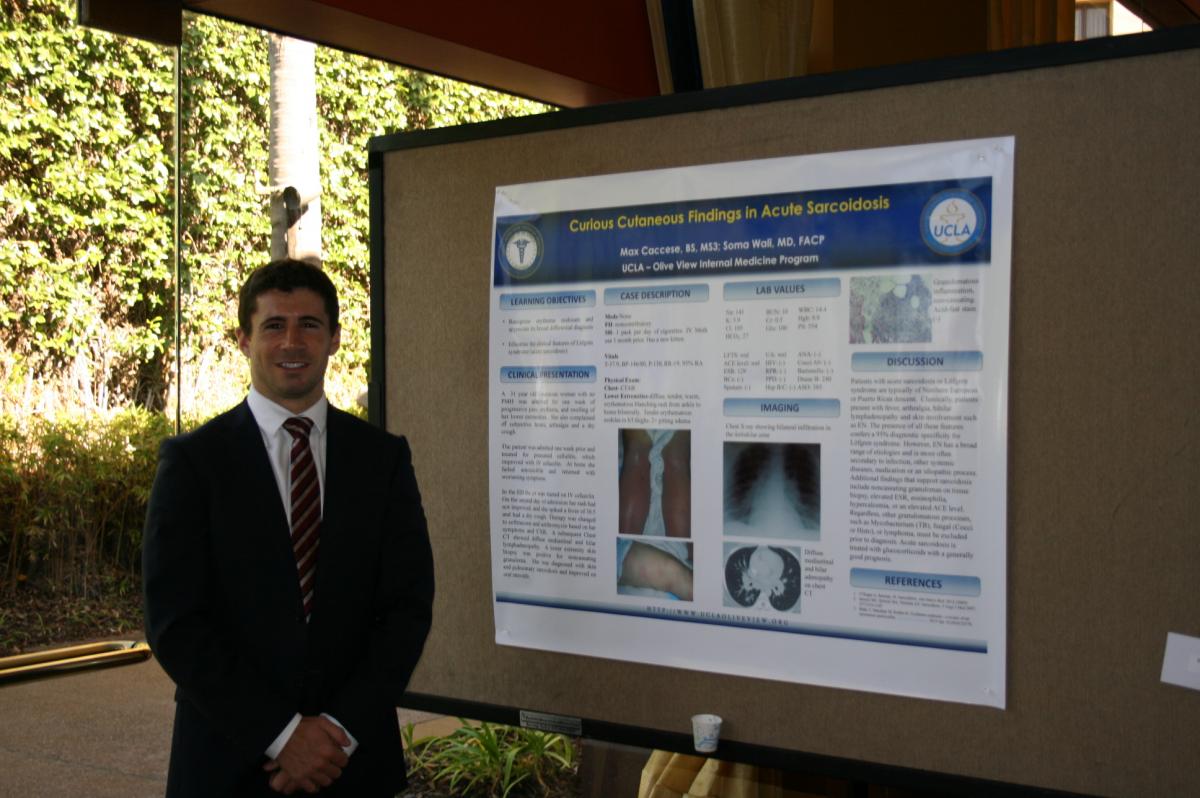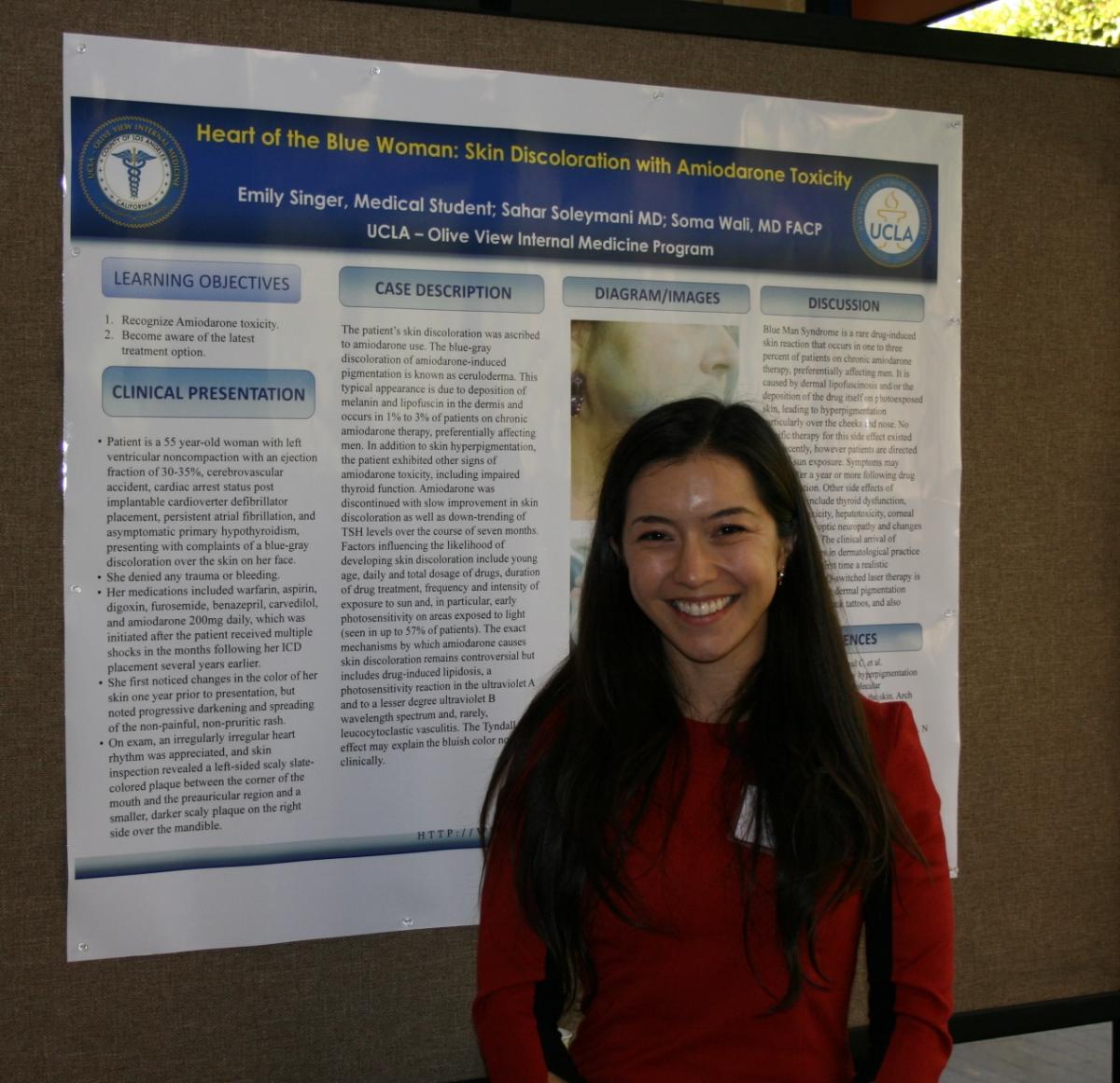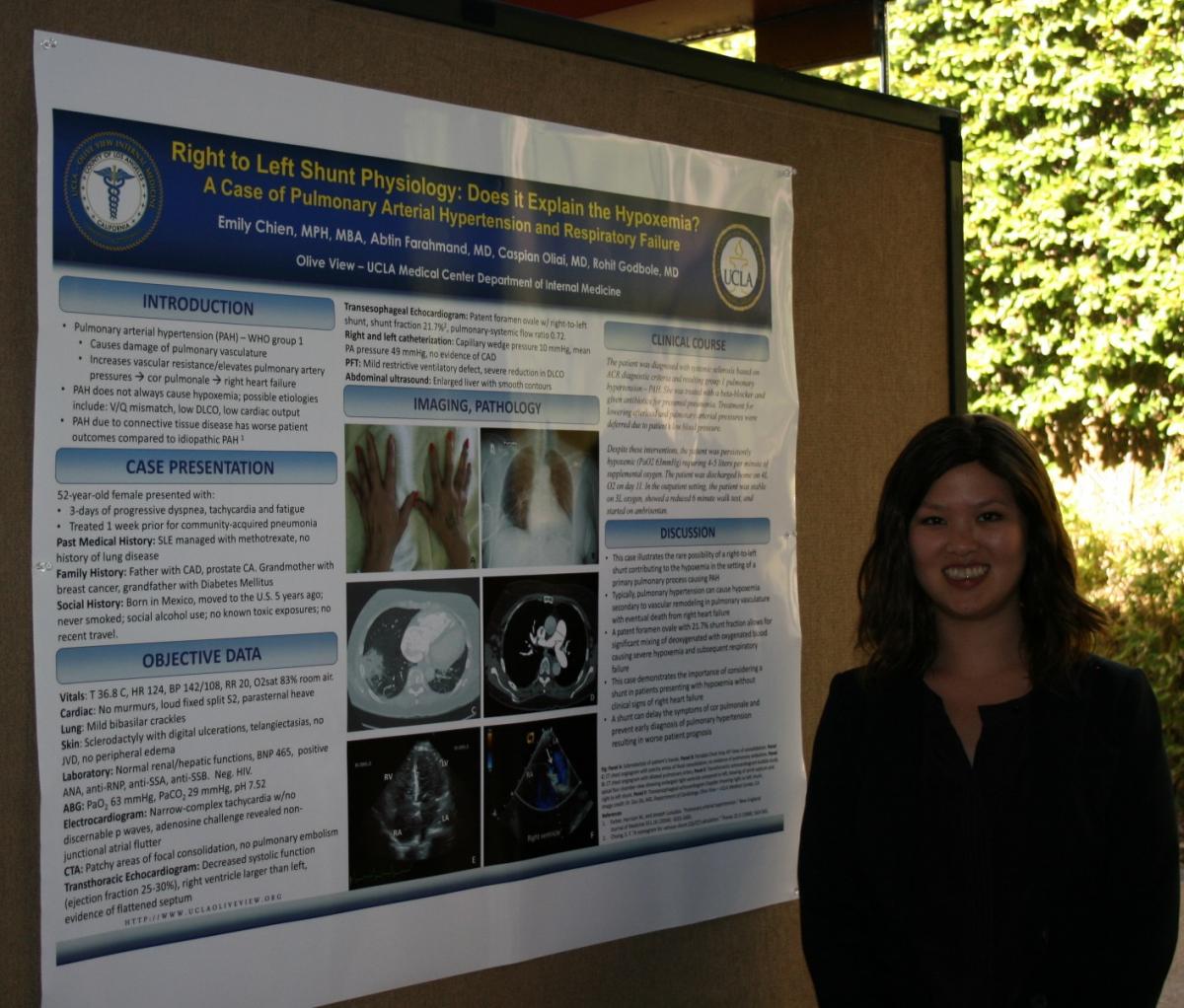 Resident – Clinical Vignette Category
1st Prize: Katherine Chen, "Not Just a Loose Tooth: Parathyroid Adenoma Presenting as Facial Swelling." UCLA
2nd Prize: Jiken Bhatt, "Sinus Node Dysfunction from Refractory Supraventricular Tachycardia." USC
3nd Prize: Adnin Zaman, "A Patient Rich in Parasites: A case of Tropical Pulmonary Filiariasis in a Non-Endemic Setting." USC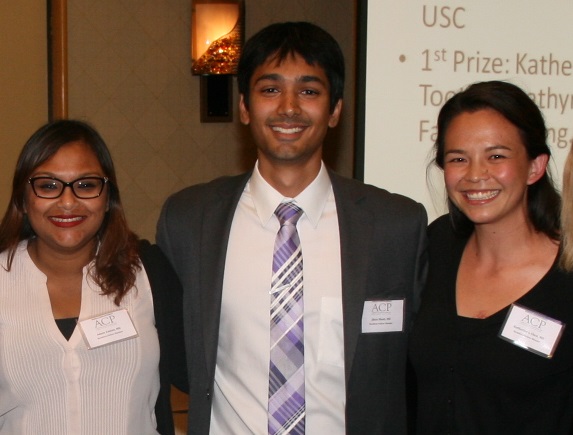 Left to Right: Adnin Zaman, MD, Jiken Bhatt, MD & Katherine Chen, MD
Resident – Research Innovation
1st Prize: Kosal Seng, "Lung Hyperinflation is Associated with Pulmonary Exacerbations in Adults with Cystic Fibrosis." USC
2nd Prize: Ken Stern, "Are Variations in Pulse Oximetry Waveforms in Critically Ill Patients Useful to Assess Hemodynamic Variations During Mechanical and Spontaneous Ventilation?" USC
3nd Prize: Amanda Frugoli, "Descriptive Review and Comparison of C. Difficile Infections in Hospital & Community Settings." CMHS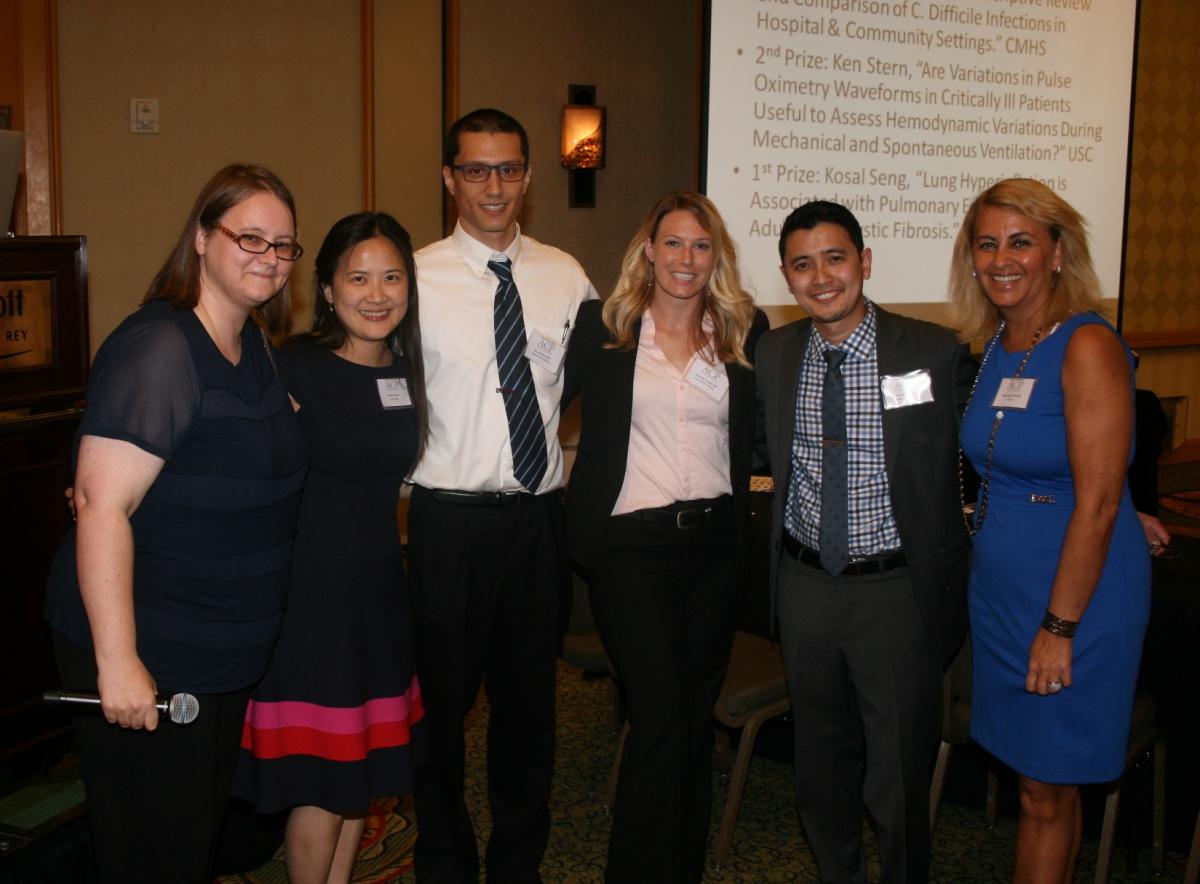 Left to Right: Magdalena Ptaszny, MD, Vickie Wu, MD, Ken Stern, MD, Amanda Frugoli, DO & Governor Soma Wali, MD, FACP
Resident – Innovation Category
1st Prize: Tony Hung, "Reducing Patient Service Times in a County Primary Care Clinic: A Quality Improvement Project." OVMC
Medical Students
1st Prize: Emily Miller, "Development of a Clinical and Translational Research Pathway at the David Geffen School of Medicine at UCLA." UCLA
2nd Prize: Karna Patel, "Nephrogenic Systemic Fibrosis" UCLA
3nd Prize: Max Caccese, "Curious Cutaneous Findings in Acute Sarcoidosis." UCLA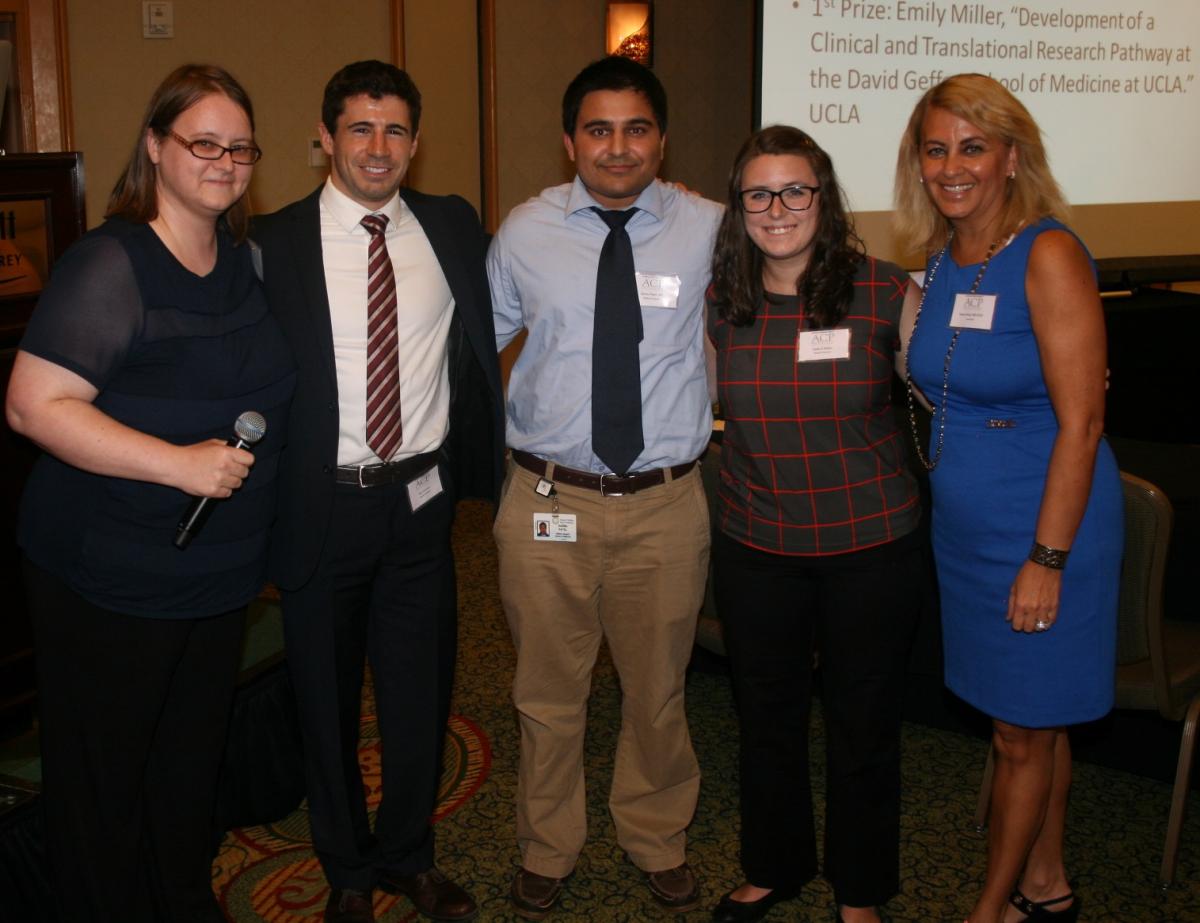 Left to Right: Magdalena Ptaszny, MD, Max Caccese, Karna Patel, Emily Miller and Governor Soma Wali, MD, FACP
Early Career Physicians
1st Prize: Jason Williams, "Preparing Senior Residents for Unsupervised Emergent Vascular Access: Brief Simulation-Based Intraosseous Catheter Training is Needed More Than Central Line Training." UCLA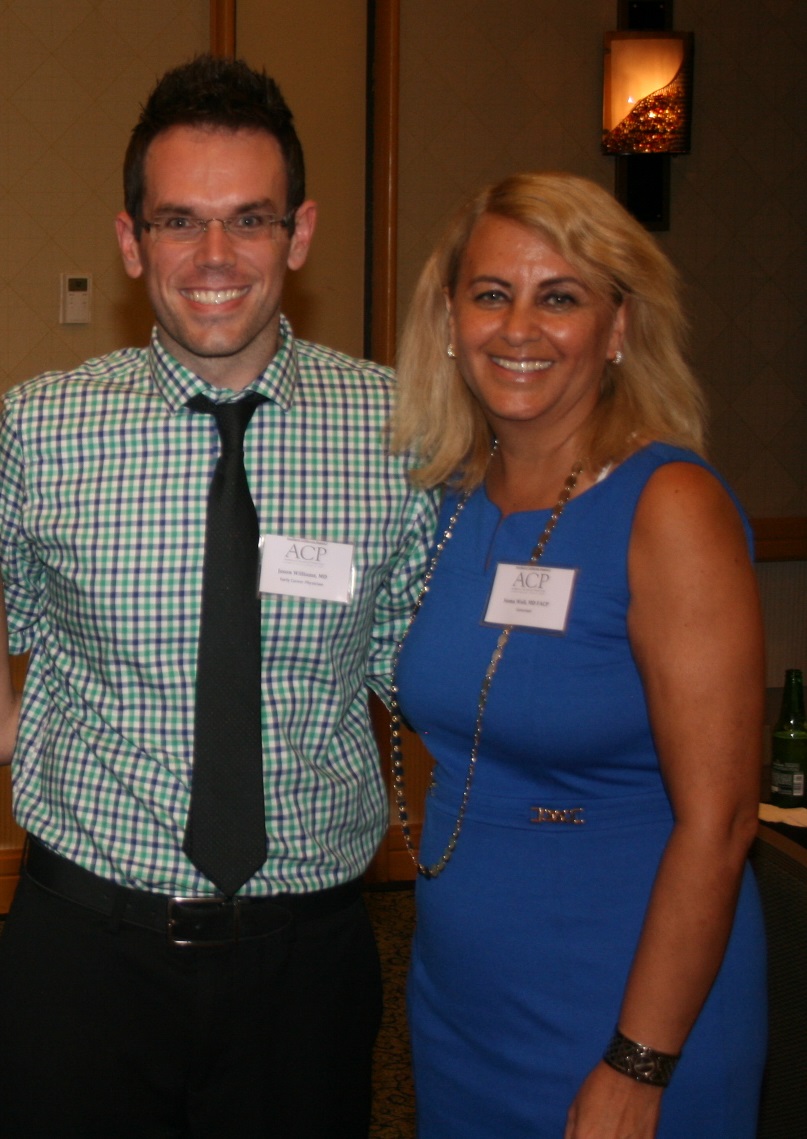 Left to Right: Jason Williams, MD and Soma Wali, MD, FACP
First place winners will be sent to Washington DC in May in order to present their posters at this year's ACP IM Meeting. Moreover, 2nd and 3nd place winners received cash awards and/or presented their posters at the ACP All California Meeting, which took place in October in Monterrey CA. Thanks to all who submitted posters and a special thanks to Dr. Magdalena Ptaszny for her wonderful work chairing the abstract competition and all the judges who took time out of their busy schedules to make this event a major success.
Finally, congratulations to the Keck USC team – Drs. Brian Lee, Niraj Jani & Noah Wald-Dickler - who won first place in this year's ACP Medical Dilemma "medical jeopardy" competition. They will be sent to compete at the national meeting ACP in Washington DC. Good luck to them! The Harbor-UCLA team, which consisted of Drs. Ali Fakhreddine, Michael Garcia and Mitchell Bunnell, received 2nd place. Thanks to all the residency programs that sent teams to compete and to Vinhfield Ta, MD and Rohit Godbole, MD for doing an outstanding job co-chairing the completion.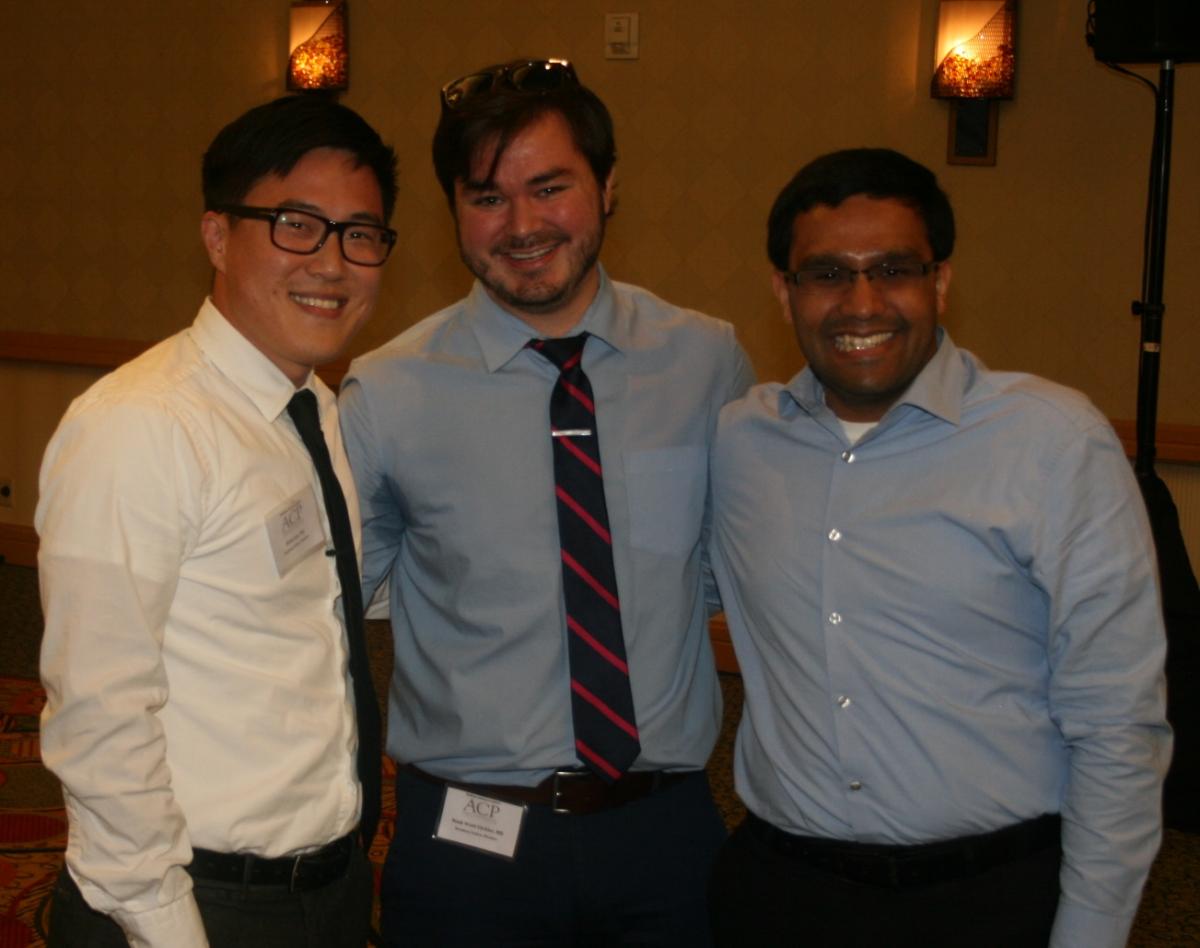 Left to Right: Brian Lee, MD, Noah Wald-Dicker, MD & Niraj Jani, MD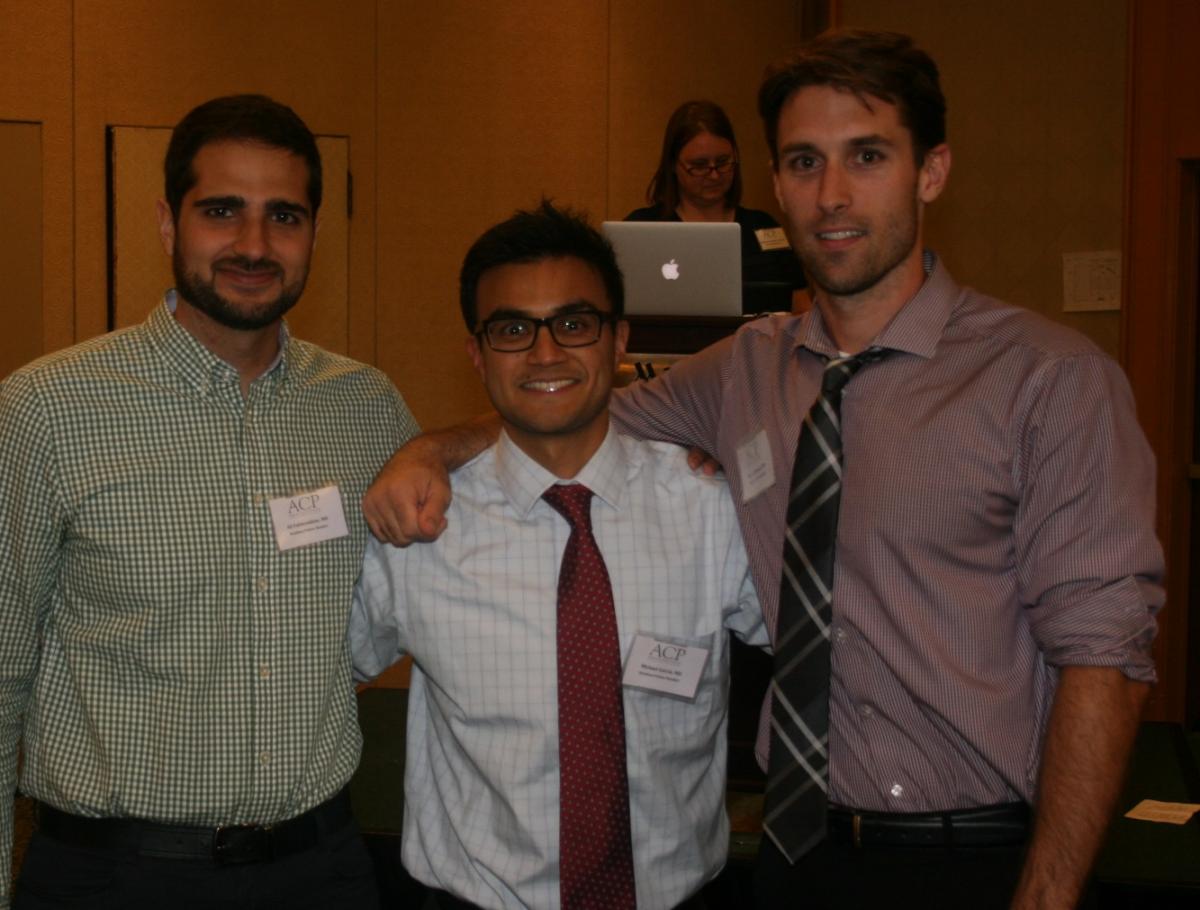 Left to Right: Ali Fakhreddine, MD, Michael Garcia, MD and Mitchell Bunnell, MD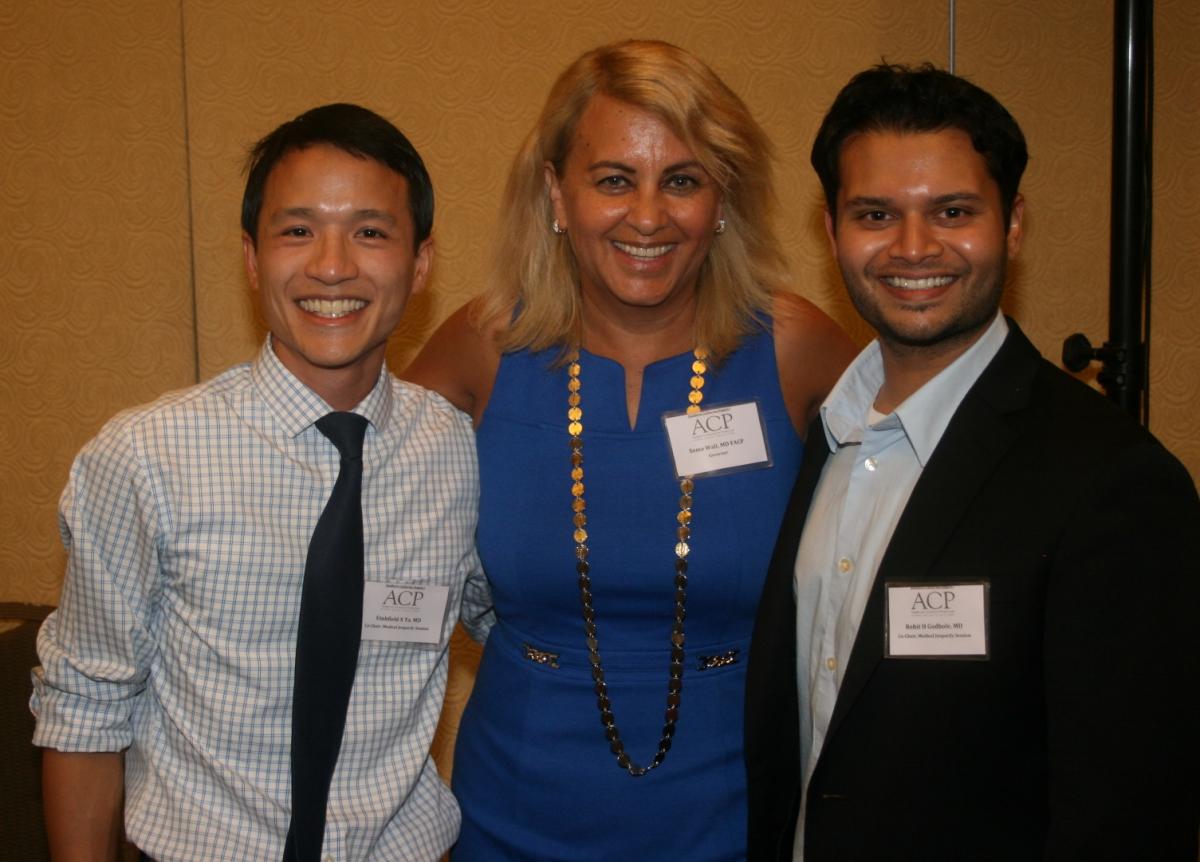 Governor Soma Wali, MD, FACP with Co-Chairs of the Medical Jeopardy Competition Vinhfield Ta, MD and Rohit Godbole, MD
---
ACP All California Scientific Meeting
In addition to our successful local meeting, all the California ACP chapters came together to hold a joint scientific meeting on October 30 – November 1, 2015 at the Hyatt Regency Monterey. The meeting, which was attended by over 200 members, included an outstanding program with experts from throughout California speaking on a variety of topics including Clinical Pearls in Infectious Diseases, Neurology & Endocrinology, Hospital Medicine, Drug Interactions, Hepatology Update, and Dermatology for the Internist. In addition, the meeting offered several outstanding interactive workshops including Fracture Management and Splinting for the Generalist, Orthopedic Exam, EKG Interpretation and Neurology Update. Thank you to all California Governors and planning committee for putting on an outstanding program!
---
Awards
We are happy to announce that Governor Soma Wali, MD, FACP has been awarded the 2016 Tilles Award – Senior Advocacy & ACP Leader Category by the California American College of Physicians (Cal-ACP) Board. The award is given to members who have served the California Chapter and/or Regional Chapter in fostering education, career growth and innovative programs on behalf of ACP. Congratulations!
---
2016 ACP Sacramento Leadership Day – A Resident & Medical Student Perspective

ACP Southern California Region I was well represented at this year's ACP Sacramento Leadership Day on February 23-24, 2016. The following residents and medical students share their experiences at this annual event.
Patrick Poquiz, MD
Resident – UCLA-Olive View Internal Medicine Program
I had the opportunity to learn more about how our state legislature functions with focus on the physicians' interests. I walked into this meeting with no expectations, and what I learned overall is not so much about how to lobby for a cause, but more-so that our state legislators all have a personal agenda and have their own priorities that may or may not be congruent with the district they represent.
I'm not a very convincing lobbyist. I did learn a lot about what the American College of Physicians supports in terms of bills that have been proposed, for which I do agree with most of the ones that were discussed. We learned about why it was important for our field to have these bills supported, and how it can advance healthcare to better serve our patients. Just to be exposed to what it is like on a political point-of-view is very enlightening and refreshing as it gives me new perspective of what another aspect of healthcare can be other than the individual care of a patient.
Our state senators and assemblymembers are all people, just like you and me. To speak with them has been such an enjoyable experience as we discussed shared interests outside healthcare and politics. But in a lot of government, with proposal of these bills comes the big issue of money. Where is the best place and area to allocate taxes in order to better serve the people of California? Whether an assemblyman believes that the elimination of dual taxation for medical laboratories may lead to misplacement of taxpayer dollars to unwanted licensing industries, or if a senator feels strongly that physician wellness program is necessary in our state, the state as a whole with its elected officials should decide how it would best serve its people.
I will always be an advocate for my patients, as it is my duty in my selected profession to provide the best healthcare that I can give. It was an honor to represent the ACP and to meet the men and women who help form our government, and to learn the process of how bills eventually becomes law of the land, hopefully in favor of the utmost benefit to our patients.
Jason Bahk, MD
Resident – UCLA-Olive View Internal Medicine Program
My time spent discussing legislation and how it impacts our patients and physicians on the frontlines of healthcare was very interesting to see in hand. To participate in the legislative process, I could appreciate how bills pass or do not pass, and have a greater understanding of the need for physicians to be involved in advocating for both our profession and for our patients. Though often times as medical students, residents, and attending physicians we are involved in patient care directly, I didn't understand the degree of involvement and oversight that the government is involved in had so much of a direct impact on our patients' care and the financial impact of this on their lives. It was an eye-opening experience that had me fired up to be more involved in advocating for our profession and encouraging my colleagues to do the same as well. I've never seen such a need to get involved politically until I spent time in the Assembly. It was a great opportunity and I definitely want to thank Dr. Wali and the ACP leadership for getting young physicians involved early in the process.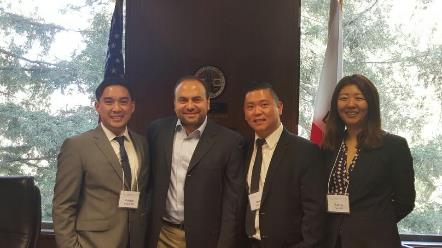 Left to Right: Patrick Poquiz, MD, State Assemblymember (46th District) Adrin Nazarian, Jason Bahk, MD & Sandy Park, MD.
Sandy Park, MD
Resident – UCLA-Olive View Internal Medicine Program
I had the pleasure of participating in Sacramento ACP Leadership Day on February 23-24, 2016. We familiarized ourselves with bills that will impact medical community if passed into laws. Two particular bills stood out to me. Bill AB 1763 proposes to eliminate co-pay for screening colonoscopy after a positive FIT test. At present, FIT test is considered a screening exam which is covered under the Affordable Care Act. However, the follow up colonoscopy is considered a diagnostic test allowing insurance companies to charge co-pay to patients. Passing this bill into law will encourage patients with positive FIT test to follow up with colonoscopy, thereby increasing the colon cancer detection rate at early and treatable stage. The second bill, SB 1177, will allow the establishment of Physician and Surgeon Health Wellness Program for the early identification and appropriate interventions to support a physician and surgeon in his or her rehabilitation from substance abuse, physical or mental illness, burnout or other similar conditions. Currently, such programs exist for other medical professions, such as registered nurses and dentists and physicians in other states but not for physicians in state of California. With a group of colleagues, I have met with the Assembly member Nazarian and a staff member from Senator Hertzberg's office. It was empowering to advocate for bills that would make positive impacts for our patients and colleagues. I am grateful to have been part of this valuable experience, and will continue to make efforts to advocate for my patients and physician colleagues.
Nadia Faiq
MSII, UCLA David Geffen School of Medicine
A challenging task for any medical student is balancing the rigors of the medical education curriculum with endeavors in professional development and gaining competence as a future physician responsible for the lives of patients. ACP Leadership Day provided me with the invaluable opportunity to learn how to seize an active role to advocate for patients and influence decisions that will directly affect each and every individual in our health delivery systems. During the networking reception, a gastroenterologist familiarized me firsthand with a bill addressing cost effective screening and early detection of colon cancer with the aim of removing an unexpected co-pay and its important implications for his patients in his practice. I then observed an important discussion with Senator Ed Hernandez regarding this bill while I internalized the intimate structure between politics and healthcare. I was then prepared, and frankly eager, to discuss this bill with my own representatives in the assembly and senate. ACP Leadership Day was an enriching experience and allowed me to integrate policy into my medical education, preparing me for a lifelong commitment in advocacy work to deliver care of the highest caliber to my patients.
Azadeh Nazemi
MSII – Keck School of Medicine at USC
ACP Leadership Day was an absolutely wonderful experience that I had the privilege of participating in. From the very first meeting, the conference was full of energy and excitement!
Physicians, residents, and medical student members of ACP banded together to discuss important legislature that will benefit primary care physicians and, more notably, the patients they serve. I learned so much about the details of various legislative bills focused on health and healthcare (from screening for colon cancer among patients to promoting wellness among physicians), and how to convey the physicians' best interest to our district representatives. Representing approximately 10,000 internal medicine physicians in California, I had the opportunity to stand alongside the incredible physician leaders of ACP and promote legislature that will have a positive impact on the lives of patients. Attending ACP Leadership Day as a first year medical student left me excited, hopeful, and eager for what to expect from my life in medicine.
---
New ACP Fellows
We are happy to announce that the following people have been advanced to ACP Fellow in our region within the last 6 months. We congratulate them for their hard work and dedication to ACP!
Region I
Michael C Bordofsky, MD FACP
Arleen F Brown, MD FACP
John T Chang, MD FACP
Sue Y Chung, MD FACP
Erik E Davydov, MD FACP
Sylvana L Guidotti, MD FACP
Edward K Hui, MD FACP
Darol D Joseff, MD FACP
Mina Rim Kang, MD FACP
Jon P Kea, MD FACP
Elias Khawam, MD FACP
Brandon Kelly Koretz, MD FACP
Dean A Kujubu, MD FACP
Jeffery Lee, MD FACP
Mina W Ma, MD FACP
Carol M Mangione, MD FACP
Loren Miller, MD FACP
Tamara Modilevsky, MD FACP
Gifty-Maria Jane Ntim, MD FACP
Ernest L Prudente, MD FACP
Kurt N Ransohoff, MD FACP
Elizabeth B Sander, MD FACP
Neil Wenger, MD FACP
Andrew S Young, DO FACP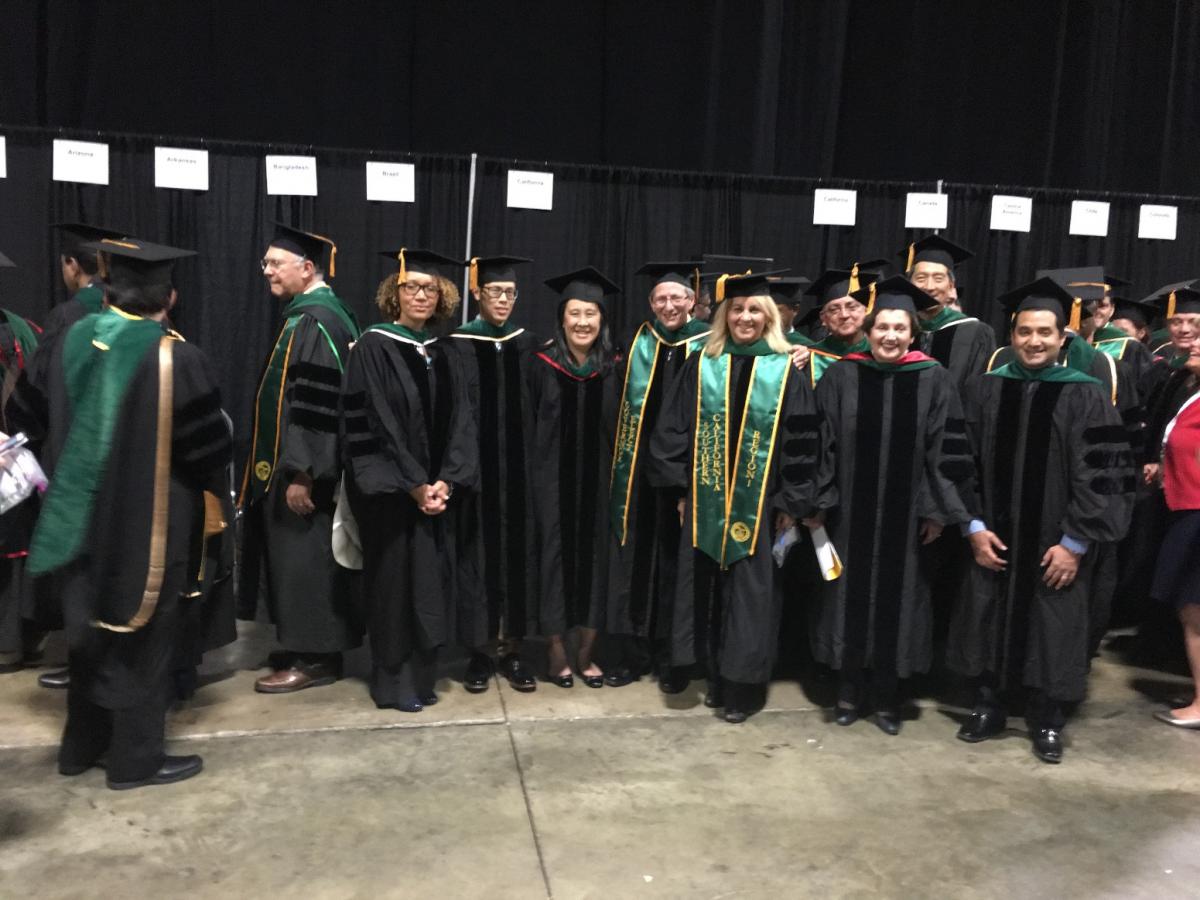 Drs. Mark Noah and Soma Wali with new Fellows of ACP at the ACP Convocation Ceremony in Washington DC.
---
ACP Leadership Day in Washington DC – A Resident/Medical Student Perspective
Brian Horwich
Medical Student, Keck School of Medicine at USC
As a rising third-year medical student, much of my time during the past two years has been spent with my head in the books, acquiring the foundation of didactic knowledge necessary to serve my patients as a future physician. I have had the opportunity, however, during these past two years, to interact with patients as well. What I have learned through these interactions is that we can indeed apply our medical knowledge and skills to improve the health of our patients, but there are much larger, more encompassing issues that dramatically impact our patients' well-being, which at times perhaps seem beyond our ability to control or change. The fact that we have a shortage of primary care physicians, yet a limited number of residency spots for graduating medical students which has not changed since the late 90s. The quandary of trying to appropriately address the health needs of complex patients with multiple co-morbidities in a short period of time and without appropriate compensation. These issues are all systems-level issues that affect our ability to practice medicine and best promote the health of our patients and our nation.
At the American College of Physicians Leadership Day, I learned that we do in fact, as medical students, residents, and physicians have the power to effect systems-level change and are in a unique position to do so given our close relationships with our patients and our local communities. It was quite inspiring to hear about all of the health policy work that ACP engages in regularly on Capitol Hill, and to be part of this work was empowering. When we went to our meetings with members of Congress, I felt the excitement and joy of being a true advocate — that is, of working in partnership with our nation's leadership to promote policy change and action on issues that will ultimately affect our patients. I am honored that Dr. Soma Wali invited me to join her, her enthusiastic residents, and some fellow medical students for the ACP Leadership Day, and I look forward to continuing to remain engaged in health advocacy as I continue my development as a future physician.
Bryan Lopez, MD
Resident, UCLA-Olive View IM Program
I had the pleasure of being a representative of Olive-View UCLA at the 2016 ACP Leadership Day event in Washington DC. Prior to the event I was unclear on exactly what to expect. Honestly, I was a little nervous when I found out that we would be speaking with legislators and staff of Congress. For me, this was a new experience. Advocating for ACP with fellow residents, made this a great team building opportunity and an experience that any resident would be lucky to have.
This process really taught me the importance of advocating for what we believe is necessary in medicine. If we, the physicians, are not fighting for what we feel is necessary to better treat patients, then we are doing an injustice to those patients who we took a Hippocratic Oath to serve.
Lara Hamadani, MD
ACP leadership day was very educational and empowering. At the conferences we were educated about the finer details of important healthcare issues. On the second day, we had the opportunity to speak to members of congress about issues we felt passionate about. It was amazing to learn the power of our voice and how to use it.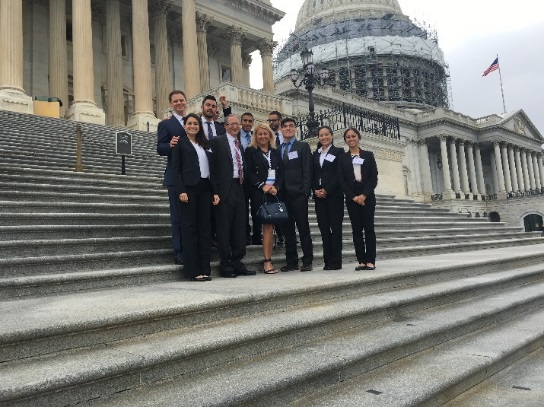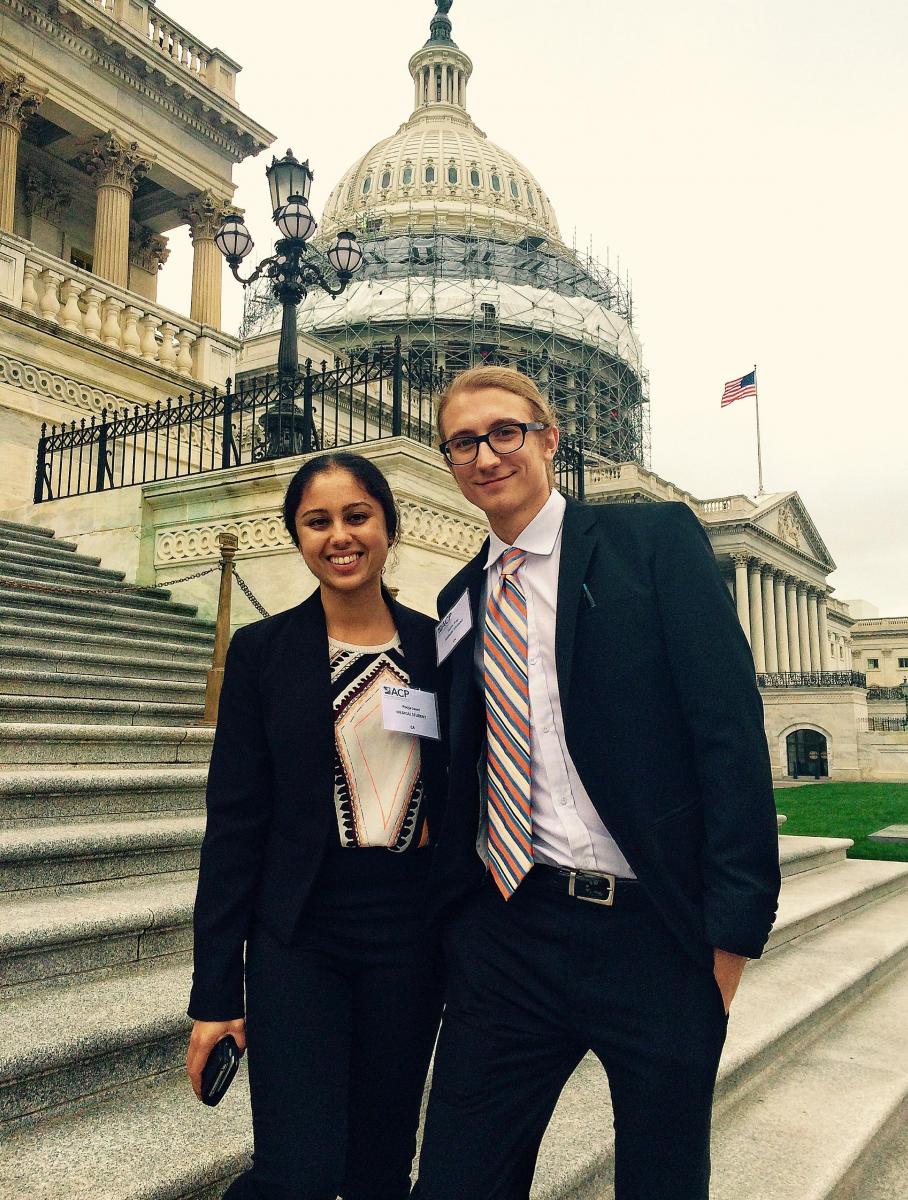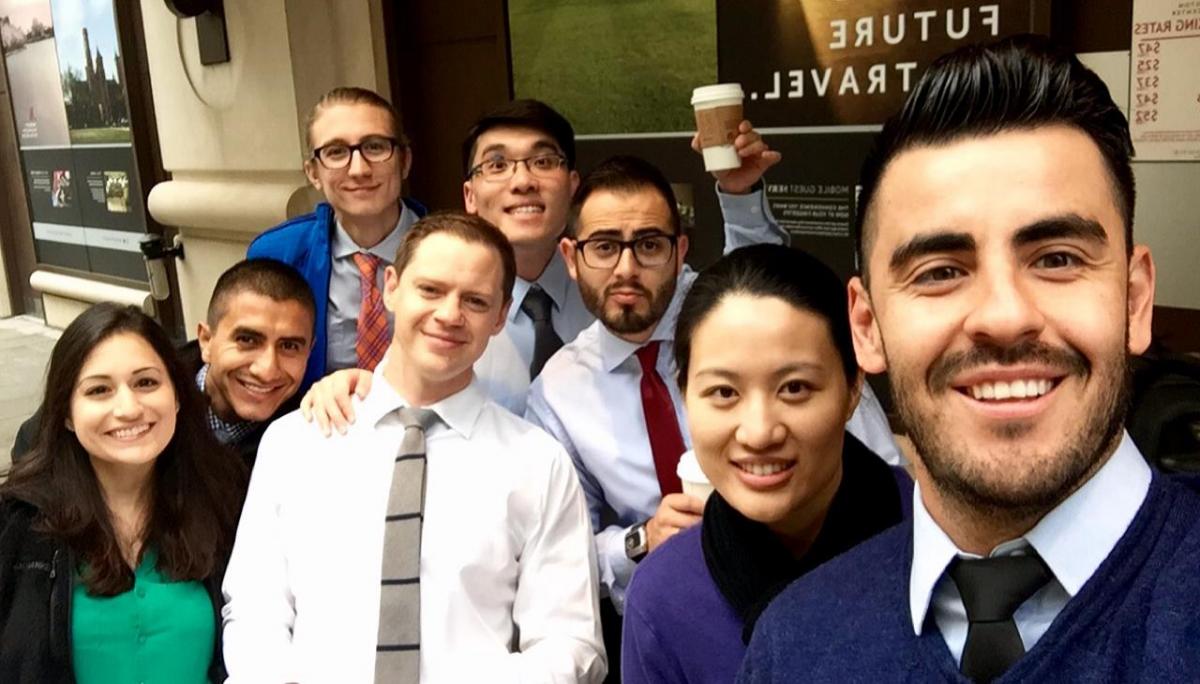 ---
ACP Student of the Year Award
Every year, ACP recognizes the best students going into Internal Medicine at the Keck School of Medicine at USC and at the David Geffen School of Medicine at UCLA. This year's recipient include Alyssa Lampe, MD from USC and Lily Kornbluth, MD from UCLA. Congratulations to both of them!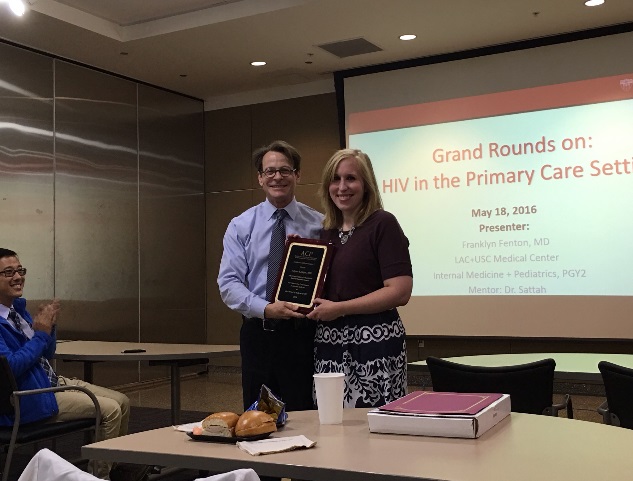 Left to Right: Ron Ben-Ari, MD, FACP presenting the ACP Student Award to Alyssa Lampe, MD